Florida Football: Why UF Can Overcome the Loss of Aubrey Hill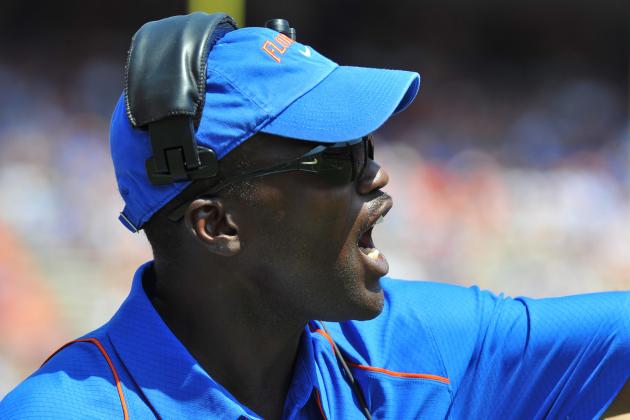 Al Messerschmidt/Getty Images
The Gators lost a solid coach in Aubrey Hill, but there's still hope for the Gators' offense in 2012.
It's safe to say it came as a bit of a shock when receivers coach and recruiting coordinator Aubrey Hill resigned from the Florida program earlier this month.
Despite his unexpected departure, UF still has enough pieces in place to overcome the loss of the its player-turned-coach.
Hill has been a lifetime Gator—first as a wide receiver on three SEC championship teams before working his way up the coaching ranks.
The Miami native eventually found his way back home as a receivers coach and recruiting coordinator for the Hurricanes before returning to the Swamp in 2011.
However, according to Michael DiRocco of GatorNation, Hill resigned from his post at UF amidst speculation about his link to a former Hurricanes booster who provided improper benefits to athletes.
Although Hill was certainly a valuable asset on the football staff, a new-look offense and the leadership of head coach Will Muschamp should help overcome his loss.
Let's take a look at five reasons why UF can still succeed without Hill.
Begin Slideshow

»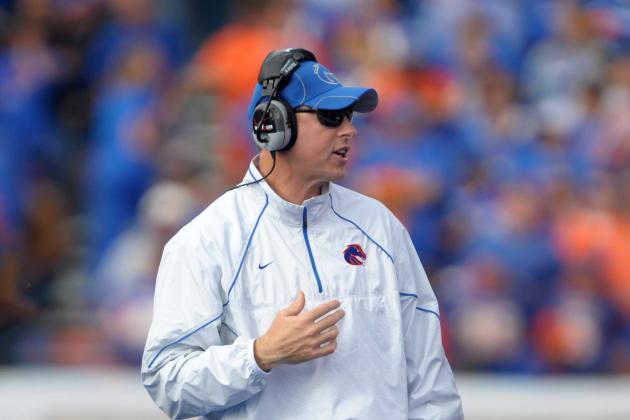 US PRESSWIRE
Brent Pease is expected to bring a new look to the Gators' offense.
For the second straight season, Florida's offense will be directed by a high-profile play-calling guru.
However, while Charlie Weis was supposed to transform UF into a pro-style, run-based attack, Brent Pease is expected to bring some new wrinkles to a stagnant offense.
Pease—a former NFL quarterback—gained notoriety as an innovative offensive coordinator at Boise State.
During his six-year coaching tenure, he coached Kellen Moore—college football's all-time winningest quarterback, first-rounders Ryan Clady and Doug Martin, and receivers Titus Young, Austin Pettis and Legedu Naanee.
Although he didn't inherit a great group of receivers, Pease is expected to use pre-snap motions and shifts to confuse defenses into blowing assignments or creating mismatches, according to Michael DiRocco of ESPN.
It's still too early to say whether Pease will be a success, but you can bet he'll do his best to usher in some new looks to avoid a repeat of Florida's underwhelming 2011 attack.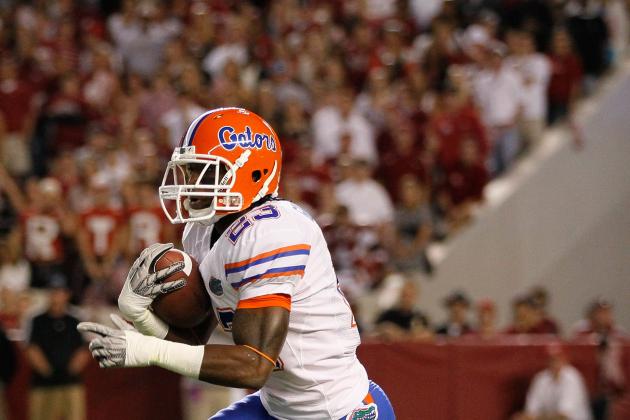 Kevin C. Cox/Getty Images
Mike Gillislee should be the go-to guy on offense.
This year, Hill's loss might not sting as much as it otherwise would because the Gators just don't have great weapons at wide receiver.
Sure, his expertise would help get the best out of the group. But just how much more can you expect out of underwhelming talents like Frankie Hammond, Jr., Stephen Alli and Omarius Hines?
Face it: this isn't a team predicated on getting the ball to its receivers.
Instead, the offense should go as far as its running backs take it.
With senior Mike Gillislee finally in position to be the No. 1 back, the offense could be taking a step in the right direction.
The speedy, soft-spoken senior has flashed big-play ability when given the opportunity, but No. 23 was often stuck behind speedsters Jeff Demps and Chris Rainey.
Now that both backs are gone to the NFL, Gillislee should be Brent Pease's go-to back and is in line for a bunch of carries.
Besides Gillislee, the Gators also have an exciting power back in freshman Matt Jones.
The 6'2", 226-pounder brings rare size to the backfield and should be an early contributor.
Redshirt sophomore Mack Brown—a former 4-star recruit—may also earn some carries.
Along with promising fullback Hunter Joyer, the Gators' backfield should be the offense's backbone and help make up for the loss of its wide receivers coach.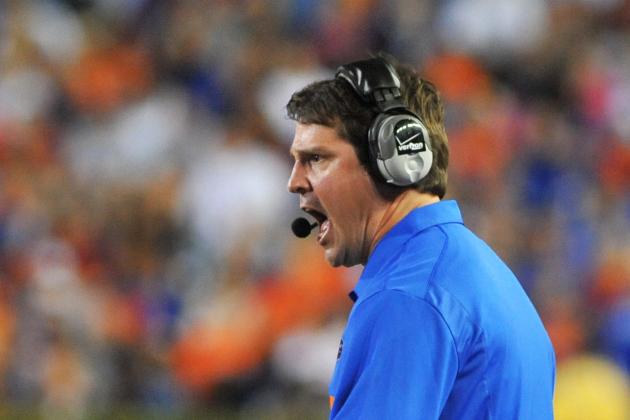 Al Messerschmidt/Getty Images
Will Muschamp isn't afraid to show his emotions on the sidelines.
Will Muschamp's first season at the helm may not have gone as well as planned, but it wasn't because of a lack of effort.
The fiery former collegiate safety coaches with the same passion he had as a player back in the day.
He's the kind of guy who has no problem chewing out a player when he's wrong, but is the first to congratulate someone for a clutch play.
Now in his second season as the head coach, this is Muschamp's team.
The players who were left over from the rocky end of Urban Meyer's reign are mostly gone, and it seems that there's a new sense of commitment from this squad.
Following in Meyer's footsteps definitely isn't an enviable task, but I firmly believe Muschamp's abilities as a coach, leader and recruiter make him the right man for the job.
Losing his recruiting coordinator may be a blow, but people don't think of Aubrey Hill when they think of Florida football.
They think of Will Muschamp.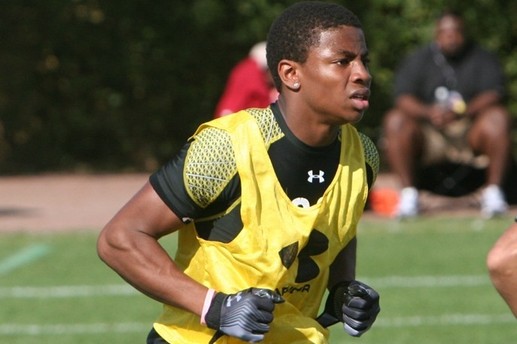 The Gators snagged a big-time cornerback in Vernon Hargreaves III.
Besides coaching up the wideouts, Aubrey Hill also wore another hat as the recruiting coordinator.
For a team that's trying to replenish at many positions, his loss would appear to be crippling.
However, thanks in part to some of his groundwork, the Gators are actually in pretty good shape.
According to Rivals.com, Florida's 2013 recruiting class checks in at No. 7, just behind Georgia and Alabama and four spots ahead of Florida State.
Headlining the group is Tampa native Vernon Hargreaves III—the top-ranked corner of the class.
Although he's the lone 5-star commitment, the rest of the class features some potential offensive stars in 4-star receiver Ahmad Fulwood and 4-star running back Kelvin Taylor—the son of former Pro Bowl running back Fred Taylor.
As long as the Gators can hold on to their current commitments and continue to recruit aggressively, their 2013 class should have a chance at being a top-five unit.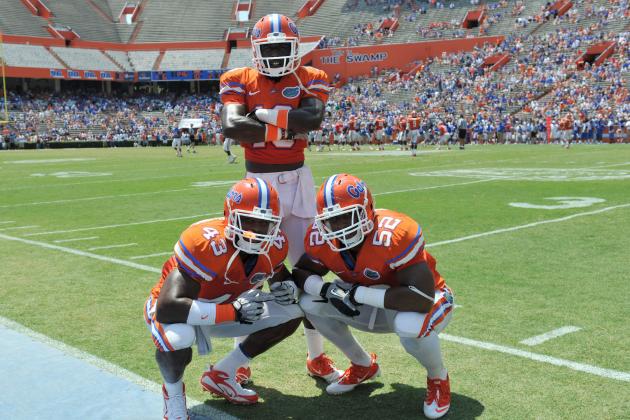 Al Messerschmidt/Getty Images
Florida's linebackers are the heart of the team.
Even if the offense takes a small step back without Aubrey Hill, it really shouldn't matter.
This team lives and dies by its defense.
None of the team's receivers—except for Andre DeBose—strike fear into SEC defensive coordinators.
However, offensive coordinators around the country will be spending many sleepless nights scheming for the Gators' defense.
Starting with a deep defensive line, Florida is finally going back to its roots of getting after the quarterback and building depth at every position.
Although Ronald Powell (ACL) won't be in the starting lineup, UF boasts an experienced and nasty front four of Dominique Easley, Sharrif Floyd, Omar Hunter and Lerentee McCray.
However, what separates this year's squad is the depth along the defensive line.
A terrific freshman class headlined by 5-star defensive end Jonathan Bullard and 6'3", 263-pounder Dante Fowler, Jr. should boost the pass rush.
Future NFL linebackers Jelani Jenkins and Jonathan Bostic are the heart and soul of the team, and safety Matt Elam should emerge as an All-SEC safety in his second year as a starter.
Losing Hill may adversely affect the offense, but the defense should more than make up for it.