Are L.A. Lakers Immune to Unpredictability of NBA Draft?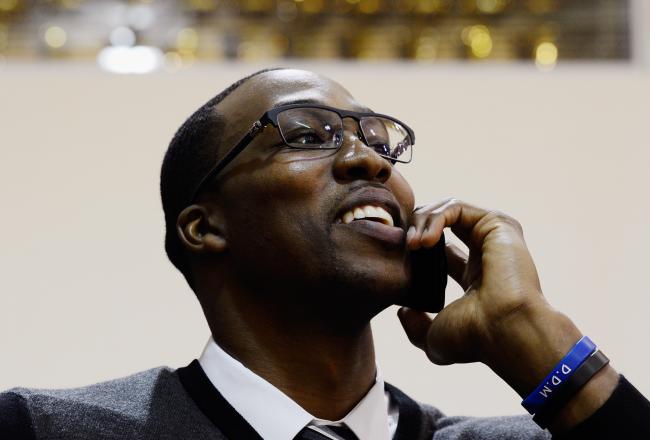 Kevork Djansezian/Getty Images
For most teams in the NBA, rebuilding is just another stage of life, the chapter that typically follows any period of sustained success.
Leave it to the Los Angeles Lakers to find a way around all of that.
The organization hasn't stumbled upon a draft pick of any significance since the selection of Andrew Bynum in 2005. It hasn't even had a first-round pick since 2009, when the club took Toney Douglas before quickly trading him to the New York Knicks.
There was no first-round pick in 2008 either.
Since the Lakers drafted Derek Fisher in 1996, most of their picks have either been dealt elsewhere or faded into oblivion. They've included some classic first-round disappointments like Devean George, Mark Madsen, Brian Cook and Sasha Vujačić.
If you can't draft greatness, trade for it.
They've also included second-round pick Luke Walton and what would become one of the most absurd contractual commitments in franchise history.
Whereas their Western Conference rivals, the San Antonio Spurs, have made a living with late picks like Tony Parker and Manu Ginobili, the Lakers built a dynasty in spite of their draft decisions.
Their very best draft decision since the Showtime days was a trade—the one that exchanged Vlade Divac for 13th-overall pick Kobe Bryant in 1996.
But, Los Angeles' success required more than Bryant alone.
The organization installed a revolving door of elite talent that just keeps on spinning. Never mind that it completely circumvents the mechanisms used by the league to stimulate competitive balance over time (like that pesky salary cap).
How the Lakers won a bidding war for Shaquille O'Neal.
The Lakers' cap figure will be at just about $100 million this season, well over $40 million above the so-called "cap."
Because teams can exceed the cap, just as Los Angeles did in its attempts to keep the likes of Shaquille O'Neal and Kobe Bryant together for as long as possible (via "Bird" rights), it's entirely feasible for a franchise to remain well above the cap for over a decade.
So long as it's willing to pay the luxury tax, a penalty Los Angeles is all too happy to suffer.
The trick is ensuring that those dollars are well-spent. Otherwise, you end up with the exorbitantly pricey kind of headache that set the New York Knicks back for nearly a decade.
Among the many things this franchise has going for it, history and location stand paramount.
Dwight talks about how L.A. already feels like home. No surprise there.
The Lakers have an iconic lineage including Wilt Chamberlain, Elgin Baylor, Jerry West, Kareem Abdul-Jabbar, Magic Johnson and of course Shaq.
It's not hard to understand why guys like Dwight Howard can see themselves in Purple and Gold. They become part of a historic tradition that endures far better than most. If you want to become part of history, there's no better franchise on the planet.
And given the media attention this market demands, rest assured that someone will hear about that history.
But, while the Lakers are an ego's dream come true, they've also learned how to game the system.
When the Memphis Grizzlies determined they couldn't afford to hold on to Pau Gasol for much longer, the Lakers came pouncing with a package built around a raw Marc Gasol, a couple of meaningless future first-round picks and roughage like Kwame Brown and Javaris Crittendon.
Stephen A. discusses a lopsided masterpiece.
The same kind of desperation ultimately brought Howard to Los Angeles, this time, simply because the guy lost interest in his old stomping grounds. It also enabled the team to add Steve Nash via a sign-and-trade agreement .
If it sounds a bit like the Lakers are buying foreclosed homes, you wouldn't be wrong.
With superior resources and the margin of error to invest in a few mistakes, Los Angeles preys upon franchises that just can't hold on to their assets.
And, you really can't blame them. Collective bargaining consistently protects players' mobility, and organizations like the Lakers can exploit that leverage.
Consequently, the hit-or-miss endeavor that is building through the draft is of little matter.
While so many clubs remain stagnant on account of busted draftees like Kwame Brown, Darko Millicic, Hasheem Thabeet or Greg Oden, the Lakers know what they're getting out of proven commodities like Dwight Howard and Steve Nash.
Their luck on the free-agent and trade markets may run out one of these days. Even the Lakers could find themselves stuck in a quagmire of bad contracts and limited roster flexibility.
But, you can be sure of this.
They'll never be saddled with draft mistakes.
This article is
What is the duplicate article?
Why is this article offensive?
Where is this article plagiarized from?
Why is this article poorly edited?

Los Angeles Lakers: Like this team?