Fantasy Football 2012: 3 Ways to Ruin Your Fantasy Draft
Ezra Shaw/Getty Images
Before you enter the lion's den of your fantasy league's draft room, brimming with hatred and boiling with resentment, know this: Your league mates, those affable gals and guys, are banking on you making terrible decisions.
If you're smart about this fantasy football thing—and I know you are, dear reader—then you will study average draft positions and understand who your rivals value and who they don't. Understanding which sleepers will linger on the draft board into the fifth, sixth and seventh rounds is as important as, say, wearing pants to the draft.
It's called Game Theory. Look it up.
There are a multitude of unforgivable draft-day decisions you could make—disastrous choices that doctors say could result in random crying fits throughout football season. Here are three or the worst draft-day choices you should avoid while assembling your make-believe football roster.
Drafting Defenses Early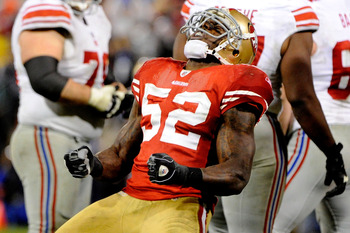 Patrick Willis shows you his various muscles.
Thearon W. Henderson/Getty Images
I made the journey to Atlantic City last weekend to join kindred spirits in fantasy football geekdom at the inaugural Fantasy Football Fest. Of all the things I saw, read and heard, here's the most frightening: People are drafting the 49ers defense as early as the fourth round.
Drafting a defense outside the last couple rounds of your league's fantasy draft is tantamount to throwing away one of your precious picks. Defensive fantasy scoring is innately volatile, dependent upon nearly impossible to predict stats like fumble recoveries, defensive touchdowns and kick-return touchdowns. There is some predictive value in interceptions and yards allowed; hence, there are fantasy defensive teams ranked higher than others.
Fantasy football's top-ranked defenses from last year are no more likely to be elite than defenses in the bottom third of fantasy rankings. You simply cannot bank on 2011's best defenses repeating the feat in 2012.
The San Francisco defense, an undeniably superb unit, scored 169 points in standard scoring leagues last season, outscoring the second-place Bears defense by a whopping six points. The Niners outscored the fifth-place Texans defense by 23 points, or about 1.7 points per week.
If the 49ers are once again fantasy's best defense, drafting them in the middle rounds is, at the very least, unwise. The drop-off from best to fifth-best—or even 10th-best—isn't that steep.
Even as the highest ranked defenses fly off the board on draft day, stay put and keep stacking your bench with high-upside guys. And remember, your league mates want you to overdraft an elite defense. Avoid the trap.
Drafting a Kicker Outside the Last Round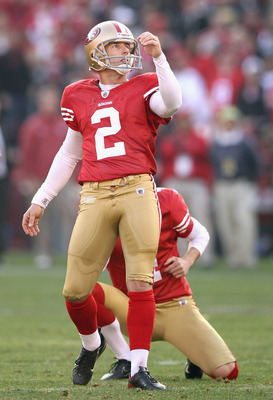 Ezra Shaw/Getty Images
Your league rivals will host a black-tie party, complete with all the trappings of luxury, if you draft a kicker outside the final round.
They will party heartily because you, my friend, messed up.
Fantasy owners have set their sites on 49ers kicker David Akers as if he were guaranteed to outscore the next best kicker by 700 points.
Stop it. Just stop it. There's no correlation between kickers' year-to-year fantasy output, meaning Akers has as good a chance to lead all kickers in scoring as he does finishing dead last.
That hasn't stopped fantasy footballers from taking Akers several rounds earlier than any other kicker.
I know it's tantalizing, looking at Akers' unholy 182 fantasy points from 2011, 32 more than the next highest scorer, the Saints' John Kasay, and an unbelievable 76 points better than Jets kicker Nick Folk.
But that means almost nothing in 2012. Let your league members snatch Akers with a seventh or eighth-round pick. Leave your kicker roster spot open until the very end.
Side note: The NFL is stacked with high-octane offenses that will give kickers plenty of scoring changes. Take a close look at anyone kicking for the Packers, Patriots, Saints or Lions.
Stacking Your Bench with Handcuffs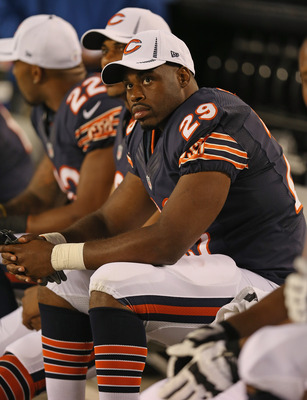 Michael Bush is large.
Jonathan Daniel/Getty Images
An Internet search for fantasy football's top handcuff options will turn up a trillion and a half results telling you who to draft as protection for your precious first-round running back investment.
Drafting a raft of handcuffs—running backs who would resume the starting gig if your starter goes down—are mostly a waste of roster space. OK, so you have peace of mind knowing that if your fantasy stud tweaks a hamstring or breaks an ankle, you have his backup: a simple plug and play. Don't do it.
Here are a couple notable exceptions: The Bears' Michael Bush, who is widely expected to share some carries with Matt Forte, is a worthy handcuff. If Forte misses time in 2012, Bush will get a heavy workload, just as he did in 2011 for Oakland when Darren McFadden missed the season's final nine weeks. Same goes for Texans running back Ben Tate, who would instantly be an RB1 if Arian Foster misses a game or three.
Sure, every NFL team has a depth chart, so technically, every starting running back has a presumed handcuff. But far too many backfields would devolve into a muddled mess, making it impossible to know who would receive the biggest workload.
Look to the Chargers for an example: When Ryan Mathews broke his clavicle in the first quarter of the first preseason game, fantasy sites projected old man Ronnie Brown as the worthwhile handcuff.
A day later, Chargers head coach Norv Turner told reporters that the team would roll with a running back rotation. If you drafted Brown as Mathews' handcuff, you're wasting valuable roster space.
I made this mistake last year. I stacked my roster with what I believed were insurance policies against cataclysmic fantasy football disaster: Ricky Williams as a handcuff for Ray Rice, Thomas Jones as a handcuff for Jamaal Charles and Jason Snelling as a handcuff for Michael Turner. I could've used those roster spots to shore up my stable of receivers or get a high-upside tight end. Handcuffing made for a shallow team that could not survive the inevitable injuries that hit every fake football team at some point.
Learn from my mistakes. Put away the handcuffs.
Follow C.D. Carter on Twitter at @CDCarter13.
Keep Reading