Notre Dame Football: 6 Predictions for Irish Opener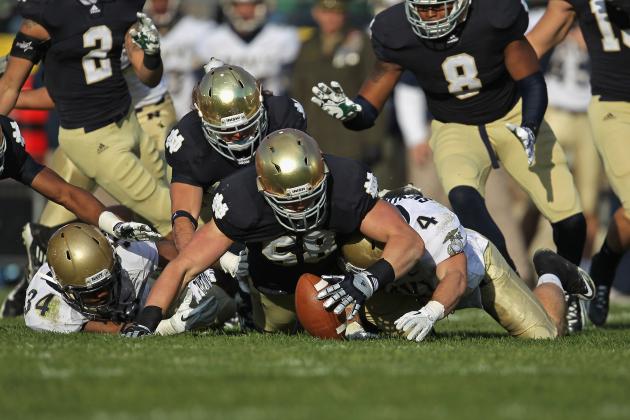 Jonathan Daniel/Getty Images

After a buzzing summer, which included departed seniors, police arrests and a quarterback war, the Fighting Irish prepare, once again, to take the field. And where better than Dublin, Ireland?
On September 1, Notre Dame will play its season opener against Navy.
Season openers are highly experimental. Head coach Brian Kelly will be a mad scientist in Dublin, moving players around and observing how they play.
Kelly's options were limited in May when, according to the Chicago Tribune, senior quarterback Tommy Rees and senior linebacker Carlo Calabrese were arrested in a confrontation at a house party. Consequently, Calabrese and Rees received suspensions for the opener against Navy.
This development makes the quarterback war in Notre Dame that much more interesting. Rees, who was the front-runner for starting quarterback, could be dethroned by an impressive performance from one of his teammates.
There is also the question of how Kelly will fill Calabrese's shoes along with the uncertainty that accompanies every season opener.
With that being said, here are six predictions of what will happen in the Notre Dame season opener.
Begin Slideshow

»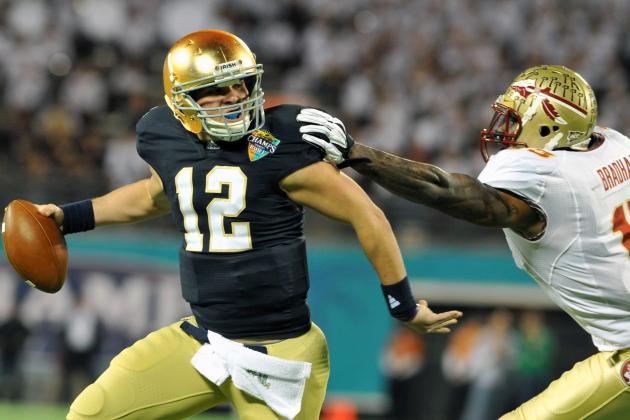 Al Messerschmidt/Getty Images

This is almost certain to make fans—who are still high on sophomore Everett Golson's performance during the spring game—grimace.
There are a lot of factors that suggest that Brian Kelly will go with junior Andrew Hendrix to start the season opener.
Kelly has told the media that Golson still has much to learn:
''Quarterback is an art and a science,'' Kelly said (via Irish Central). ''He has the art part down. It is the science and consistency he needs...he has to get the plays in quicker, he has to recognize the signaling or else we are going to get flags thrown all over the place.''
Last season, Hendrix saw action in five games while Golson has yet to play a regular-season game. Hendrix accumulated 249 passing yards, 162 rushing yards and two touchdowns in those five games.
Gunner Kiel, a promising freshman quarterback, is also in the running. Kiel may win the quarterback battle further down the line, but he will not start against Navy.
With seniority and experience in Hendrix' favor, Kelly will likely give him the nod in the Navy game.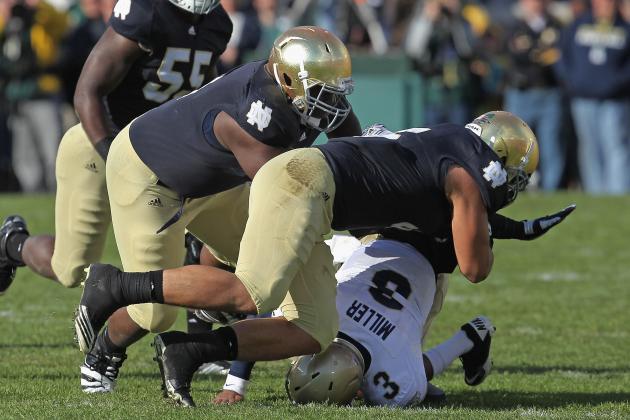 Jonathan Daniel/Getty Images

Senior Manti Te'o will be looking to solidify his legacy with the Irish.As one of the best linebackers to ever play for Notre Dame, Te'o will be looking to set the tone for his last college season.
That tone will be set in his game against Navy.
Te'o has accumulated 324 career tackles, 157 solo stops and seven sacks. Currently ranked eighth at Notre Dame in career tackles, Te'o has the opportunity to go down as one of Notre Dame's best.
"Manti is holding his peers to the same level he holds himself, and he's being vocal about it," said Brian Kelly in a press conference (via UND). "When he came here he said it's hard for me to be vocal. Well, he's that guy now, he's that senior, he's that leader."
As the team's leader and with his legacy in mind, Te'o will be explosive for Notre Dame—against Navy and beyond.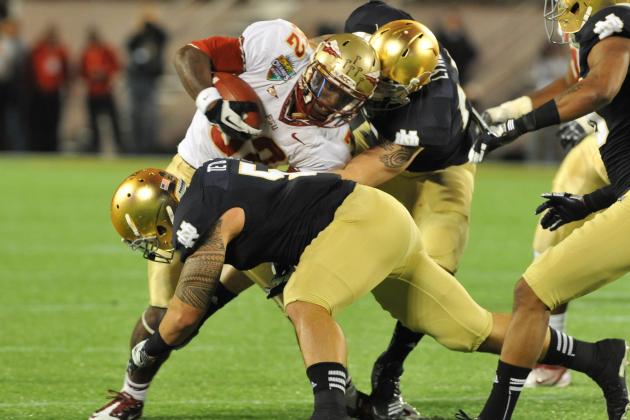 Al Messerschmidt/Getty Images

This summer's suspensions have left Notre Dame short a linebacker against Navy. Senior Carlo Calabrese will join Tommy Rees on the bench and head coach Brian Kelly will rotate several linebackers in his place.
This rotation will include a combination of junior Kendall Moore and sophomores Joe Schmidt and Jarrett Grace.
Unlike Rees, Calabrese's position is not necessarily in jeopardy as a result of his suspension. However, Calabrese's absence in the opener is at a most inopportune time, since Kelly will be using the game to start putting together his team,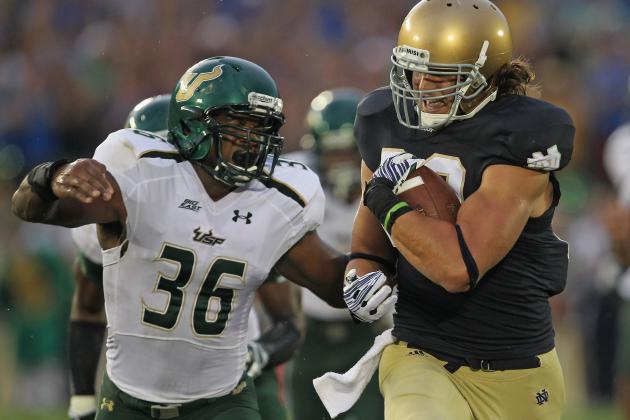 Jonathan Daniel/Getty Images

Senior Tyler Eifert will be Notre Dame's go-to tight end this season. Irish fans can remain confident in Eifert as he is sure to catch anything that comes his way in Dublin.
Eifert came out of his junior season with 63 catches, 803 yards and five touchdowns. Whoever wins the QB battle for Notre Dame will be looking to Eifert in many high-pressured situations.
Eifert's opening performance will not only have an impact in Dublin, but also with his younger teammates. Eifert is a prime example of hard work.
"When I first got here, he was in the back row. He was two or three rows back. Now he's up front," said Brian Kelly in a press conference (via UND.com) "So you can understand from my perspective that's exciting when your best player, one of your best players has that kind of desire to be the best."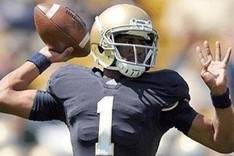 Brian Kelly has told the media that playing two quarterbacks in the opener is a possibility.
"I think everything's on the table. I don't know if we've taken anything off the table relative to the quarterback position," said Kelly in a press conference (via UND.com) "Ideally, I'm like everybody else in this room. I'd like to have one quarterback and have him be the guy, but we won't know until we get out there and put the pads on, get live action and see how these guys react to those scenarios and situations."
Yes, Everett Golson's stellar performance in the spring game is insufficient to earn him the starting position. However, that performance and Golson's progress is significant enough to earn him some playing time in the opener.
Golson's abilities ultimately seem more suitable for later in the game, especially if the match up is a blowout like last year. Hendrix has experience and can endure the pressure of starting for Notre Dame better than Golson could.
Not to say Golson does not have what it takes to take the starting quarterback for the Irish this season. He is just more likely to shine in the second half.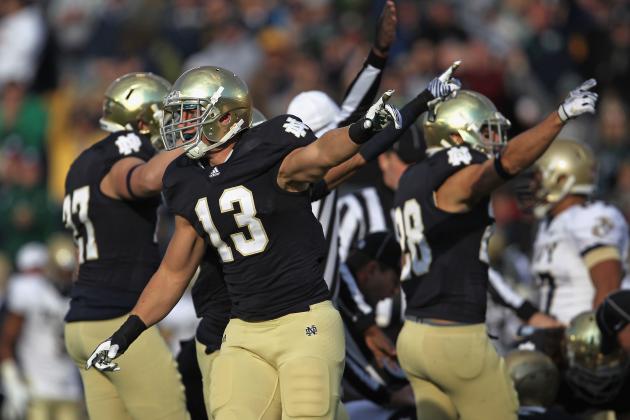 Jonathan Daniel/Getty Images

Last year, Notre Dame avenged its 2010 loss to Navy with a crushing victory (56-14). The score might not be quite so devastating in September, but it is unlikely that Navy will be able to bounce back from such a loss.
With an arsenal of skilled players, Notre Dame will be able to keep its turnovers down and rack up the passing and rushing yards.
Brian Kelly has spoken optimistically about playing Navy in the starter but realizes that the contest will not be easy.
"We'd rather have it this way than have them in the middle of the season," said Kelly in a press conference (via UND.com). "But if you could have three weeks, five weeks. If you don't play assignment football, if you're not disciplined, Navy will beat you."
Navy will not beat Notre Dame. The Irish will get the 1-0 record they need—eliminating their rivals in the process.