WWE Overhaul: 5 Reasons We Miss Referees with Personality
photo from obsessedwithwrestling.com
Undercard Overhaul is a fantasy booking series born of one fan's intense frustration with WWE's creative direction, pitching ideas that may better serve the Three E's of Good Wrestling: Each performer has a place, every match matters and even the mid-card can draw.
Referees used to have recognizable names and personalities. You had the Hebners, Teddy "Peanut Head" Long, Nick "nWo ref" Patrick, Randy "Pee Wee" Anderson (R.I.P.), Mickey Jay, Mike Chioda, Charles "Lil' Naitch" Robinson, Tim White, Jim Korderas and ECW stalwarts Bill Alfonso and John Finnegan.
The incident Monday between Brock Lesnar and Scott "Road Dogg's Brother" Armstrong only served to remind us that wrestling has a rich history of colorful referees which WWE has done its best to ignore for the better part of a decade.
Here's five reasons they shouldn't.
Begin Slideshow

»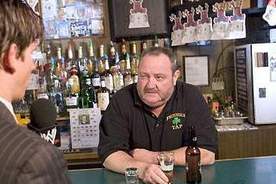 photo from obsessedwithwrestling.com
You can hear Jim Ross after a ref bump: "My God, that man has a family!"
It's because he had a family, and because we knew his name, that ref bumps were more than just storytelling tools. Referees are performers, too, with their own style and mannerisms, and they used to have depth as human beings rather than just stage props.
If fans knew who Scott Armstrong was, if the commentators had even once filled us in on his lineage, there might have been some actual drama when Brock called him out. The announcers could have feared for Armstrong's safety, praying he wouldn't fall back onto his old wrestling arsenal to confront Lesnar (or maybe he would and his brother would come out to make the save, only to get destroyed, as well)—small touches that make all the difference.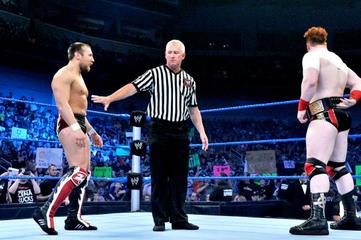 photo from WWE.com
Commentary could get a referee's whole life story over in twenty seconds or less. They don't have to waste six segments or use any pomp and circumstance. All we need is a little backstory here, a little backstory there—some element of the referee's persona that may inform the greater match narrative.
Not only would it fill dead air time (which is abundant since the abolition of play-by-play) but perhaps there's a long running conspiracy: Wrestler A has never won (or lost) a match officiated by Referee B. Maybe they've borrowed a bit from Mexico and referees are overtly heel and face. Maybe the referee has a slower count because he used to be a wrestler and permanently injured his arm.
My point is, the referees are already there, WWE might as well take advantage of them in a creative capacity.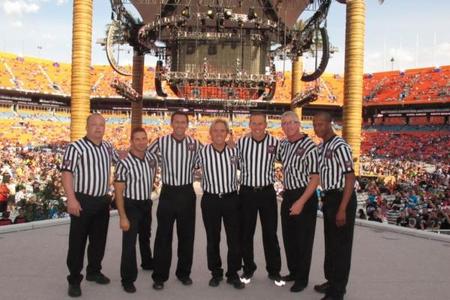 photo from @WWEArmstrong on Twitter
Two things that every media marketer knows: one, the general public will buy almost anything with a face on it if you can make them care about that face; and two, when there's an exclusive group or fraternity, people will want to be a part of it.
Introduce another ruling body in the WWE, a referee's union, get Charles Robinson to be the public face of the group and inject them into angles where there's some egregious assault against referees (like the McMahon/Helmsley walkout of yore). Then, put Lil' Naitch's mug on some shirt's with the union's logo, offer it everywhere and watch that shirt print money.
(Fun Fan-Boy Fact: I was 25 feet to the left in the crowd at WrestleMania 28 when this picture was taken. Referee Scott Armstrong tweeted it out a little while later.)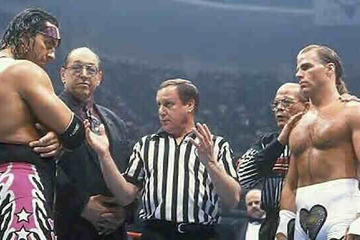 photo from WrestleMania 12
I went to a TNA house show about a month ago and people are still chanting, "You screwed Bret!" at Earl Hebner. That was fifteen years ago and, if that's not testament to the incredible power referees have when they turn to the dark side, I don't know what is.
I realize Hebner's rise to villainy was a "perfect storm" scenario involving one of the top five most famous incidents in wrestling history, but even a small shred of "Hebner heat" for any of WWE's refs could spell box office gold.
People still remember Nick Patrick's shtick as "the nWo ref" and Charles Robinson's membership in the Horsemen. Out of the thousands and thousands of wrestling personalities, we still clearly remember the bad guy referees.
An official could be bribed, bullied, blackmailed or just screwing people because he can. Maybe he's tired of the grind. Maybe he's tired of getting no respect. Maybe he's the old school guy who'll disqualify you on your first low blow. There's a whole Pandora's Box of possibilities once creative decides to open it.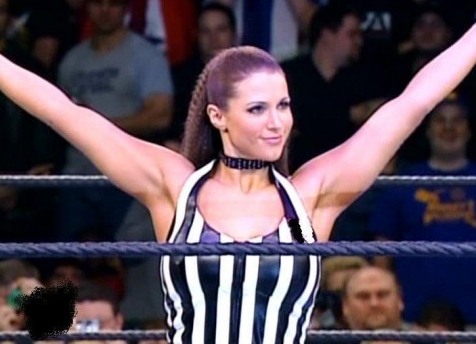 photo from allwrestlingdivas.com
A "violence against women" clause would keep most female referees from taking huge bumps when officiating a match between male talent but there's more to be gained than lost in recruiting women refs.
We've seen it a time or two—special guest referees or with Jackie Moore—but not enough to spoil a potential addition to WWE's roster of zebras.
With the appropriate spin and enough generational turnover among wrestling fans, a female ref could be new and exciting (and most certainly add a different dynamic to matches).
Plus, WWE hires more divas than they know what to do with. Why not train a couple of them to count pinfalls or back a guy out of the corner? It might cut into the misogynist stranglehold of the referee brotherhood, but isn't that a good thing?
THE AUTHOR
Jeremiah Allan is a sometime comic book writer, 2009 graduate of Ottawa University (Ottawa, KS), and senior staff writer at Wormwood: A Serialized Mystery. Check the article archive for previous installments of Undercard Overhaul.