Duke Basketball: Boldest Moments of Coach K's Career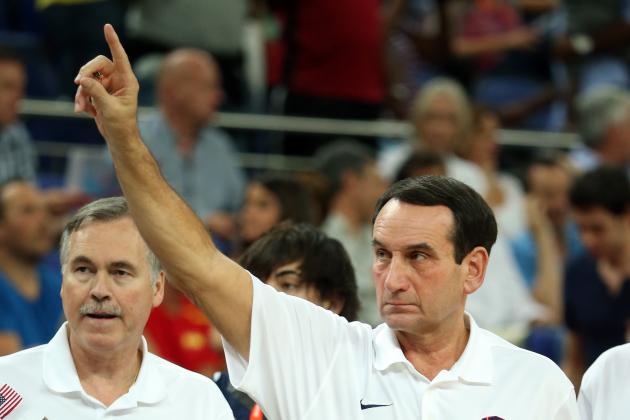 Christian Petersen/Getty Images

Mike Krzyzewski, better known as Coach K, has been a great coach at Duke through the 32 seasons that he has been at the helm of their basketball program.
He has 854 wins, including four NCAA championships and 13 ACC Tournament championships, and doesn't seem to be close to done.
Beyond that, he has had success with the U.S. Olympic tTeam as both an assistant and a head coach. Most recently, he won gold with Team USA as the head coach in this summer's Olympics.
Krzyzewski's career, while great, has been altered by several bold moves.
Here they are, along with why they have helped to define him.
Begin Slideshow

»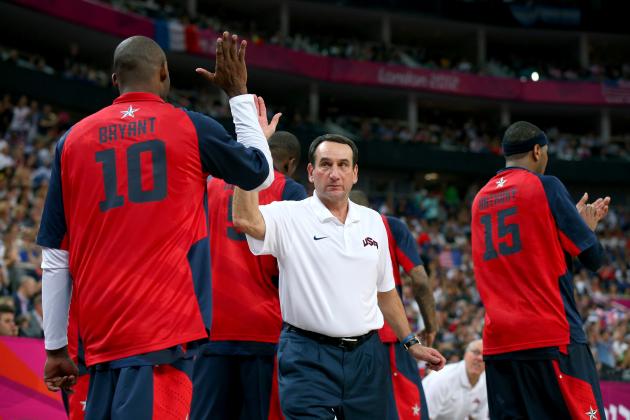 Cameron Spencer/Getty Images

Coach K has acknowledged that he has seriously considered going to the NBA three times, including 1990 (Celtics), 1994 (Trail Blazers) and in 2004 when Phil Jackson first retired from the Lakers.
It is important to recognize that Krzyzewski has stayed in college basketball instead of bolting for the NBA because so many successful college coaches try their hand in the pros.

Furthermore, Coach K's legacy would be so much different had he coached an NBA team. First, there is a much smaller chance that Krzyzewski would have become the leader in wins at the college level, something he accomplished last season when he reached 903.
Also, we can be almost certain that Coach K would not have been able to reach the level of success in the NBA that he has in college. Anything less than championships could be considered a failure for possibly the best college basketball coach of all time.
If Coach K had left for the NBA, there is no way his legacy would be what it is now.
This point may be a little bit less obvious than in the past, but is still important.
Coach K took a big risk by taking the Team USA job for one simple reason. If that team had lost any games, let alone an elimination game, he would have been ridiculed as unable to coach a difficult team.
Besides that immense pressure, there is very little advantage to coaching the Olympic squad. Throughout the games, Coach K was asked about how easy his job was to the point that he got angry at reporters.

He was also accused of running up the score in the Nigeria game, despite the fact that most of his starters were benched and there was absolutely nothing that he could do to stop the scoring barrage.
The point is, Coach K accepted a job that had little upside with a lot of downside. While it ended up being a smart decision, there was much risk.
Even with his success, few people consider his work with Team USA as proof that he is a good coach.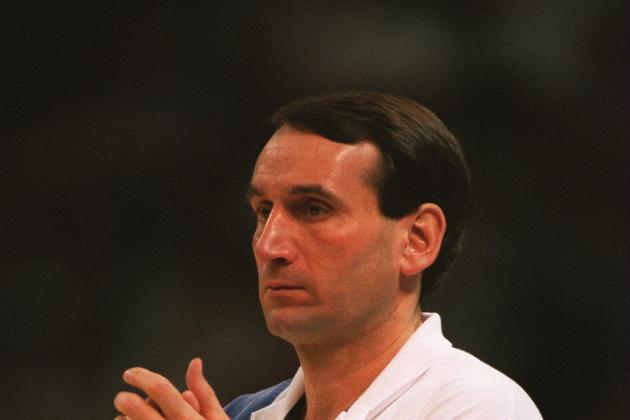 Doug Pensinger/Getty Images

One of the most concerning moments in Mike Krzyzewski's career was during the 1994-95 season when he was forced to leave 12 games into the season due to back surgery and exhaustion.
While it was a necessary step, it was a bold move coming just a few seasons after back-to-back championships.
It is also important to note because this marks the point that Coach K finally hit the wall that most high-level coaches hit, one in which they must decide between being exhausted and being a dedicated coach.
A more recent example is former Florida football coach Urban Meyer, who retired twice in a short period of time and has finally come back to coach at Ohio State.
Fortunately, Coach K has been able to bounce back from the brief time he took off during the 1994-95 season and has gone on to add plenty of wins to his legacy.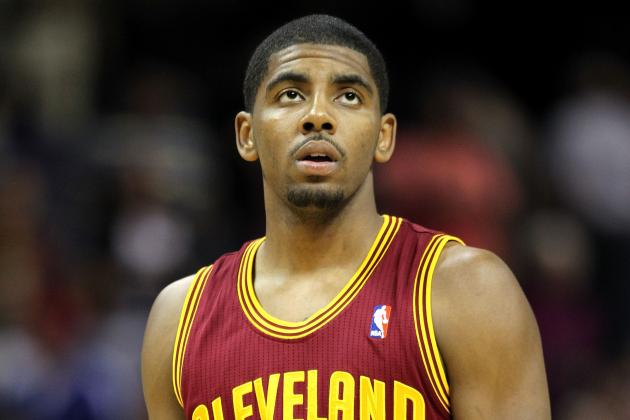 Andy Lyons/Getty Images

For years, Coach K made it well known that he is against forcing high school basketball players to go to college. Furthermore, his program is well known for having mostly respectable, four-year players, a reputation that Jalen Rose commented on in the Fab Five documentary.
Despite that, Krzyzewski has begun to rely on one-and-done players as some of the most talented on his teams.
Two seasons ago, Coach K had Kyrie Irving and followed that up with Austin Rivers, who was just drafted by the New Orleans Hornets. This year, Krzyzewski has a possible one-and-done player coming to town in Rasheed Sulaimon, who likely has enough talent to make the leap.
While people can debate whether the one-and-done rule is acceptable or beneficial, there is no doubt that it is a bold move for Coach K to make them a big part of his game plan.
It is much too early to determine their real impact on the program, especially considering Irving's injury-plagued season, but Coach K has at least attempted to use them in a Duke program that is not all-too- friendly toward one-and-done players.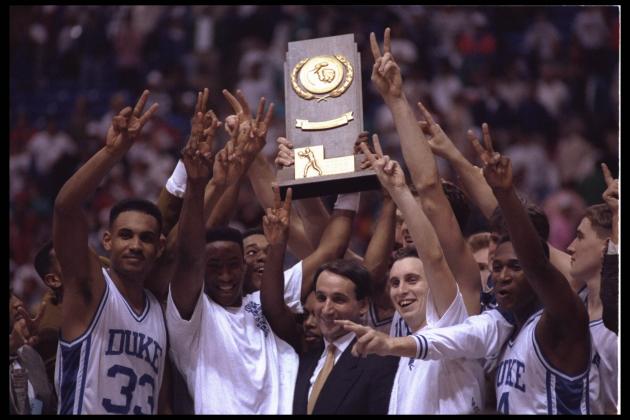 Jonathan Daniel/Getty Images

This bold decision by his superiors deeply affected his career.
Many people forget, but Krzyzewski didn't exactly have a great first few seasons in Durham. After going 17-13 in Year 1, Coach K managed to lose 34 out of 55 games in his second and third seasons combined.
It would have been easy for Duke to fire Coach K, who at the time was a relative unknown. Instead, the school stuck with him and each has been rewarded over and over again.
If Krzyzewski had been fired after Year 3, there is no way Duke would be the powerhouse that it is today. On Coach K's side, there is no way he would be considered among the best college coaches of all time without Duke. It also wouldn't have looked very good on his resume had he been fired after only three years.
The point is that while Coach K has made a lot of bold moves to help define his career, the biggest one yet was the one made by the Duke officials to keep him on board.