Cal Football: The All-Time Dream Team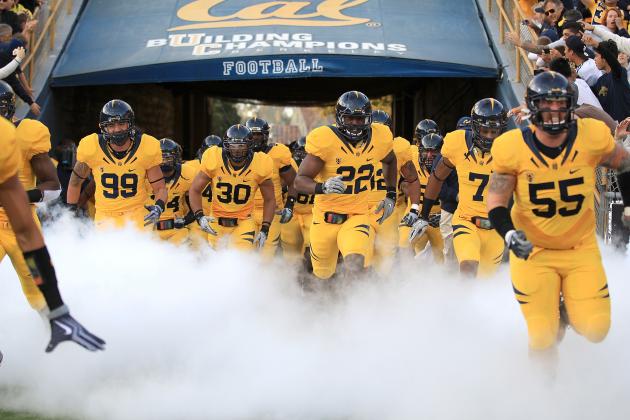 Ezra Shaw/Getty Images

Cal Football isn't known for having the best teams of all time or even the best talent to ever pass through the program. However, they do have an NFL Hall of Fame player and enough players to create a dream team.
It's a team that would be solid even on the NFL level if every player was in his prime today. There's even a couple promising young players on the list that could end up being known as the best Cal player ever at that position.
Begin Slideshow

»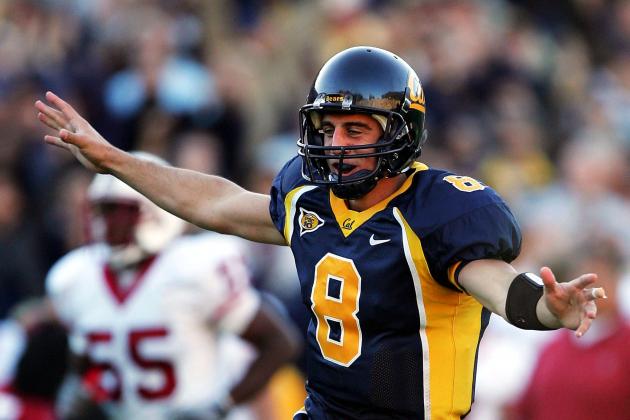 Jed Jacobsohn/Getty Images

Aaron Rodgers
He has been one of the best quarterbacks in the NFL and was a top notch quarterback for the Golden Bears when he was there. It's hard to argue with someone who has led his NFL team to a Super Bowl victory and is known as arguably the best quarterback in the league.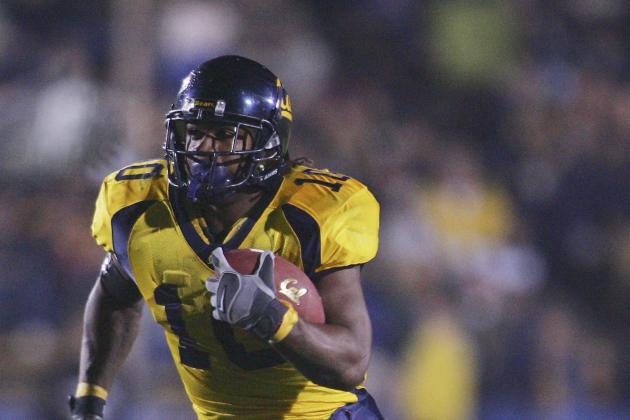 Jeff Gross/Getty Images

Marshawn Lynch
Lynch is known as "Beastmode" for his performances rushing the ball. He has always been a beast though, as he had two years with over 1200 yards rushing in college and is also a solid receiver out of the backfield. He's the ideal workhorse for the offense of the dream team.
Jahvid Best
Best is the speed guy to compliment Lynch. He wasn't a slouch in college either, as he rushed for over 1500 yards in 2008. Best's top attribute is his all-around skills. He and Lynch can both create headaches out of the backfield as part of a great thunder and lightning style pair.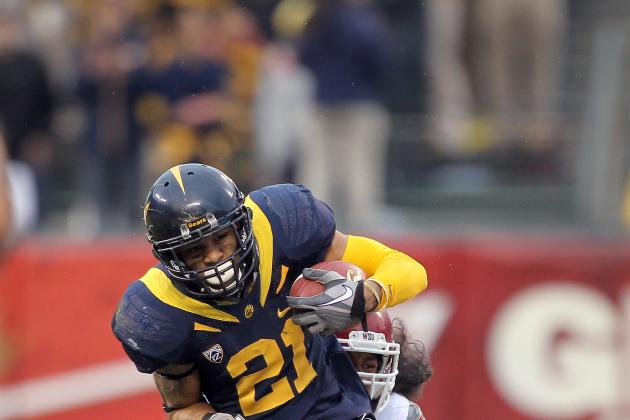 Ezra Shaw/Getty Images

DeSean Jackson
Jackson was amazing in college and is a true speed demon. Jackson finished third in career receiving yards at Cal. He had over 2400 yards and 22 touchdowns in just three years with the Golden Bears. His NFL career has been good too as he is a two-time Pro Bowler as well.
Keenan Allen
Allen has the most potential of any Cal receiver since Jackson has been on the team. He has the size at 6'3" 210 pounds, body control and route-running abilities to be the best wide receiver in the country in 2012 and should win this spot by a landslide.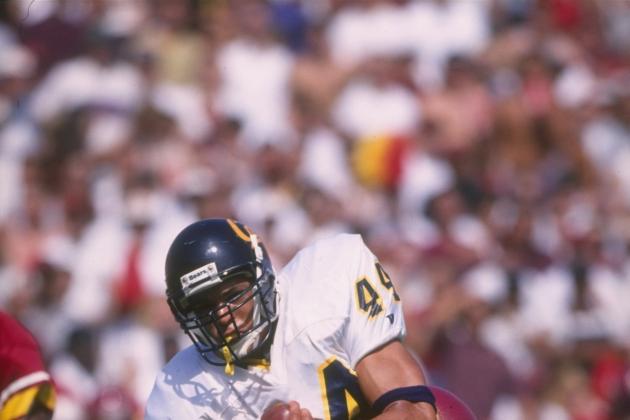 David Taylor/Getty Images
The Greatest Tight End of All Time... Tony Gonzalez
Tony Gonzalez
He's the greatest tight end of all time and deserves to be mentioned as such on any team he is ever listed on. He will be in the NFL Hall of Fame, College Football Hall of Fame and even the California State Sports Hall of Fame.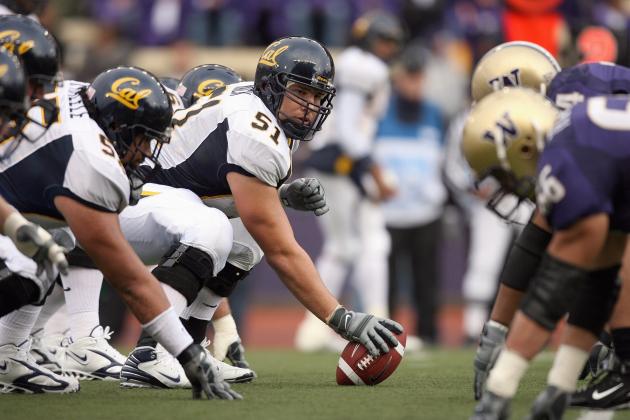 Otto Greule Jr/Getty Images

LT Tarik Glenn
He was hand picked as Peyton Manning's blind side protection for ten years. He went to the Pro Bowl during three of them. Oh yes, he was just as good in college, but was overshadowed for All-American teams by Orlando Pace and Jonathan Ogden.
OG John Welbourn
Solid but unspectacular is the best way to describe Welbourn. He was like that at Cal and he was like that in the pros. However, he was able to get selected with a second-round pick as he transitioned to his professional football career.
C Alex Mack
Mack is one of the most underrated centers in the NFL. He was even better in college though as he was a Rimington finalist, as well as a three time All-Pac selection during his career with the Golden Bears.
OG Ed White
He was a 1968 consensus All-American and is arguably the best guard in the history of Cal Football. On top of that, his professional career featured him in four Pro Bowls, and he has earned a spot in the San Diego Chargers Hall of Fame.
RT Todd Steussie
Three time All-Pac offensive tackle who was part of the best offensive line in Minnesota Vikings history and was a two-time Pro Bowl player in his own right. Oh, and he won the Morris trophy for best Pac-10 offensive lineman while at Cal.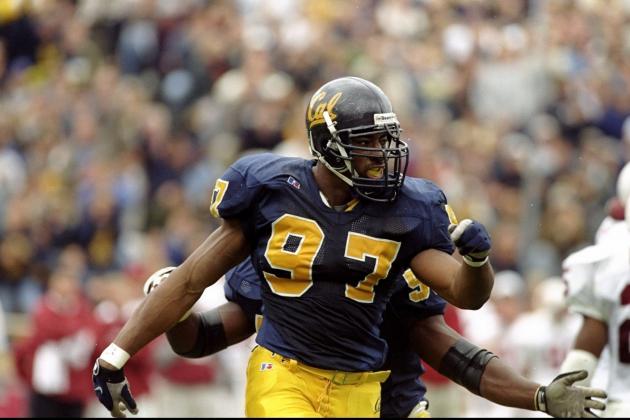 Aric Crabb/Getty Images

DE Duane Clemons
Clemons was a great run-defending defensive end in the pros and a solid all-around pass rusher as well when he was in college. He's the perfect fit for a base left end in the dream team defense and is a solid and steady force in the locker room.
DE Andre Carter
Carter was one of the most disruptive college football pass rushers in his era. He still has the ability to scare some quarterbacks and chase them down. For a dream team, he'd be playing in a role similar to what John Abraham has played in Atlanta for the past six years.
DT Brandon Mebane
Brandon Mebane was a prototypical three technique defensive tackle coming out of college. However, he has the ability to also play a nose tackle role and with Ahanotu, Clemons and Carter, would create a tough, penetrating defensive line.
DT Chidi Ahanotu
Very few sixth-round picks have 12-year NFL careers like Ahanotu did. He made his money as a penetrating defensive tackle and continued using his speed like he did in college. He played defensive end for the Golden Bears, but he fits the three technique just too well.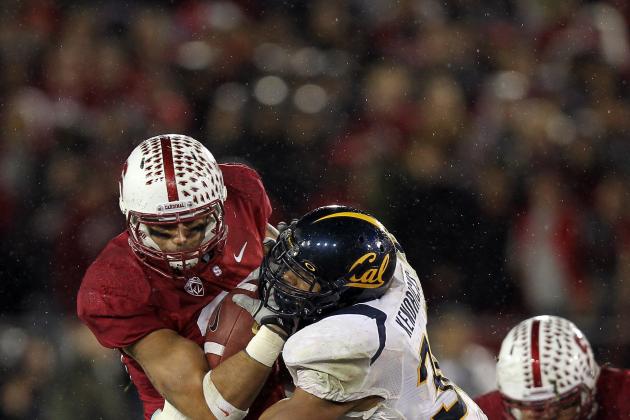 Ezra Shaw/Getty Images
Mychal Kendricks barely missed the cut.
Les Richter
He's a pro football Hall of Famer and one of the best linebackers in the history of the sport of football. He was dominant for the Golden Bears and would be the unquestioned leader as a linebacker in this defense. Richter could play middle or outside and is known as a sideline-to-sideline type.
Ron Rivera
The former Golden Bear went onto a tremendous career with the 1985 Super Bowl Champion Chicago Bears. He's also one of the best coaches in the NFL ranks now and has used his intelligence, leadership and bravado to turn around a Panthers team.
Hardy Nickerson
Nickerson is one of the best players to have been on a bad team. He's a four time All-Pro and five-time Pro Bowl selection. Nickerson is arguably the best middle linebacker to play in the NFL during the 1990's and was a cornerstone of the original Tampa-2 defense.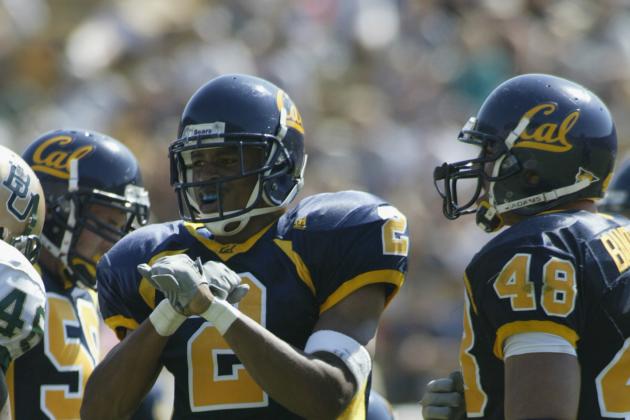 Jed Jacobsohn/Getty Images

Nnamdi Asomugha
Nnamdi Asomugha is the second-best cornerback in the NFL today and he was just as good at Cal. He would provide the shutdown element that a left corner should provide to a defense. He would be able to lock down any receiver in the country and is one of the top press corners in the game.
Deltha O'Neal
As much as Asomugha is a lockdown corner, that's the kind of playmaker O'Neal is. He's going to get beat sometimes, but he's also capable of giving you a 10-interception season. The two-time Pro Bowl selection was also a first team all-American while at Cal.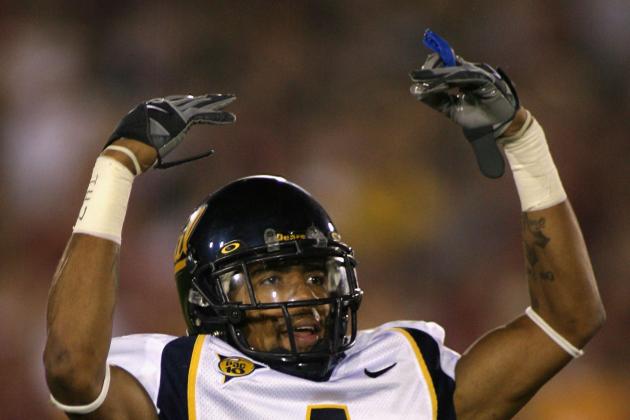 Christian Petersen/Getty Images

Thomas DeCoud
DeCoud is a personal favorite of mine from the Falcons. However, he shouldn't be selected for a team like this. There just isn't any talent in the Cal safety cupboard. It should be interesting to see if DeCoud can elevate his game under Mike Nolan though and get some Pro Bowl selections that his raw talent shows he can get.
Chris Conte
The safeties available are pretty weak. Conte, like DeCoud, is selected more on a long term potential basis and an ability to cover deep. He's a solid, well-rounded tackler, but it's a shame there isn't more talent from the safety position.
Otto Greule Jr/Getty Images

K Doug Brien
He won the Super Bowl with the 49ers back in 1994 and was an 80 percent accurate placekicker. It's hard to find many guys who are above 65 percent at the college ranks. In the NFL, he proved that he was more than able to duplicate his college success as he would hit four out of every five field goals for his career.
P Bryan Anger
He's one of the few punters who will ever be taken in the third round. While it's not prudent for an NFL GM to do that, Anger is one that an exception could be made for as he averaged 44-45 yards per punt in his college career.
Scott Carasik is a Featured Columnist and Trends and Traffic Writer for Bleacher Report. As a Featured Columnist, he covers the Atlanta Falcons, NFL and NFL Draft. He is also the Falcons analyst at Drafttek, runs the NFL Draft Website ScarDraft.com and hosts Kvetching Draftniks Radio.