College Basketball: From Road Wimps to Road Winners in 2012-13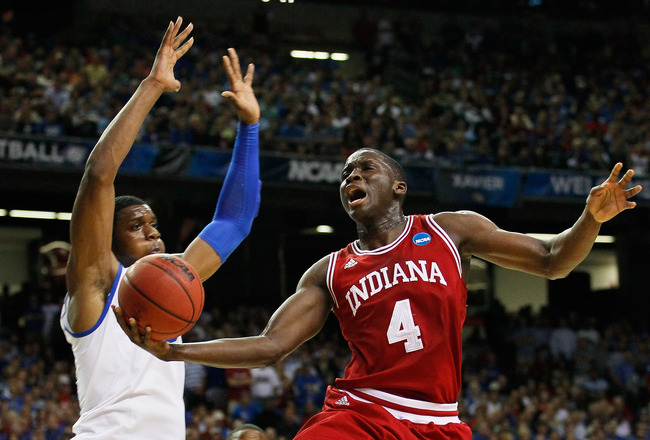 Kevin C. Cox/Getty Images
Winning games on the road is a must if you have any desire of being a college basketball champion.
You can't simply take care of business in the friendly confines of your home arena and expect to compete for your conference title or beyond.
Teams don't have to go undefeated in their away games. But it certainly helps if you can win three-quarters or more of your road contests.
Here are five teams that didn't do well on the road last year, but will turn it around and become tough to beat even when they play on their opponents' home court.
UCLA Bruins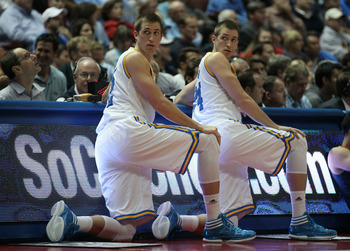 Stephen Dunn/Getty Images
The best thing that can be said about UCLA's 2011-12 season is that it is in the past.
Not only did they not reach the 20-win mark (19-14), but they also didn't make the NCAA Tournament. How often does that happen?
It doesn't help when you go 4-7 on the road. On top of that, those four wins were not very impressive.
The current edition of Bruin basketball has lots to be optimistic about.
Head coach Ben Howland has pulled in one of the best recruiting class in the nation. If Shabazz Muhammad's eligibility status gets cleared up, and their front-line learns to use their size and length, UCLA might be a top ten team again.
Whether they are playing in the newly-renovated Pauley Pavilion or somewhere on the road, the Bruins should be a much more formidable team in 2012-13.
Texas Longhorns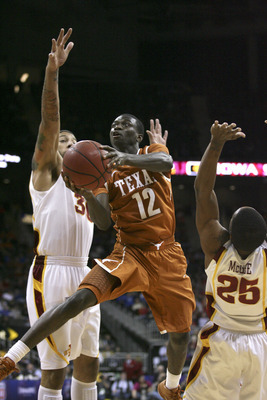 Ed Zurga/Getty Images
Rick Barnes has been one of the most successful college coaches over the last decade-plus.
In 14 years as head coach at UT, Barnes has won 333 games and led the Longhorns to the NCAA Tournament every single season.
Texas' 2011-12 season was shaky to say the least. Even though they were in the Dance in March, the Longhorns finished sixth in the Big 12 and had a 4-7 road record.
They were one of the youngest, least experienced power conference teams in the nation.
UT will again be heavy on underclassmen. Thirteen of the 15 players on its roster are either freshmen or sophomores.
Myck Kabongo (pictured) is one of the best PGs in the country and will run the show like few can.
The Horns could be ready to reverse their away-game record from a year ago.
Tennessee Vols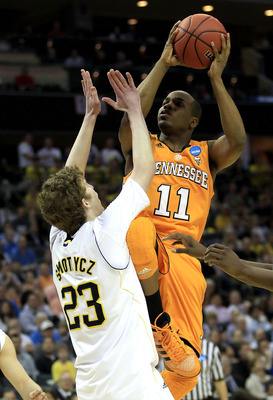 Streeter Lecka/Getty Images
Last year was a year of extremes for the Vols.
They were tough as nails at home, going 14-3 on their way to putting up a decent 10-6 mark in SEC play.
But, they were inconsistent and erratic on the road, posting a 4-8 record.
The good thing for second-year head coach Cuonzo Martin is that he has almost everyone returning from last year's team.
Trae Golden (pictured) is a key player in the Vols' upcoming year. He led UT in scoring (13.6 ppg) and assists (4.5 apg) and is ready for a big junior season.
If Jeronne Maymon (12.7 ppg; 8.1 rpg) and Jarnell Stokes (9.6 ppg; 7.4 rpg) can learn to play effectively together, Tennessee will reverse their road woes, and challenge for the SEC title.
North Carolina State Wolfpack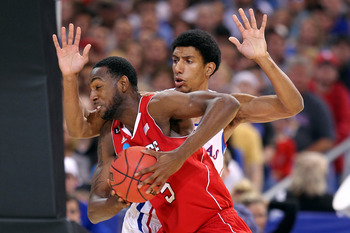 Andy Lyons/Getty Images
North Carolina State caught fire at the right time of the season last year.
The Wolfpack made it to the Sweet Sixteen for the first time since 2005.
During the regular season, NC State went 0-8 against Top 25 teams and was 5-4 on the road.
Of those four road losses, one was a four-pointer at eventual NIT champion Stanford. Another was a five-point defeat at Duke. And yet another was a three-point overtime loss at Clemson.
Head coach Mark Gottfried will have the Pack back this year, and they should challenge for the ACC title.
It is possible that NC State could win most of its road games in 2012-13...maybe even one in Durham or Chapel Hill.
Indiana Hoosiers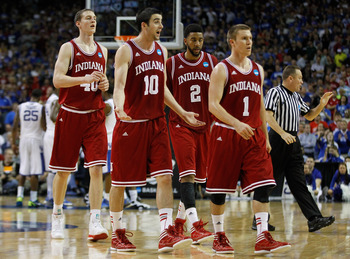 Streeter Lecka/Getty Images
One of the "feel-good" stories of the 2011-12 college basketball season was the re-emergence of the Indiana basketball program.
Last year, the Hoosiers won 27 games after coming out on top in 28 games in the previous three seasons.
But, IU has a lot of room for improvement.
In 2011-12, Indiana was only 4-5 against Top 25 teams and went 5-6 on the road.
Their struggles away from Bloomington cost the Hoosiers a chance at challenging for the Big Ten title last year.
Cody Zeller is one of the best low-post players in college basketball. IU head coach Tom Crean will continue to run his offense through the 7-foot sophomore center.
As good as he was last year, watch for Zeller to increase his scoring (15.5 ppg), his rebounding (6.4 rpg) and overall control of the paint. If he does, Indiana will be a force to be reckoned with regardless of who or where they play in '12-'13.
Keep Reading