Stock Up, Stock Down for Every Detroit Lions Positional Unit This Preseason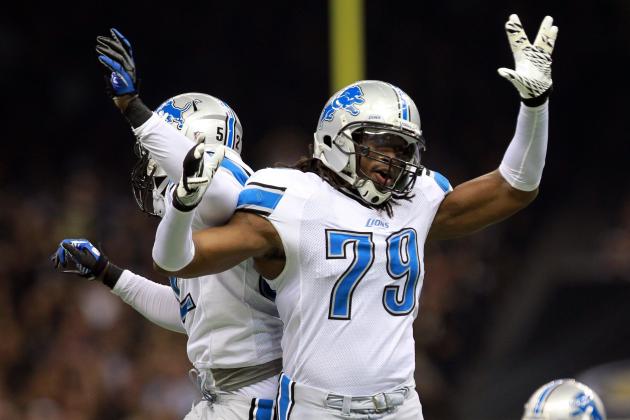 Ronald Martinez/Getty Images

With just two games left in preseason and less than three weeks until the start of the regular season, we can begin to imagine how the next four months might play out the Detroit Lions.
There's only one small problem with that. If preseason has taught us anything in the past (especially for the Lions), it's that you can't put too much stock into the numbers or records from these four weeks of exhibition.
And when you consider the Lions 1-1 record after the first two weeks, it becomes even harder to speculate whether this season will live up to 2011.
But as the Lions work out the kinks during the final days of training camp and preseason, we can start to see how each positional unit is taking shape. And while anything can change during regular season, the following slides will break down which of these units should improve on last year's performances and which might decline.
Begin Slideshow

»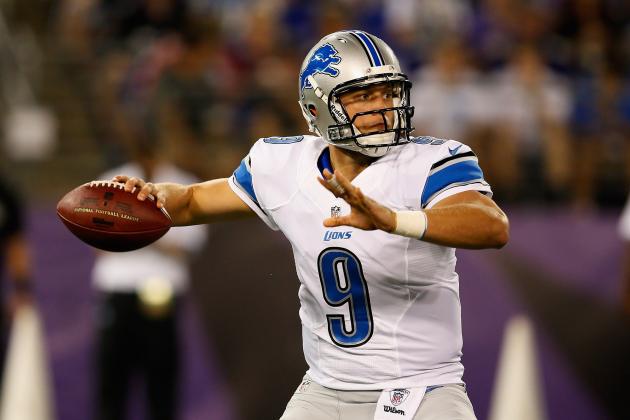 Rob Carr/Getty Images

This seems almost too easy, doesn't it?
Matthew Stafford threw for more than 5,000 yards last season, and yet there were still plenty of ways he can improve.
With the targets he has to throw to and if he can avoid fracturing any fingers this season, there's absolutely no reason to believe Stafford won't equal or exceed last year's success.
Throwing for 5,000 yards two years in a row is a lofty goal, and with the Lions run game seemingly improving as of late, I don't necessarily expect him to get there. But that doesn't mean he'll regress as a QB, it just means he has more ways to prove he's a more complete quarterback.
I think he cuts down on his interceptions and I think he makes better decisions early on in games this year, both of which were a problem for him in 2011.
Also consider the fact that Shaun Hill is one of the best backup QBs in the league. The Lions don't need a third-string QB, they're doing just fine with the first two.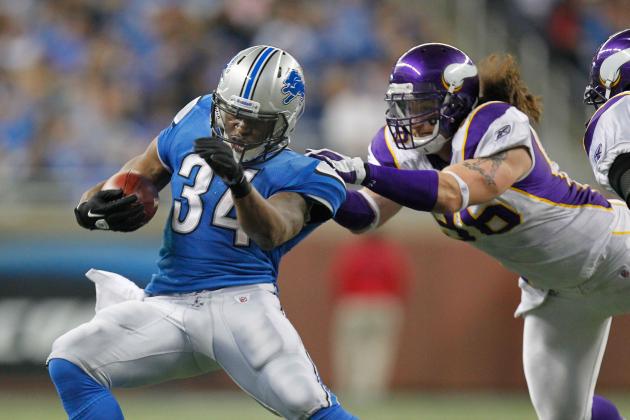 Gregory Shamus/Getty Images

The situation at running back has been a hot topic of debate for much of the offseason. The Lions top running back, Jahvid Best, has yet to be cleared for contact following a concussion last year and Mikel Leshoure has been battling a hamstring injury for most of the preseason.
That right there would make most people believe that Detroit's stock in the backfield would be on the decline. But the thing is, the Lions dealt with most of these struggles last year, and while it showed in the numbers, there's been a lot of promising signs this preseason that have indicated things might be different—at least a little bit.
Kevin Smith can give the Lions decent production as long as he's healthy. And, while we haven't actually seen what Leshoure can do in a real, regular season game, we know he's big and powerful, and will no doubt pound out some tough yardage where the rest of the RBs might not.
In addition, we've seen tremendous improvement from Keiland Williams and Joique Bell this offseason, and I think we can expect at least a portion of that output come regular season. Stephfon Green has also impressed as of late, including a 76-yard touchdown run in the final seconds of Friday's game against Baltimore.
The run game came back down to Earth a bit against the Ravens, rushing for 166 yards on 27 carries, but it was still a solid effort, and that's really all the Lions need at this point.
Overall, despite the injuries, the Lions appear to be even deeper this year in the backfield than they were last year. And unlike last year, they have had an entire offseason to prepare for these potential struggles.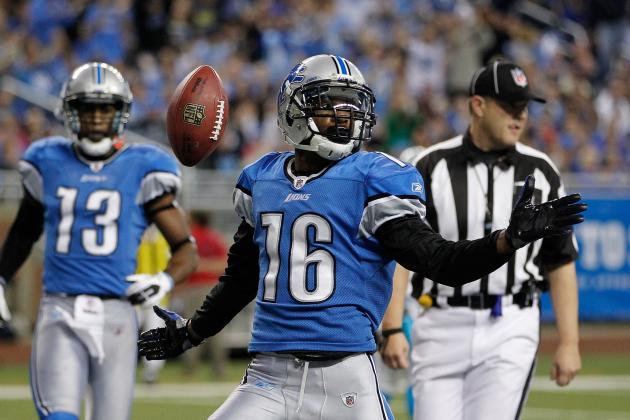 Gregory Shamus/Getty Images

How can the Detroit Lions' receiving corp get any better than last year, you ask? Easy. Titus Young.
Calvin Johnson is going to put up Calvin Johnson like numbers. We all got a little taste of that in game two of preseason last week. Circus catches are his thing, and we won't get any shortage of them this year.
Nate Burleson dropped some weight this offseason and, while I'm not sold on him improving from last season, I think his role in the slot is pretty much mapped out. He'll get quick looks in the gaps and he'll get short-yardage gains. That's all the Lions need him to do. He won't necessarily be a new and improved Burleson, but he'll be the same Burleson. And that's all the Lions really need from him.
The real difference comes from Young and rookie Ryan Broyles. It's hard to speculate on how Broyles will be this season. Obviously he's got big expectations to fill, and given his injuries we haven't gotten a chance to see any of those come to fruition this offseason. But if he's even half the wide receiver he's expected to be, the Lions have a chance to have one of the top receiving corps in the league.
A lot of it, however, depends on Young. Young is expected to have a breakout season this year, and I have little reason to believe that won't happen. When you put Young, Broyles, Burleson and Johnson in the same sentence, it can be a scary air attack for opposing teams.
As for tight ends, Brandon Pettigrew and Tony Scheffler are one of the best TE combos in the league and Will Heller has been a tremendous tool for blocking. I don't see any of that changing this season.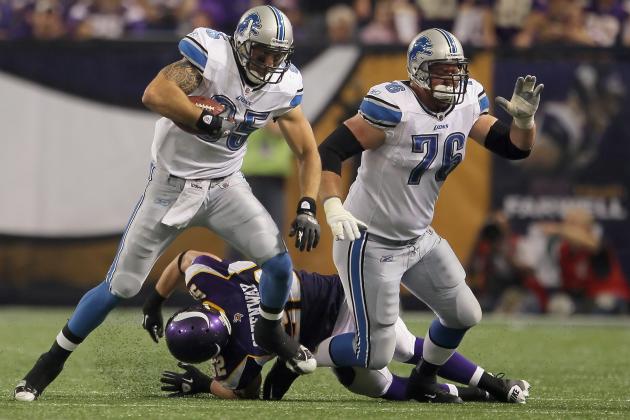 Jeff Gross/Getty Images

The bad news is the starting offensive line is getting older. The good news is, however, they are getting deeper.
Dominic Raiola, Jeff Backus, Rob Sims, Stephen Peterman, and Gosder Cherilus have played together for three years now and they likely trust each other more than ever before. Trust on the O-line means more congruency on the field, better blocks for the quarterback and a more comfortable Stafford in the pocket.
I might be cutting the offensive line a little bit of slack here, as I could easily see them slipping from last season, but I'm confident enough in their backups that I don't see a regression happening.
Last year, none of the Lions five starters missed a game due to injury. While that likely won't happen this year—especially when you consider Backus' injury woes this offseason—it just means more opportunities for Detroit to showcase its depth on the line.
With a rookie like Riley Reiff, backups like Dylan Gandy, Corey Hilliard and Jason Fox, and recent addition Bill Nagy, the Lions are looking at one of the deepest O-lines in recent memory. It also means a lot of competition for the final roster spots.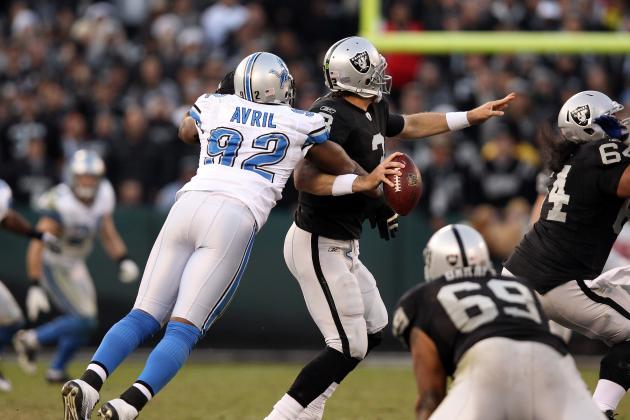 Ezra Shaw/Getty Images

The defensive line could have easily fallen into the "stock down" category. Cliff Avril hasn't gotten much work done this offseason and Kyle Vanden Bosch has been hurt for the majority of it as well. But even still, some unlikely players have stepped up in their absence.
Willie Young and Lawrence Jackson have been making big plays both in training camp and in preseason and have been fighting for a starting job. While I don't foresee either of them getting it, they have been encouraging stories and should Vanden Bosch or Avril get hurt, having one or both of them to step in is a very good thing.
Other potential defensive ends Ronnell Lewis and Everette Brown are both fighting for a spot on the roster and are showing a lot of promise so far.
In addition, I think Ndamukong Suh returns to his rookie form, which will be huge for the success of this Lions defense.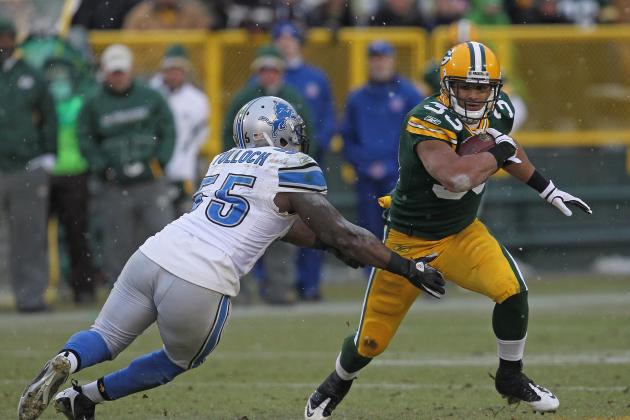 Jonathan Daniel/Getty Images

The biggest thing to understand here is that Stephen Tulloch, DeAndre Levy and Justin Durant are another year older, wiser, and more experienced. Of all the positions, I see the least amount of change here, especially when you consider that the depth beyond the starting three isn't very large.
But what they lack in depth, they will make up for this year in cohesiveness.
Rookies Tahir Whitehead and Travis Lewis have impressed so far this offseason and backup Ashlee Palmer has stepped up as well. It could be a battle between Palmer and Doug Hogue for a spot on the roster. I think Palmer wins.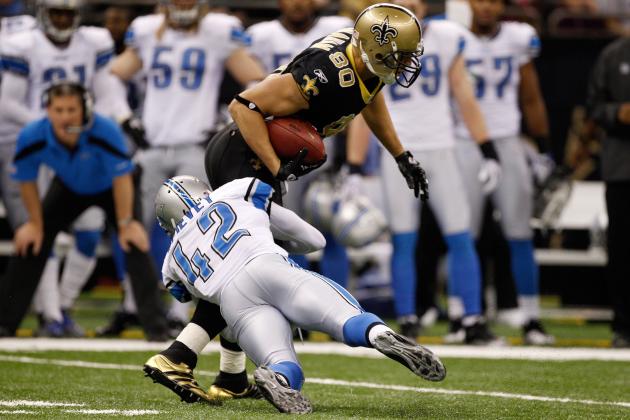 Chris Graythen/Getty Images

I wasn't actually sure it was possible for the Lions secondary to get worse than last year but I'm starting to have doubts.
I won't say they've been abysmal this preseason, but they certainly haven't impressed like I'd hoped they would. That's thanks in large part to rookies like Bill Bentley and Jonte Green who, although they've showed promise these first two weeks, lack the experience the Lions so desperately need in the defensive backfield.
They hope to get some of that experience from free agents signings Jacob Lacey and Sean Jones, but the jury is still out on whether they'll be the difference in what was already a struggling secondary.
The other concern is that the Lions are currently dealing with recent injuries to two of their top defensive backs in safeties Louis Delmas and Amari Spievey. They also lost one of their top cornerbacks in Aaron Berry this offseason. Granted, I wasn't a fan of Berry at all. But despite his poor performances last season, he was still young, and was expected to make great strides in 2012.
Injuries and inexperience have left me feeling like 2012 will be another frustrating year for the Lions' the secondary.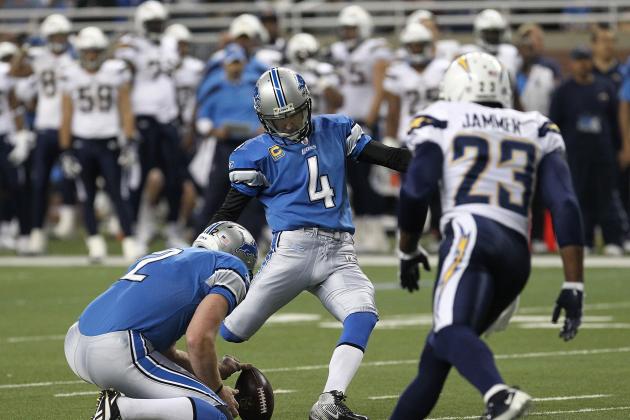 Dave Reginek/Getty Images

Aside from the always consistent Jason Hanson, the Lions' special teams have never been their strong suit. And while I still think Hanson can and will get the job done, I can't help but wonder if this is the year he misses a few easy field goals wide right.
As for kick returns, it's hard to imagine it getting any worse or less productive than what Stefan Logan did last year. Nevertheless, I don't see it improving a whole lot either. While many believe Logan will be relieved of his return duties, having youngsters like Titus Young or Ryan Broyles out there doesn't make me feel that much more confident. Especially when you consider their value to the team elsewhere and the risk of injury that being a return man includes.
And finally, the Lions coverage units have been nothing short of awful through the first two exhibition games. They gave up a 45-yard punt return against the Browns in week one, and on Friday night against the Ravens, they gave up a 55-yard kick return and an 85-yard punt return for a touchdown. Both were called back for penalties, but that's certainly not the point.
After drafting special teams experts like Ronnell Lewis and Travis Lewis, I had high hopes that special teams coverage would improve this year, but the first two games of preseason have given me little hope of that.