5 MLB Teams Most Desperate for a Playoff Berth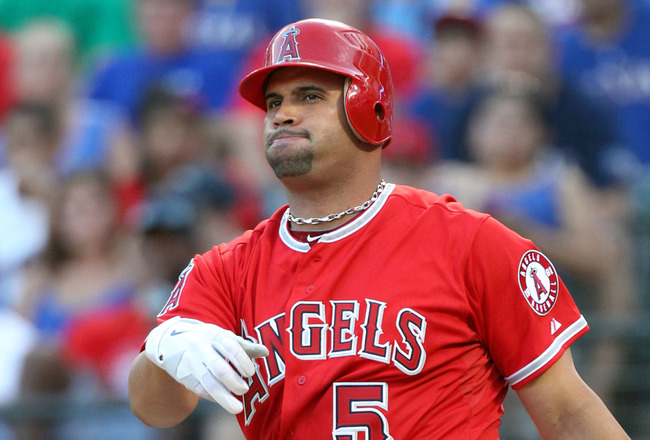 Albert Pujols and the Angels are falling out of the AL playoff race.
Layne Murdoch/Getty Images
With approximately two weeks left in August, the MLB playoff races are coming into sharper focus. Those teams with little chance at the postseason have fallen far behind and can probably begin planning for next season.
But there's still a mix of hopeful and true playoff contenders in the American and National Leagues. Teams like the Washington Nationals, Cincinnati Reds and Texas Rangers are beginning to pull away and establish strong leads.
That still leaves seven postseason bids up for grabs. Well, let's say six. The New York Yankees will very likely win the AL East, though the Tampa Bay Rays have closed to within four games of first place. So that still leaves six spots to be filled. And though six weeks remain in the regular season, time is beginning to run out for some potential playoff teams.
For a handful of clubs, desperation is beginning to set in. Those that spent big money in the offseason have big expectations to fulfill. Others are battling against decades of futility and frustration. Failing to make the playoffs would be a massive disappointment for the following five teams and their fans at this point.
Baltimore Orioles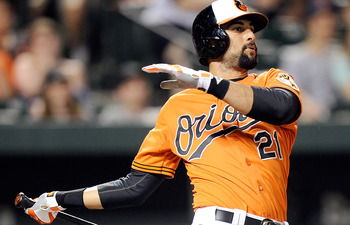 Greg Fiume/Getty Images
It's been 15 years since Baltimore last experienced postseason baseball.
During that drought, what was once a power team in the AL East has fallen to a perennial doormat, seemingly forever destined to look up at the New York Yankees and Boston Red Sox, while also being leapfrogged by the upstart Tampa Bay Rays.
Coming off four consecutive fifth-place finishes, the Orioles looked to be a last-place team yet again in 2012. Instead, Buck Showalter has done what he typically does and molded a mix of young stars and underachieving veterans into a winning ballclub.
As of Aug. 20, Baltimore holds one of the AL's wild-card playoff spots despite a lackluster starting rotation and a lineup built around budding stars Adam Jones, Matt Wieters and Nick Markakis.
Not only would a postseason bid bring some excitement back to a great baseball town, but it would also shake up what's become an established hierarchy in the American League. Oh, it's always going to be the Yankees and Red Sox in the AL, you say? Not this year.
Baseball needs some new faces in the postseason. It needs to build strong interest in other cities. MLB would also benefit from what could become an excellent regional rivalry between the Orioles and Washington Nationals. What if those two clubs competed for championships for years to come?
Los Angeles Dodgers
Harry How/Getty Images
Though we said in the previous slide that baseball would benefit from some new faces in the postseason, the sport also needs its classic franchises and large markets to succeed.
Baseball is simply a better sport with the Los Angeles Dodgers as a perennial contender in the National League. (San Francisco Giants fans may not agree with that, of course.)
Virtually everyone associated with the game has been rubbing their hands in anticipation since a new ownership group—headlined by Magic Johnson—took over the team. After spending $1 billion to buy the team, how quickly would the Dodgers become a playoff team again?
Initially, the Dodgers looked as if they might run away with the NL West. But then Matt Kemp got hurt, and a lineup with very little punch was exposed.
However, the new ownership eventually stepped in at midseason, funding general manager Ned Colletti's effort to take a fast track to the postseason. Hanley Ramirez, Brandon League and Shane Victorino were added to keep the Dodgers ahead of the Giants in the NL West.
But what if this effort doesn't pay off? What if the Dodgers don't make it to the postseason? Even worse, what if the archrival Giants beat them out?
Will the Dodgers and their new owners have won back the fans that were lost during the Frank McCourt reign of terror and bankruptcy? Or might they have to work a bit harder to reclaim the hearts and minds of Los Angeles baseball fans?
Detroit Tigers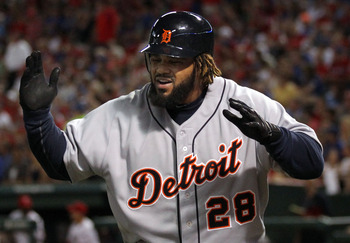 Layne Murdoch/Getty Images
Much was already expected from the Detroit Tigers by their fans even before owner Mike Ilitch unlocked the vault to sign Prince Fielder in perhaps the offseason's most surprising transaction.
The Tigers already had the AL MVP and Cy Young winner in Justin Verlander. They had one of baseball's finest hitters in Miguel Cabrera.
But despite some megawatt star power, has Tigers GM Dave Dombrowski really built a good team? Left field and second base were holes all season, though steps have been taken to address those flaws.
Dombrowski made one of the trade deadline's biggest deals by acquiring Omar Infante and Anibal Sanchez from the Miami Marlins. Though Infante has brought some stability to second base, Sanchez looks like a bust rather than the solid middle-of-the-rotation starter he was expected to be.
Losing out on a playoff spot after all the moves that have been made and all the money spent would be a crushing blow to the Tigers and their fanbase.
If they fail to make it to the postseason, manager Jim Leyland could become a scapegoat (especially if he ends up losing the AL Central to a first-time manager in the Chicago White Sox's Robin Ventura).
Fans desperate for a championship could become even more irritable and angry. That outrage could blow up if it turns out the Tigers missed out on the playoffs during a season when the Red Sox and Angels also fell short.
Losing out to the likes of the Orioles, Rays, Athletics and White Sox would make for a bitter offseason.
Pittsburgh Pirates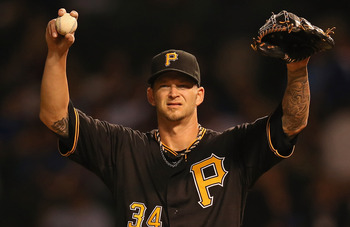 Jonathan Daniel/Getty Images
If the 15-year playoff drought the Orioles have suffered through sounded awful to you, how about the 20-year slog the Pittsburgh Pirates have endured?
Failing to make the playoffs this year would be especially painful. Not only would that extend the Pirates' reign of ineptitude to 21 years, but Pittsburgh would have to live with squandering what looked like a sure postseason bid.
Some might say that the Pirates flopped for the second straight season. But realistically, last year's club wasn't a true playoff contender. This season, the team has a legitimate pitching ace in A.J. Burnett. It has a relief stud in Joel Hanrahan. Most importantly, the Pirates have the MVP.
If the Pirates don't make the playoffs, that result could very well cost Andrew McCutchen the biggest individual prize a player can win. What a shame that would be, as he is undoubtedly the NL's best player this season, and he has carried his team into contention.
Though the Pirates are a relatively young team with the potential to develop into a NL powerhouse, not following through on this year's promise could be a significant blow to the morale of Pirates fans.
Belief can be very fleeting. It doesn't take much to dash hope, especially when optimism from Pittsburgh baseball fans has been crushed for decades. The Pirates could be building a new generation of fans with their success this year. But they could also lose one by finishing as a disappointment yet again.
Los Angeles Angels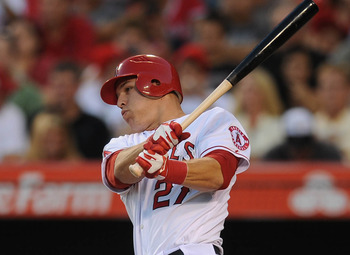 Kelvin Kuo-US PRESSWIRE
Is it possible?
Could the team that rocked the baseball world by signing Albert Pujols and C.J. Wilson last December not make the playoffs?
Could a club that made the splashiest deal before the trade deadline by acquiring Zack Greinke, adding him to a rotation that already had Jered Weaver, Wilson and Dan Haren actually spend October watching the postseason on TV with the rest of us?
The Los Angeles Angels also have the most exciting rookie—let's just call him the most exciting player—in baseball this season in center fielder Mike Trout. The 21-year-old sensation is an AL MVP candidate, hitting .343/.405/.608 with 24 home runs, 70 RBI and 39 stolen bases as of August 20. But there's also his spectacular defense, capable of preventing any opponent's home run from going over the wall.
Failing to make the playoffs could cost Trout an MVP award. But perhaps more importantly, it would deprive us—and the wider audience that comes with postseason play—of the chance to watch this superstar play in October.
However, in the bigger picture for the Angels franchise, falling short of the postseason will also have squandered an opportunity to capture the attention of Los Angeles baseball fans. They had an opportunity to claim the L.A. market of spurned Dodgers fans turned off by the downfall of their team.
But the Dodgers are back now and ready to reclaim their spot as L.A.'s baseball kings. If they make it to the playoffs and the Angels don't, it might not matter how much money Arte Moreno and his Halos spend in the future. They'll have reverted back to L.A.'s other baseball team.
Follow @iancass on Twitter
Keep Reading