The 10 Best Rivalries in Sports (That Never Happened)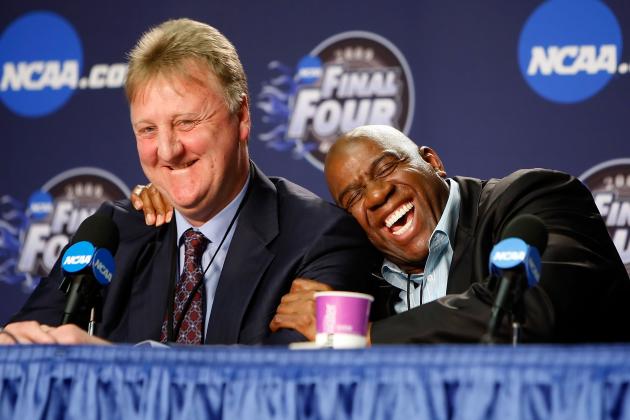 Gregory Shamus/Getty Images

He may not have realized it at the time, but when Kobe Bryant decided it might be a good idea to go ahead and call out the greatest team in the history of sports last month, he was actually exposing a very rare omission in our analysis of the athletes we love so much: Closure.
Not that sports is completely devoid of closure, it should be noted, simply that when it appears, it's usually in small doses. The question of who's the fastest man in the history of the world, for example, definitely has an answer. Many others do not.
Sure, what Bryant literally said when a reporter dared to ask him who would win in a game between the 1992 "Dream Team" and this year's USA Men's Olympic basketball team was that although the contest would be tough, his team would be able to "pull it out." But what the prolific 33-year-old must have meant to say is that because the universe we live in is so cruel it would never allow such a game to happen in the first place, the truth is we'll never really know.
Or something like that.
Whatever he was thinking, Bryant's comments are as intriguing as they are controversial and as we'll see in the slides ahead, the annoying little "what if" scenarios they unknowingly referenced are in no way limited to Olympic athletes, either.
They're a natural side effect of every sport in every era and until the world suddenly decides it's not going to play these silly little games we're all obsessed with anymore (see: Armageddon), they won't be going anywhere anytime soon.
Then again, for a talent like Bryant (or any other member of this year's USA basketball squad, for that matter) whose career will forever be juxtaposed against the most revered legends in the history of his sport, this lack of closure may actually be a blessing in disguise.
Could the 2012 USA basketball team beat the '92 version? Sure they could!
How could anyone prove otherwise?
Begin Slideshow

»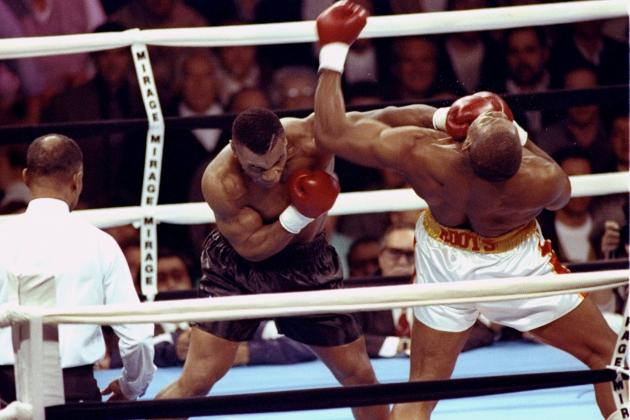 Holly Stein/Getty Images

What It Could Have Been: Maybe not the most entertaining rivalry in boxing history, but certainly its most celebrated.
Even if they'd have only met once, a matchup between Mike Tyson and Muhammad Ali in the prime of their careers would have been the biggest spectacle in boxing history and would have captivated sports fans all across the globe.
Both were cocky, dominant and—though in vastly different ways—intimidating, and each would have perfectly fit into the traditional hero and villain roles that have helped define so many memorable rivalries throughout the years.
The first time Ali fought Joe Frazier in 1971, the bout was hyped as "The Fight of the Century."
Ali vs. Tyson?
That very well could have gone down as the fight of all centuries.
Getty Images/Getty Images

What We Got Instead: An annoying bar argument that just won't go away, even when pretty much everyone agrees the contest is a mismatch favoring Ali.
The problem? Before he started eating his opponents' body parts and slowly mutilating his own, Iron Mike had the most powerful punch the world has ever seen.
This means although Ali would have Tyson outmatched in virtually every other measurable aspect of their hypothetical meeting, all the world's most notorious pigeon enthusiast would have to do is land one solid punch at the right time and nothing else would matter.
But would he ever get a chance to land one? Or would Ali just slowly pick him to pieces like the similarly-sized Lennox Lewis did in 2002?
Unfortunately because we happen to live in a universe where their careers took place in completely separate eras, questions of that nature will just have to remain rhetorical.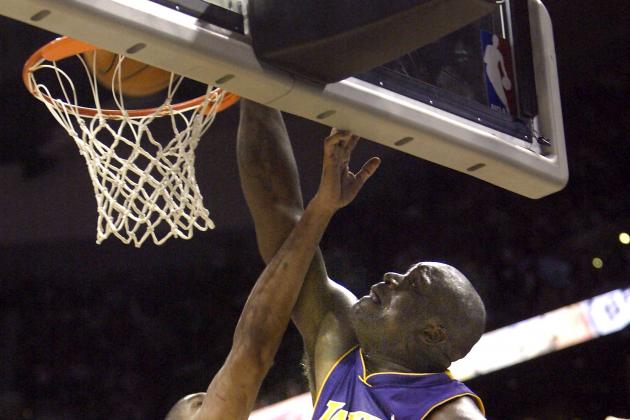 Stephen Dunn/Getty Images

What It Could Have Been: An epic collision between the two most prolific big men in basketball history.
Kareem Abdul-Jabbar may be Chamberlain's closest hypothetical adversary from a historical standpoint, but in terms of their impact on both the center position and the sport at large, the only game-changer truly worthy of being compared to Wilt "The Stilt" is last generation's show-stopping freak of nature, Shaquille "Whatever Nickname I Feel Like Calling Myself This Week" O'Neal.
Both these behemoths were a level above the competition during their respective eras and their performances were as stunning as the men themselves.
In Chamberlain's case, this meant dominating opponents so routinely that people just came to expect it (how else do you explain a player scoring 100 points in a single game and nobody being there to film it?), while in Shaq's, it meant single-handedly altering the NBA hierarchy every few years just for the fun of it.
Wilt vs. Shaq could've been Magic vs. Bird only of a much more physical nature and, considering both giants had the personality to match, with probably twice the laughs. Every sports fan would've followed this one, and every last one of them would have been satisfied with the result.
Thanks a lot, universe.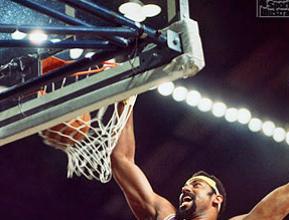 What We Got Instead: Two legendary careers that are virtually impossible to compare with any confidence.
You may get the sense that Shaq in his prime would just be too massive for Chamberlain to keep up, or that Wilt's stamina and finesse would give him free reign to school Shaq however he saw fit, but it's not like anyone will ever know.
Wilt wasn't a man among boys, he was Batman among anonymous henchmen. The level of competition he faced in the early 1960s simply had to inflate his jaw-dropping stat line to some degree, and to make matters worse, the only rivalry The Big Dipper really did engage in just so happened to be against the best defender in NBA history, Bill Russell.
That rivalry, of which Russell will always be remembered as the clear victor, probably has the reverse effect on how we view Wilt's talent in this day and age and only makes evaluating his career that much harder as we further distance ourselves from it.
Shaq's career is plagued with similar problems, however, as he too peaked at a time when superstar centers were in noticeably short supply (Shaq's only comparable contemporary is Tim Duncan and their series is a virtual tie at 33-29 in favor of His Shaq-ness) and all four championships he won were while playing on extremely talented teams.
Would Wilt have had the same struggles he did against Russell if the Big Fundamental were the one trying to guard him for 45 minutes a night? Would Shaq still be Superman if Bill Russell were there to play his Lex Luthor?
Can't we at least agree Shaq had the better nicknames?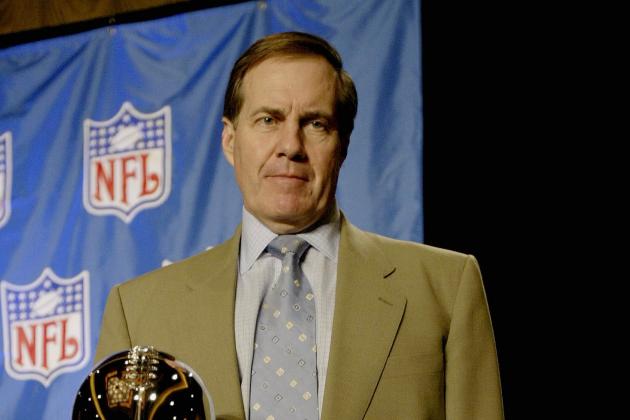 Jeff Gross/Getty Images

What It Could Have Been: The most dramatic coaching battle in NFL history, hands down.
Not that coaching battles are traditionally exciting affairs or anything. Most of the time you hear about a coaching showdown (or, as many announcers prefer to frame them, "chess matches"), in fact, all it really means is you've been duped into watching a low-scoring defensive matchup so boring there's more to talk about off the field than on it.
But this one's different.
In Belichick, you have a guy whose career is so remarkable people completely overlook the fact he was caught cheating at one point during it (and rightfully so). In Lombardi you have a coach so synonymous with winning that they give the Super Bowl champions a trophy with his name on it at the end of every season.
One chance meeting between these two would have stopped the NFL in its tracks, and a rematch would have triggered an even bigger media spectacle. Pair them up in primetime, or the playoffs, or, heaven forbid, in the Super Bowl?
There's not enough hyperbole in the world to promote a face off like that!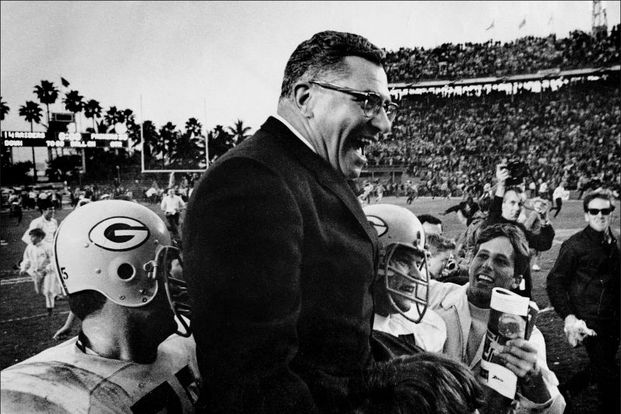 What We Got Instead: A long-overdue passing of the torch for the title of best coach ever (or at least that's where it's heading).
Lombardi is the godfather of NFL coaching royalty and while many potential successors have laid claim to his throne over the years, none have built a case quite as convincing as Belichick.
He took New England to its fifth Super Bowl in 11 years just this past February and he's enjoyed historical success in an age defined by salary caps, parity and, for many lesser franchises in the modern era, near-constant change at the head coaching position.
Not that the title is officially Belichick's quite yet (no matter what Michael Irvin may have to say about it). Bill still needs one more Super Bowl appearance to equal the record set by Don Shula back in 1985, for one thing.
By coaching Green Bay to five championships in seven years including the first two Super Bowls in 1966 and 1967, we may find Lombardi has actually set the bar so high that no coach will be able to match his legacy.
Even so, as likely as it may seem now that the NFL's first great coach will always be remembered as its best, you can't shake the feeling that Belichick is hot on Lombardi's trail at this stage in his career. If the incredible run Foxboro's finest has been riding for a decade straight continues much longer, he very well may end up usurping the role with a playoff record so impeccable even the most ardent Packers fan will have to concede defeat.
Of course, if the universe had only been kind enough to allow these gridiron geniuses to grace the field at the same time we wouldn't have to make such a controversial call in the first place, but that's neither here nor there.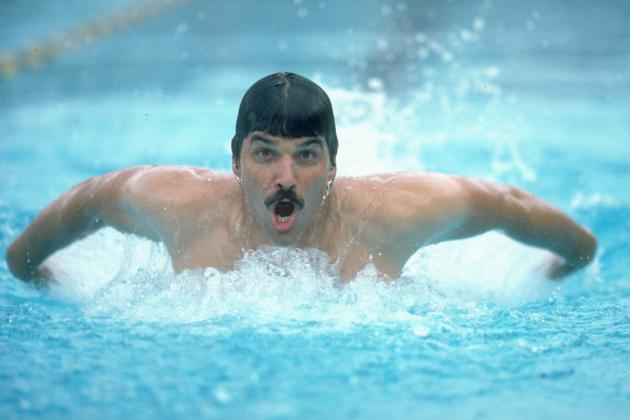 Tony Duffy/Getty Images

What It Could Have Been: A simple way to finally settle once and for all just who best swimmer in the world really is.
There's no telling how big this underwater thriller would have actually been because part of the allure surrounding both swimmers was how consistently they upstaged their opponents. It's probably safe to assume that even if they did split their medals and consequently the fame that comes with them, the world would still be glued to their TV sets during every event in which they competed regardless.
Both would have gone down as legends no matter what and the anticipation for each meeting would have only grown bigger the longer their imaginary feud raged on.
Who would emerge victorious? It doesn't even matter.
As long as one of them did, and the world found the answer to this currently unanswerable question, you'd have to call it a success.
In that scenario, everyone wins.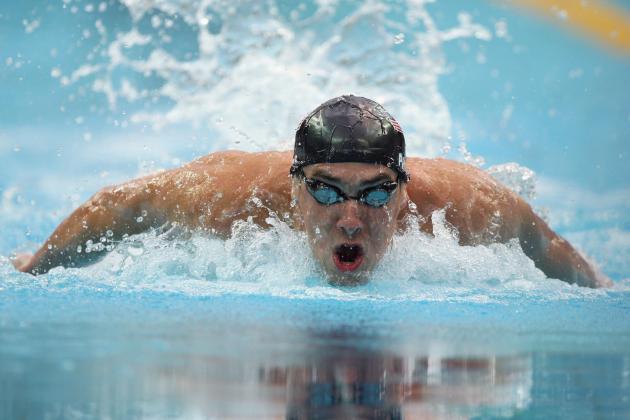 Ezra Shaw/Getty Images

What We Got Instead: Two amazing Olympians and one giant heap of uncertainty.
It's easy to try and call this one in favor of Phelps simply because, well, he swims faster.
Plus he won more medals.
But Phelps also benefited from over 30 years of scientific advancements that Spitz never did. Plus he won most of his medals while wearing a since-banned swimming super suit that was designed using NASA wind tunnels for crying out loud. How could we possibly compare these two given that discrepancy alone?
You're right, we can't, and even though there's nothing inherently wrong with celebrating the incredible performances both athletes were able to produce, it sure would be nice to know which of them would win if they'd have shared the same pool just once.
All we know right now is that Spitz was the best swimmer of his generation, Phelps was the best of his and both have a legitimate claim to be considered the best we've ever seen.
Until someone finally invents that time machine we've all been waiting for, that's going to have to do.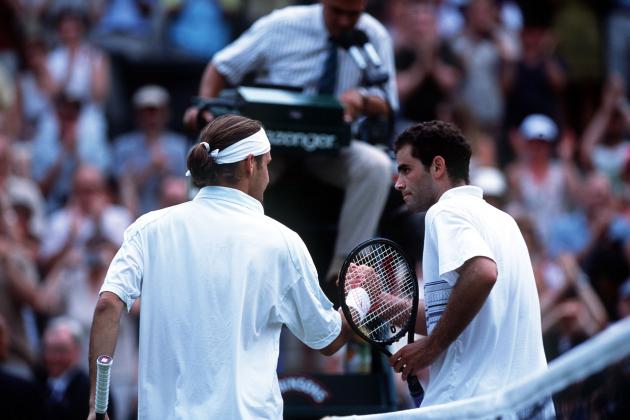 Clive Brunskill/Getty Images

What It Could Have Been: One of the most exciting rivalries in the history of individual sports.
These are the two most accomplished tennis players the world has ever seen, and if their real-life rivalries are any indication—Sampras had Andre Agassi, Federer still has Rafael Nadal and Andy Murray—there's little question both would have risen to the occasion had they played in their primes (they met in 2001 but Sampras was 29 and near the end of his career at the time while Federer was only 20 and just beginning his) nor that the results would have been anything but spectacular if they had.
Federer vs. Sampras would have been the marquee matchup that defined an entire sport.
No other player would have stood a chance to break through in the tennis world if these two had been playing at the same time, as their collective dominance would've come at the expense of their peers and the drama surrounding every match they played would have easily trumped any other storyline.
No record would be safe in the wake of their excellence. No trophy would fall without a fight.
And no one, no matter how casual a follower of the sport they may happen to be, would have failed to take notice.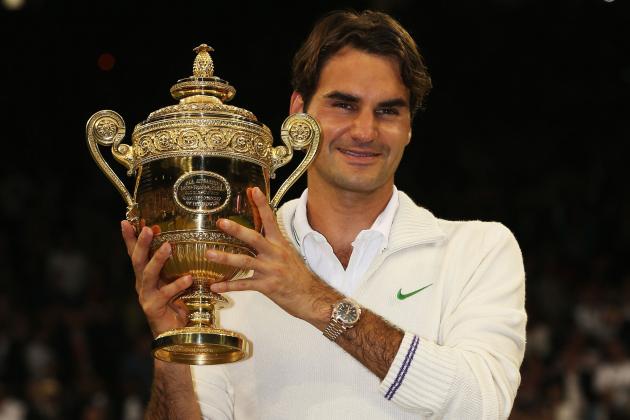 Clive Brunskill/Getty Images

What We Got Instead: A reasonable consensus on the best tennis player ever and a sneaking suspicion that it might just be too good to be true.
It's understandably rare for the world to agree on the best athlete in any given sport, but after 17 Grand Slam titles and eight finals appearances at Wimbledon, 31-year-old Roger Federer has done just that: He's the best tennis player ever and virtually no one disagrees.
But should this unanimous coronation really be such a no-brainer?
Consider Federer's record against his aforementioned adversaries, Nadal and Murray: Nadal is currently leading the Swiss Maestro 18-10 over nine years while Murray currently leads him 9-8 and just beat him for an Olympic Gold medal earlier this month.
Compare that to Sampras, who won 20 of 34 career matches against Agassi – his closest rival – while also winning 14 Grand Slam titles and just as many Wimbledon tournaments as Federer himself, and all the sudden the picture isn't quite so crystal clear.
Shouldn't the best tennis player ever have a winning record against his contemporaries? What would Federer's record have been against Sampras? Would this one rivalry alone have been enough for either to solidify their ranks among the all-time greats, or would it just serve to cloud the issue even further than it already seems?
If you're really expecting to find the answers to questions like that in this universe, you better get comfortable: You're going to be here for a while.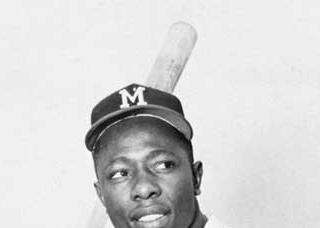 What It Could Have Been: The most thrilling home run chase in baseball history, and therefore an earth-shattering event that may have changed the game as we know it.
It's tough to overstate just how big this back-and-forth slugfest between the two most prolific home-run hitters in MLB history really would have been, but that doesn't mean we can't still try. This is Ali vs. Frazier with cleats. Palmer vs. Nicklaus with a pitch count. McGuire vs. Sosa…on steroids! (Or is that redundant?)
Bonds' 765 career home runs and Aaron's 755 are the two highest totals in MLB history and the only other player to join them in "The 700 Club" so far is The Great Bambino himself, Babe Ruth. Of course the world would have noticed if the record-breaking journeys these two embarked on had been ongoing simultaneously, and of course the significance of each milestone passed along the way would have been celebrated with passion and joy.
When Mark McGuire and Sammy Sosa battled to become the MLB's single-season home run champion during the summer of 1998, for example (both succeeded in breaking Roger Maris's 37-year-old record of 61 but McGuire ended up on top by notching 70 to Sosa's 66), people went crazy.
The entire country was swept off its feet by the chase's nostalgic allure, and until both men were exposed as little more than glorified cheaters in later years (McGuire admitted to juicing back in 2010 while in '03 Sosa tested positive for steroids and was caught using a corked bat against Tampa Bay), the memory of that magical summer had never really dissipated from our minds.
Can you imagine the hysteria that would have surrounded a similar battle between Aaron and Bonds? Only not just to become the single-season king but the all-time leader and not over the course of just one season but several?
Does the dictionary even have a word to describe that kind of mayhem? Is it any wonder the mere notion of watching such a chase unfold gives the average baseball fan goose bumps, even when they know how the story ends?
Shouldn't that tell us something?
Mike Zarrilli/Getty Images

What We Got Instead: Injustice, rage and an unforgivable tainting of the most hallowed record in sports.
Barry Bonds may never admit he knowingly took steroids and therefore compromised the integrity of his career, his sport and the home run record he chased for so long. To the viewing public that watched him double in size and churn out big-league dingers with superhuman consistency from one tumultuous season to the next, that admission may not even be necessary.
Suspicion, doubt and indignation will accompany Bonds's legacy for as long as it exists (not to mention the occasional death threat). Even though the record books may forever proclaim Bonds as the sport's supreme slugger, skeptical sports fans will always question whether he deserves that honor or not.
Even without steroids, however, there's no way to know how Bonds would have fared in Aaron's era, or Aaron in Bonds's. The sinking feeling that history will never reach a legitimate consensus on who the all-time home run king really is based on the way their careers played out is all too real, emotionally devastating and impossible to fully ignore.
And for a record this inherently sacred in a universe that could have just as easily allowed the two to duke it out on an even playing field rather than force us to try and guess based on pure speculation alone, that's a real shame.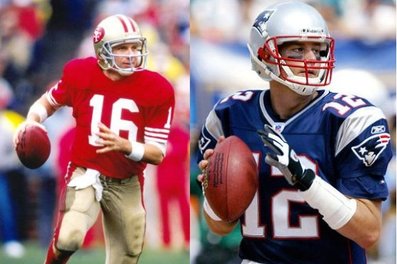 What It Could Have Been: The Magic vs. Bird of the NFL, and therefore one of the most significant rivalries in American sports history.
With nine combined Super Bowl appearances and seven wins, Joe Montana and Tom Brady are the two most clutch quarterbacks in modern NFL history. Montana won all four Super Bowls in which he played, while Brady has won three of five so far and still has time left to add to that legacy.
Based on those lofty reputations you pretty much have to assume this rivalry would play out over the course of multiple Super Bowls. If Brady and Montana were able to produce a game as close and dramatic as we envision them producing on the biggest stage in sports, the effect may have been like nothing we've ever seen.
Magic Johnson and Larry Bird won eight combined championships during the 1980s, for example, and they played in the NBA Finals three times, splitting the series 2-1 in Magic's favor. The rivalry was so big it single-handedly defined a decade of NBA basketball and it captivated sports fans so emphatically that the story was spun into a Broadway play earlier this year.
How enthusiastically would the public have responded to a gridiron version of the same tale, only this time with linebackers and fade routes in a sport America loves even more than basketball?
Would Brady vs. Montana have changed the NFL as we know it? Would signature playoff moments like "The Catch" and "The Drive" be replaced in our memory with new, amazing Super Bowl finishes we only dream about here in the real world?
Would time have stopped altogether?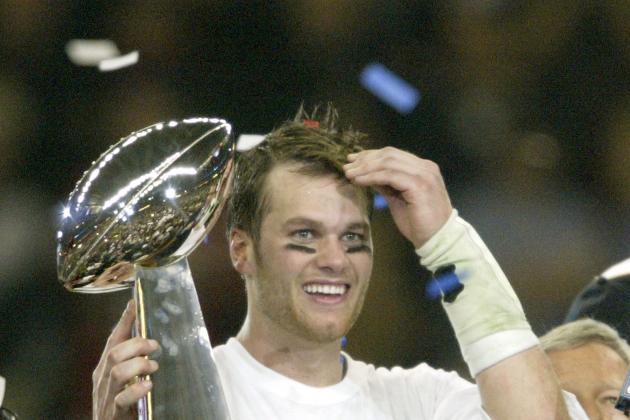 Elsa/Getty Images

What We Got Instead: Two Hall of Fame careers that are not just similar, they're practically clones.
Brady idolized Montana growing up and although he's never explicitly said so, all the evidence suggests the 35-year-old Uggs spokesman has been trying to mimic Joe Cool's every move from day one onward too.
That might explain why Brady was a sixth-round draft pick in 2000 (Montana slipped to Round 3 in 1979) and definitely explains why, just like Joe, the trademark feature of Brady's remarkable legacy has always been his postseason presence.
Montana and Brady are the unanimous "winners" of their respective football eras. History will never forget the impact either had on the sport, and it may never see a pair of legends as similar in performance and reputation ever again.
Will the world ever agree on which was better, or more clutch, than the other?
Of course it won't.
But that's not going to keep us from arguing about it for the next 50 years or so anyway, now is it?
Take that, universe!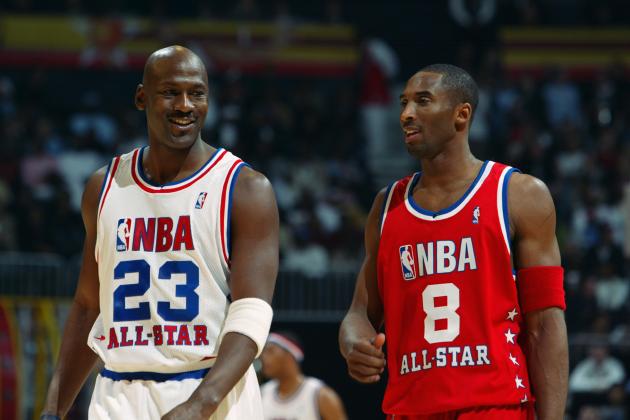 Jamie Squire/Getty Images

What It Could Have Been: The most entertaining rivalry in team sports history.
Because it's easier for elite basketball players to dominate than superstars in other sports, it's pretty safe to assume that if Michael Jordan and Kobe Bryant's careers had overlapped in any significant way (when Jordan retired for his second and most meaningful time in 1999, Bryant was playing but just 20 years old at the time), their paths would have crossed at some point and the results very well may have been the most explosive the NBA has ever experienced.
Jordan is the NBA's third leading scorer of all time and Bryant is its fifth. In their best statistical seasons both averaged more than 35 points per game—something only two other players in league history have managed to accomplish and that no others have since 1966—and both are among the only seven players in NBA history who've dropped more than 65 in a single game.
If these two were in a game together—let alone an entire series of games substantial enough to constitute a "rivalry"—every possession would be mesmerizing to watch and every record in the books would be potentially at risk. You'd need a team of people just to operate the scoreboard. Referees would need calculators just to keep up. Fans would lose control.
And everyone, from the fans to the coaches to the superstars themselves, would have no choice but to recognize the historical significance of the matchup they were witnessing and to thank their lucky stars they lived in a universe where it was allowed to take place.
Wouldn't you?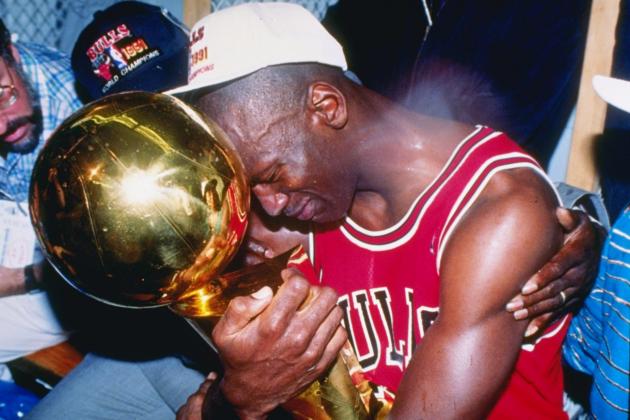 Ken Levine/Getty Images

What We Got Instead: A one-sided argument that might not look so open-and-shut if this hypothetical rivalry were real.
Jordan has earned, and will probably forever retain, the title of best basketball player ever. His resume is flawless and his transcendence from athlete to global icon makes his greatness even harder to ignore.
Some players have more championships than his Airness and some have scored more points.
But no one, and that includes Kobe Bryant, is Michael Jeffrey Jordan and unless LeBron James starts making winning NBA championships look as effortless as an everyday bodily function, that won't be changing anytime soon.
But would Air Jordan as we know him even exist if Kobe Bryant had been around to challenge him for the spotlight?
Granted, Jordan is unequivocally the better overall player and we have every reason to believe that in his prime MJ would've stomped whatever competition the world had thrown at him, be it Kobe, LeBron or an entire gang of Loch Ness Monsters for all it matters.
But this is still NBA basketball we're talking about here, a sport where almost every big game comes down to the final seconds and either team has a legitimate shot to win. This is still Kobe Bryant we're talking about, a five-time NBA champion whose list of habitual playoff victims includes names like Carmelo Anthony, Tim Duncan, and The Big Ticket himself, Kevin Garnett.
Is it really that far-fetched to think Kobe might have kept Magic Mike from completing his amazing double three-peat, or at least from being unanimously crowned the best athlete ever before he was even finished playing?
Wouldn't it be nice to in a universe where we wouldn't have to wonder?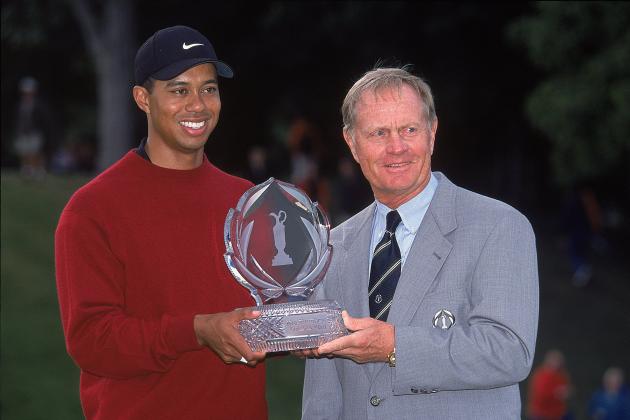 Andy Lyons/Getty Images

What It Could Have Been: The single greatest rivalry in sports.
Not that anything is guaranteed in sports, of course, but a long, heated rivalry between Tiger Woods and Jack Nicklaus would definitely have the potential to go down as the most intriguing we've ever seen.
The absolute simplest answer as to why?
Because they're the best.
There are very few sports in which two individuals separate themselves from their peers anywhere near the extent that Woods and Nicklaus have. Considering the career longevity that just comes natural in a sport in which you never even have to move your legs, it seems fair to go ahead and assume that if they did engage in this imaginary rivalry they'd probably be able to sustain it for so long no sports fan would be able to avoid it even if they wanted to.
When it comes to golf, it's these two then it's everyone else. The line is just that sharp.
So what would happen if we were given the opportunity to see these legends play each other and therefore draw a new line, only this time between themselves?
Are there any rhetorical questions left we haven't asked?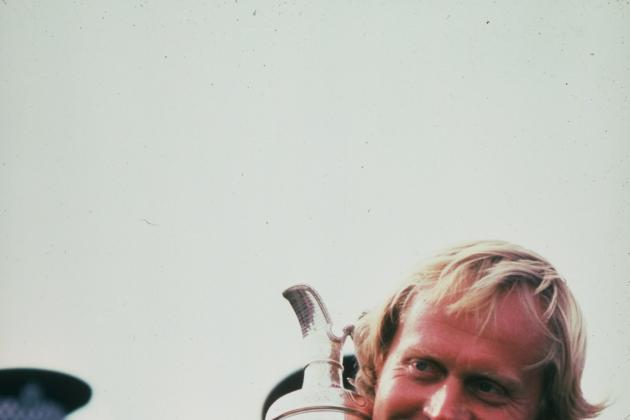 Steve Powell/Getty Images

What We Got Instead: An addicting debate topic with an annoyingly unsatisfying conclusion.
The sports world has been waiting for the next Jack Nicklaus longer than it's been waiting for the next Michael Jordan. When Tiger Woods came along in 1997 and started winning majors so often it didn't seem like they even needed to play the things anymore to know who was going to win, golf fans rejoiced for their savior appeared to have finally arrived.
Then 2009 happened and, just like the trillions of dollars of imaginary currency floating around the global economy at the time, Tiger Woods's pursuit of golfing perfection suddenly vanished into thin air.
It doesn't matter whether the infamous car crash that winter or the resulting sex scandal had anything to do with it or not. Woods is no longer the golfer he used to be and even with his recent spurts of familiar excellence, a return to form at this point still seems unlikely to ever take place.
For 11 years Tiger was right on pace to finish his career as the greatest golfer who ever lived yet today we have no choice but to place him but right behind Nicklaus, a clear No. 2 firmly ahead of the next-closest guy but not quite on par with the incomparable Golden Bear.
Even without the accompanying tabloids, then, Tiger's career is one sad story, not that winning 14 majors and earning over $1 billion is anything to cry about, of course. Simply that the potential he once displayed to build a legacy even greater than that now appears destined to go unrealized.
For comparison's sake, Nicklaus won 18 majors, the most all-time, and either shares or owns the record for wins at the U.S. Open, the PGA Championship and the Masters.
If Woods had been present for the majority of those events, there's a good chance Nicklaus would not have built the lead he did and may not have built one at all.
Then again, if aliens showed up one day and hypnotized us all into zombie-like space slaves, that'd be pretty crazy too.
What good is "if?"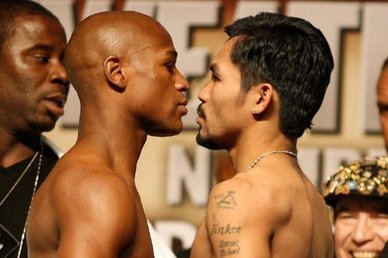 What It Could Have Been: A highly anticipated boxing extravaganza at a time when the sport needs it most.
Mayweather vs.Pacquiao would be the hottest ticket in town and if any of the failed attempts in recent years to make the thing a reality had come to fruition, the resulting madness would have spread to every corner of the globe.
Matchups like this are inherently rare (Pacquiao is currently 54-4-2 over his 17-year career while Mayweather is still boxing's biggest star with a perfect record of 43-0). Considering the sport's declining popularity for much of the last two decades, it's stunning not only that Mayweather and Pacquaio have never fought but that they haven't already done so on multiple heavily-publicized occasions.
Therein lies the reason this potential rivalry is so infuriating and worthy of our top spot: Not that it would be anywhere near as significant as half the other entries on this list, simply that there's absolutely no reason for it not to have happened.
This is not a situation where time or circumstance kept the sides from meeting, as Mayweather is only two years older than Pacquiao and their professional careers began only one year apart. It's not like the fight is unwarranted in any fashion either, as these are the two most successful and most popular non-heavyweight boxers of the current era. They fight in the same weight class and fans have been clamoring for their dream match to commence for several years now.
There is still time to make this right and there is evidence (as recently as this month, in fact) that attempts to do so are still being made.
But until the contract has officially been signed, Mayweather vs. Pacquiao will always remain the greatest match that never was, and unless the universe really is secretly out to torture us with curiosity over heartbreaking scenarios just like this, that failure is something for which the entire sports community ought to be ashamed.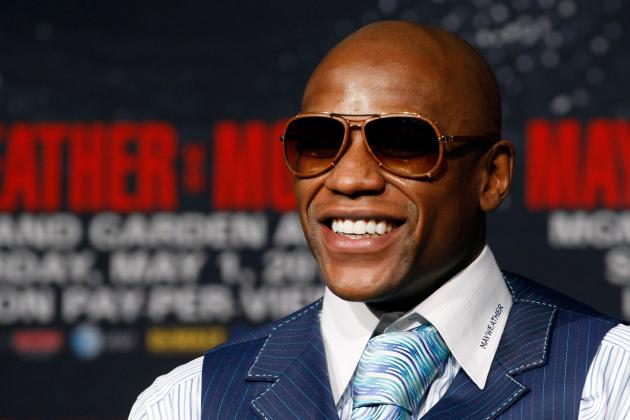 Ethan Miller/Getty Images

What We Got Instead: Anger, frustration, resentment, should we go on?
Okay, fine: Lies, disappointment, disinterest and disdain.
We got a picture perfect setup to what might have been one of the most important and memorable boxing matches ever and absolutely nothing to show for it.
We got trash talk.
We got excuses.
We got two elite boxers who spent the final stages of their careers dominating lesser opponents and, though much of it was our own doing, we got hype.
Mayweather and Pacquiao will both go down as all-time greats and within the current era they've clearly distanced themselves from all competitors but each other.
But which of them is the best? The Ali? The Jordan? The Gretzky?
Like so many burning questions that arise in this crazy worldwide phenomenon we call sports (though often for much better reason than in Mayweather and Pacquiao's case), we'll never know for sure.
There is hope, though: In the upcoming multi-platform video game NBA 2K13, for example, players will have the ability to pit the 1992 Dream Team against the 2012 USA Olympic basketball team in a virtual setting that just may be the closest we'll ever get to actually settling that argument, and digital simulations of similar blockbuster matchups that only exist in our universe in theory probably aren't too far off either.
Granted, computer simulations are never going to solve all the problems we've raised, but they are a step in the right direction, no?