Washington Redskins: Projected Regular Season Lineup Entering Preseason Week 3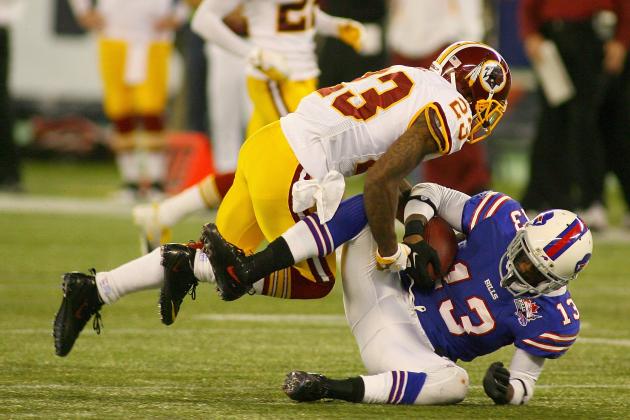 Rick Stewart/Getty Images

Well, we are halfway through the Washington Redskins' preseason and there was some good and a lot of bad from their second contest against Chicago.
Some players impressed, some regressed and some even got injured.
In the newest installment of predicting what the 'Skins roster will look like in Week One against New Orleans, there are some minor shakeups, but nothing that should come as a shock.
Let's take a look.
Begin Slideshow

»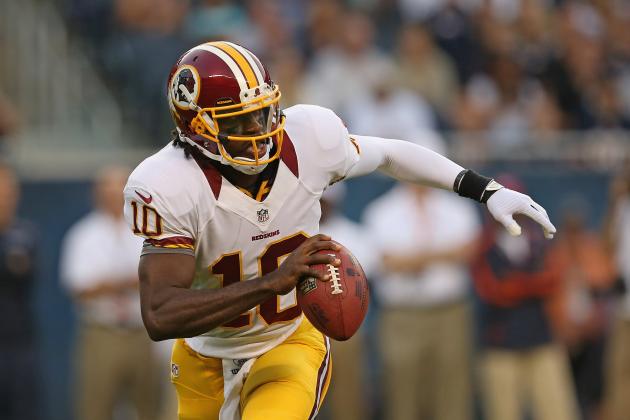 Jonathan Daniel/Getty Images

Starter: Robert Griffin III
Backups: Kirk Cousins, Rex Grossman
Changes: None
Oh boy, here we go.
In my last article (Which can be found here: http://bleacherreport.com/articles/1300884-kirk-cousins-what-the-future-could-hold-for-the-washington-redskins-quarterback), I wrote about what could happen with Kirk Cousins if he has a huge preseason.
It dealt with the fact that if RG3 struggles, or gets injured, then he could be the starter in Washington. Now let the controversy begin since that is exactly what happened in Week 2 against the Bears.
Granted, Griffin did not struggle nearly enough to lose his starting position, but the 'Chicken Little' Redskins fans are already starting to whisper.
Now the Redskins are hoping that Griffin steps his game up and that Cousins continues to impress as it could bring some serious draft picks in.
Also, we learned that Rex Grossman has cemented himself as the third quarterback on the depth chart. There is no question about that right now. Knowledge of the playbook does not supersede talent.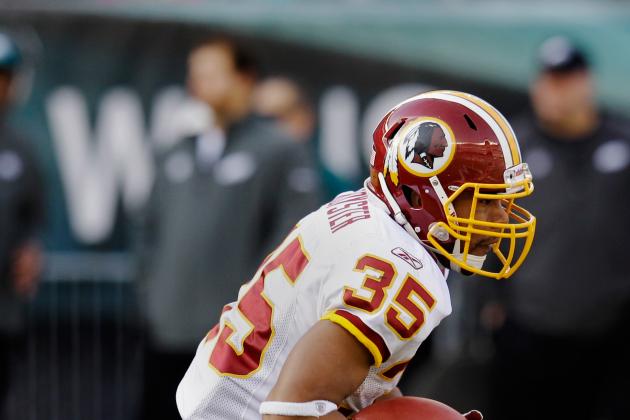 Rob Carr/Getty Images

Starter: Evan Royster
Backups: Alfred Morris, Roy Helu, Tim Hightower
Changes: Alfred Morris moves from fourth to second
It's really starting to get crowded in the backfield. Potentially, any one of these guys could be the starters come Week One.
Right now, the 'Shanahan Running Back Creamery' Flavor of the Week is Alfred Morris. Shanahan has fallen in love with another training camp running back and that will most likely transition into the regular season.
That is, until he has a sub-par game or gets injured and could be gone forever (Ryan Torain, anyone?).
Once Helu and Hightower come back from their injuries, look for them to get a starting shot as well. For now, this is the depth chart until the end of the next scheduled practice. Expect it to change about 30 more times between then and the next preseason game against Indianapolis.
Jonathan Daniel/Getty Images

Starters: Santana Moss, Pierre Garcon
Second Tier: Josh Morgan, Leonard Hankerson, Aldrick Robinson
Bench: Terrence Austin, Brandon Banks, Dezmon Briscoe
Changes: Aldrick Robinson to Second Tier from Bench
Last week in this section, I wrote about how it was time to be excited about Pierre Garcon again. Apparently, Robert Griffin didn't get the memo.
Only two catches for 13 yards isn't anything to be worried about, but it wasn't excitement-worthy.
He's still expected to be the No. 1 receiver with Moss also getting a nod at starter.
The only mentioned change is the addition of Aldrick Robinson to the second tier after being the top bench receiver. I don't think he will get as much playing time as Hankerson or Morgan, but will get a significant amount more than Austin, Banks or Briscoe.
He deserves it. Six catches, 104 yards and one touchdown on just seven targets is pretty impressive. Not all of these guys can make the team, but it looked like Robinson pushed himself above Terrence Austin.
I don't expect Banks to be cut (more on that later), so it comes down to Robinson, Briscoe and Austin to prove themselves over the last two games.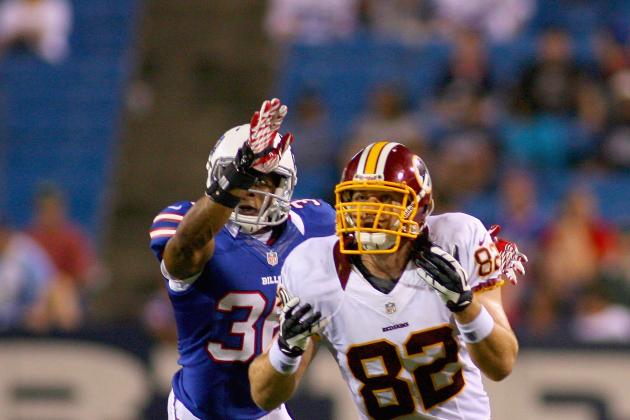 Rick Stewart/Getty Images

Starter: Fred Davis
Backups: Niles Paul, Chris Cooley, Logan Paulsen
Changes: Niles Paul moves from 3rd to 2nd
Don't make me say it, please. I don't want to admit that Chris Cooley could be done with the Redskins.
He hasn't received a target yet, though. That concerns me. Niles Paul had five (caught four) and a touchdown.
Even Logan Paulsen had 45 yards on just three catches. If that doesn't spell impending doom for Cooley, I don't know what does.
Then again, Fred Davis hasn't had any targets this preseason either. Maybe that's a good sign for Cooley, but the only roster spot Davis is fighting for is on the Pro Bowl roster.
If Niles Paul blows up again in the last two preseason games, it will be time for Cooley to go (insert sad-face emoticon here).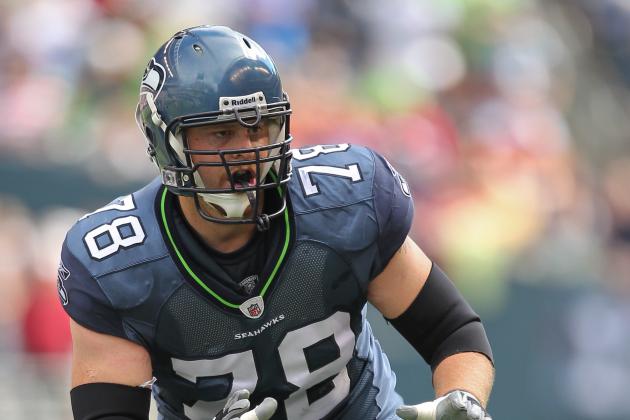 Otto Greule Jr/Getty Images

Starters: LT—Trent Williams, LG—Maurice Hurt, C—Will Montgomery, RG—Chris Chester, RT--Tyler Polumbus
Backups: Tom Compton, Kory Lichtensteiger, Josh LeRibeus, Erik Cook, Adam Gettis, Willie Smith
Changes: Maurice Hurt from Bench to LG, Kory Lichtensteiger from LG to Bench
None of the starters were very impressive on Saturday as RG3 was constantly under pressure and was sacked three times, causing him to scramble more than Coach Shanahan probably wanted him to.
The only change on here was the placement of Maurice Hurt in the lineup, that is until Lichtensteiger gets back from injury.
Again, the only positive takeaway is that the backups looked good. I'm getting tired of saying that.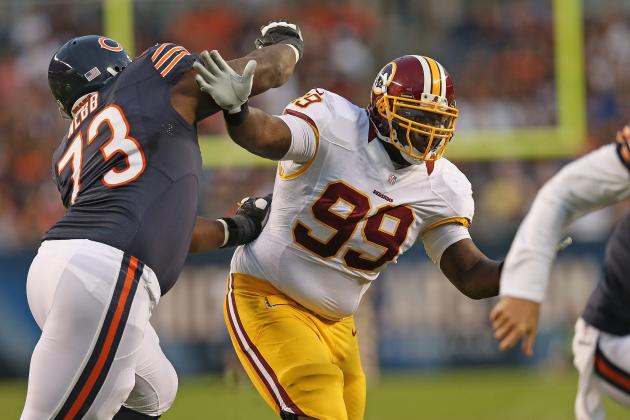 Jonathan Daniel/Getty Images

Starters: DE—Stephen Bowen, DT—Barry Cofield, DE—Jarvis Jenkins
Backups: Kedric Golston, Adam Carriker, Chris Baker, Delvin Johnson
Changes: Just Correcting the Bowen/Carriker mix-up from a week ago and the addition of Delvin Johnson
Jarvis Jenkins got that sack I was looking for. I predicted he could get as much as nine last week, so I feel a little more comfortable now.
Cofield and Bowen had silent games, but it's not expected for them to lose their starting jobs. Golston didn't get on the stat sheet and Chris Baker had two tackles.
The front four didn't make a lot of noise and seemed to have trouble getting pressure on Jay Cutler, which if you ask him, is a rare occurrence.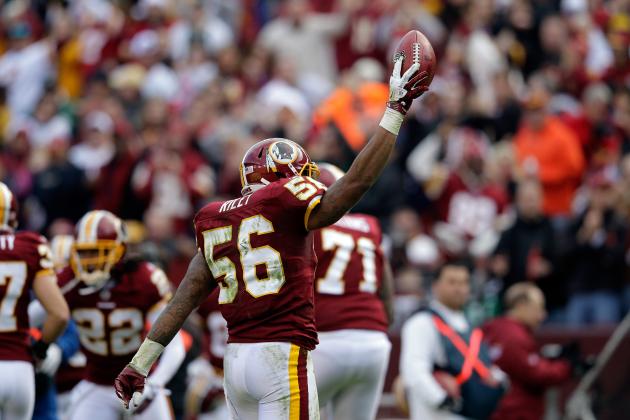 Rob Carr/Getty Images

Starters: OLB—Brian Orakpo, ILB—London Fletcher, ILB—Perry Riley, OLB—Ryan Kerrigan
Backups: Chris Wilson, Lorenzo Alexander, Bryan Kehl, Rob Jackson
Changes: None
This is the most predictable of all the units, so don't expect this to change at all.
Just a couple of things:
-Orakpo went down with an injury but is expected to be back for Week One.
-Perry Riley looks to have penned himself into the starting spot.
-Kerrigan and Fletcher aren't going anywhere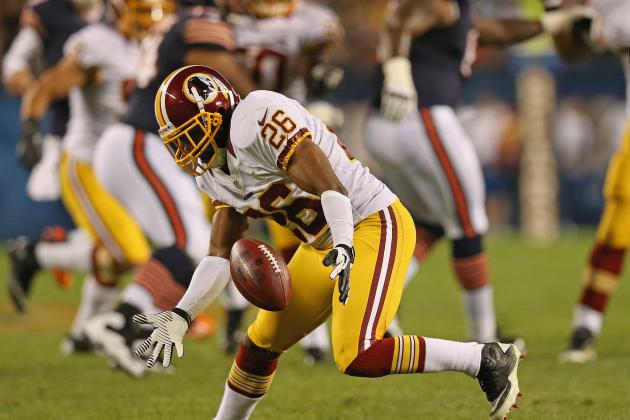 Jonathan Daniel/Getty Images

Starters: CB—DeAngelo Hall, CB—Josh Wilson, SS—Brandon Meriweather, FS—Madieu Williams
Backups: Cedric Griffin, Kevin Barnes, Reed Doughty, DeJon Gomes, Tanard Jackson
Changes: None
That was really, really bad. You can thank Brandon Marshall for that.
He torched Josh Wilson and Cedric Griffin and got into DeAngelo Hall's head. From there, Jay Cutler made it look pretty easy.
Now while the talent in the secondary isn't as good as it is in the linebacking corps, it is almost as predictable lineup-wise when the regular season rolls around.
Just like the linebackers, there was one injured starter who should be back for Week One (Meriweather). Until then, we will get to see something that Redskins fans are all-too-familiar with by now, Reed Doughty.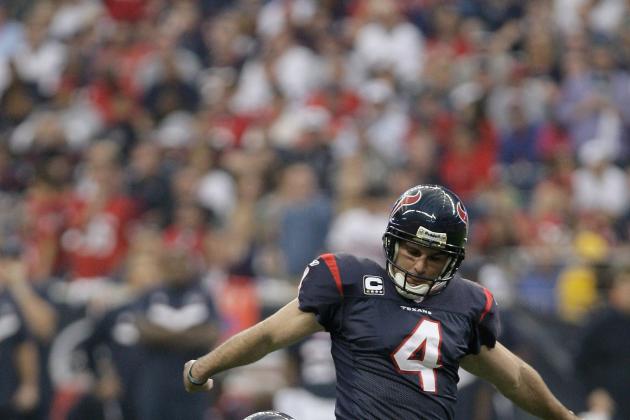 Thomas B. Shea/Getty Images

Starters: K—Graham Gano, P—Sav Rocca, Returner—Brandon Banks
Backups: K—Neil Rackers
Changes: Removed All Returner Backups
Rocca continues to look good, so no complaints there.
Banks looked really good on that return touchdown, so no complaints there.
Rackers missed a field goal, which raises the question, "Is Mark Moseley doing anything?"