5 Lessons from Manchester United's Loss to Everton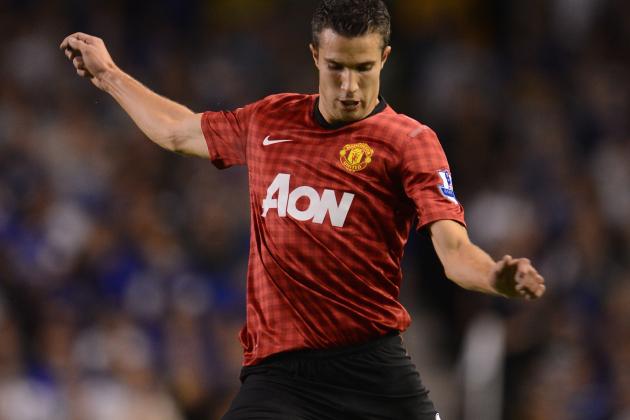 Michael Regan/Getty Images

Manchester United started the 2012-2013 Premier League season with their first opening-day loss since an away defeat to Chelsea in 2004.
It's hard to argue that the loss was entirely surprising given that United were playing with a makeshift center back (Michael Carrick), a makeshift right back (Antonio Valencia) and a completely new formation that tried to accommodate new signing Shinji Kagawa.
What is surprising, however, was how unconvincing the Red Devils looked for much of the match. Several players—notably, Wayne Rooney and Nani—looked tired or disinterested. While an away fixture at Goodison Park is no slouch of a contest, United should have done better.
Of course, the match was always secondary to the biggest storyline of the evening: the debut of ex-Arsenal striker Robin van Persie.
Here the jury is still out on that one. After all, a 20-minute chasing of a goal deficit on the road against a very good, very compact Everton team... Well, that isn't exactly the best place to determine whether or not the Dutchman will be a success in Manchester.
Nevertheless, there are lessons to be learned from the contest, even if much of the larger conclusions are immature at best.
Begin Slideshow

»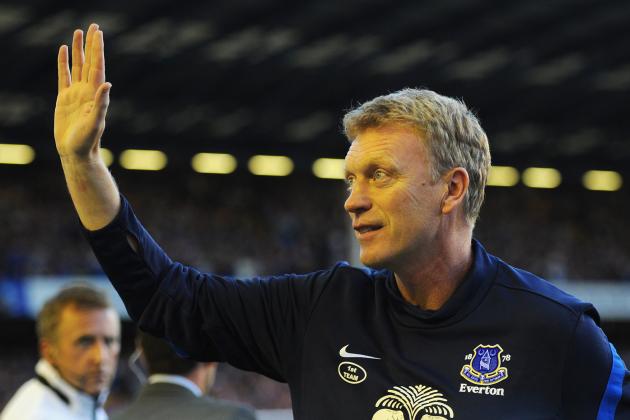 Michael Regan/Getty Images

David Moyes is one of those coaches that everybody respects but hardly talks about. Part of the reason is that he doesn't manager a large club although, then again, that's precisely why the respect is there in the first place.
He's one of the more astute managers in the Premier League—his decision to play Fellaini high up the pitch proved to be the tactical victory of the match—and constantly begs the consideration of being a potential replacement for Sir Alex Ferguson someday.
Everton has been notably cash-strapped in recent years, yet Moyes always has his club competing for European placement. This season might be a significant breakthrough with more available funds at Moyes's disposal and competitive new signings (Steven Pienaar, Kevin Mirallas and Ben McLaughlin).
Everton's performance tonight was astonishing in every sense of the word.
The team constantly threatened particularly down the left-hand side—the Baines-Pienaar-Fellaini tandem was unplayable all night—and when it was Manchester United's chance to chase victory, Everton's defense and organization were unyielding.
A large chunk of United's anemic performance was their own doing (more on this later), but credit goes to David Moyes for an exceptional gameplan and confidence in his players.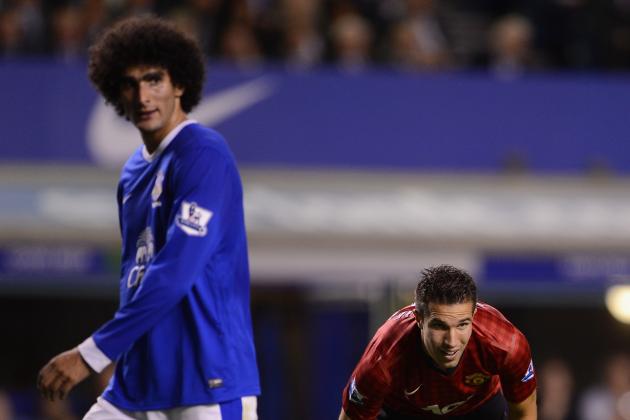 Michael Regan/Getty Images

While it's beyond premature to make too much of Robin van Persie's performance and role last night, there are a couple of interesting takeaways.
For instance, there is much to be enthusiastic about van Persie's possible role at United. Upon replacing Danny Welbeck in the 68th minute, van Persie initially started in Welbeck's wide-left role in the attacking three.
That didn't last for long, as van Persie and Nani switched sides (likely, because it allowed both to cut in on their favored foots—left for RVP, right for Nani). Then it became Rooney who moved out wide, and van Persie took the central forward role like the one he had at Arsenal.
The fluidity wasn't perfect, of course—mostly because of van Persie's limited practice and playing time so far at the new club but also because of Rooney and Nani's unremarkable performances—but the movement and understanding was encouraging.
The most common concern prior to the contest was that Rooney and van Persie would only play together in a tandem two-striker system, but already we have been shown that the two top scorer's from last season are more than willing to play in a more fluid, flexible system.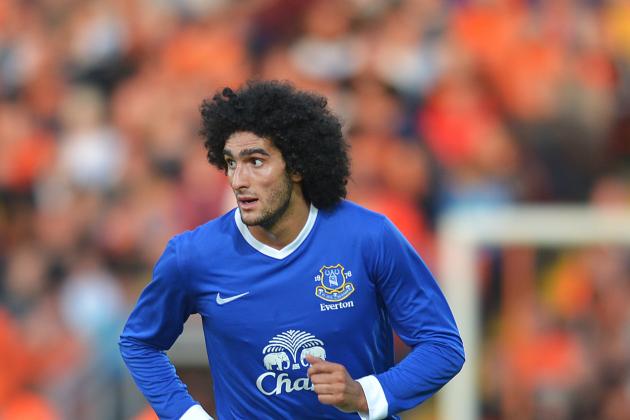 Mark Runnacles/Getty Images

The player of the game was undoubtedly Marouane Fellaini. Often used further back at Everton in a more central role, Fellaini was stationed higher up the pitch and gave the two most "out of position" players—Michael Carrick and Antonio Valencia—a headache all night.
Fellaini's physicality was exactly what Everton needed in the final third. The Belgian international's capacity to win headers and hold the ball up with his height and strength overwhelmingly tipped the contest in the home team's favor.
It was Fellaini's goal—the only of the match—that decided the victory.
Alex Ferguson summarized the performance best:
"Fellaini is a handful. He is a big, tall, gangly lad and they just lumped the ball forward to him. That's all they did. They worked from that base all the time and they got a goal from him, so it's justified." (BBC Sport)
The lesson, of course, wasn't the overwhelming superiority of Fellaini, but that his performance was entirely relative to the difficulties on the United back line.
With Rio Ferdinand, Chris Smalling, Phil Jones and Johnny Evans all unavailable, Manchester United are vulnerable to size and power at the back.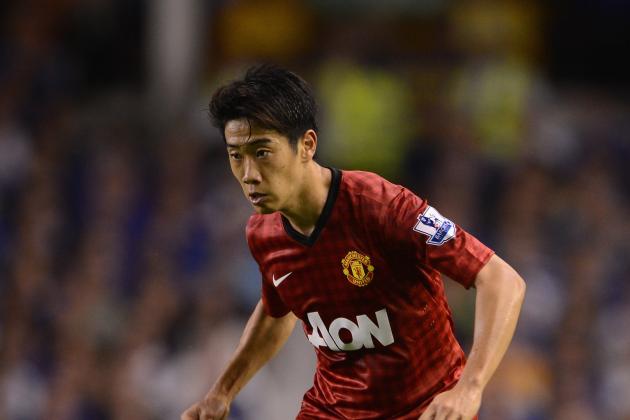 Michael Regan/Getty Images

Manchester United's player of the game was Shinji Kagawa. Three goal-scoring chances in the first half were set up by the Japanese playmaker, none of which were finished due to the poor play of Wayne Rooney and Nani.
Kagawa—whose idol is Barcelona's Andres Iniesta—is a quick, technical player with a surprising eye for goal. His movement all night was excellent, and no United player benefited more from playing the unique formation than him.
However, I can already see a slight problem emerging.
The difficulty is that Kagawa plays more of as a second striker than a straight central midfielder. The playmaker's positioning was often very high, and it's quite possible that while he may thrive more in a system with three attackers (like last night), Ferguson may prefer more of a "battler" in that role to give defensive cover to Paul Scholes and Tom Cleverly.
Manchester United started a 37-year-old and a 21-year-old at central midfield, neither of which are particularly strong at defending. With Kagawa playing very high up the pitch—as well as with Nani and Welbeck playing more like wide forwards than midfielders—the Scholes and Cleverly partnership were frequently overwhelmed with defensive responsibility.
It's something to keep an eye on.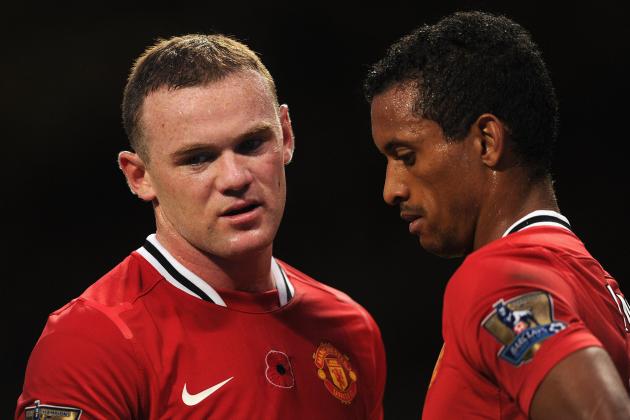 Michael Regan/Getty Images

Wayne Rooney missed at least two make-able chances last night, while Nani missed another promising one by doing what he always seemingly does wrong: cutting down his angle.
The performances by those two in particular were disappointing, but there is comfort for United fans that both players will certainly play at a much higher level most of the time.
It's convenient to write off a loss as the result of poor individual or team play, but at their very best, Manchester United can often win matches in which they are outplayed and outcoached by sheer individual brilliance by their star players.
Perhaps more than any United team in recent memory, this current squad is an ongoing project. The team will certainly benefit from more practices, games and interaction.