10 Preseason Heisman Trophy Contenders Sure to Fall the Quickest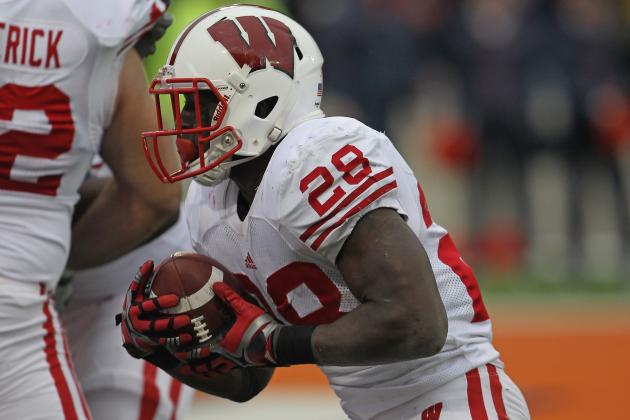 Jonathan Daniel/Getty Images

What did Robert Griffin III's Heisman 2011 Heisman run teach us about the most coveted individual award in American sport?
Coming into last season virtually a nobody had Baylor's Robert Griffin III as even a "remote possibility" to win the Heisman trophy.
Yes, the short lists of top candidates to win the title of "best college football player" were completely devoid of RGIII, as were the subsequent rankings of "contenders" and then "long shots."
What Baylor's QB winning the Heisman taught us is that since we can't predict the script that will eventually become the story of a specific season in college football, we can't accurately forecast who will win the big prize.
Really, who had Baylor going 10-3 and beating Oklahoma and Texas?
RGIII stepping up to the podium in New York City last December means that not only can anyone win the Heisman, but it also means that anyone can lose it, including the hands-on, best odds, sure shot favorites.
The following slideshow pinpoints 10 preseason Heisman hopefuls (some are admittedly higher up on the charts than others) who could fall completely off the radar in a surprisingly rapid fashion.
Begin Slideshow

»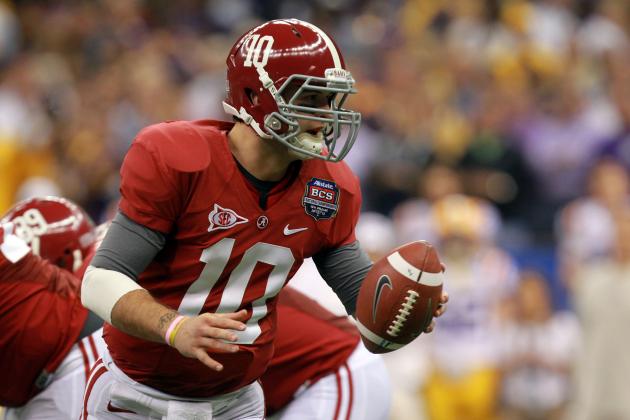 Ronald Martinez/Getty Images

Despite a mere 13 returning starters from a year ago, the Tide are so stacked with highly recruited talent that it's difficult to count them out of any race in 2012, including the Heisman.
The truth is if Alabama wins big this season, expect QB AJ McCarron's name to shoot straight up the Heisman list and perhaps go where no Tide QB has ever gone before…to the podium in NYC.
What could stop both McCarron and Alabama in their tracks, and drop both off the radar for the biggest rewards of the season, is the first four weeks of their 2012 slate.
Yes, if Alabama drops their blockbuster opener to Michigan in Jerry-World and then travels to Fayetteville and loses to Arkansas in Week 2, all bets are off.
If the Crimson Tide are 2-2 going into their game vs. FAU on Sept. 22, they'll already be out of the SEC West race with games vs. Tennessee, Mississippi State, LSU, Texas A&M and Auburn still left on the table.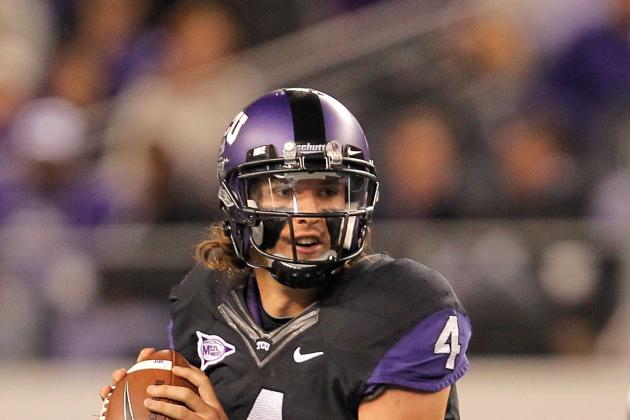 Sarah Glenn/Getty Images

Though TCU QB Casey Pachall may not be a top 10 guy in terms of Heisman viability, the Horned Frogs have gained enough momentum recently that if they hit double-digit wins again in 2012 (like they have six of the past seven seasons), anything can happen.
What makes Pachall a candidate to drop out of the race before it officially gets underway is, first and foremost, his Frogs will be not be playing in the MWC, C-USA or the WAC…they'll be playing in the Big 12.
Sure, TCU has performed amazingly well over the last decade, but in that time they've only played approximately 20 BCS teams out of the120 foes they've faced.
This number needs to be quantified by saying that the Horned Frogs won over 80 percent of their games vs. AQ schools in the last 10 years, but it can further be enumerated by pointing out that four of these games were against Baylor, two against Northwestern and then one each against Vanderbilt, Iowa State and Virgina.
Despite all the analysis, it's pretty clear that TCU will play a more difficult slate in 2012 than in years past (umm…at Baylor, Texas Tech, at Oklahoma State, at West Virgina, Kansas State, at Texas, Oklahoma) which makes 11 wins and a long shot Heisman even more of a long shot.
The second factor that is worrying for Pachall and the No. 9 ranked scoring offense from a year ago is the fact that they return the least experienced offensive line in the Big 12.
According to Phil Steele's abundantly informative preseason magazine, the Horned Frogs incoming O-line shares a mere 28 starts between them, a number that is even smaller when you stack it up against the conference's most experienced offensive trench, West Virginia, which has 105 starts.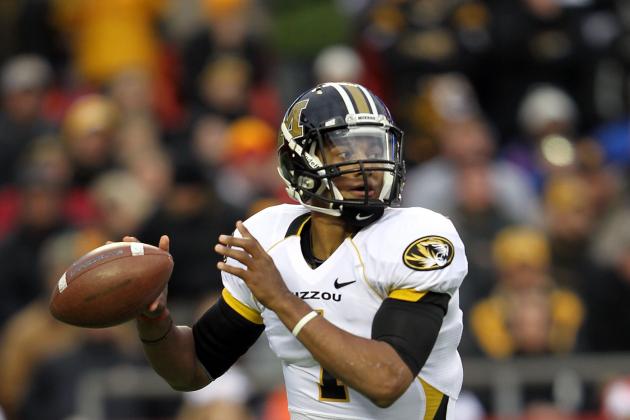 Jamie Squire/Getty Images

In a similar situation as Pachall from TCU, Missouri's James Franklin leads the Tigers into a new and more difficult conference home in 2012, but at least he'll have a more experienced line in front of him (Steele's figures show 68 shared offensive line starts).
For someone like Franklin (who is a Heisman longer shot) to win it all, Missouri will likely have to go undefeated (or suffer no more than one loss) and win the SEC East.
And that means beating Georgia at home in Columbia in Week 1 and then knocking off South Carolina on the road in Week 4.
Franklin's bid for Missouri's first ever Heisman could be over before it ever even gets started.
The other intriguing facet regarding Franklin is his dual threat debut in the SEC, a league that has always been more suited to throwing QBs paired with bulky rushers who ground it out behind huge lineman.
Franklin ran for 1,145 yards in 2011 and threw for 2,865 more, stats that will be interesting when compared with his output in 2012 in the defensive dominated SEC as opposed to the offensive, pass happy Big 12.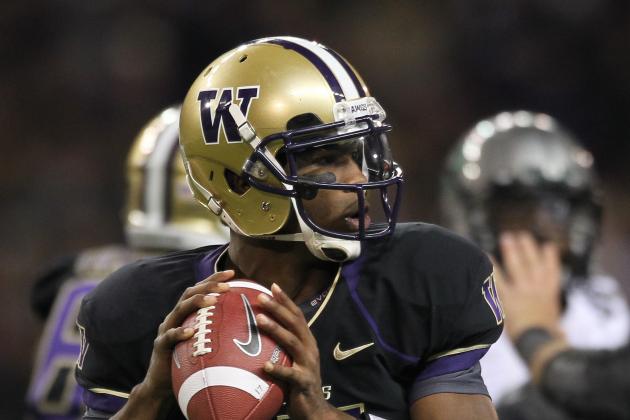 Otto Greule Jr/Getty Images

Perhaps somewhat overlooked in a 2011 Pac-12 north division that featured the offensive Ducks and the Lucky Cardinal, Keith Price is the QB that made Washington fans forget about losing Jake Locker.
Price is a long shot Heisman contender in 2012 after lighting up Seattle with 3,063 passing yards and 33 TDs as a sophomore last season.
What makes Price's bid sketchy, and therefore earns him membership on our list, is an early season run that includes a Week 2 trip to LSU to face the stacked Tigers and then a Week 5 through Week 7 run that includes hosting Stanford, traveling to Oregon to face the Ducks and then wrapping up with a home stand vs. USC.
It's not Price's fault that the Huskies play what Phil Steele has graded the toughest slate in the Pac-12 and No. 6 most difficult schedule in the nation, but it may make any "major prize winner" scenarios unrealistic.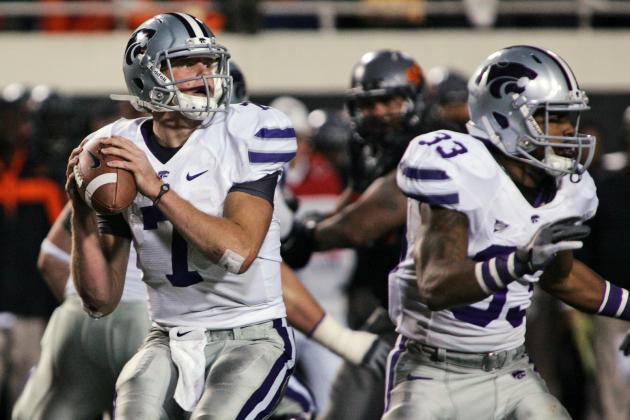 Brett Deering/Getty Images

After literally coming out of nowhere in 2011, K-State QB Collin Klein has earned his spot as a worthy Heisman contender in 2012.
Klein not only threw for 1,918 yards and 13 TDs as a junior last season, he also was the Wildcats leading rusher with a whopping 1,448 rushing yards and 27 TDs (only six less than RB Montee Ball from Wisconsin who led the nation in 2011).
This all becomes even more impressive when you realize that K-State ranked No. 34 nationally in scoring last season, a number that breaks out further into a No. 29 mark in rushing yards and only No. 108 in passing yards.
Klein's bid to become the next RGIII in Heisman shocker history will be challenged by an opening schedule stanza that includes a Week 2 visit from the Miami Hurricanes and a Week 4 visit to Norman to face the Sooners.
Since the Wildcats will need to win at least 10 games to give Klein a realistic shot (and more if any other Heisman frontrunners go undefeated), K-State will also have to find a way to beat West Virginia in Morgantown, Oklahoma State and Texas in Manhattan and then TCU in Fort Worth.
Streeter Lecka/Getty Images

Though we could throw out a slew of stats regarding the youthful, thrilling speedster Sammy Watkins, really his Heisman bid will come down to how his two game suspension will affect his campaign to become Clemson's first ever bronze statuette winner.
Watkins did it all last season with 1,219 receiving yards, 826 return yards, 243 rushing yards and 13 combined TDs, but in 2012 he'll have to try and rack up similar stats with two less starts.
Clemson will also have to back him up with another round of double-digit wins, a task that will be made more difficult with only 14 returning starters and a schedule that includes the neutral sited opener vs. Auburn, a Week 4 road trip to Florida State and then the finale at home vs. the Game Cocks.
There is no documented case of an athlete winning the Heisman who was suspended for multiple games in the season he won the big prize.
This means that Watkins may well have to wait to step up to the podium until he's a junior in 2013 or as a senior in 2014, if he stays on campus that long.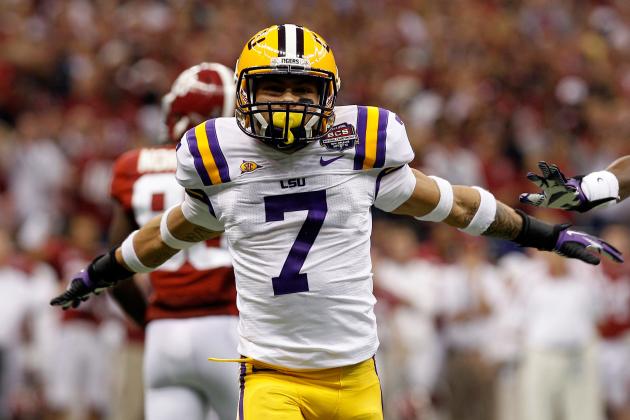 Chris Graythen/Getty Images

Though it seems almost unfair to put Mathieu, who is rightly trying to straighten out his personal life instead of playing football on this list, it would be incomplete without him.
Mathieu, who finished fifth in the Heisman voting in 2011 as a sophomore, was expected to be back in the mix for the award in 2012, meaning that he is the guy who is the first to fall out of the race, or the quickest.
If Mathieu can manage to land back on his feet, and college football fans hope he will, look for him to be back in contention in the seasons ahead.
You don't have to like LSU, or the SEC, or even the south to appreciate the fact that this guy is a special athlete who helped to make the 2011 college football season electrifying.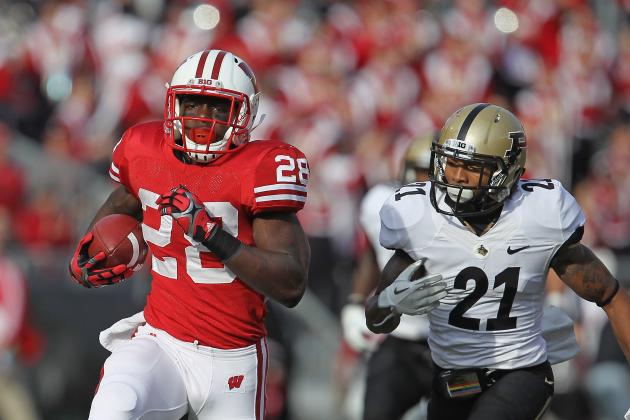 Jonathan Daniel/Getty Images

Montee Ball's presence on this list will no doubt be considered the most controversial and the most unlikely of the likely candidates to fall out of the Heisman race the quickest.
Ball finished No. 4 in last season's voting and his return to campus for senior season makes him one of the top candidates to win the bronze statuettes in 2012.
Ball racked up a whopping 1,934 yards on 307 carries in 2011, a statistical resume that included a mind blowing 33 TDs.
What makes Ball's candidacy to become Wisconsin's third ever Heisman winner is the fact that Badgers return a mere 10 starters in 2012, a dubious number that gives them the least experienced team in the Big Ten and the No. 116 ranking nationally.
Add into the equation that (per Phil Steele's preseason magazine tour de force) Wisconsin's incoming O-line has only 49 shared previous starts (vs. Big Ten leader Michigan State that has 74) and you begin to be concerned that Ball can repeat his feat in 2012.
What Ball and company have in the plus column coming into this season is the fact that they play in a leaderless Big Ten Leaders division that includes Ohio State and Penn State, both who aren't eligible to win the divisional crown.
Many prognosticators have Wisconsin winning the division, which seems plausible (especially given the state of the Leaders division), but can we really expect Montee Ball to be the best rusher in college football in 2012 when he has nowhere near the support system he did in 2011?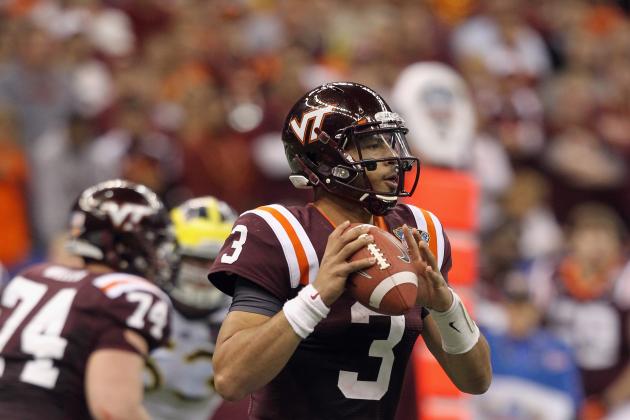 Matthew Stockman/Getty Images

Logan Thomas did a good enough job replacing Tyrod Taylor under center in 2011 that the Hokies won 11 games, captured yet another ACC Coastal crown and then earned a bid to the BCS Sugar Bowl.
Both are accomplishments that make Thomas' appearance on many 2012 Heisman short lists sensible.
But Thomas, like Ball from Wisconsin, will be strapped with a different team this season vs. the last, one that may not have near the firepower necessary to make a Heisman bid realistic.
To begin, the Hokies return only 13 starters (earning them the No. 9 spot in the ACC and the No. 81 spot overall) and, most alarmingly, a mere three return to a defense that ranked No. 7 in scoring last season.
From the offensive side of the ball, gone is freak-like RB David Wilson whose 1,846 rushing yards go a long way in explaining how Virginia Tech ranked No. 28 nationally in rushing yards last season vs. only No. 66 in passing yards.
But the real kicker for Thomas's Heisman dreams is that the Hokies returning O-line shares a mere 17 starts between them, a number that ties Virginia Tech with Penn State and UAB for the second least experienced line in the nation.
Frankly, the deck is stacked against Thomas who will be backed up by a young defense, a young offensive line and a running game that plans on starting a redshirt freshman.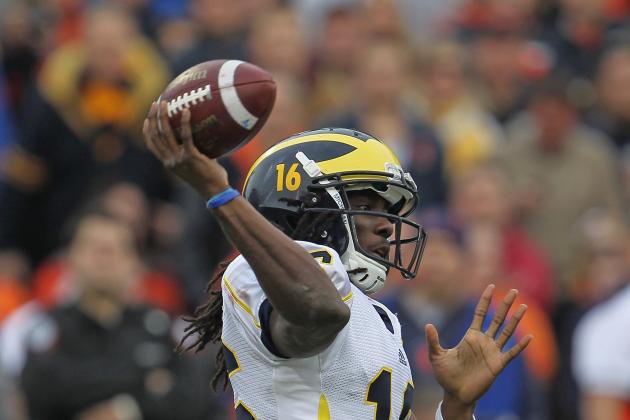 Jonathan Daniel/Getty Images

The speedy and ultra-athletic Robinson has been a Heisman hopeful since he first laced it up as a starter at Michigan in 2010.
Robinson finished No. 6 in the voting as a sophomore and then didn't hit the top 10 finishers last season as a junior.
Coming into his senior season, Robinson has not only improved as a passer, but he's got the supporting cast necessary to make a title run and therefore a historic foray to become Michigan's fourth-ever bronze statuette recipient oh-so realistic.
The Wolverines' return the most experienced squad in the Big Ten and bring an evenly split number of starters back from a team that won 11 games last season.
But, what could derail both Michigan's title dreams and Robinson's Heisman candidacy is a schedule that Phil Steele rates as the most difficult in the Big Ten and the No. 4 hardest nationally.
And what adds to the scheduling woes, especially in this instance, is a four game opening stretch that includes the pre-billed epic worthy opener vs. defending champion Alabama in Dallas and then a Week 4 visit to South Bend to face Notre Dame.
If Michigan loses one, or even worse both of these early contests, it's lights out for the Wolverines championship dreams and Robinson's Heisman hopes.
Even if they survive the early challenges, and they well could, they still will have Michigan State, Nebraska, Iowa and Ohio State to face to make it to the finish line first.
If things go wrong early, Robinson could drop quickly out of a Heisman race that he is a real contender in.