Which 2011 NBA Rookies Will Have the Best Sophomore Season?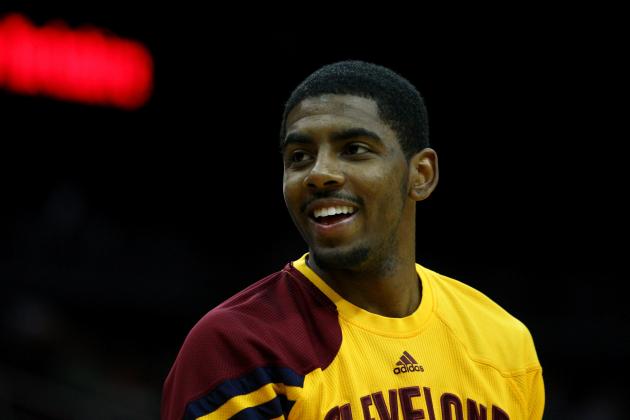 Chris Chambers/Getty Images

It's often said in college sports that the best thing about freshmen is that they become sophomores. The same goes for the NBA, wherein players tend to improve by leaps and bounds after their rookie campaigns.
For most, it's a matter of acclimating themselves and their respective repertoires to the speed of the NBA game, the quality of the competition and the rigors of an 82-game season. The process was somewhat skewed for last season's newbies, if only because the lockout resulted in a compressed 66-game schedule that left little time for training camp or in-season practices.
Those rookies who succeeded, then, did so despite being thrown out of the collegiate frying pan and into the professional fire without some of the luxuries usually enjoyed by players of their ilk. As such, it's reasonable to expect that those who fared well under such circumstances will thrive amidst challenging but somewhat less hectic conditions, ones wherein back-to-backs are less prevalent and playing three games in as many nights is practically unheard of.
That won't necessarily be the case for Ricky Rubio and Iman Shumpert, both of whom suffered devastating knee injuries late in the season. Neither will such prognostications apply to Jonas Valanciunas or Donatas Motiejunas, two Lithuanian big men and 2011 draftees who will be debuting in the NBA this season.
For these five sophomores-to-be, though, the experiences of their inaugural season will go a long way toward ensuring further growth and improvement in 2012-13.
Begin Slideshow

»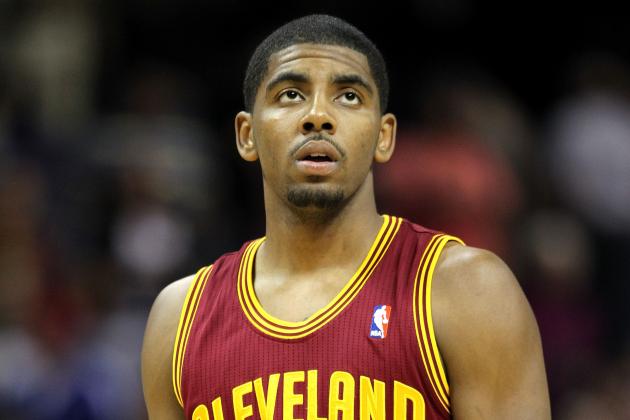 Andy Lyons/Getty Images

Who better to start with than Kyrie Irving?
The reigning Rookie of the Year has been all over the map this offseason, from posing as a seriously skilled old man to challenging Kobe Bryant to a round of one-on-one ball for $50 thousand and wowing onlookers at Team USA's training camp in Las Vegas leading up to the Olympics.
Not that Irving didn't make plenty of noise during his first year with the Cleveland Cavaliers. All he did was average 18.5 points (on 46.9 percent shooting), 5.4 assists, 3.7 rebounds and 1.1 steals while giving fans with NBA League Pass at least one reason to tune in to Cavs games.
This year, he'll be joined in the backcourt by Dion Waiters, the No. 4 pick in the 2012 draft and a supposed Dwyane Wade clone, and up front by one-time Tobacco Road rival Tyler Zeller. Those two should serve as solid running partners for Irving, who's already shown himself to be outstanding in the open court.
There are reasons for concern, however. Irving broke his right hand in a practice with the Cavs, thereby forcing him to sit out the Summer League and the opportunity to play with Waiters and Zeller that it would've afforded. According to the Associated Press, Irving should be ready to go by the time training camp begins in late September, but will still have missed two months that might've otherwise been spent improving and expanding parts of his right-handed game.
Irving's history of foot and ankle injuries, which extend back to his brief stay at Duke, also remain of some concern, seeing as how they kept him out of 15 games last season.
On the whole, though, Irving is such a tremendous talent (and even more of a joy to watch) that he may well play himself right into the 2013 All-Star Game in Houston and lift the Cavs' hopes right along with his own.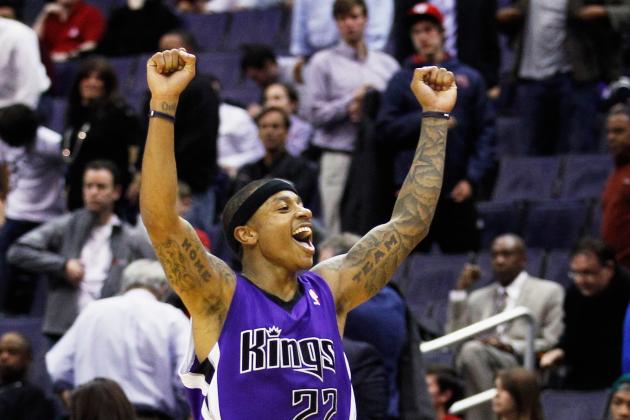 Rob Carr/Getty Images

It's a testament to the unpredictability of the NBA Draft that a thin 2011 class ended up turning out starting-caliber point guards with the first and the last picks.
The latter, of course, is Isaiah Thomas, who squeezed his way onto the All-Rookie Second Team after emerging as a starter midway through the 2011-12 campaign. Thomas averaged 11.5 points, 4.1 assists and 2.6 rebounds overall, but upped those numbers to 14.8 points, 5.4 assists and 3.1 rebounds after essentially supplanting Jimmer Fredette and Tyreke Evans as the first-string point guard with the Sacramento Kings.
The pint-sized speedster (he's listed at 5'9") out of Washington proved to be the steal of the draft, thanks to his proficiency in the pick-and-roll and his overall ability to get to the cup. He'll have his fair share of competition at the point this fall, with Fredette and free-agent addition Aaron Brooks both gunning for his minutes.
But if Thomas cuts down on his turnovers and learns to finish through contact more consistently, he'll continue to defy the odds and establish himself as a quality floor general in this league.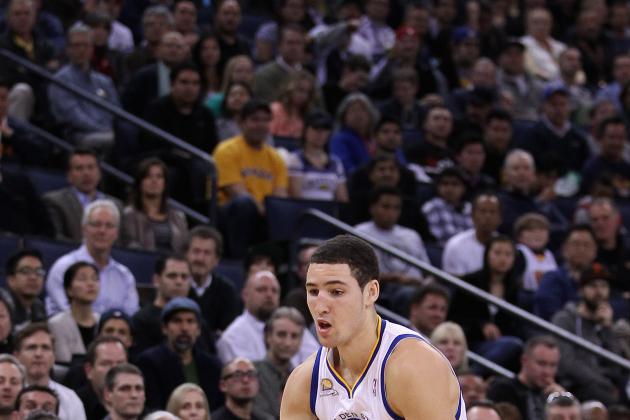 Ezra Shaw/Getty Images

Just west of Thomas' Cow Palace, Klay Thompson will be giving folks in the Bay Area plenty about which to rock the bells. The second-year wing out of Washington State proved to be a studly pick by Jerry West and the rest of the Golden State Warriors front office, as he put up 12.5 points per game and hit 41.4 percent of his threes as a rookie.
Thompson's emergence as a valuable piece of Golden State's ongoing puzzle is one of several reasons for optimism in Oakland this season. The addition of Harrison Barnes via the draft and the (presumed) health of Stephen Curry and Andrew Bogut have some folks in NorCal thinking playoffs for the first time since the "We Believe" Warriors stunned the Dallas Mavericks in 2007.
Thompson's role in that dream will be as crucial as any. He'll be expected to stretch the floor with his dead-eye perimeter shooting and, in turn, open things up in the middle for Bogut and David Lee.
So far, all signs point to a big leap forward for Klay. The son of former NBA veteran Mychal Thompson garnered heaps of praise from all observers—most notably Kobe Bryant and Kevin Love—for his work with the USA Select Team in Las Vegas last month.
If Klay can hang with the best of the best in basketball, surely he can acquit himself just as well back in the professional ranks, assuming his shot doesn't disappear on him.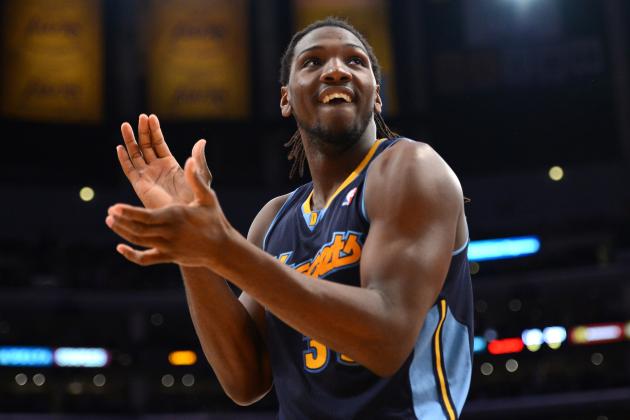 Harry How/Getty Images

At the very least, Kenneth Faried will be remembered years from now for having the best nickname of anyone in his draft class.
Of course, Manimal's lasting impact on the league figures to extend far beyond his entertaining moniker. He proved to be an impact player with the Denver Nuggets last season, posting averages of 10.2 points, 7.7 rebounds and 1.0 blocks in just 22.5 minutes per game.
Faried's relentless energy and tenacity made him a fan favorite and a must-watch in the Mile High City, not to mention a surprisingly productive player for an undersized power forward. He shined even brighter in the playoffs, when he averaged a double-double in seven games against the Los Angeles Lakers, who were themselves no slouches when it came to size up front.
Manimal already has the intangibles down and is more effective offensively than he lets on, particularly in the post. If he can improve as a help defender, particularly outside of the paint, he'll hold down the starting 4 spot in Denver with ease and assert himself as a crucial cog in the Nuggets' exciting young machinery that, perhaps, will challenge for a top-four seed in the West.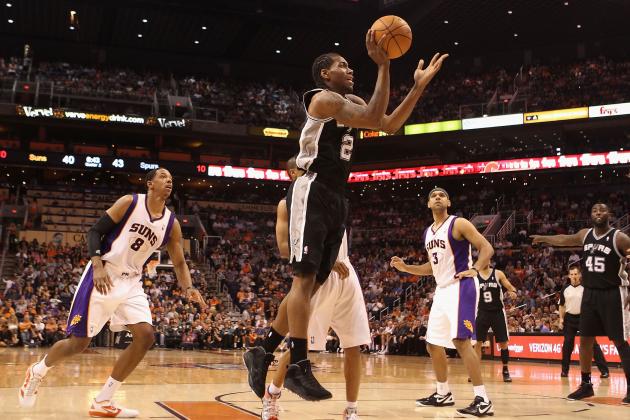 Christian Petersen/Getty Images

Denver's climb into the elite of the Western Conference may well depend on how things shake out with the San Antonio Spurs and their star sophomore Kawhi Leonard.
The All-Rookie First Team performer didn't put up particularly eye-popping numbers on the season—7.9 points, 5.1 rebounds, 1.1 assists and 1.3 steals in 24 minutes per game—but played well enough to supplant Richard Jefferson as a starter and allow the Spurs the leeway to trade the struggling swingman to the Warriors for Stephen Jackson.
This time around, Leonard will be the starter in San Antonio from the get-go, which, in itself, should be good enough for a step up in productivity. He's expected to be a cornerstone of the Spurs' future, and will have the opportunity to prove as much for a team that will be expected to challenge for the Western Conference crown.
Leonard's already shown he can be a shooter, cutter and thief on par or better than Bruce Bowen once was. His positioning on defense could still use some work, though, especially in pick-and-roll situations.
That being said, with more seasoning and an ever-expanding role, expect Leonard to demonstrate that he can and will be something more than a sidekick for San Antonio's big three of Tim Duncan, Tony Parker and Manu Ginobili.