Manchester United: 5 Negatives to Take from Opening Day Defeat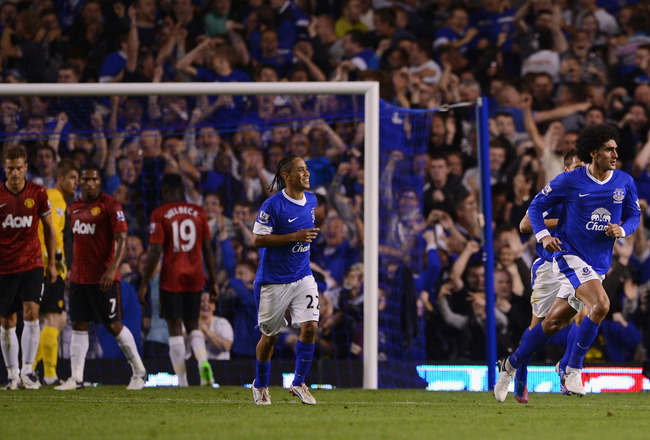 Michael Regan/Getty Images
In recent weeks, all the talk was about how United would bounce back from the heartbreak of last season.
People were excited about the potential of Shinji Kagawa and the goal-scoring ability of their new strike force of Wayne Rooney and Robin van Persie.
There wasn't much talk of Everton, despite the havoc caused by Marouane Fellaini and Nikica Jelavić at Old Trafford last season.
Everton must've been licking their lips at the thought of facing United's makeshift defence, and they duly put United to the sword with a resounding 1-0 victory at Goodison Park.
There wasn't much to crow about from a United point of view, and these are the main negatives from tonight's defeat.
Our Lack of Centre-Backs Is Quickly Becoming a Crisis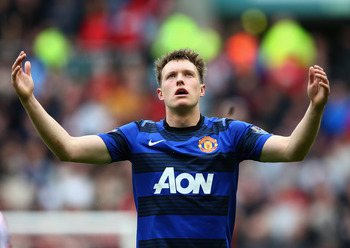 Clive Mason/Getty Images
Michael Carrick was dealt an impossible task tonight. Most centre-backs would struggle to contain Marouane Felliani in the form he showed tonight.
While he put up a commendable fight, he never stood a chance.
With four centre-backs on the sidelines with uncertain return dates, we might be on the verge of a crisis.
With the transfer deadline looming, Sir Alex Ferguson might be considering his options, both short term and long term.
Nani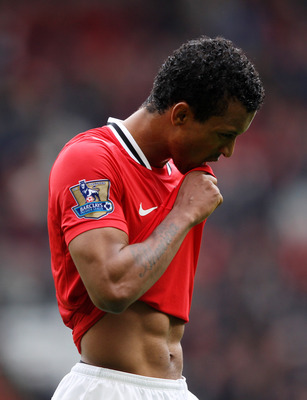 Alex Livesey/Getty Images
In the wake of tonight's performance, United might be thinking twice about Zenit St. Petersburg's alleged offer.
I have long been a proponent of the idea that Nani is a great player to have when things are going well. When the team is flying, he is unstoppable.
Sadly, he wilts in the face of adversity, and tonight he was probably the worst player on the pitch.
His touch was awful, his delivery was appalling and he repeatedly flashed the petulant side of his personality, picking up a booking in the process.
With so many options in attack, United should consider the option of selling him and investing the resulting funds in a centre-midfielder.
Wayne Rooney's Lack of Form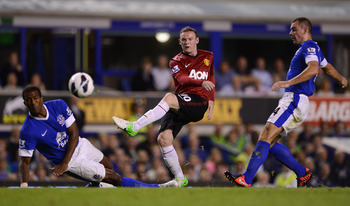 Michael Regan/Getty Images
Wayne Rooney is very much a form player, and tonight he appeared to be out of form, which could be a problem.
Some players can still contribute when out of form, but Rooney tends to become more of a hindrance.
He starts coming further and further out the pitch and is prone to lashing out in frustration.
He cut a forlorn figure out there and his negative body language was palpable.
His touch was poor and he lost the ball time after time.
Gone was the effervescent Rooney of last season who bullied defenders and was lethal in front of goal.
With RVP still bedding in, we will need Rooney to find form quickly.
Our Failure to Get Robin van Persie Involved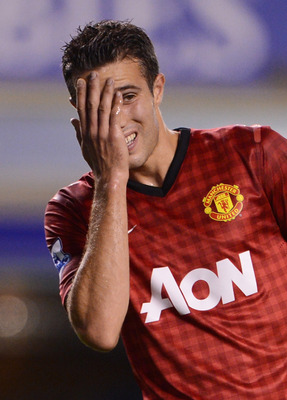 Michael Regan/Getty Images
Judging from this picture, one might assume that it was Robin van Persie's intention to be invisible tonight.
Granted, he was only given 20 minutes with which to influence the game, but I expected more.
But the blame needs to be shared equally with his teammates. They simply failed to get him involved in the game at all.
You don't spend a fortune on a superstar and then not make full use of his skill set.
His late arrival is sure to have been the main cause for the lack of cohesion, so hopefully this will disappear in time
We Are Already Chasing Man City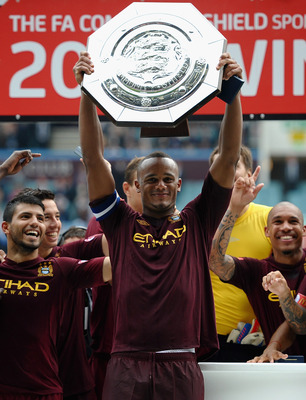 Laurence Griffiths/Getty Images
Man City winning the title once was bad. Them winning back to back titles would be devastating. Any argument about who ruled Manchester would be put to bed.
Given the quality they have at their disposal, out best chance of success is to keep them under constant pressure.
Last season, we gave them a head start and struggled mightily to drag ourselves back into contention. I'm not sure they'll falter again if we let them get away from us.
And now after just one game, we find ourselves three points down and two goals behind on goal difference.
City responded to adversity on Sunday and came out on top. United, on the other hand, faltered.
Let's hope that doesn't remain the case going forward.
Keep Reading

Manchester United: Like this team?