Everton vs. Manchester United: 6 Things We Learned About the Reds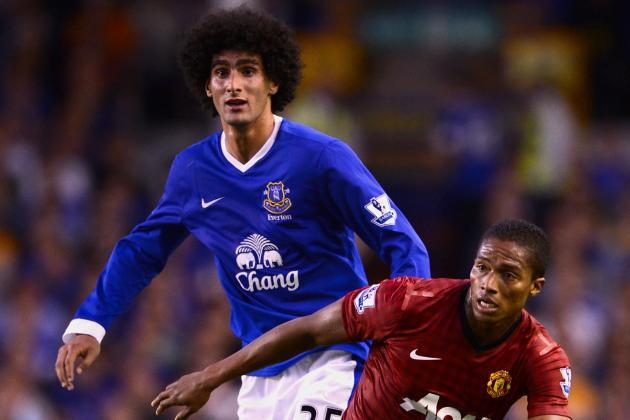 Michael Regan/Getty Images

This was just about the worst match United could have drawn when the fixture list came out. Of course, they would want revenge for the 4-4 killer result at the end of last season.
Taking nothing away from Everton's outstanding performance—they had only 36% possession—but the problem was, with four of their five centre-backs out, how on earth were United going to keep out Nikica Jelavic and Marouane Fellaini?
If this match showed anything, it was that Everton can be a threat all season this year. They notoriously start slowly and then play catch-up. This season, they came back from preseason earlier than any other team.
It helps of course that they had so few international calls. United had twelve squad members called up this summer, as well as four players out injured, three of whom were centre backs.
Although he has let Jack Rodwell go, David Moyes has made some smart signings, the best being to re-sign Steven Pienaar. He has all his squad fully fit; they know each other and finished last season together. And it showed against a United that has changed its playing formation as well as personnel.
So, apart from United, we learned that if this relatively small Everton squad can stay fit they will be a challenge for any team.
And Fellaini can be Player of the Year. He was head and shoulders above any United player...literally.
Begin Slideshow

»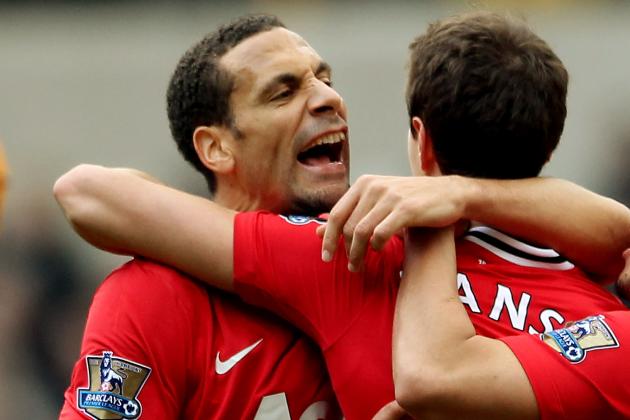 Scott Heavey/Getty Images

How can you defend against Fellaini and Jelavic with Rio Ferdinand and Jonny Evans missing?
Given what happened at Old Trafford four months ago, when Everton's attacking partnership looked like one of the most dangerous forward combinations in the league, the last thing Sir Alex needed to hear on Friday was that he had lost his No. 2 centre-back, with three others already out.
For David Moyes it was like all his Christmases coming at once.
OK, you can say that Vidic should have marked Fellaini instead of Carrick, but that's not the way it works. Carrick doesn't shout "come and stand beside me, Marouane."
As the stats showed, Fellaini had a total of over 60 touches in the match. The graphic showed that he received the ball on almost every blade of grass in United's half. You can't have man-to-man marking in those circumstances, it would tear a defence apart.
So it was a case of "if Fellaini doesn't get you, Jelavic will." Or Phil Jagielka and Sylvain Distin.
Sir Alex had to choose who would pick up Fellaini in the box. In fact, Jagielka is just as dangerous as Jelavic from set pieces. Carrick got the job with Fellaini. It was a mismatch.
The Belgian was simply unplayable. He is 6'5" tall, even without the monster Afro haircut. Vidic and Carrick are two inches shorter, Carrick being slightly bigger.
But Fellaini is also 11 kilos heavier than Carrick. That's almost two stones; he's a big unit.
He's also a skillful footballer. Several times, because of his height, he was able to receive and control aerial balls on his chest. That's unreal. And he's pretty clever with his feet. He received, controlled and laid off the ball all night.
How long can Everton hold onto him? Many people thought he should have been a target for Sir Alex this summer.
So although United had almost double Everton's possession, every time they lost it the Toffees had an outlet. They bombarded Fellaini with diagonal balls all night and he lapped them up.
Unfortunately for United, every Everton player was at the top of his game, especially Jagielka, Distin, Steven Pienaar, Leon Osman...well everyone. And uncharacteristically, with so much attacking potential on the pitch, Sir Alex's men couldn't score.
Once Everton were in front, they simply packed their own half, and even though they tired visibly, held on.
Had Tom Cleverley's shot not been cleared off the line, United would have nicked a draw, but there was no taking away from Everton deserving to win once they had scored.
Every blue shirt put his body on the line, but will they do that at QPR, Reading, West Ham, etc.?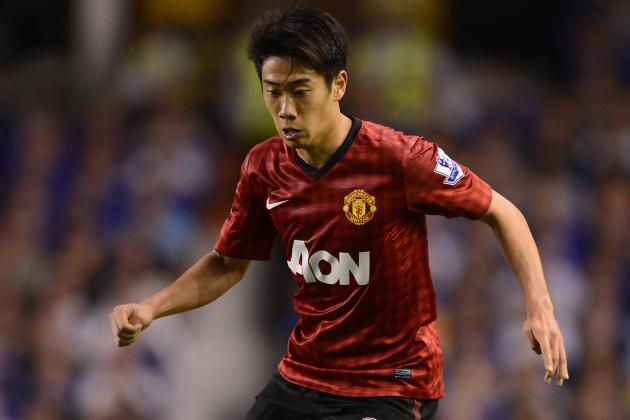 Michael Regan/Getty Images

Shinji Kagawa arrived in the Premier League last night; and he found out immediately how tough it is.
But you know what? He can hack it. In fact, with the exception of Fellaini, there was no better player on the park.
There will inevitably be comparisons with Eden Hazard, but Chelsea were playing against Wigan, who were poor, especially Ivan Ramis in the Latics' defence. It was an open game and Hazard had plenty of room to shine.
Kagawa covered every bit as much ground as Fellaini did and, if he had been used more by his colleagues, might have broken Everton's defence down.
He never gives the ball away and reminds more and more of a young Paul Scholes, with phenomenal work-rate. It will be interesting to see how he works with Robin Van Persie. They are both intelligent and highly skillful. They will raise the standard of United's football even higher.
And with the effervescent Tom Cleverley buzzing around, they will be a constant threat to even the best defences in the league.
There is no need for United to buy an attacking midfielder. Kagawa and Cleverley will do, with Wayne Rooney in reserve if need be.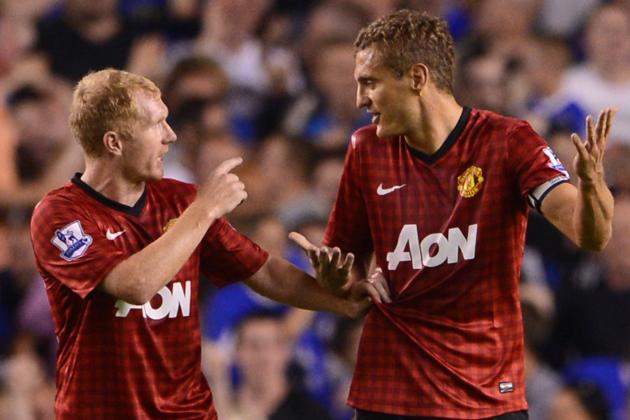 Michael Regan/Getty Images

Like Shinji Kagawa, Nemanja Vidic's performance was overshadowed by the result.
He looked fresh, dominant and back to his very best. He never looked flustered, led from the front and towards the end was still trying to drive his team forwards. It's a pity his sidekick cried off a couple of days ago.
He wasn't to blame for the goal, was combative throughout, made smart decisions and organised his defence well.
Unless Ferguson gets another of his centre-backs fit soon, Vidic is going to be critical to United getting off to a reasonable start.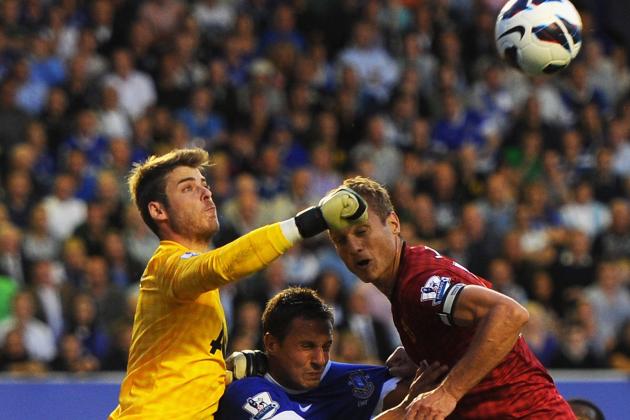 Michael Regan/Getty Images

Almost a year ago, people were wondering if David de Gea was another of Fergie's transfer gaffes.
Last night, he was a different class from last year. He commanded his penalty box, had a good understanding with his defence and made several outstanding saves.
In fact, once again he kept United in the game.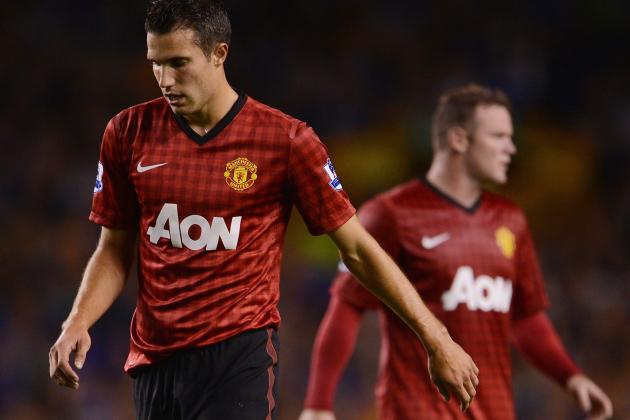 Michael Regan/Getty Images

At last this combination got the chance to play together, if only for 25 minutes or so.
Not enough time for us to learn much, except that Van Persie will take corners and set-pieces sometimes. His movement on and off the ball was good, but by the time he came on, Everton had no interest in attacking except when Tim Howard had the ball in his hands and Fellaini was 60 yards away.
Anyone who didn't watch the match would naturally form the opinion that United were poor. They weren't. They dominated possession, passed the ball exceptionally well, but simply couldn't break down Everton's well-drilled defence.
Nani was his usual infuriating self, but everyone else played well. The trouble was that the absence of four centre-backs meant Ferguson couldn't play his desired formation. Carrick had to play centre-back and Antonio Valencia right-back.
The only saving grace was that meant United had nine attacking players on the park (including Patrice Evra).
Paul Scholes did well to last 90 minutes, but he isn't the player he was and was filling in for Michael Carrick.
Carrick, as usual, didn't misplace a single pass, but he was 20 yards deeper than normal and having to stay rooted there as long as Fellaini was around. The Belgian's aerial dominance also meant that United were pushed deeper than they wanted to be.
Every time a United attack broke down, everyone had to funnel backwards, because Fellaini didn't just win every ball, he laid it off and started an attack every single time. It's much harder to win when Welbeck and Rooney are in the wrong box defending.
So what were the signs that suggest United will do well?
First, this was in some senses a "scratch" side, with new players and consequently a new, more fluid formation and new tactics, let alone the enforced positional changes.
Cleverley was as excellent as he was for England and Team GB. When the defence is back, I would expect him to play alongside Carrick as the attacking central midfield.
Kagawa was excellent as already noted.
Rooney isn't quite fit yet, but there was plenty of evidence that he can dominate matches this season. Unfortunately, his sidekick Danny Welbeck looked rusty and I expect Van Persie to start against Fulham.
United never quit for one minute and their heads never went down. This was a tough match to start the season and I expect them to be even sharper next week.
The new, more fluid formation is coming together. There is also competition for places with Welbeck, Rooney and Kagawa all able to play from the wide left berth, as well as the usual suspects, Ashley Young and Nani.
With Carrick having to drop into centre-back and Rafael only just back from the Olympics, Sir Alex could not afford to play him at right-back and, with neither Phil Jones nor Chris Smalling fit, he resorted to Valencia. United will be better when the Ecuadorian is restored to the wide right position
Hopefully, United will have Jonny Evans back next week, allowing Ferguson to start his ideal eleven, then we shall see United's true potential. On tonight's showing it seems clear that Van Persie will be first choice ahead of Welbeck this season.
Finally, although Evra gave the ball away a few times, there was enough evidence to suggest that the imminent arrival of Buttner has sharpened him up defensively.
There's nothing like competition for places across the park and, with the current exception of centre-back, everyone now knows they are playing for their place. That alone should ensure a performance every week from United.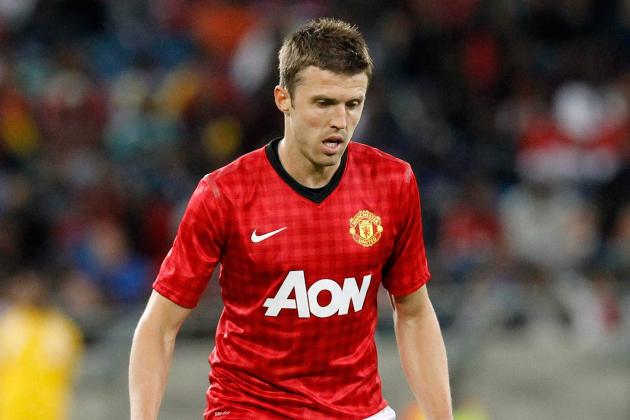 Gallo Images/Getty Images

Apart from De Gea, the hero of the night was Michael Carrick.
He had never played centre-back before he came to Old Trafford. Last season, he had to fill in three or four times at the back because of injuries.
On Friday, he and the boss got the news they both dreaded. With Smalling, Evans and Jones unavailable through injury, Rio Ferdinand picked up a leg injury that will keep him out for a month.
Frankly, that is astonishingly bad luck. How many other Premier League clubs have lost four top centre-backs in recent years? Last season United lost the title because they had the worst injury list. Surely history doesn't repeat itself?
And if you were to pick the two worst possible fixtures to have to draft in a makeshift centre back, it would be Everton (with 6'5" Fellaini) and Fulham (with 6'6" Hangeland). Also, both are significantly heavier than Carrick, 11 and 17 kilos respectively.
In the circumstances, Carrick played extraordinarily well. He didn't win much in the air, but he stuck tight to his man all night and was only beaten when Fellaini pushed him to the ground as he headed his goal.
Carrick was calmness personified otherwise, kept a good shape alongside Vidic, intercepted, tackled and distributed the ball well.
As the game went on, Everton visibly tired and went into their defensive shell; Carrick came more and more into midfield, spraying passes and setting up attacks.
Ferguson picked him as centre-back last season because he is one of the best headers of a ball and is always cool under fire.
Carrick always does what the boss does and never complains. He will have learned a lot last night, hopefully to the benefit of his performance against Fulham if Evans is still not back.
Frankly, Ferguson had no other choice. Despite Fellaini's goal, if Cleverley's chance hadn't hit a flailing leg, Sir Alex would have been glowing with delight at Carrick's performance.
The manager said Carrick would be pivotal this season, but let's hope it is not as a makeshift centre back for much longer, no matter how well he played.
Footnote: Apart from the competition for Evra, it is just possible that Alexander Buttner has been signed so that Evra can be drafted into central defence if needed next week.