The 8 Most Repeated Cliches in MMA Interviews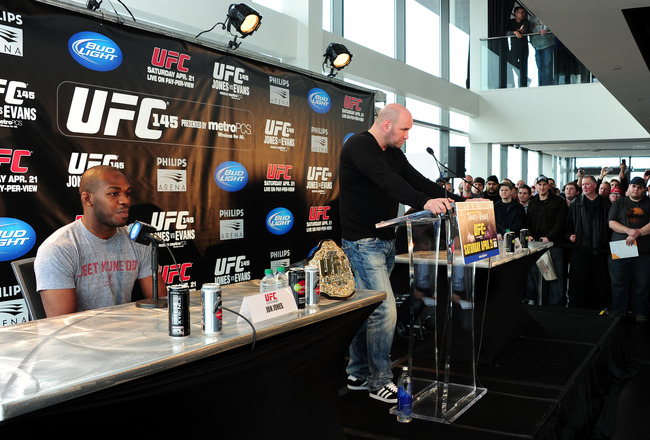 Scott Cunningham/Getty Images
When you watch an MMA interview, do you ever get the sense that the fighter speaking is choosing their responses from a standard-issued list of statements, seemingly utilized throughout the entire sport?
If so, you are not alone.
While the conspiracy theory regarding the existence of a standardized list could go either way, that there are certain phrases that have been through the ringer many more times than necessary is beyond question.
The purpose of this article is to identify some of the cliches that would likely be on the first page of the aforementioned list (should it exist), and break down each phrase to examine why it is not only overused, but inherently ineffectual.
I was able to come up with eight. Feel free to add to the list via the comments section.
'He's Going to Have to Kill Me to Stop Me.'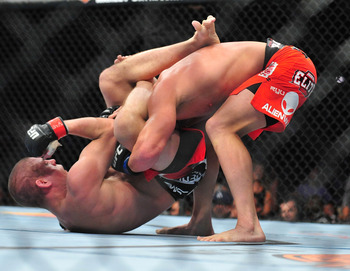 Gary A. Vasquez-US PRESSWIRE
Perhaps the most overused hyperbole in pre-fight interviews, this death before surrender mantra is a wartime allusion that just doesn't translate to MMA. Parallels between war and mixed martial arts are often drawn by fighters and the media alike, but this one misses the mark for a multitude of reasons.
For starters, a five-minute fight is an ephemeral thing next to a war, so surrender does not really entail the same consequences. Additionally, some wars are fought for causes worth dying for. An MMA fight never is, and any fighter claiming otherwise exhibits extreme delusions of self-importance.
Yet there seems to be no shortage of fighters out there insistent that they will stop pursuing victory at nothing short of death.
Of course, it is always something they say, not do.
There have been countless times that a fighter has made a boast, then subsequently suffered a knockout loss or cried uncle from a submission hold.
No fighter is to be held accountable for suffering a stoppage after making this claim, but why even do it in the first place? It may be a source of motivation, but can no one come up with anything better?
How about, "He's going to have to stop me to stop me?"
'I'm in the Best Shape of My Life.'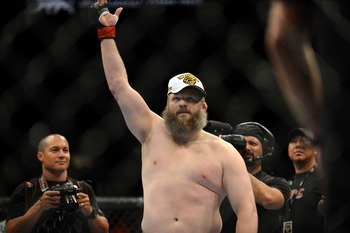 Roy Nelson is the obvious exception to this criticism
Ron Chenoy-US PRESSWIRE
It's a peculiar thing that so many fighters can be in the best shape of their lives so many times throughout their careers.
Recollect how often this phrase is actually uttered—probably at least once per UFC event—and then scratch your head in bewilderment over why the sport does not consist of nothing but legitimate supermen.
I mean, if improvement to physicality is actually so regular and repeatable, soon it will take some very real cyborgization for a fighter to get in better shape than the last time he was in the best shape of his life, which far exceeded the previous eight times he made the claim.
It's all very confusing, but that's the point. It doesn't make sense that a fighter can be in the best shape of his life at every single moment of his life.
Of course, we shouldn't expect fighters to come out and say that they have been gassing a bit earlier than they did when they were in their late 20s, or say that their arms are a bit flabbier than last time they fought, but enough with the "best shape of my life" stuff.
It's been said so many times it has lost all meaning.
'You'll See the Best Version of Me You Have Ever Seen.'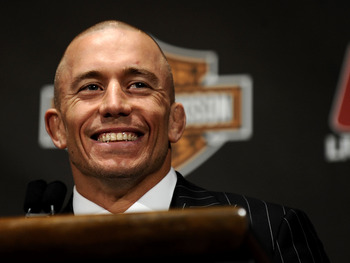 GSP loves this cliche. Maybe he even made it a cliche?
Jeff Zelevansky/Getty Images
In a similar vein, the frequency of this statement suggests that the trajectory of a typical MMA career is a stable, inclining vertical line.
While experience and time tend to make better competitors out of mixed martial artists, this statement is redundant at best, ludicrous at worst.
We would expect a 22-year-old fighter to improve over time, that much is obvious. But there is a point of diminishing returns with experience, which happens to be the tipping point from redundant to outrageous. For instance, the statement can be almost laughable at times, like when fighters plummeting down the back slope of their career say it like it's a fact.
But any way you slice it, the phrase is both banal and vague. I mean, I can tell you that right now I am the best writer I have ever been, but that's a bit generic and unsupported isn't it?
For most fighters, telling others they are at the apex of their career is likely a motivational ploy, but it's beginning to do little more than inspire eye-rolling.
Just once, I wish that a fighter would say that he has plateaued, but is still better than everyone. It probably won't happen, but a man can dream.
'He Won't Stand and Bang with Me Because He Knows He'll Be Knocked Out.'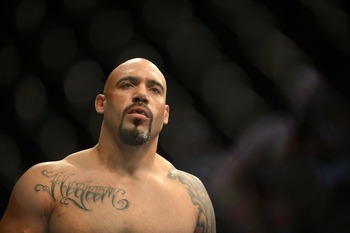 Would it make sense to trade punches with Lavar Johnson?
Ron Chenoy-US PRESSWIRE
This cliche is perhaps one of the stupidest and ineffectual attempts at reverse psychology ever recorded. I mean, what a sissy this guy's opponent must be! He won't concede victory even if the guy that's pounding his face in will think more of him after the fight.
Sure, some fighters buy into the machoisms tightly bound to MMA, but if we dissect this statement we will be unable to find so much as a semblance of logic or sense.
The phrase implies that the fighter won't do something because that something ensures defeat. It's kind of like trying to get someone to give you $20 by saying, "You won't give me $20 dollars because then you'd have $20 less in your wallet," then hoping they want so badly to avoid looking materialistic that they pay up.
Ironically, this macho challenge is almost invariably issued out of insecurity. What "he won't stand and bang with me because he knows he'll be knocked out," usually means is, "He is going to take me down and submit me because he is a better grappler than I am."
This cliche—a failing attempt at manipulation—needs to be done away with. And the sooner the better.
'I'm Going to Kill My Opponent.'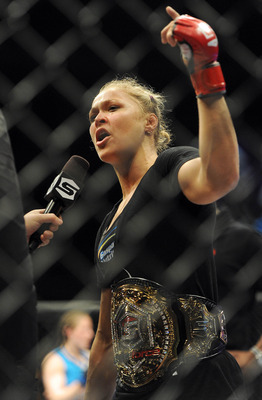 Stay classy Ronda.
Jayne Kamin-Oncea-US PRESSWIRE
This one might not be as recognizable as many of the others on this list, but it is unfortunately starting to gain traction.
Frank Mir once infamously expressed his desire to kill arch nemesis Brock Lesnar inside the Octagon. During an interview on Mark Madden's radio show, Mir quipped the following:
I want to fight Lesnar. I hate who he is as a person. I want to break his neck in the ring. I want him to be the first person that dies due to Octagon-related injuries. That's what's going through my mind.
One would think that any fighter out there would be able to look at this example, recognize the idiocy of it, and avoid voicing anything even remotely similar.
Not so.
Prior to very first-round armbar victory over Sarah Kaufman on August 18, WMMA star Ronda Rousey had this to say:
If I get her in an armbar, I'm going to try to rip it off and throw it at her corner...If I get her in a choke, I'm going to hold onto it until she's actually dead. And if I get a knockout, I'm going to go all the way. I'm going to try to pound her face into the ground and she's depending on the competence of the California (State) Athletic Commission to walk out of that cage alive.
Rory MacDonald recently followed suit, stating that "Not only do I know I'm going to win [against B.J. Penn], but I'll probably end up killing him in the process," on the Tim and Sid Show.
Obviously MacDonald's statement is different than the other two, which imply a hope for death, but it is still inappropriate, if to a lesser degree.
Wishing death on an opponent—even projecting you will kill an opponent—is the lowest road one can go while participating in a sport where the physical dangers are very real.
References to killing opponents in the cage is a growing issue that needs to be suppressed. The only fighter exempt from this initiative, past or present, is Ken Shamrock.
'I'm Going to Impose My Will on My Opponent.'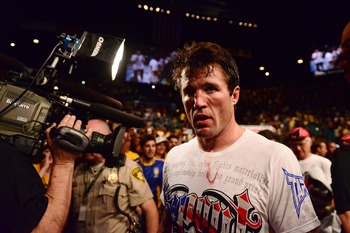 The Silva fight probably went a bit differently than Sonnen willed.
Mark J. Rebilas-US PRESSWIRE
Aside from being incredibly generic, this cliche doesn't make a whole lot of sense in the context of a fight.
I get it. I do. I know what fighters mean when they say this, but it just doesn't need to be said.
No one needs to explain that they will attempt to control their opponent through the act of fighting; that is the kind of thing that goes without saying, considering that, you know, that's kind of what a fight is.
That anyone will successful shape the event of a fight precisely to their desire is something saved only for books and movies, not reality.
'One of Us Is Going to Get Knocked out'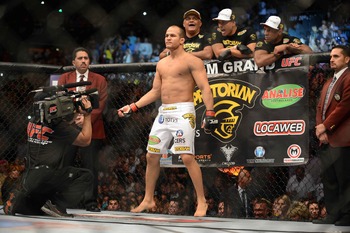 Sometimes the phrase "I am going to get knocked out" is more accurate.
Ron Chenoy-US PRESSWIRE
This statement is usually made by one of two standup specialists preparing to compete against each other. It sounds very manly, but it doesn't mean a whole lot once the fight starts.
What the statement implies is that both men will put their heads down and swing for the fences, throwing caution to the wind.
What the statement actually means is that both guys are good strikers and will play that hand until things look bleak for them.
Users of this cliche deserve a little bad karma, so it is perhaps a bit unfortunate that the meaning proves prophetic only as often as it completely misses the mark.
'He Has Never Fought Anyone Like Me Before.'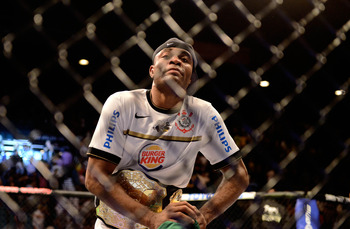 Even the best of the best are human.
Mark J. Rebilas-US PRESSWIRE
More often than not, this cliche is comically self-righteous and wildly inaccurate. While it may aptly describe a situation from time to time, it mostly just sounds stupid.
The difference in skill level between most of the sport's top competitors (there are some exceptions) is almost negligible. When a fighter implies that his opponent—who has fought most of the division's title contenders—has never fought anyone like him, it really makes you scratch your head.
Does this fighter mean he has a style that is so dissimilar from everybody else that his opponent has never seen anything like it before? Or does he mean that he's unique from the field because he is a complex individual with layers of passion, ferocity and sensitivity?
In most cases, the subject of this sentence has indeed fought multiple opponents very similar to the speaker of it.
Unless the fighter has four arms or a tail, he should probably steer clear of this phrase.
Keep Reading