Dispelling Worry About Andy Dalton's Arm Strength in 7 Simple Steps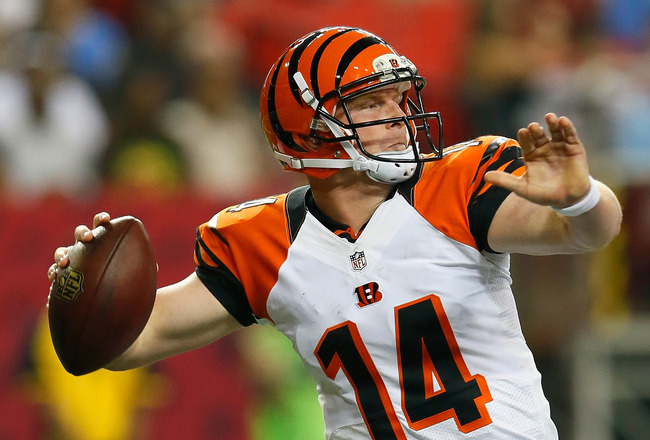 Heave that football, Andy. Heave it down the field.
Kevin C. Cox/Getty Images
Ever since NFL Films senior producer and all-around tape guru Greg Cosell said on Yahoo! Sports' Shutdown Corner Podcast earlier this year that there are concerns—even within the Cincinnati Bengals organization—about the arm strength of their quarterback, Andy Dalton, that's all we've seemed to hear about him.
Even when Cosell qualified his comments further earlier this summer, saying that Dalton's questionable arm strength isn't a liability considering his impressive accuracy and timing, the comments continued to dog the second-year quarterback.
Well, perhaps in an attempt to quiet his detractors once and for all, Dalton completed an impressive, 50-yard pass to wideout A.J. Green in the Bengals' Week 2 preseason win over the Atlanta Falcons. In that game, Dalton went 8-for-14 for 125 yards and a touchdown and averaged 8.9 yards per completion.
There are just seven simple steps to a change in perception about Dalton's arm. Here they are.
The Set Up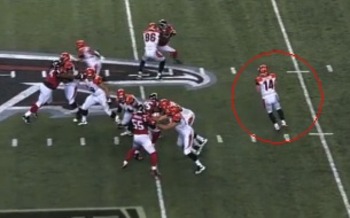 For a quarterback to successfully throw deep, he needs time. Here, Dalton's offensive line gives him a massive pocket from which to work from, which allows him to drop back and also gives enough time for receiver A.J. Green to take off down the field.
You can't go deep with accuracy under serious pressure. The Bengals offensive line holds up their end of the deal in this play.
The Drop Back
Dropping back to pass a deep bomb is different than a shorter-range throw. There needs to be velocity and momentum from the feet up which turns the arm into a finely-tuned catapult.
The feet—the plant as well as the space between them, the knees, the hips, shoulders and elbow all need to build up considerable power and speed in order to get the ball down the field.
You can see in Dalton's windup here that he's amassing some serious power.
The Ball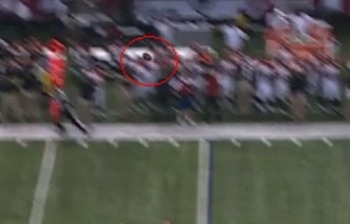 See it up there, circled in red? Yes, the ball flew out of Dalton's hands, over everyone's head, with the kind of velocity that made everything around it a blur while it remained the lone object in focus.
You can surely bet that for A.J. Green, still streaking down the field, that ball is the only thing in focus in his eyes. It's on a very fast-moving rope, directly to him.
The Receiver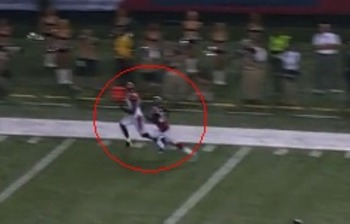 For a quarterback to even attempt a throw like this—even in a mere preseason game—he must have a great deal of confidence in his receiver.
The prevailing wisdom is that a great quarterback can make a good receiver into a legend, but with A.J. Green, we've seen somewhat of the opposite. His ability to get open down the field has made Dalton a better quarterback.
The fact that the two were both rookies last season helped them develop together as a real tandem. This throw belies the solid communication and high level of trust between Green and Dalton. Dalton threw it out there believing that Green would get open—and indeed, he did.
The Catch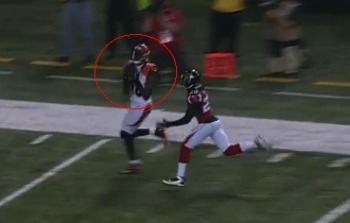 A.J. Green had a big one-step lead on his defender, who is more interested in stopping Green than getting his own hands on the ball.
As such, the ball lands right on top of Green's hands in the perfect position for him and only him to catch it. An earlier slight double-move also helped create better separation. Now there's just one thing left for Green to do.
The Touchdown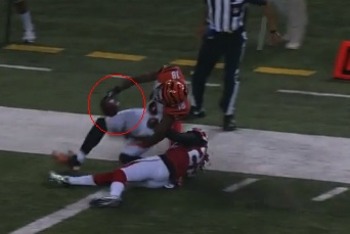 And that is taking it to the house. A 50-yard pass and completion is an exciting thing all by itself, but it's even better when it results in six points.
Once Green made the catch, the Falcons defender makes an aggressive and valiant attempt to either get that ball out of his hands or at the very least keep him out of the end zone. He pulls Green down, yes, but it's too late: The Bengals have scored.
The Celebration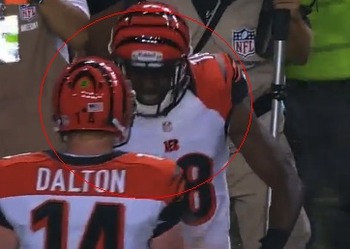 After the touchdown, Green and Dalton meet to celebrate their remarkable effort. Not only did Dalton throw a perfect and powerful 50-yard pass, Green completed the play by grabbing that pass and crossing the plain.
Of course, a celebration is in order: Dalton just did much to silence his critics. In speaking to the assembled media after the game, Dalton referenced the play, saying, "My arm feels great, and you can tell everybody that it's not even close to what I've got if I need it."
Dalton always knew he had this throw in him. And now, we've all seen it. The curious case of Dalton's alleged lack of arm strength? Closed.
Keep Reading