ACC Football: Power Ranking the Conference's Quarterbacks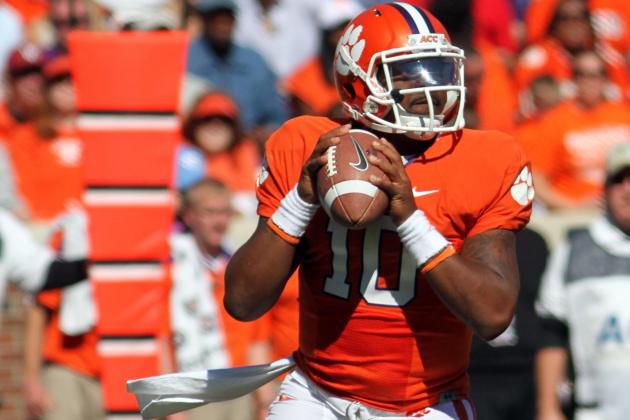 Joshua S. Kelly-US PRESSWIRE
Clemson's Tajh Boyd is the best quarterback in the ACC.
At the end of the day, the only thing that matters is what team scores the most points. The quarterback is the scoring leader and whether he gets it done through the air or on the ground, it's his ability to score that separates him from the rest. With the college football season knocking on the door, I give you my ACC quarterback power rankings.
Begin Slideshow

»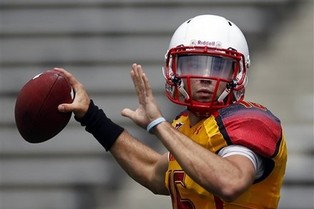 C.J. Brown's injury puts Perry Hills in the Terrapin quarterback driver's seat. AP Photo
Just weeks away from the start of the 2012 season, the Maryland Terrapins football program took a huge hit when they lost C.J. Brown to a non-contact injury sustained during practice. It's now up to true freshman Perry Hills who, according to the Washington Post, led the first team offense for the second time last week in practice.
Hills went to Pittsburgh Central Catholic where not only did he play football, but he was also an all-state wrestler. In Hills' senior year of high school, he threw for 2,000 yards, 13 touchdowns and only two interceptions.
Maryland is coming off a horrendous 2-10 season and pressure is mounting to turn the program around. Hills won't have the luxury of a running game to back him up. In fact, of the four running backs competing for the starting job only one—sophomore Justin Puckett—has game time experience.
Hills ability to score will depend on how he manages the offense and if he can get the ball to freshman wide receiver sensation Stefon Diggs as well as Kevin Dorsey. Hopefully Hills takes this season for what it is—a learning experience.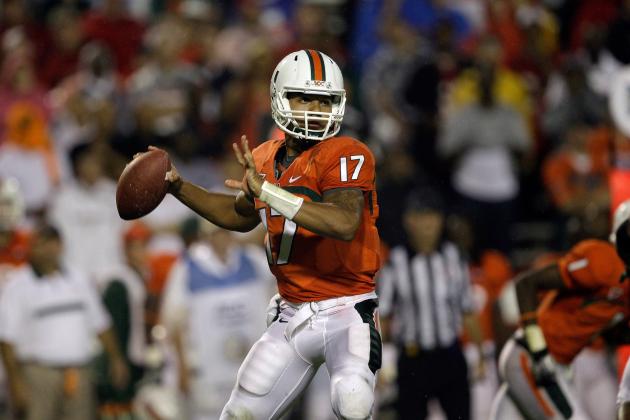 Rob Carr/Getty Images
It's Stephen Morris' time to shine as a first time starter for the 'Canes.
There have been few quarterback battles in the ACC this offseason, but one of the most interesting is the one down in South Beach between junior Stephen Morris and Memphis transfer Ryan Williams.
Last week the battle ended when, according to the Washington Post, Miami head coach Al Golden announced Morris "had earned" the starting spot. For the second year in a row, Morris will start a season opener for the Hurricanes. In the 2011 season opener against Maryland, Morris went 19-28 for 195 yards, two interceptions and zero touchdowns—not the best performance.
This could be a different year for Morris. He doesn't have the Jacory Harris drama to deal with and his experience along with his strong arm definitely makes him the most qualified player to start for the Hurricanes.
Admittedly, Morris hasn't had a fair chance to prove himself as a quarterback, but with what he has done in the past—Morris' record is 1-4 as a starter with four touchdowns and seven interceptions—the "U's" hope is bleak.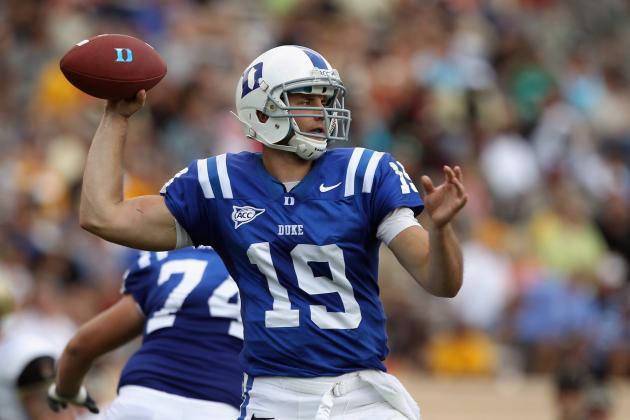 Streeter Lecka/Getty Images

If two is company and three is a crowd, then Duke's quarterback position will be crowded.
According to the Raleigh News Observer, head coach David Cutcliffe plans to use a three quarterback system this year with Sean Renfree, Anthony Boone and Brandon Connette. The assumption is Renfree will headline the quarterback position for the Blue Devils in 2012.
Last year, Renfree threw for 2,891 yards, 14 touchdowns and 11 interceptions. What Renfree has going for him is his accuracy. In Duke's only three wins last season, Renfree had a completion percentage over 70 percent.
Renfree's overall talent isn't the problem. The problem is Duke's inability to recruit high-caliber football talent. This gives Renfree no hope to make an impact as a quarterback. The overall quarterback makeup for Renfree is definitely there, but the weapons to use in conjunction with his talent are not.
Cutcliffe plans to cut Renfree's playing time to make room for his new offensive system. This weakens Renfree's impact on the field and in my ACC quarterback power rankings.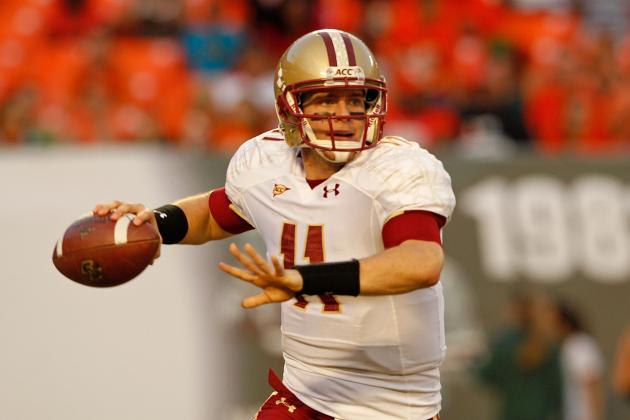 Mike Ehrmann/Getty Images

In 2010, freshman Chase Rettig got his first start in the beginning of October against Notre Dame. Rettig went 5-4 the rest of the way, taking his team to their 12th straight bowl game.
Last year, in Rettig's first full season as a starter, he showed improvement throwing for 1960 yards, 12 touchdowns and only nine interceptions. The team ended up 4-8, snapping their bowl game streak.
Rettig enters this year as an experienced quarterback ready to make his mark on the ACC landscape. According to Yahoo Sports!, Rettig is ready to get Boston College back to where they once were as a football program. If Rettig can get his completion percentage up and consistently improve his numbers like he has in the past, there's a definite chance for him to be an elite quarterback in the ACC.
Even more so, Rettig's Eagles have a chance to set themselves up at the beginning of the season for an ACC Championship run. BC's season begins with home games against Miami and Maine. Then they take a trip to Northwestern in week three, but have a bye week before their big home game against Clemson in week five.
If Rettig is able to use this schedule break as a spring board for his confidence, watch out for the Eagles. I look for Rettig to build on his previous numbers and have his best year yet. The hope is there. Now it's time for some results.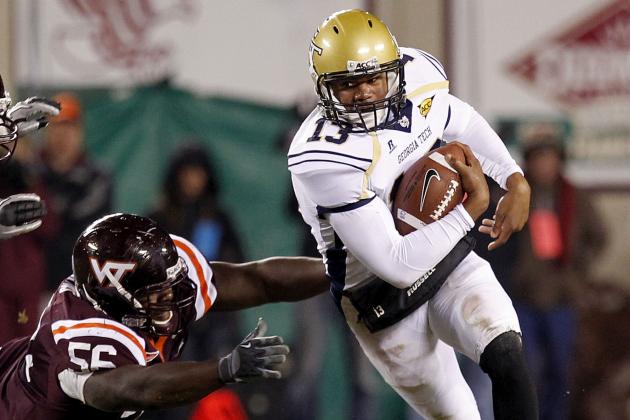 Geoff Burke/Getty Images

In the past four years, Georgia Tech has finished in the top 5 rushing offenses in the country.
Last year, in Tevin Washington's first full year as a starter, he was able to rush for 987 yards and 14 touchdowns. On top of that, Washington threw for 1652 yards and 11 touchdowns.
There's no question Washington has the ability to score. The question is what happens when teams make Washington a one dimensional rushing quarterback?
A losing record is what happens. Georgia Tech started 2011 on fire, winning their first 5 games. But once teams figured out how to stop Washington from scoring through the air, the Yellow Jackets stopped winning. In their last 7 games, the team went 2-5 and Washington was 37-77 with zero touchdowns and 6 interceptions.
The full arsenal for Washington is not there. Washington's athleticism will still allow him to produce touchdowns, but he only completed 74 passes last year (131st in the country). In a list that ranks quarterbacks for power, Washington is weak. Georgia Tech's unforgiving rushing attack will get them to a bow, but there is no hope for complete quarterbacks in that kind of offense.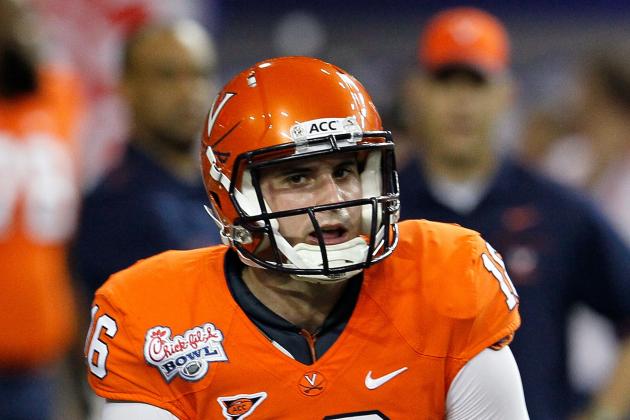 Kevin C. Cox/Getty Images

Last year, Virginia shocked the ACC with wins at Miami, Maryland and Florida State while finishing the year 8-5 and earning their first bowl appearance in three years.
A big part of that success was due to Michael Rocco's quarterback play. In those three games, Rocco threw for 771 yards, five touchdowns and only one interception. Rocco saw a huge jump in productivity in week nine when head coach Mike London handed him the sole reigns to the Cavalier offense.
Rocco really settled down the rest of the season throwing for 1,485 yards, nine touchdowns and only four interceptions. Confidence does wonders for a player and that's what was missing in Rocco's game.
Rocco now realizes his team has confidence in him. Mix that with Rocco's raw talent, and don't be shocked when his offensive numbers dramatically increase.
The team ended the year with embarrassing losses to Virginia Tech and Auburn, but according to the Washington Post, with the new addition of Alabama transfer Phillip Sims the Cavaliers are more confident than they've been in the quarterback position in a while.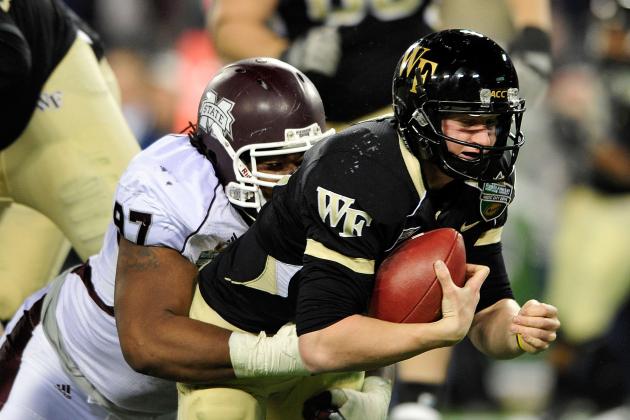 Grant Halverson/Getty Images

Low interceptions plus high completion percentage equals Tanner Price.
In Price's 2011 sophomore season, he threw for 3,017 yards, 20 touchdowns and only six interceptions. Price was able to put it together statistically, but the whole team slumped at the end of the season when it came to winning. Wake Forest was able to get off to a hot start at 4-1, but they went 2-6 in their last eight games, including a loss to Mississippi State in the Music City Bowl.
Price still has a bad taste in his mouth from last season and, according to the Boston Herald, has only one goal—an ACC Championship. Price becomes the first quarterback to break into these power rankings who threw for more than 3,000 yards and 20 touchdowns. You can't deny Price's productivity.
With running backs Josh Harris and Orville Reynolds forming a one-two punch for opening up the passing lanes, Price will have an easier time to pick his spots—something Price has already proven he can do.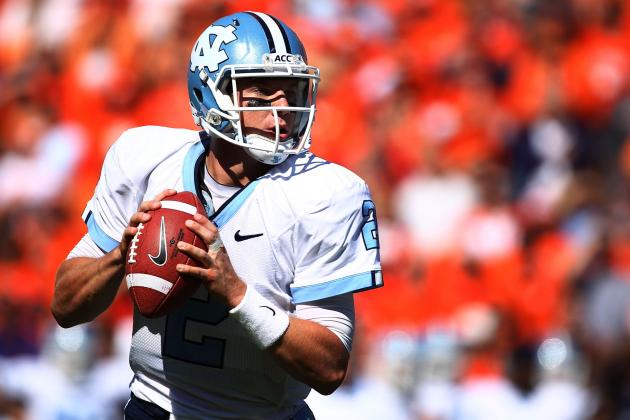 Scott Halleran/Getty Images

Last year was Bryn Renner's coming-out party.
Renner threw for 3,086 yards, 26 touchdowns and had 13 interceptions. He completed 68.3 percent of his passes, setting the 8th best single season mark in ACC history. As if that wasn't enough, Renner ended the season ranked 10th in the nation in passing efficiency.
It was a season to remember for Renner, but one to forget for his team. The Tar Heels started out 5-1, but ended the season 7-6 with bad losses to Miami, Clemson, North Carolina State and Virginia Tech.
The awful end of the season ushered in a new era of Tar Heel football. Former Southern Mississippi head coach Larry Fedora was hired to build on the already solid offensive foundation at North Carolina. Fedora brings his spread option to UNC where the offense depends on the quarterback.
As a junior, Renner will look to build upon last year's impressive numbers with a new offensive system that, according to the Chatham Journal, ran 12 more offensive plays at Southern Mississippi than North Carolina.
Renner has all the necessary tools around him to be one of the best QBs in the ACC. Renner will work behind an experienced offensive line led by senior offensive guard Jonathan Cooper and will throw to seniors Eric Highsmith (51 grabs, 726 yards and five touchdowns) and Jheranie Boyd (14 receptions, 292 yards and five touchdowns).
Renner's numbers were outstanding last year without Fedora. It's scary to think what Renner can do in one of the most dynamic offenses in the country.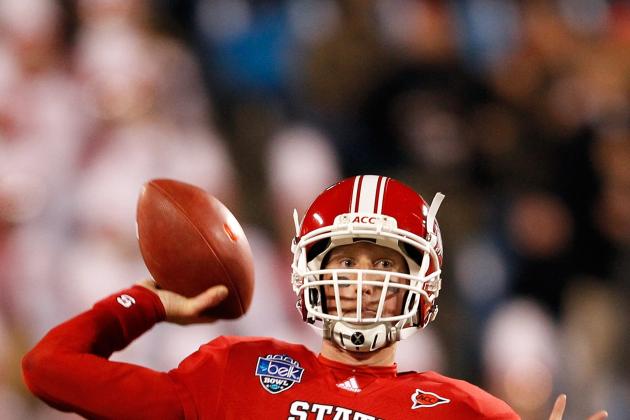 Streeter Lecka/Getty Images

Last year, Mike Glennon ended the year as if it was his last. He threw for three touchdowns against Clemson, five against Maryland and ended the season with a three touchdown Belk Bowl-winning performance against Louisville.
Phillip who? Glennon threw for 11 more touchdowns than Rivers did his junior year. Glennon also threw for more than 3,000 yards, maintained a solid 62.6 completion percentage and kept his interceptions low (12).
This really is Glennon's last year, and, according to KnoxNews.com, his mind is on winning an ACC title. With the Russell Wilson drama behind him and a bowl win under his belt, Glennon will be looking to increase his draft stock in the upcoming season. The offensive line is returning with four seniors and will be the determining factor if Glennon gets it done offensively.
Glennon should surpass Rivers' NC State records and be a first round draft pick in the 2013 NFL Draft.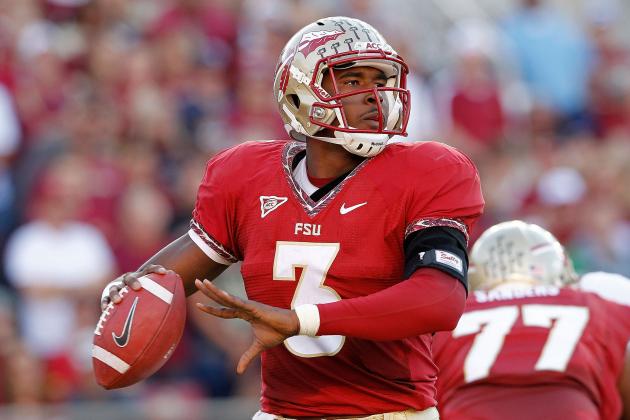 Mike Ehrmann/Getty Images

In EJ Manuel's last five games of 2011, he threw 121 consecutive passes without an interception—a vast improvement to what Manuel had been chucking at the beginning of the season.
Manuel is a 6'5'', 240-pound tank who can run the rock. At the same time, he's injury prone and hasn't really proven himself himself as an elite passer. The potential to score is there, but the factors working against him are what keep him out of my top two quarterbacks in the ACC.
Florida State has been scratching and clawing to the top for a couple of years now, and this is finally their year to prove they are back. It will all be on Manuel if they get it done. If he can stay healthy and get off to a hot start in his first three games against Murray State, Savannah State and Wake Forest, he will be primed and ready to face Clemson at home on Sept. 22.
Manuel is third in my power rankings, but he's not far from the other two. It wouldn't be a surprise if Manuel comes out on top against both Clemson and Virginia Tech to cement himself as the best quarterback in the ACC—and, according to CBSSports.com, a Heisman trophy isn't totally out of the question.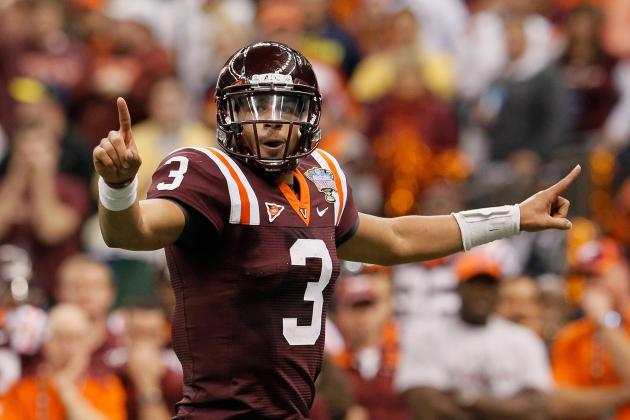 Kevin C. Cox/Getty Images

As a sophomore, Logan Thomas broke Michael Vick's school record of most yards in a season with 3,482 yards.
To break the records of a legend at Virginia Tech is huge. Doing it as a sophomore is even bigger.
Last year, Thomas threw for 3,013 yards and 19 touchdowns. He was also able to rush for 369 yards and 11 touchdowns. Even though Thomas is built like a bulldozer,he realizes he's going to have to stay in the pocket more this year, according to NewsLeader.com.
Thomas led the Hokies to an 11-3 record in 2011 and had 30 total touchdowns, but the thought of an 0-2 record—including an ACC Championship loss—against Clemson still stings.
Statistically, Thomas had some of his worst games against Clemson, recording only one touchdown and three interceptions in the two games. Look for Thomas to have a chip on his shoulder until October 20 when he goes into Death Valley. Out of that game the best quarterback in the ACC will rise.
No matter the outcome, Thomas will break his own records and put his team on his back as he tries to make it to his second straight ACC title game.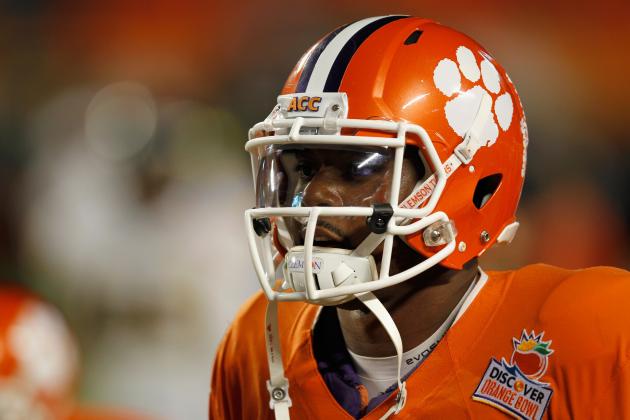 Streeter Lecka/Getty Images

Tajh Boyd has been put in a position to do something really special in Clemson this season.
In Boyd's first year as a starter, he set school records for passing yards (3,828), total offense (4,046) and touchdown passes (33), as well as most wins by a first year starting quarterback (10).
And Boyd did that as a sophomore.
This year, Boyd has a full season under his belt and is more familiar with head coach Dabo Swinney's offensive system. What's not to like about this guy? Boyd can stay in the pocket to pick apart defenses, or he can be a playmaker with his legs.
Even without Boyd's talent, opponents will have to worry about the rest of the Tigers. There's Sammy Watkins who, as a freshman, set the school's receiving record with 1,219 yards last year. There's DeAndre Hopkins, who nearly had a 1,000 yard season. And last but not least, there's senior running back Andre Ellington who rushed for 1,178 yards and 11 touchdowns.
Boyd's talent alone makes him one of the best, but Clemson's offensive fire power ranks Boyd as my number one quarterback in the ACC.