WVU Football: Beating Baylor Is Most Essential Big XII Win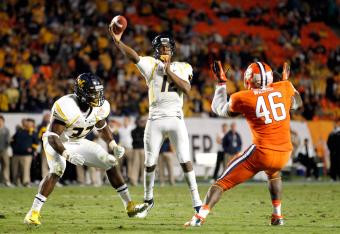 West Virginia quarterback Geno Smith beats Clemson's blitz in the 2011 season Orange Bowl
J. Meric/Getty Images
West Virginia University football has parlayed its ability to win Bowl Championship Series bowl games in which they did not have a prayer—the 2005 Sugar Bowl, the 2007 Fiesta Bowl and the 2011 Orange Bowl—to getting off the porch and running with the big dogs of the Big XII Conference.
We're there, baby, but beware the end of September. It'll be: et tu, Baylor?
We Mountaineers, the collective Mountaineers—the team, coaches, boosters and fans—withstood the malaise that was Big East football from 2004 to the present. We, as the collective Mountaineers, patiently waited and waited until the pending demise of the BCS gave WVU the impetus, and more importantly, the necessity, to move up.
It of course doesn't hurt that the Mountaineers have an athletic administration, personified and led by quarterback and athletic director Oliver Luck, with the foresight to set it up and chutzpah to pull it off.
So, here we are.
It's been a wonderful spring and summer. We've seen photos of quarterback Geno Smith and receiver/return man Tavon Austin splashed all over preseason magazines and media. Head coach Dana Holgorsen is an offensive genius; I mean, I heard some guys say it time and time again on ESPN. And, seemingly, the college football nation is waiting with glee for the West Virginia Air Raid to go vertical.
Just ask any of us.
Wow, man, if West Virginia hung 70 on Clemson, they should be able to win shootouts with the likes of Texas, Oklahoma State, TCU and Oklahoma.
You think?
Okay, Mountaineers, take it from ESPN analyst Lee Corso.
"Not so fast, my friend!"
Now is the time to stop congratulating ourselves for getting in the Big XII Conference and root for our team playing in the Big XII Conference. We really have to be careful. We're the same crowd who, just five seasons ago, got on our cell phones to reserve New Orleans hotel rooms by the dozens as 29-point underdog, and fellow Backyard Brawler, Pittsburgh was teeing it up.
I've talked with West Virginia fans every day since the Big XII appropriately dissed the U.S. Senator from Kentucky, Mitch McConnell, and his late night plea to get Louisville (Louisville??) in the Big XII's coveted 10th spot. Every day we talked, and we always went back to the Orange Bowl. Memories of the 10 touchdown shellacking West Virginia pasted on the champions of the Atlantic Coast Conference ("We're not worthy, we're not worthy!") will be fresh this year and in perpetuity.
Look at the 2012 schedule and it takes your breath away. You'll find competition the Mountaineers have not seen since the days of Penn State's Curt Warner, Pittsburgh's Dan Marino and Boston College's Doug Flutie. Add in Miami's Vinny Testeverde, Virginia Tech's Michael Vick, Syracuse's Donovan McNabb and, as of late, Miami's Kellen Winslow, Jr., Beamer Ball and Miami's Tremain Mack blocking the punt and Florida's Monte Grow lighting up WVU quarterback Darren Studstill.
It's going to be awesome.
West Virginia has competition from the sunshine of late summer through the crisp air of autumn and, if they play hard and smart and get some breaks—not the bone variety, of course—they could take this aerial circus into 2013.
Happy New Year, man.
The talk is of the big games they face, the opportunities that are before them. Many of us look to the road trip to Austin as pivotal. If the Mountaineers protect Geno from the scary, nation's-best pass rush unleashed by Texas, they can steal one deep in the heart of the Lone Star State.
Then, it's on to Stillwater to vanquish Oklahoma State, outscore TCU in Milan Puskar and stop cold Sooner quarterback Landry Jones in the chilly night air that defines Morgantown in mid-November.
That's all really great, especially how it all begins by taking out the 2012 edition of a member of the short list of storied college football programs.
Do not, however, wait that late.
The key to the march to the Big XII championship is to take Baylor to the Morgantown streets, to be the rude host, sending the Bears back home to Waco whipped.
Why Baylor? Didn't they lose their top receiver, the running back and Heisman quarterback Robert Griffin III? Yes, but they return a defense complete with the corners and safeties intact, a defense that had its baptism of fire all season in 2011 and does not want spend 2012 looking overhead and counting cleats to the tune of 37 points a game. Every game was a character-builder.
This season, though? Forget statistics and long-gone athletes. West Virginia's inaugural season in the Big XII has become personal. Baylor got a taste of victory and stardom last year. The Bears know how to win and know how it feels to win, and they won't accept anything else when they invade West Virginia.
It runs even deeper than that. Baylor is a school in Texas, well known as a state of football fanatics which, like a portion of the Big XII, has its roots firmly grounded in the old Southwest Conference. There's a lot of pride still swelling from the Southwest Conference of the glory years from the 1950s through the decade of the 1980s. Arkansas, Baylor, Houston, Rice, Southern Methodist, Texas, Texas A&M, Texas Christian and Texas Tech battled every weekend, as each Saturday was a fight with a bitter rival.
Sure, West Virginia was invited to join the Big XII Conference, but Mountaineers everywhere must consider this: We're carpetbaggers. No one Big XII college, especially an old Southwest Conference college, wants to lose to West Virginia. Baylor is up first, and all the eyes of Texas will be upon that Baptist school that just learned how to win.
You can bet the 'Horns, the Frogs and the Red Raiders will set aside the bitter antipathy they carry for the Bears, at least for a few hours on that Saturday afternoon.
They've been nice, all the well-wishers over the past months. Just don't kid yourself. The Big XII schools hate us.
Baylor is just the first salvo.
This article is
What is the duplicate article?
Why is this article offensive?
Where is this article plagiarized from?
Why is this article poorly edited?

WVU Football: Like this team?