The Top 10 Small Forwards in NBA History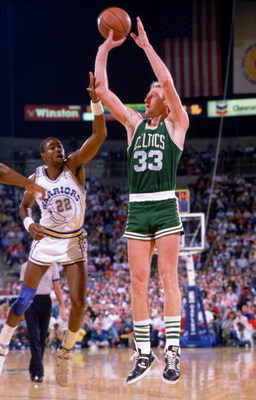 In the first three lists in this series, centers, point guards, and shooting guards were profiled.
In the fourth installment of this series, small forwards will be ranked.
The small forward position is very similar to the shooting guard position, and therefore the criteria are similar.
Because a team's small forward is typically his team's top scorer, scoring ability has a lot of importance, but so too does defense since the small forward position typically has to guard the other team's top scorer.
Additionally, rebounding and passing take on a larger role since a small forward is technically part of the front court. To be a great small forward, a player has to be very versatile.
Like other positions, winning is important, and even to a larger extent than a lot of the other positions since there have been so many great small forwards. Other criteria include toughness, desire, ability in the clutch and importance to their team and their era.
Here are the top 10 small forwards of all time.
10. Alex English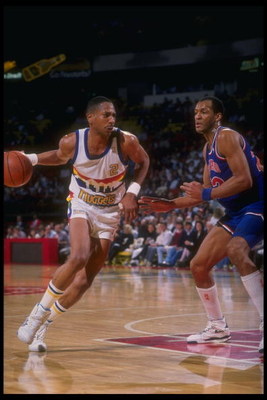 Known as a smooth and complete scorer, Alex English is most famous for scoring the most points in the decade of the 1980s.
English is an interesting case in that he started out his career as a backup and it took him a few years to find his groove. He was 27 before he became a star.
Once he came into his own, he really blossomed, making eight NBA All-Star teams and the All-NBA second team three times. While he never won a title, he had excellent postseason numbers, averaging over 24 points per game.
However, he never had a solid supporting cast, and therefore his numbers in the playoffs were truly amazing.
He was a decent rebounder and a solid passer. While he was not a strong defender, he retired as one of the best scorers in NBA history.
*9. LeBron James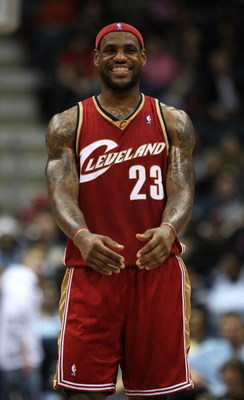 Yes, you saw that correctly, there is an asterisk next to his ranking. Typically, a player who is only in his sixth NBA season does not find himself on a top 10 all-time list, but LeBron James is not your typical player.
When his career is over, we will likely be talking about him as No. 1 or 2 on this list.
James has already made five All Star teams, winning the MVP award in those games twice. Additionally, he was NBA Rookie of the Year and has led the league in scoring twice.
He also has made the All NBA first or second team four times. His career marks of 27 points, seven boards, and six assists per game are remarkable. Furthermore, he appears to be getting better.
In this season, he has transformed himself to an even better player, and likely will win the NBA MVP award for his play. Additionally, he has yet to win a title, but there are very who believe he will not before his career is over.
So, given all that James has already accomplished, why is he ranked so far down on this list? For starters, James is not an elite defender.
He has the physical skills and intelligence to develop this aspect of his game, but he has yet to fully dedicate himself to this aspect of the game.
He has shown flashes of potential on the defensive side of the ball, but until he brings it every night like Michael Jordan or Kobe Bryant have, he will not get the respect on this end of the court that he is capable of.
Secondly, he has only been doing this for a short period of time. Knock on wood, but if James gets hurt tomorrow and has difficulty coming back, we could be talking about him like we talk about Grant Hill.
If a list like this game out 10 years ago, it would be hard to imagine Hill not being a part of this list, but his career statistics do not merit inclusion.
Lastly, James has not shown consistent touch shooting the ball from long range. Right now, James relies quite a bit on his athletic ability. Nobody in the league can match it, so why not?
Namely, his physical tools will deteriorate over time, forcing him to develop other aspects of his game. If Jordan had failed to develop his turnaround jumper, his career numbers would have suffered.
James needs to avoid this or else he could have a late career similar to Wilkins.
That all being said, barring injury, James will be a top three small forward before his career is over.
8. Rick Barry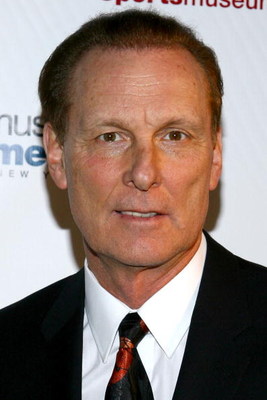 One of the smartest players of all-time, Rick Barry is known to most people in later generations as the guy with the "granny style" free throw shot.
However, during his playing days, there were very few players able to score as well as Barry. He led the league in scoring in his second season, averaging 35 points per game.
His career scoring average of nearly 25 points per game was great for any era. Furthermore, he was an underrated passer and rebounder, averaging nearly seven boards and five assists per game.
Although his free throw style was unorthodox, he did manage to lead the league in free throw percentage six times and finished with a percentage of 89.3 for his career.
A true student of the game, the only knock against Barry is the fact that his defense could have been better. However, he mostly played on fast-paced teams and defense was not as stressed.
Some of his individual accomplishments include: 12 ABA or NBA All-Star games, 10 All NBA/ABA first or second teams, Rookie of the Year, All-Star game MVP and NBA Finals MVP during his only title year in 1975.
He finds himself higher than James and English due to his ring and the fact that he was amazing in his title year.
7. Dominique Wilkins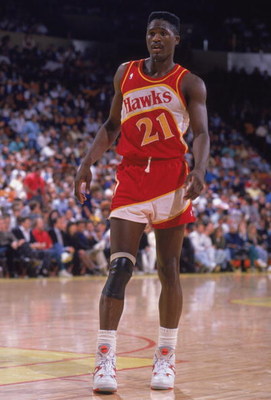 One of the most electrifying players of the '80s, "The Human Highlight Reel" was a sight to behold.
Some of his accomplishments include nine NBA All Star teams, All-NBA first, second, or third team seven times, and he led the league in scoring average once.
His career stats are tremendous, including nearly 25 points per game and nearly seven rebounds per game.
Wilkins was also a big game competitor, averaging over 25 points per game in the playoffs for his career.
However, Wilkins had plenty of knocks to his game. First off, he never won a ring, and only went deep into the playoffs once. Of course he played in an era of great teams, and he never had a lot of help on his teams.
As a result, Wilkins routinely makes top 10 lists of best players to never win a ring.
Additionally, Wilkins was not a great shooter, and this hurt his game as he aged. His career shooting percentage of 46 percent is misleading since he was someone that drove to the hoop quite a bit.
Quite appropriately, he is judged by his three point shooting percentage, which over his career was less than 32 percent.
Defensively, he was capable of great moments, but his footwork and positioning was never overly strong. He could block shots and steal, but he was not likely to get big stops late in the game.
He also was not much of a passer, although this stat is a lot less important for this position than it is for others. However, playmakers need to be able to make their teammates better, and Wilkins was not a player that generally did that.
All in all, Wilkins was a tremendous player, but one that has seen his impring on the game fade quickly. Had he been able to win a title or even come close during his prime in the 1980's, he would likely be a top five player.
He finds himself above English, James and Barry due to his prolonged and amazing career; even without a ring, Wilkins dominated the opposition.
6. James Worthy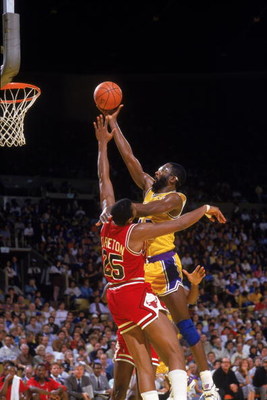 Big Game James was one of the all-time great clutch performers. While his regular season numbers were never amazing, he reached a new level once he hit the postseason, averaging over 21 points per game for his career.
A solid defender and a good shooter, Worthy was able to reach the hoop at will. And while a great deal of his success is a direct result of his teammate Magic Johnson, Worthy was always able to hit the tough shots when needed.
His accomplishments include: seven time NBA All Star, two time All-NBA third team and NBA Finals MVP in 1988. For his career, he won three titles and was instrumental in each of those games.
He is above Wilkins on this list due to his big-game abilities and his three titles.
5. Scottie Pippen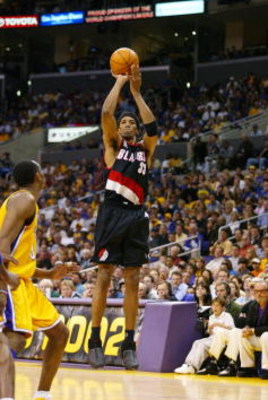 A stellar defender and tremendous playmaker, Scottie Pippen is best known as Michael Jordan's "Robin" to his Batman.
He was a good shooter, an excellent passer and a solid rebounder. His career numbers include 16 points, six boards, and five assists per game. In the playoffs, his numbers improved to 17, seven, and five respectively.
While Pippen was a tremendous player, he worked much better as a complementary player, as evidenced by his performance in the year that Jordan was playing baseball.
His numbers were good, but he is best known during that year for refusing to re-enter a game when coach Phil Jackson drew up a last-second play that went to teammate Toni Kukoc instead.
Pippen was a great player, but Robin can not be the number one small forward of all time. However, he has more rings than Worthy and a more complete game than Wilkins.
4. Elgin Baylor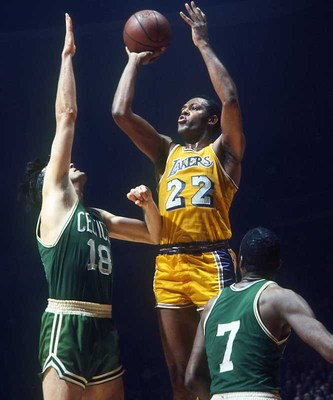 One of the game's greatest scorers and arguably the best 6'5" rebounder in NBA history, Baylor truly has only one knock on his resume...he never won a title. Sadly, the Lakers won a title the same year Baylor retired.
For his career, Baylor averaged over 27 points, 13.5 rebounds, and over four assists per game. And although he never won a title, Baylor did average over 27 points per game in the playoffs, including two seasons with over 38 points per game.
His accomplishments include 11 trips to the All Star game, Rookie of the Year, and 10 times on the All NBA first team. Had knee injuries not robbed him of his final season, he would have won a title.
Baylor's tremendous scoring and rebounding ability puts him above Pippen and Worthy despite not having any rings.
3. Julius Erving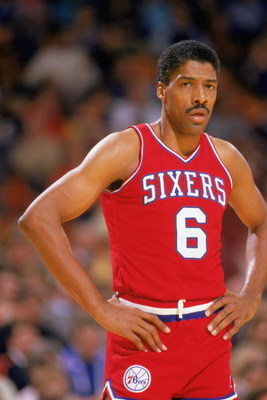 A great scorer, rebounder, and solid defender, Dr. J was the Michael Jordan of his era.
His scoring ability was unbelievable, resulting in a career scoring mark of over 24 points per game. His list of accomplishments include 16 times as an All-Star, 12 times as an All-NBA or All-ABA first or second teamer, four time MVP (NBA and ABA), two-time NBA All-Star game MVP and a one time NBA champion.
His place in history is secure, but had he played his entire career in the NBA it would be even more impressive. He was a better scorer than Pippen and Worthy, plus he has a ring, something that separates him from Baylor and Wilkins.
A tough spot to place a legend, but you can't put him above guys with multiple rings and the same type of scoring ability.
2. John Havlicek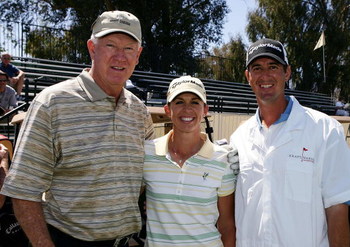 Hondo was one of the toughest competitors to ever play the game. He scored over 20 points, grabbed over six boards and dished out nearly five assists per game for his career.
There really was nothing Havlicek couldn't do on the court. Although he was one of the great scorers of his generation, he was also one of the great defenders as well.
His list of accomplishments were staggering: 13-time NBA All Star, 11-time All-NBA first or second team, eight-time NBA All-Defensive first or second team, NBA Finals MVP and eight-time NBA Champion.
Havlicek had the best of both worlds. He was a great scorer, a great defender and won more titles than anyone else on this list.
1. Larry Bird
It has been said that nobody did more with less than Larry Joe Bird.
A fierce competitor with perhaps the best three point shooting stroke in history, there was literally nothing Bird could not do on the court. He was not an overly athletic player, but he was able to make up for those limitations with a tremendous basketball intelligence.
For his career, Bird averaged over 24 points, 10 rebounds, and over six assists per game. He also averaged nearly two steals per game.
His shooting percentages were even more impressive, hitting nearly 50 percent of his shots, including nearly 38 percent from three point range. Also, he averaged over 88 percent from the free-throw line.
His list of accomplishments include 12 All-Star team berths, NBA Rookie of the Year, three-time NBA MVP (in a row!), two time Finals MVP and All Star game MVP once. He also made the all defensive second team three times and 10 times as either first or second team All NBA.
Furthermore, he won three titles and he, along with Magic Johnson, were almost single-handedly responsible for the re-birth of the sport in the 1980s.
Best of the Rest: Adrian Dantley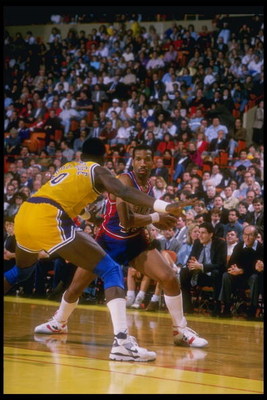 The best low post scoring small forward of all time, Dantley was a tremendous scorer, averaging over 24 points per game for his career, leading the league twice.
However, he was not a good defender and he never won a title. Had he played another position, he might have made a top 10 list, but the small forward position is one of the deepest.
Best of the Rest: Grant Hill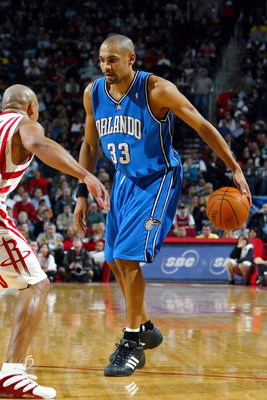 Likely the saddest story on this list, Grant Hill is the best example of how injuries can derail history.
Hill burst onto the scene in the mid 1990's as a force to be reckoned with. He immediately was named Co-Rookie of the Year, and singlehandedly made the Detroit Pistons relevant again.
A smooth offensive player, there were very few things Hill could not do on the court. He was a supreme ballhandler, a great passer and an underrated rebounder. The only knock he had against him was a weak perimeter jumper and a perceived lack of toughness.
By the end of his sixth season, he had dispelled both of those knocks. He had improved his scoring to just under 26 points per game, and he played through a painful ankle injury during the playoffs.
This injury proved to be tragic, as it wiped out four of his next five seasons, and reduced Hill to a shell of the player he was before his injury.
To his credit, Hill is still battling. He is injury-free and working as a key contributor for the Phoenix Suns.
However, had he never been injured, he likely would be considered one of the top 10 small forwards of all time.
Best of the Rest: Bernard King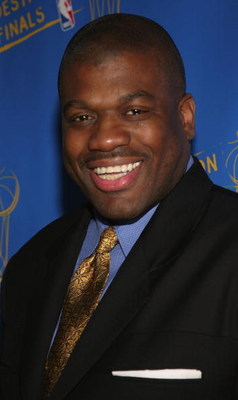 One of the leagues pre-eminent scorers during the 1980s, King, like Hill after him, saw his career ravaged by injuries.
Before his injuries, King led the league in scoring in 1985 with just under 33 points per game. After his injury he showed flashes of brilliance, including a scoring average of 28 points per game in his second to last season, but his body had taken enough abuse.
King retired in 1993 with a career scoring average of 22.5 points per game.
Best of the Rest: Paul Pierce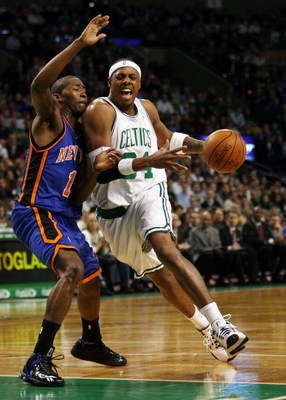 Paul Pierce has gone from being a very good scorer on middle of the road teams, to a very complete player on a great team.
Over the course of his career, he has averaged nearly 23 points per game to go along with six rebounds per game and nearly four assists.
What has been truly amazing to witness has been Pierce's transformation into a strong defensive player. The addition of Kevin Garnett to his Celtics team has re-invigorated his career.
Pierce won his first ring with the Celtics this past year, but if his team continues to play as well as they have this season, he likely will win another or perhaps a couple more. If he does, he will likely find himself on this list.
Best of the Rest: Chris Mullin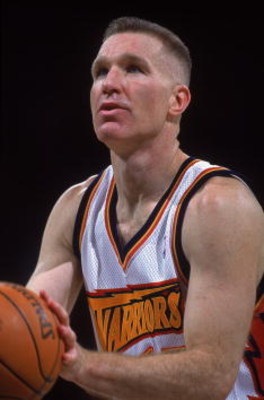 Chris Mullin had perhaps the best looking jump shot in NBA history. He had a very smooth follow-through and a left-handed stroke. It truly was a sight to behold.
Throughout his career, Mullin was known as a scorer, reaching 20 points per game in six consecutive seasons and making five All-Star teams and the original "Dream Team".
He never won a ring, but he will always be remembered for his scoring prowess and quick hands on defense.
Best of the Rest: Glen Rice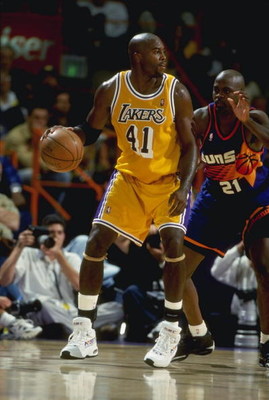 One of the best three-point shooters in NBA history, Glen Rice was known mostly for his ability to knock down shots from deep even while being well-covered.
In his best season, 1996-97, Rice scored over 26 points per game and led the league by hitting a remarkable 47 percent of his shots from deep.
While a great scorer throughout his career, Rice was a poor defender and not a strong rebounder or passer.
Best of the Rest: Dennis Rodman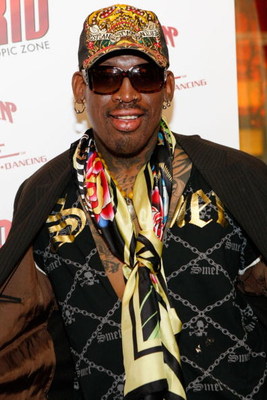 To say that Dennis Rodman was one-dimensional as a player would be a drastic understatement. However, Rodman was tremendous at that one dimension.
Although he began his career as a sixth man with Detroit, at some point a light was switched in his development and his rise became meteoric. Once he became a full time starter for Detroit in 1991, he never again averaged fewer than 11 rebounds per game.
For his career, Rodman averaged 13 rebounds per game, including leading the league seven times in a row.
His ability to play defense was legendary. One minute he was able to cover a point guard due to his great quickness, and the next he was covering a center due to his strength.
A true freak of nature on the court, his list of accomplishments include two NBA All Star teams, two time NBA Defensive Player of the Year, eight time defensive first or second team, and a two time All NBA third team member.
He also was a winner, gaining an NBA champion ring five times.
Of course, Rodman was a freak of nature off the court as well, but that is another story.
Best of the Rest: Mark Aguirre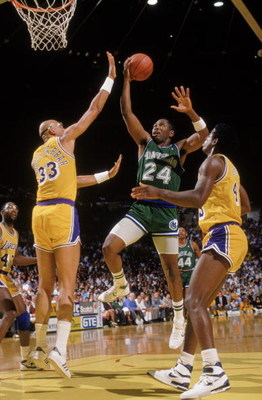 Early in his career, Aguirre was one of the best scorers in the game, averaging over 20 points per game in his first six and a half seasons, including 29.5 in his third season.
After being traded to Detroit, he was able to win consecutive titles in a secondary role, providing a much needed scoring punch to compliment a defensive-minded team.
After winning his second ring, his game quickly slowed and he was out of the league by the age of 34.
Keep Reading