Which Falcons Are Having the Best Training Camp?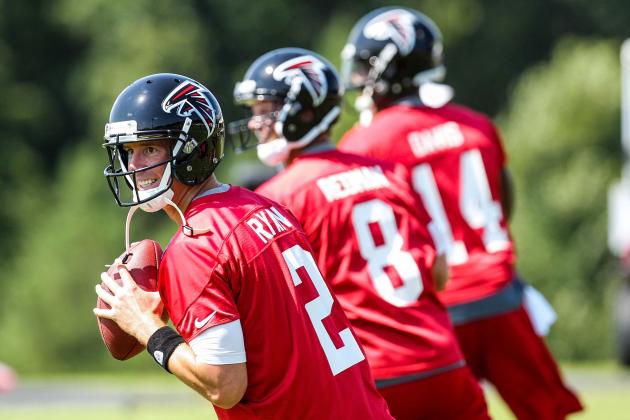 Daniel Shirey-US PRESSWIRE
Falcons QB's Ryan, Redman and Davis in the middle of a mechanics drill here.
Training camps have finally concluded and the Falcons had some definite winners in this year's camp. Of those players, there were quite a few big names and big investments that look like they will finally pay off in the 2012 season.
Thomas Dimitroff should be ecstatic that the new hires of Dirk Koetter and Mike Nolan will be able to bleed the talent out of his higher priced investments. Dimitroff has been trying to get this team to the next level and it's looking like they will finally take that next step because of the great camps had by the following.
Begin Slideshow

»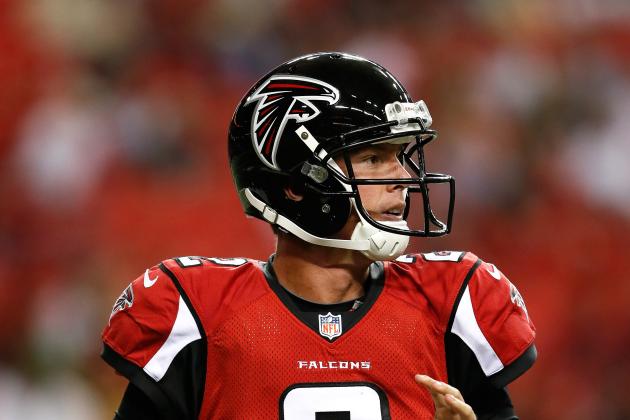 Kevin C. Cox/Getty Images
'Bigger', 'Stronger' and 'More Confident' are the buzzwords about the Falcons signal caller.
Yes, he's the franchise quarterback and the one who should always have a great camp. Yet after coming in a good seven to eight pounds of muscle heavier than he was in 2011, Ryan has been delivering passes with more velocity on them then he ever had in the past.
He's still no Brett Favre in that his receiver's fingers will stay unbroken. But Atlanta's signal caller has turned from a dink-and-dunk, West Coast style quarterback to one who should be able to capitalize on having one of the top-five groups of receivers in the NFL in Roddy White, Julio Jones, Tony Gonzalez, Harry Douglas and Jacquizz Rodgers.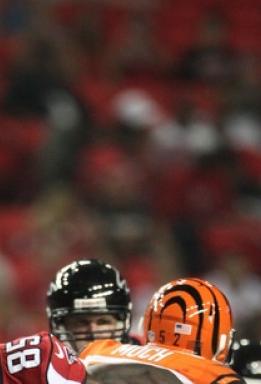 Brown looks to be the leader for the No. 3 Tight End job. Courtesy AtlantaFalcons.com
Despite being a somewhat trivial role on the team, the No. 3 tight end is an important one for the Falcons special teams units. LaMark Brown has proven to be a top-notch special teams player for the team already in the preseason.
However, as a tight end, there was some question as to whether his blocking would be up to par. He's shown in just two short games that it was really his hands that should be worried about. However, he had a great game versus the Bengals and looks to be in the driver's seat to earn the third tight end spot.
Worst case scenario for Brown is that he is guaranteed as a practice squad member after being a relative unknown going into camp.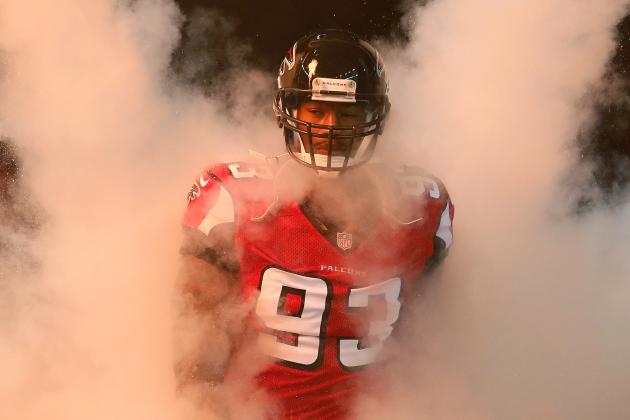 Kevin C. Cox/Getty Images
The Edwards in the preseason so far, has been the Edwards advertised.
It's amazing what an offseason to get healthy will do for a defensive end of Edwards' caliber. He is finally healthy from his knee injuries. And now under Mike Nolan, he is finally in the perfect scheme fit for his talents.
Edwards best strength is being allowed to play his technique to perfection in the run game. However, as a pass rusher, he is someone who takes a little bit to get going. Against the Bengals, he was showing exactly the kind of disruptive force he could be once the Bengals decided to take the tight end and flip him to the side with John Abraham.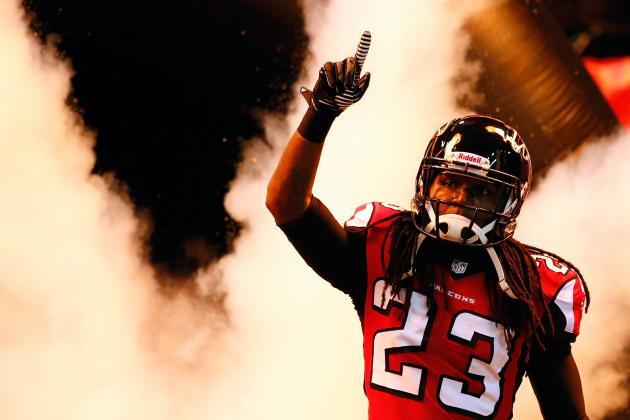 Kevin C. Cox/Getty Images
Robinson has looked tremendous too.
Dunta Robinson was a big-money signing for the Falcons right before the 2010 season. While he has been an average NFL corner in his two years in Atlanta, he needed to step up with the addition of Asante Samuel to the ranks.
Well, the move to the nickel has paid off for him. He has actually played better in base packages at his normal right corner spot in the two preseason games. However, his biggest improvement was in his aggression. Whether it's the new scheme or the move to nickel, Robinson is actually bumping-and-running receivers like he did in Houston.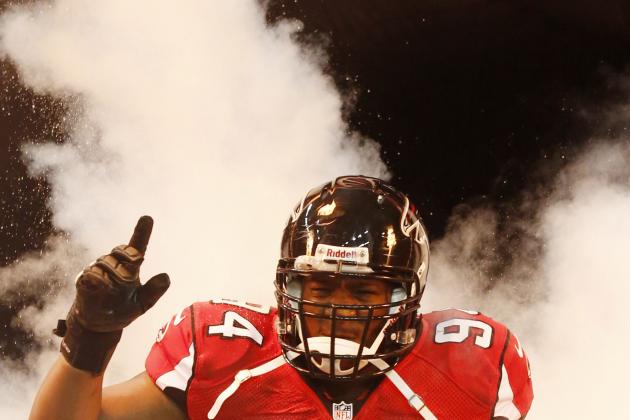 Josh D. Weiss-US PRESSWIRE
Jerry doesn't just look better on the field, he feels better off of it.
"Jelly", as Falcons fans have referred to him, has shown he is able to plug holes and create penetration in the middle of the defensive line. He has been the first-team nose tackle and has also been rotating to the 3-tech when Babineaux needs a breather.
He likely will remain the starter until Corey Peters is completely healthy. For the first time in his four-year career, he looks like the player that was taken 27th overall in the 2009 NFL Draft. Worst case scenario for Jerry is that he will end up playing around 55-60 percent of the snaps as a rotational defensive tackle.
Scott Carasik is a Featured Columnist and Trends and Traffic Writer for Bleacher Report. As a Featured Columnist, he covers the Atlanta Falcons, NFL and NFL Draft. He is also the Falcons analyst at Drafttek, runs the NFL Draft Website ScarDraft.com and hosts Kvetching Draftniks Radio.