WWE SummerSlam 2012 Results: GSM's Analysis and Aftermath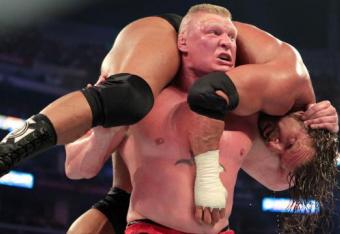 Brock Lesnar delivers a brutal F-5 to Triple H. (Courtesy of WWE.com)

Last night, WWE presented the 25th Anniversary of SummerSlam, which truly exceeded my original expectations. Despite the lackluster buildup, the show featured a night of exciting action, shocking outcomes and many intriguing questions left to be answered.
Here, I will analyze each significant segment presented on the show. I will also provide a combination of aftermath and wishful thinking about what I hope to see in the coming weeks.
Antonio Cesaro (w/Aksana) Def. Santino Marella to Win the United States Championship
Fine match that saw Antonio Cesaro defeat Santino Marella to win the United States Championship. It contained some comedy, but not enough to bother this viewer or harm the match itself.
I'm glad Cesaro went over clean, and even more glad he captured the U.S. title. If booked correctly, he could make a great title holder and do wonders for the dying championship.
Having the title change occur on the pre-show was a smart move, as it will attract more viewers in the sense that anything can happen on the pre-show.
Chris Jericho Def. Dolph Ziggler via submission
Entertaining match between Chris Jericho and Dolph Ziggler. This was a perfect position in the opener and really set the tone for the rest of the night.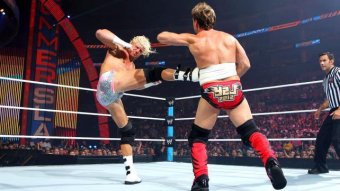 Dolph Ziggler targets the injured ribs of Chris Jericho.
Both Ziggler and Jericho looked great here, and both were able to get in their signature spots. Their chemistry is spectacular, so I hope we see more matches between the two down the road.
Both guys had a reason to win, so I have no problem with Jericho going over here. Ziggler looked strong in defeat and takes absolutely nothing away from his credibility.
Daniel Bryan Def. Kane
Decent match with Daniel Bryan defeating Kane. The action was fun for the most part, and Bryan was able to keep the crowd interested.
I was happy to see Bryan go over here in clean fashion, as that's rare for Bryan and his first important victory in months. He needed it way more than Kane, so I hope this marks the end of the feud that should've never been revisited to begin with.
On a side note, I was also shocked to see Charlie Sheen not involved or even mentioned during the course of this match.
Intercontinental Champion The Miz Def. Rey Mysterio
Fun match with The Miz defeating Rey Mysterio to successfully retain his Intercontinental Championship. This is a match I wanted to see occur at last year's event, so I'm glad they were able to make it happen this time around.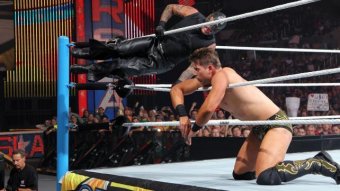 Rey Mysterio connects with a 619 on The Miz.
Sure, the crowd was flat early on, but that's understandable given the fact that the rivalry was poorly built. The crowd came alive for the near-falls down the stretch, which made for a nice, brief match as a whole.
World Heavyweight Champion Sheamus Def. Alberto Del Rio
Good match with Sheamus defeating Alberto Del Rio to successfully retain his World Heavyweight Championship. We've seen these two battle a handful of times, but their matches always seem to contain solid action.
The result was inevitable, so there wasn't really any doubt in mind that Sheamus would emerge victorious. The finish was weak, with Sheamus using dirty tactics to win while Del Rio's foot was on the rope, meaning the feud will more than likely continue.
There are plenty of other World Title contenders, so why continue this dragging rivalry that's been occurring over the last four months?
WWE Tag Team Champions Kofi Kingston and R-Truth Def. Prime Time Players
Forgettable match with Kofi Kingston and R-Truth defeating the Prime Time Players to successfully retain the WWE Tag Team Championships. Hardly anyone cares about the straps anymore, given the terrible way the entire division has been treated as of late.
The action was fine for what it was, but the result was predictable. Kingston and Truth do nothing for me as champs, so I was really hoping for a title change here.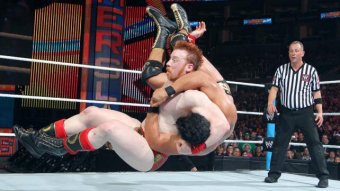 Sheamus nails the White Noise on Alberto Del Rio.
WWE Champion CM Punk Def. Big Show and John Cena in a Triple Threat
Great triple-threat match with CM Punk defeating Big Show and John Cena to successfully retain his WWE Championship. Show was made to look like a complete beast throughout this match, while he also took some very cool spots as well.
I enjoyed the consistent chemistry between all three men, but the restart didn't feel all that necessary. Nonetheless, Punk pinning Show to retain the title is a smart move if they wish to continue his feud with Cena.
Kevin Rudolph Performs "Don't Give Up"
Painless concert from Kevin Rudolph. As much as I don't like the theme music for this year's SummerSlam event, he performed it well and got it over with quickly.
Concerts and wrestling don't usually mix, but this was a nice filler before the main event. If nothing else, it got the Divas on the show, who didn't have a match scheduled on the card.
Brock Lesnar def. Triple H via submission
Solid match between Triple H and Brock Lesnar. It felt boring at times, but it was truly physical and intense as a whole.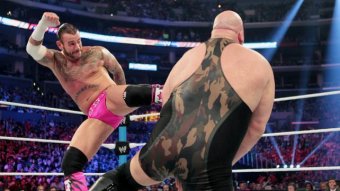 CM Punk lands a hard kick on Big Show.
It wasn't the most exciting contest, but the trading of the finishers toward the end kept things suspenseful. If a No Holds Barred stipulation was added onto this match, then it possibly could've surpassed Cena vs. Lesnar from Extreme Rules earlier this year, but from a pure wrestling standpoint, this match met my expectations.
I was shocked to not only see Triple H tap out, but also Lesnar winning cleanly. He desperately needed that victory, so I'm glad they made the right decision. I'm not sure what to make of Triple H walking out following the contest, but it was an intriguing cliffhanger that left the fans wondering what's next.
Overall Show
Overall, an excellent show that featured a ton of solid in-ring action that had me invested and entertained the entire night through. Similar to last year, the buildup to the event was terribly done, but the show itself ending up shining.
Most of the match results were predictable, but sometimes predictability is a good thing. I was also shocked with some outcomes and wasn't disappointed with anything presented on the show.
Not only were most of the matches enjoyable, but they left many questions to be asked that have fans eagerly looking forward to what happens next.
Combined with the fact that I watched this live in a fun environment at a local Buffalo Wild Wings, this is easily one of the top three WWE pay-per-views this year.
GSM out.
Visit my website at Next Era Wrestling, and listen to my SAVE US GSM radio show every Thursday at 10/9c for more of my thoughts and writings, along with WWE/TNA news, reviews, recaps and more.
Listen to Internet radio with Spoilerspodcast on Blog Talk Radio
This article is
What is the duplicate article?
Why is this article offensive?
Where is this article plagiarized from?
Why is this article poorly edited?