WWE: What's Next for Triple H After Loss to Brock Lesnar?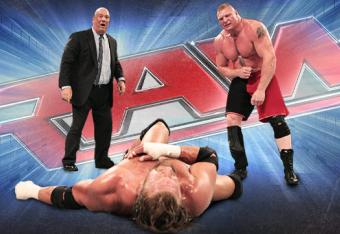 photo from wwe.com

Triple H lost in the biggest match of SummerSlam.
It's questionable whether that match should have gone on last or not, but with the insane amount of time that WWE spent on video packages for the feud, there was little doubt that it was taking the spotlight.
Triple H tapped out to Brock Lesnar. That's not something you see every day. After the match, Hunter started to get emotional. He apologized to the crowd, and waved on his way out.
The ending was a little melodramatic. After all, Lesnar has already been beaten. He wasn't saving the WWE Universe from the monster.
Still, the story seems to be that Hunter is contemplating retirement after his loss. The announcers seemed to believe that this was the end of the line for Hunter's career.
But was it really?
There are a variety of ways that WWE can go with Hunter going forward. At face value, it looks like Triple H will be taking some time off. But it's highly doubtful that we've seen the last of him as an in-ring competitor.
Retirement matches are something you want to advertise in advance. Shawn Michaels and Ric Flair are two recent examples of what you can get out of promoting a retirement stipulation. If this was truly it for Hunter, the company would have made a much bigger deal about it beforehand.
Triple H is 43, which is younger than Michaels, and much younger than Flair was when he hung up the boots in WWE.
Simply, no one steps away at 43 unless severe injuries (Austin) or better opportunities (The Rock) come along.
We will see Hunter competing in a WWE ring again, there's little doubt about that. But what should he do?
The most obvious choice is that Hunter takes some time off and comes back for a rematch with Lesnar.
The problem with this scenario is: Why would Lesnar agree to take the match?
They went weeks with Brock ducking Hunter and showing no interest in fighting him. Hunter basically had to beg Brock and threaten Heyman until he accepted.
What could he possibly offer this time around after Brock already proved that he's better than him?
WWE should let go of that feud. Sometimes the bad guy just needs to win.
Lesnar needs to remain undefeated until a match with The Undertaker at WrestleMania. Triple H needs to find something else to do, something he's good at.
An interesting possibility may even be seeing more of Hunter. He could turn heel.
Shawn Michaels tried to warn Hunter, but he just wouldn't listen.
By involving Shawn in his feud, Hunter may feel partially responsible for what happened to him. Or maybe, he'll take his frustration out on his longtime buddy.
End of the line for Hunter? Photo from forum.bodybuilding.com
If Michaels were ever to return for a match, it would have to be against someone he trusts. There is no one else that he would trust more than Hunter. He was the first guy that Michaels faced after he came back from his first retirement.
After that, Hunter could continue to do what's best for the company and put younger talent over. Guys like Undertaker and Foley helped Hunter get to where he is now. If he's going to be running the company, he should do the same.
It was nice of him to lay down for 'Taker and Lesnar, but those two were already made. A guy like Sheamus, Dolph Ziggler or an up-and-comer like Dean Ambrose could use a win against Hunter to make them a star.
There just doesn't seem to be a natural fit for Hunter right now. As a face, he's played out.
He could disappear for a while and still play a part-time legends role for years to come, but there's still money to be made with him as a wrestler.
The next phase of Hunter's career should be to focus on the younger talent.
It was impressive for him to put Lesnar over. It was the right move for the company. As one of the last remaining legends that can still go in the ring, Hunter needs to build the future.
Hunter is often derided for hogging the spotlight. Maybe he finally realizes that it will be his company someday. Even if he lost every match left in his career, he'll still be remembered as a legend. But the company is bigger than any single wrestler.
We'll probably get a good feel tonight of what the future holds for Hunter.
It's time for Hunter's role to change course and set the company on the right track for years to come.
This article is
What is the duplicate article?
Why is this article offensive?
Where is this article plagiarized from?
Why is this article poorly edited?