NBA Front Offices That Desperately Need New Faces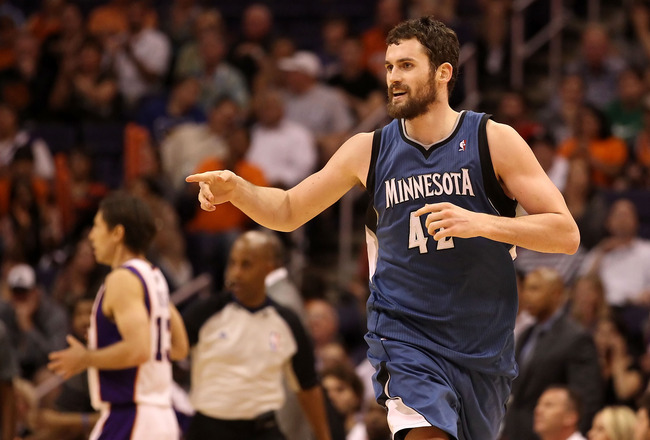 Christian Petersen/Getty Images
At all of 23 years old, Kevin Love isn't interested in waiting for the Minnesota Timberwolves to gradually piece together a contender, and nor should he be.
At the rate this team has "improved" since the Kevin Garnett era, Love could be waiting a long, long time. Minnesota hired David Kahn as general manager in 2009 (a year after Love was drafted), and he's done nothing but make questionable free-agent signings and even more questionable draft decisions.
If the Timberwolves eventually watch Love become the next superstar to make Dwight Howard-like trade demands, Minnesota fans should point the finger squarely at Kahn and his brain-trust. At the current pace, the only way this organization will happen upon a top-shelf roster is by blind luck.
Of course, Minnesota isn't the only franchise that needs a rebooted front office.
It's always easier to make judgements with 20/20 hindsight, but you can't help but thinking some decision-makers just should have known better.
Here's a look at the teams who need a front-office colon flush yesterday.
Charlotte Bobcats
Jonathan Daniel/Getty Images
The Charlotte Bobcats need more than a front-office makeover.
They need an exfoliating deep clean that gets all the toxins out. Hiring general manager Rich Cho might not have been a bad move, but you have to wonder why the guy got canned less than a year after he was hired by the Portland Trail Blazers.
Let's give him the benefit of the doubt.
Unfortunately, former Charlotte GM was promoted to president of basketball operations upon Cho's hiring, so the Michael Jordan-owned Bobcats hardly appear to be headed in a new direction. New head coach Mike Dunlap may take the team itself to bigger and brighter things, but he'll have to do his best with what he has to work with.
Even if you think Ben Gordon is an upgrade over Corey Maggette (and he probably is), he's redundant with shoot-first point guard Kemba Walker, and he has an additional year at over $13 million on his contract.
Of course, cap space isn't the Bobcats' problem, and it probably won't be anytime soon given the amount of interest the organization should expect to attract from elite free agents.
The notion that Higgins was promoted after his mangled term as GM is nothing short of laughable. The guy should have been sent to a penal colony in Siberia.
Under his watch, Charlotte used a combination of botched draft picks, unwise free-agent acquisitions and failed trades to turn a struggling franchise into a downright awful one. Higgins suggested in February that now was no time to panic, but in that event, you'd have to wonder if there's ever a time to panic.
Even by the standards of rebuilding organizations, the Bobcats aren't rebuilding especially well.
Milwaukee Bucks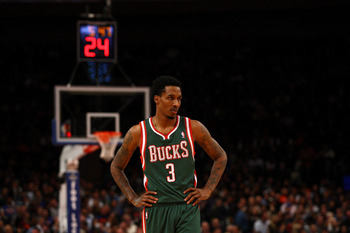 Chris Chambers/Getty Images
Besides a talented backcourt featuring Brandon Jennings and Monta Ellis, the Milwaukee Bucks roster is stacked with average players and young prospects. General manager John Hammond assembled a decent amount of talent, but it's hard to imagine this group going anywhere as it's currently constructed.
At the 4 and 5 spots, the Bucks will make the most of a crowded rotation that includes Ersan Ilyasova, John Henson, Drew Gooden, Ekpe Udoh, Samuel Dalembert and Larry Sanders. Luc Richard, Mbah a Moute and Tobias Harris can play power forward as well, but they'll have to find most of their minutes at the 3 given the present logjam at the 4.
While there's a lot to like about some of those youngsters, their opportunities will be few and far between unless the veterans go elsewhere.
The biggest cause for concern is that the organization has thus far failed to lock up Jennings with a long-term deal. The 22-year-old point guard has been anything but committal with respect to his future in Milwaukee, and it's hard to blame him given the franchise's inability to get creative and upgrade the roster.
Exchanging center Andrew Bogut for Monta Ellis may have been a step in the right direction, but if the small Jennings-Ellis backcourt doesn't yield dividends, the failed experiment would be Hammond's undoing.
The Bucks have "eighth seed at best" written all over them, and it's felt that way for awhile now.
They desperately need to turn some of their assets into an impact player, and they need to find a way for guys like Henson and Sanders to get some playing time.The team will have plenty of cap room over the next couple of summers even if it gives Jennings a hefty deal this coming offseason.
Hammonds will have every opportunity to add a key missing piece to the rotation. If he doesn't, the Bucks will need to start looking in a different direction.
Minnesota Timberwolves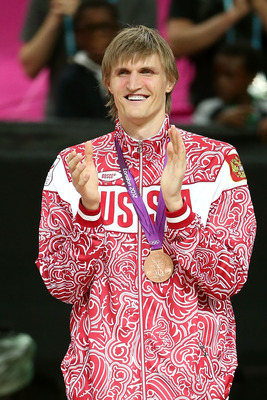 Streeter Lecka/Getty Images
Here's all you need to know about Minnesota Timberwolves general manager David Kahn. The guy handed 31-year-old forward Andrei Kirilenko a two-year, $20 million contract this summer, suggesting he had money burning a hole in his pocket and nothing to spend it on.
There's additional pressure on Kahn given the organization's need to keep the ever-impatient Kevin Love happy with the team's direction. But, shoveling over the big bucks to Kirilenko probably wasn't the best of solutions.
It has the feel of former Orlando Magic GM Otis Smith taking on bad contracts to surround Dwight Howard with improved talent.
That didn't work out so well.
Here's something else you should know about Kahn.
He selected thee point guards in the 2009 draft, including the lost cause that was Johnny Flynn. He quickly traded the third draftee, Ty Lawson, to the Denver Nuggets. Ricky Rubio should work out just fine for the Timberwolves, but only the most delusional Timberwolves fans would prefer him to Lawson.
More importantly, here are the some of the players Minnesota could have taken with the fifth and sixth overall picks used on Rubio and Flynn: Stephen Curry, DeMar DeRozan, Brandon Jennings, and Jrue Holiday.
In other words, it could have had three point guards who turned out better than Flynn, or it could have gotten their hands on a pretty good swingman. If Kahn had found a way to turn two of his three picks into the third or fourth pick in the draft, he could have grabbed James Harden or Tyreke Evans.
Kahn also gave Darko Milicic a $20 million deal that he quickly regretted and used the fourth overall pick in 2010 to draft the already-traded Wesley Johnson. After all those years living without draft picks, the Timberwolves don't have much more to show for the premium selections they've had the last three seasons.
You can thank Kahn for that.
New York Knicks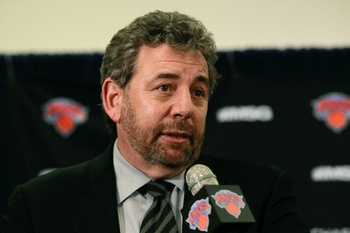 Chris Trotman/Getty Images
All things considered, James Dolan's New York Knicks didn't do a terrible job tweaking the roster this summer. General manager Glen Grunwald made the most of his non-existent cap flexibility and added Raymond Felton, Jason Kidd, Ronnie Brewer and Marcus Camby to the fold via a mix of cap exceptions and sign-and-trade arrangements.
He also re-signed J.R. Smith and Steve Novak.
Grunwald isn't the one who needs to pack his bags. That honor belongs to Dolan, the "mastermind" who pushed for the organization to spend over $20 million a year on Amar'e Stoudemire.
Even if you're Stoudemire's biggest fan, you have to concede that this deal didn't make a lick of sense. There was a reason even the Phoenix Suns were reluctant to sign off a five-year deal.
The Knicks should learn a lesson from another New York team: the Yankees.
Even though MLB clubs aren't constrained by a hard salary cap, GM Brian Cashman has moved the organization in the direction of fiscal responsibility and forgone the temptation to mortgage his best minor league prospects in trades for star talent.
In other words, the Yankees started thinking more seriously about the long-term.
The Knicks should do the same.
Utah Jazz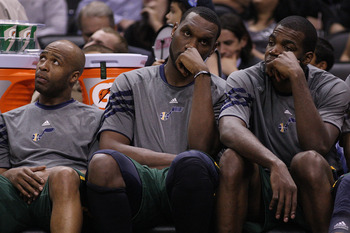 Ronald Martinez/Getty Images
The Utah Jazz will have a ridiculous amount of money for general manager Dennis Lindsey to spend next summer.
That would be great news for Jazz fans, but for the fact that you'd be hard-pressed to find a single big-name free agent with a shred of interest in playing in Utah. Scenic though it may be, the franchise ranks somewhere between the Orlando Magic and Charlotte Bobcats when it comes to preferred free-agent destinations.
Instead of positioning itself to spend money, Utah should either be leveraging some of its young assets for some proven talent or (even better) sending out its own proven talent in exchange for more young assets.
Besides, this team has more talent in the paint than it knows what to do with. There simply aren't enough minutes to go around for Al Jefferson, Paul Millsap, Derrick Favors and Enes Kanter. If the franchise is looking to build around Favors and Kanter, it makes you wonder why Jefferson and Millsap are still around.
Apparently, the franchise is content with being just good enough to sneak into the playoffs and miss out on prime draft position.
The decision to exchange point guard Devin Harris for forward Marvin Williams didn't make much sense either. In a vacuum, perhaps Utah needed a long forward like Williams, and there's no question Harris wore out his welcome last season.
But the fallout means 22-year-old Gordon Hayward will join second-year guard Alec Burks among the ranks of Jazz youngsters who won't get nearly enough playing time. The Jazz should accept that they aren't going to contend in the Western Conference anytime soon and position themselves to make the most of a fully-fledged rebuilding effort.
Straddling the fence all but guarantees this franchise will remain in a middling netherworld for the foreseeable future.
Keep Reading