Stephen Strasburg: Why the Washington Nationals Should Shut Young Ace Down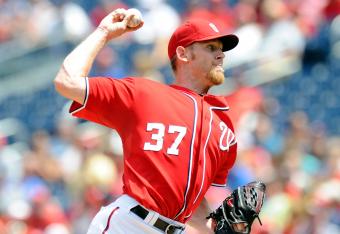 Greg Fiume/Getty Images
As young pitching phenom Stephen Strasburg approaches his supposed 160 innings pitching limit, the Washington Nationals face more and more pressure each day to handle their ace correctly.
The idea all along has been to sit Strasburg for the remainder of the season after he reaches 160 innings pitched to prevent wearing out his arm at too young an age.
After going through Tommy John surgery in 2010 to fix his throwing elbow and subsequently missing almost the entire 2011 season, Washington wants to be extremely careful with its young pitcher.
But many fans of both the Nationals and baseball in general do not agree with Washington's handling of Strasburg.
With the Nationals on top of the big-league standings, they say you've got to go for the championship this season, because nothing in the future is guaranteed. By the time next year's playoffs roll around, there's no guarantee this team will be the same. Baseball is by far the streakiest of any sport, and sometimes bad streaks can last entire years. Plus, injuries can occur to key players at any time.
While all this is true, I still believe the Nationals are doing the right thing.
Winning a championship in any sport is all about who gets hot at the right time. Just look at last year's MLB playoffs.
The St. Louis Cardinals were a good team throughout the regular season, but not one of the best. Of all eight playoff teams, the Cardinals owned the worst record. Had the Atlanta Braves not lost 13 of their final 18 games or the last five of the year, St. Louis wouldn't have even been in the postseason.
But in the first round, the Cardinals faced the Philadelphia Phillies, who had the best record in baseball by five games. The sizzling red birds took the powerhouse Phillies down, and the rest was history.
If the Nationals go for it all this year, they could very well be the Phillies of 2012. And in the process, Strasburg's elbow could gain unwarranted wear and tear.
But by saving Strasburg and helping his long-term health, Washington provides itself with a solid foundation for the future.
It already owns one of the best young cores in all of baseball, including Strasburg, Bryce Harper, Jordan Zimmerman, Ryan Zimmerman, Ian Desmond and Gio Gonzalez, all of whom are 27 or younger.
If they can keep the majority of their roster intact, the Nationals are going to be a strong team for many years to come.
Rather than going all out in one year for a championship, the better solution is to stay healthy and strong for multiple years. That way, Washington will always be in the playoff hunt year in and year out, with a strong possibility of catching fire at least one of those years.
It's like investing. The old adage is not to put all your money into one stock, because that one stock could fail dramatically and take all your money with it.
But it you spread your wealth out, your chance of striking gold dramatically increases.
The Green Bay Packers of the NFL worked this plan to perfection. They could have gone for one last title push with Brett Favre back in 2008, but instead entrusted their future with Aaron Rodgers. They now already have one Super Bowl in the Rodgers era with a strong possibility of winning at least one more.
So, the Nationals will have to make a decision.
Do they want to go all in and risk the future of their franchise for one year? Or will they stay patient and trust their young talent to keep them in the title hunt for years to come?
I guess we'll find out in October.
This article is
What is the duplicate article?
Why is this article offensive?
Where is this article plagiarized from?
Why is this article poorly edited?

Washington Nationals: Like this team?