NBA Trade Rumors: Latest on Jimmer Fredette and More Buzz from Around the League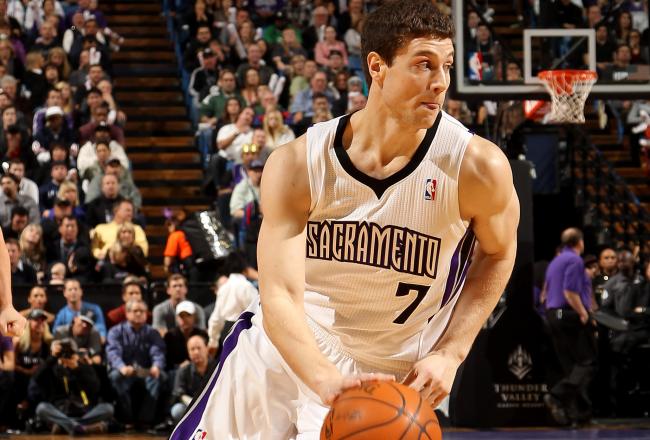 Ezra Shaw/Getty Images
After an exciting July and riveting start to August, the doldrums of the NBA offseason are upon us.
Dwight Howard has landed with the Los Angeles Lakers alongside Steve Nash, the Brooklyn Nets inked Deron Williams, Gerald Wallace and Brook Lopez to contracts while trading for Joe Johnson and it seems the rest of the big-name free agents and disgruntled players have found new homes.
However, there are still a few whispers floating around that will keep NBA junkies talking hoops.
Let's take a few moments to round up some of the more interesting rumors out there.
Jimmer to OKC?
According to Fox Sports Ohio's Sam Amico, the Sacramento Kings sophomore scorer isn't happy with his role on the Kings.
The reporter noted that DeMarcus Cousins is the only player willing to pass him the rock on that team full of ball hogs. Oklahoma City is one possible destination for the former BYU star, as they need a backup guard to replace Derek Fisher.
Jimmer would thrive with the Thunder, as he's a deadly long-range shooter that could be the second scorer OKC needs in its second unit.
It's unlikely that GM Sam Presti messes with a core that just reached the NBA Finals, but for the right price, the Thunder would definitely be interested in Fredette.
DeJuan Confirms He's on the Market
San Antonio Spurs backup DeJuan Blair told Douglas Farmer of the Pittsburgh Post-Gazette that the franchise was shopping him this summer.
Where Will Blair Play in 2012-13?
It didn't seem to faze the 23-year-old, as he said:
"Hopefully, I stay a Spur, but if it doesn't happen, life moves on," Blair said. "They've got me on the trade market and they'll do the best to get me in the greatest situation possible."
Farmer also noted that the undersized PF is attempting a transition to the SF position, losing 16 pounds in the process and guarding players like Carmelo Anthony during Olympic warmups.
Blair is a great role player who will certainly find a home in the league. He's got career averages of 8.5 points, 6.4 rebounds and 1.0 assists per contest. There is always a place for scrappy defenders who can put up decent numbers in limited minutes.
Real Madrid Poaching NBA Talent
According to Javier Maestro of Encestando, Real Madrid is interested in acquiring both Yi Jianlian and Darko Milicic.
Both players were in the NBA last season but are on the open market now. The Minnesota Timberwolves amnestied Milicic following the 2011-12 campaign, while Jianlian's contract has expired.
Now Jianlian is seeking a two-year deal worth a reported $5 million from the Spanish powerhouse. Real Madrid also finds the former No. 2 overall pick "tempting," but it will be tough for them to pry Milicic away from the U.S.
This article is
What is the duplicate article?
Why is this article offensive?
Where is this article plagiarized from?
Why is this article poorly edited?