Eagles vs. Patriots: True Test Only If Pats Play Starters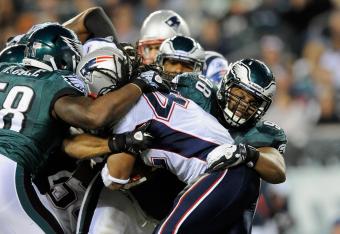 Patrick McDermott/Getty Images
The Philadelphia Eagles will be playing their starters at least the entire first half against the Patriots. Depending on what you believe, New England may play their starters for an extended period of time...or not much at all.
According to Steve Balestrieri over at Patsfan.com, this could be the Patriots' dress rehearsal as well since the Eagles will be the first of three games over a 10-day stretch for them.
However, according to Mike Rodak of ESPN Boston, several key players for the Patriots may not play much at all tonight because they want to preserve players' health over that 10-day span with three games.
Rodak says that Tom Brady, Brandon Lloyd, Rob Gronkowski, Wes Welker and Aaron Hernandez may see little or no action tonight.
Patriots coach Bill Belichick is unlike Andy Reid in that he apparently doesn't tell the media up there what his plans are for the starters, so we really don't know what to expect.
All week around here, we've been thinking that this game will be a real litmus test for the Eagles' defense since they're facing a potent offensive attack in the Patriots. Now, that point may be moot.
It won't be a real test if Brady and crew only play the first series or something of the nature. It is, after all, just the second preseason game, and teams usually use their third preseason game as the true dress rehearsal for the regular season.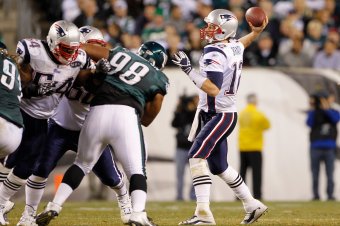 Rich Schultz/Getty Images
The Eagles found themselves in a funny situation this year because their third preseason opponent just happens to be their opponent two weeks later when the games begin to count.
That's why the Eagles are treating this game as the dress rehearsal. The Pats, maybe not so much.
So, if many of the key players for New England don't play much and the Eagles perform well against their backups, will that really give us a good indication as to where this team is at?
Not really.
Or even worse, what if the Eagles' starters struggle against the Patriots' second-teamers?
If the Pats do not play their starters much, the Eagles will find themselves in a situation that will read as such: If the starters play well and "dominate" the Pats' second-string, well, they should do that, and there will still be questions about performing that way against a team's first string.
If they struggle, then there will be even more questions because it would be like, "Dang, they can't even beat the Pats' second-stringers."
It could be a no-win situation tonight for the Eagles. However, if they find themselves playing the Pats' second-team for the most part, they better perform well and look sharp.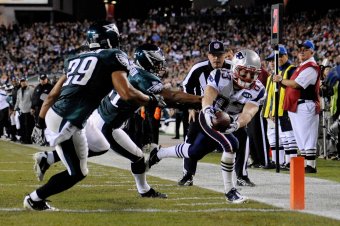 Patrick McDermott/Getty Images
That's the key thing anyway about the dress rehearsal preseason game: The first-stringers just want to look sharp and crisp. The outcome of the game is always down the list of priorities.
If Belichick decides not to play Brady too much tonight, it might be a wise decision anyway. I mean, the Eagles do boast one hell of a defensive line that gets after the quarterback.
The Pats may not want to leave Brady out there like the sacrificial goat that was tied up for the T-Rex in Jurassic Park.
With Trent Cole slated to play tonight along with the rest of the QB-killers in Cullen Jenkins, Derek Landri, Brandon Graham, Phillip Hunt, Vinny Curry and Cedric Thornton (among others) they'll be ready to feast on Brady if he's on the menu.
If this game is a tune-up for the regular season, the Pats better be careful not to let Brady get tuned-up!
I guess we'll have to wait until the game tonight to see how much the Pats play their starters and then see how the Eagles perform.
In any case, starters or not, the Eagles need to play well in order to quell any concerns as we head towards the regular season.
As Jim Washburn tells his linemen, it's time to "rush, crush and close."
Follow me on Twitter for Eagles news and discussion!
This article is
What is the duplicate article?
Why is this article offensive?
Where is this article plagiarized from?
Why is this article poorly edited?

Philadelphia Eagles: Like this team?