Power Ranking the Best 2013 NBA Free-Agent Stars on the Market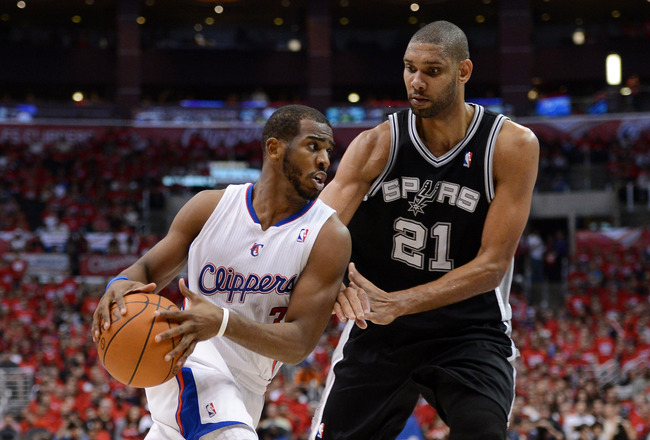 Harry How/Getty Images
With the 2012 NBA free agency season more or less behind us, the time is ripe for an early look at who is going to be available in 2013.
Before listing the top available free agents though, it's going to take some qualification as there are different types of free agents and some free agents aren't quite as "free" as others.
Therefore, for newer NBA fans who don't know all the jargon, here's a brief tutorial.
There are two different types of free agents, restricted and unrestricted. An unrestricted free agent (RFA) is free to sign with whomever he wants and his old team has no rights whatsoever to him any more.
Prior to the free agency period, a team must decide whether or not they are going to give the player a "qualifying offer." If they don't do so, then they lose any rights to the player. The qualifying offer is based upon their previous year's salary.
If they do extend a qualifying offer, once the player hits free agency they have the right to match any offers that other teams extend to the player.
Because of that, most RFAs who are upper-tier are not so "available" after all. If a player is capable of being an All-Star, a team is almost always going to match any offers on him. There are occasional exceptions.
Players who are almost guaranteed to have any extended offers matched by their teams are not included on this list simply because they aren't truly "available" in the most honest sense of the word. There are a couple of RFAs on this list who are not locks to be matched, but RFAs whose teams will match even a max offer in the blink of an eye I didn't put on this list.
Ergo, no John Wall or the like. That's not a slap at the player so much as the reality that such players are not really going anywhere and I see no point in filling up this list with players who aren't going to really be "free agents." After all, the interest in such lists is based on players signing with new teams.
Furthermore, there are also different types of contracts. Some players have an "early termination option" (ETO) in their contract, which means that a player is free to end his contract one year early. Others have a "team option", which means that the team has the option of ending the contract one year early.
The normal way of thinking about these is that if a top-tier player has an ETO, he is likely to use it, as he will be able to make more money in his next contract, whereas a team is likely to retain a top-tier player because it is improbable that the team will be able to replace that player with equal value.
For the purpose of this list I considered that players with ETOs will terminate but All-Star caliber players with team options will not.
To sum up, the free agents I've considered here are, for the most part, UFAs who either have their contracts ending or ETOs they can exercise. There are a couple of RFAs on this list, and in those cases I will explain why it's unlikely their teams will match offers on them.
So with that explanation, here are the top 12 free agents available in 2013.
12. David West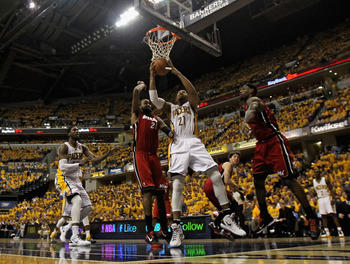 Jonathan Daniel/Getty Images
David West signed a two-year deal with the Pacers last offseason. It was a short contract because West was coming off of knee surgery and Indiana wanted to see how he adjusted after the surgery.
West had his worst season since 2006, averaging just 12.8 points and 6.6 rebounds per game, after averaging almost 20 points and over eight boards over the five preceding years.
How much of that was due to the knee surgery and how much was an issue of not having Chris Paul feed the ball to him anymore? Probably, it was a bit of both.
Either way, it's not likely an issue easily rectified, and West will also be turning 33 in 2013. With that combination of factors, he's not near the top of the list of free agents in 2013 as he was in the offseason before last. Still, he'll be a valuable role player wherever he signs.
11. Tyreke Evans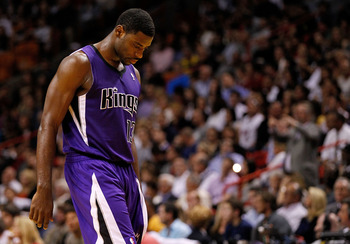 Mike Ehrmann/Getty Images
Tyreke Evans is one of two restricted free agents I included on this. There are reasons to speculate that he may not have his offer matched in Sacramento.
He's likely to get a pretty hefty offer from elsewhere. He's a versatile player who can play the point, shooting guard or small forward. He's a stat-sheet filler, averaging about 18 points, five boards and five assists over the course of his career.
That means a lot of teams will show a ready interest to him.
However, since winning Rookie of the Year, the Kings have struggled with what to do with him and where to play him. They moved him to small forward last year and he's not happy there. The Kings are log-jammed in the backcourt and Evans is becoming superfluous.
As a result, the team started shopping him around to see who they can get for him. While they didn't pull the trigger, the explorations lead one to conclude that he's not in their long-term plans.
This all indicates the probability of Evans being moved in a sign-and-trade during the offseason. While technically sign-and-trades are "trades", they are the product of a player agreeing to terms with another team and being "free agents."
This is why Evans makes the list.
10. Kevin Martin
Streeter Lecka/Getty Images
Kevin Martin is a prolific scorer, albeit an underrated one.
Over the last six years, he's scored 7,819 points with a true shooting percentage of .597. The only two players who have scored more points with a more efficient percentage are Dwight Howard and Amar'e Stoudemire.
Martin doesn't offer a lot other than his scoring. He's not a great passer or rebounder, but he is a tremendous and efficient scorer. While scoring is not the only thing that matters, it certainly matters. On the right team, he could make them a title contender.
There are some issues though. He'll be 30. He started showing signs of breaking down last season. He only averaged 17.1 points, the fewest since 2007.
As a pure scorer, he'll attract enough attention that someone will give him a chance to prove he still has what it takes.
9. Paul Millsap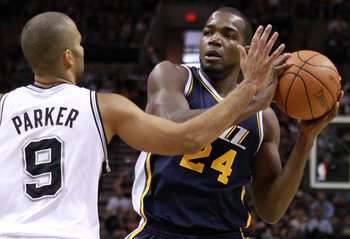 Ronald Martinez/Getty Images
Paul Millsap is one of the league's more underrated players. In spite of his consistent success in Utah, the Jazz seem to keep wanting to replace him with someone else.
Since moving in as the starter he's averaged 17 points and eight boards a game. You could make an argument he's a top-10 big man in the league.
Only seven players have both more points and more boards than him. He is fourth among those players in true shooting percentage, third in assists and first in steals. He's been putting up those numbers in spite of playing alongside Al Jefferson, who takes away rebounds and buckets from him.
Millsap should be one of the more sought after free agents in the league. His ability to rebound the ball, put it in the net, and his versatility for a big man all make a valuable commodity on any team. He may very well be the best free agent who won't garner a max contract.
8. Monta Ellis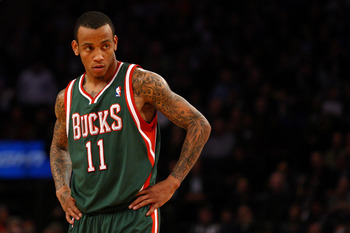 Chris Chambers/Getty Images
Monta Ellis is an absolutely thrilling player to watch play the game. He has a litany of moves. He can carve his way to the rim or he can bury the three.
The only players who have outscored him per game over the last three seasons are Kevin Durant, LeBron James, Kobe Bryant, Carmelo Anthony and Dwyane Wade That's some pretty elite company.
Still, there are some caution flags with Ellis. He's a horrible defensive player. Yes, he gets steals, but not nearly as often as he gets beaten, often by players who are slower than him.
His limited size also makes him easy for taller shooting guards to post him up.
The worst part is that there are two types of bad defensive players. There are those who "can't" play defense and those who "don't" play defense. Some are just too slow and physically don't have the tools to play defense. Kyle Korver "can't" play defense, but his effort is solid.
Then there are players who just don't. They have the tools, they just elect to not apply them on both ends of the court. Ellis is such a player. There's no reason that with his foot speed ad quickness he can't stay in front of players if he tries. He just doesn't try. Until he does, he won't be able to help a team to win a ring.
Still, someone is going to be happy to pay for his scoring.
7. James Harden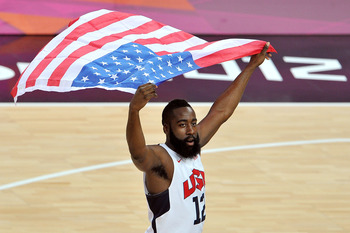 Pascal Le Segretain/Getty Images
James Harden is the other restricted free agent who may very well end up switching teams. This is due to a series of circumstances that may make it hard for the Thunder to match the highest offers on him.
Harden is likely to attract a max contract, or very close to it. He's an amazing shooting guard, perhaps the best under 25 when you consider his full skill set. He gets to the rim, He knocks down the three. He plays stellar defense.
And of course, he's allowed to carry an arsenal of weapons in his beard.
What team doesn't want all of that on their team? It is hard to imagine him not getting a massive offer, and it's equally hard to imagine the Thunder being able to match.
First, they have two max contract players already signed in Russell Westbrook and Kevin Durant. They also just extended the contract of Serge Ibaka for $12 million a year.
Add to that the other four contracts (including the presumed roughly $1 million for Perry Jones III) and you have about $59 million in guaranteed salaries already for seven players.
Add in the other contracts at minimum salaries and you're up around $65 million. That means that the contract that Harden would sign could send the Thunder salary to well over $75 million in 2013, and escalating from there.
They simply don't have the market size to support the kinds of luxury taxes that will cause, especially when you start considering the "repeater tax" that causes the taxes to go up for teams that repeatedly pay the taxes.
With the new escalating taxes, the Thunder could be paying some pretty stiff penalties. In 2014 they would be paying out $70 million in salary just to Durant, Westbrook, Harden, Ibaka and Kendrick Perkins. Those players alone would put them in the luxury tax.
Add in the rest of the team, and the fact that you have to put 12 players on the roster, and you're looking at a roster over $80 million and that's going to put the tax rate at $2.50 for every dollar the Thunder are over the tax threshold.
That means they could end up paying over $25 million in taxes. Can Oklahoma City support a $100 million salary? Probably not.
And after that, while they would lose Perkins, they would still be way over the luxury tax threshold and would have to start paying repeater taxes that could send their tax rate up to $30 or $40 million dollars.
Ergo, Harden is likely playing his last season in Oklahoma City.
6. Al Jefferson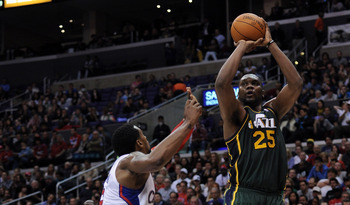 Harry How/Getty Images
All Jefferson is possibly the single-most underrated player in the NBA. Over the last five years, the only player in the NBA who has more points and rebounds is Dwight Howard.
Yet, in the discussion of "second best" center in the league, Jefferson's name rarely comes up in the conversation. In fact, rarely is his name brought up even as a top-five center in the league.
Perhaps this is because of the fact that he's only made the postseason twice in his career, and he's never been past the first round.
This really can't be put entirely on him though. He's just never had a quality team around him. Last year's Jazz team was as close as he's gotten, and that's not saying a lot.
Put him with the right team and he'll have a chance for the accolades that should be accompanying his individual success. Given his history, it would not be surprising to see him take a lower contract (but not ridiculously lower) to play for a contender.
5. Josh Smith
Jim Rogash/Getty Images
There are three aspects to the NBA player. There's the physical aspect, the mental aspect and heart.
When it comes to the physical aspects, Josh Smith is a quality player. He has size and strength with off-the-chart athleticism.
When it comes to heart, Smith has no problems. He brings it night in and night out.
When it comes to the mental aspect though, he's got some issues. If you could take the "stupid" out of his game, he would immediately be an elite player in the NBA.
Smith, with the possible exception of his mother, is the only living person in love with his perimeter shot. Last season he took 563 shots from at least 10 feet out, hitting on just 192 of them. Of those, 28 were from deep. That gave him an effective field goal percentage of just .366.
Officially, that was the worst of any player in the NBA with at least 500 attempts from that range. Weirdly, some have given him credit for "improving" in this aspect of his game, even though he took more outside shots last year in fewer games, and at a lower percentage.
What makes this all the more frustrating is that he had the seventh-best field-goal percentage inside of 10 feet, hitting .581 from that range.
in spite of that though, he took fewer shots inside 10 feet than he did outside of it.
And he's a power forward! Why is he camping outside so much? Not to mention that his rebounding numbers could be better if he wasn't always trying to score from outside.
If I could give him a word of advice, I'd tell him this. "Mr. Smith. Look in the mirror. Do you see Kevin Love looking back at you? No? That's because you aren't him! "
Smith has enough game that he would garner max contract money, or near it, if it weren't for the stupid. The stupid drops him a couple of million though. He could help a team to a title, but only if they have someone who will yank the ball out of his hand every time he steps more than 10 feet away from the rim.
4. Andre Iguodala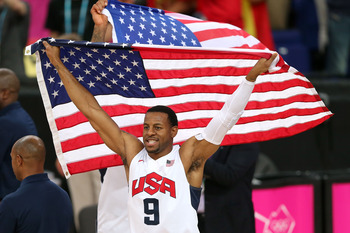 Streeter Lecka/Getty Images
Andre Iguodala was the only player on the Olympic team that came back as a member of a different NBA team than he belonged to when he left for London.
He is also one of the players that helped himself the most. We knew players like LeBron James and Kevin Durant, and even Kevin Love, belonged on the team.
Andre Iguodala was the "role player" assigned to the team though. He was the glue-guy. He was also the player off the bench who repeatedly sparked the team and made absolutely electric plays.
Iguodala has often been slammed for not being what he isn't in Philadelphia instead of being appreciated for what he is.
What he is, is a player that does everything well. He is also arguably the best wing-defender in the NBA not named LeBron James. He also has the best pure-point rating among all non-point guards in the NBA the last two years (yes, even better than LeBron James!)
Sure, he only scores 15 points per night on his career. He's not going to be an elite scorer, never has been and never will be. He is unstoppable in transition though.
If you want a guy who is going to take 20 shots a night and score 25 points, Iguodala is not for you. If you want a player who is going to give you 15 points a night while making everyone around him better on both sides of the ball though, Iggy is the man.
3. Andrew Bynum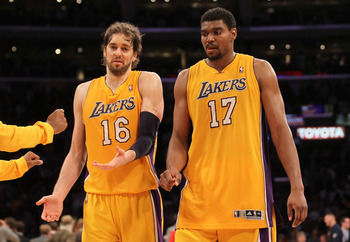 Stephen Dunn/Getty Images
Congratulations to Andrew Bynum, who finally made it through an entire NBA season without getting injured!
There can be zero question that this was his most successful season ever. Bynum scored 18.7 points and hauled in 11.8 boards per game last year, which are pretty gaudy numbers.
He's also still a fairly young man as he'll turn just 25 next year.
If he can stay healthy, Bynum is the second-best center in the league, especially if he continues to develop along the lines he has. In fact, it's possible he'll be the best center in the league before his and Dwight Howard's next contracts expire.
But let's set aside any notion that right now he is better. Howard's career averages are as good or better than Bynum's career best numbers. There's not an argument to even make the comparison yet.
However, his time in Philadelphia will give Bynum the chance to be "the man", which may or may not make him hit the next level. With increased opportunity comes increased defensive focus and increased burdens to carry.
He could step into superstardom. Or he could step into a big steaming pile of poop. It's not like Bynum has shown a level of maturity beyond his years throughout his career.
Howard has not been the greatest leader of men, or even average, but the physical toll he's handled. He's also shown he can be counted on day in and day out to carry the burden of a team. He might not be able to lead a team, but he can carry one, and yes, there is a distinction.
Carrying a team is what you do on the court, bearing the brunt of the burden, the focus of the defense and so on. Leading a team requires you guide your team through adversity, encourage them when necessary, motivate them when needed and so on.
Often times a "leader" of a team is not the one who carries it. For example, Dwyane Wade is more the "leader" of the Heat and LeBron James is more the player who "carries" them. Luol Deng is the "leader' of the Bulls, while Derrick Rose is the one who "carries" them.
Dwight Howard has shown he can carry a team, but not lead it. Byum hasn't shown he can do either, and for that reason, let's not automatically ascribe to him Howard-like numbers until he has.
2. Dwight Howard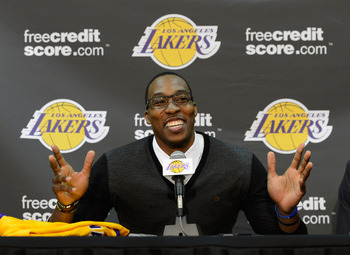 Kevork Djansezian/Getty Images
We know that Dwight Howard finally got traded and we know that he's happy in Los Angeles for now. We also know that he changes his mind more often that Paula Abdul changes her clothes.
Howard was hero-worshiped in Orlando. He was the man, not just a star or even a superstar.
In Los Angeles, he will be playing with three future Hall of Fame players in Kobe Bryant, Pau Gasol and the newly acquired Steve Nash.
Bryant has five rings, all in a Lakers uniform and an MVP. The majority of Lakers fans consider him to be the greatest Laker of all time (though I'd give the nod to Magic Johnson).
Gasol has two rings in a Lakers uniform.
Nash has two MVP awards and is probably the greatest active player without a ring. Because of his all-around "good guy" qualities, he's probably also one of the most sympathetic to NBA fans in general, i.e. he's probably the player we'd most like to see win a ring if our favorite team doesn't win it (unless of course you're a Lakers fan and don't need to make such a distinction).
The point being, Howard becomes just another star in a city filled with stars and on a team rich in history of stars, past and present.
While the city is delighted to have him, they aren't going to shower him with the same kind of affection, and if he goes "bobble-head" on them the way he did Orlando, they won't take long to turn on him.
There's also the possibility of a personality conflict between the fun-loving Howard and the all-business Bryant putting off Howard when it comes to a long-term stay in L.A.
Howard has a pretty massive ego, and it has a pretty good chance of getting bruised pretty hard and pretty often in Los Angeles. He wanted bright lights, but this has massive potential for a "beware what you ask for, you might get it" type of ending.
In all likelihood, Howard stays in Los Angeles, but don't write him in there until he signs the contract.
1. Chris Paul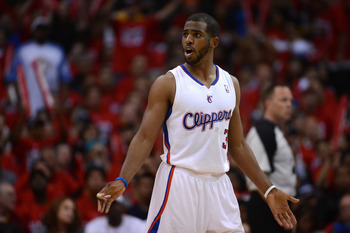 Harry How/Getty Images
It was a close-call as to who to list as the top free agent, Chris Paul or Dwight Howard.
In the end while center is generally the tougher position to fill, leadership wins out here though.
Chris Paul isn't necessarily a better player but comparing their leadership is a no-brainer. While Paul leads his team to be better, if Howard "leads" his team anywhere, it's been down.
With the Lakers, Howard won't be expected to lead, which is fine. However when it comes to the free agent market, if I'm going to be dropping $20 million a year on a player I'm going to want it to be a player who has both a skill-set on the court, and the ability to lead the team on and off it.
Paul is all of that and more. He's a veritable coach on the court, which is more than necessary in Los Angles, where Vinny Del Negro is the head coach.
Paul could have terminated his option this year but promised he wouldn't before he was traded to the Clippers. He recently turned down a three year, $60 million contract though according to Kurt Helin of NBCSports.
Whether he is just waiting for a more lucrative deal or just hoping to end up with the Knicks remains to be seen.
There's a lot of reason to think that he could stick with the Clippers, the biggest of which is Blake Griffin. There's also reason to believe he'll jet at the end of the year, namely Donald Sterling, a.k.a the worst owner in professional sports.
Keep Reading