4 Players Washington Nationals Need to Make a Deep Playoff Run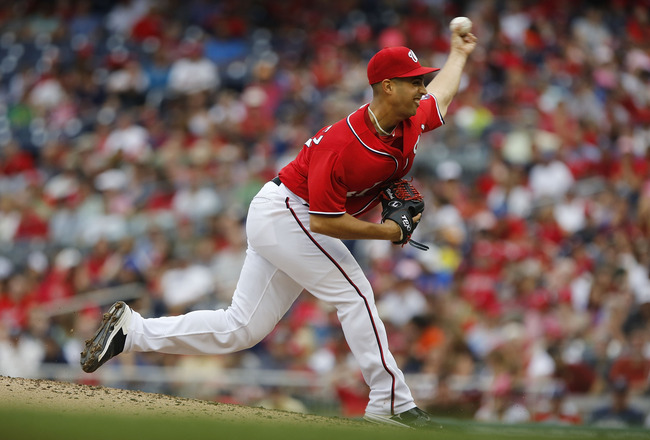 Gio Gonzalez must be consistent in the absence of Stephen Strasburg.
Jonathan Ernst/Getty Images
The Washington Nationals have had an incredible year, so it will hardly come as a shock to say that they need to stay focused in order to continue this through the postseason. As with any team, there are players whose contributions are integral to this goal.
When Stephen Strasburg is shut down, the Washington Nationals will be a weaker side. There's no doubt about that—and it is just one of the reasons for extending (or removing) his innings limit.
However, it isn't prudent to dwell on things you can't control, so for the purposes of this article it is assumed that Strasburg will not feature in any Nationals playoff run this year.
With that out of the way, let's get on with the show.
Steve Lombardozzi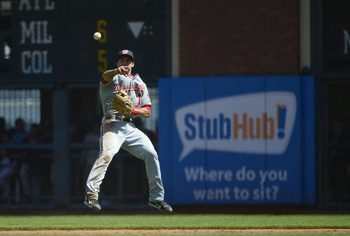 Steve Lombardozzi showed excellent form in the absence of Ian Desmond.
Thearon W. Henderson/Getty Images
The Nationals have not had the luxury of fielding their starting nine for the majority of this season. In these situations it is inevitable that players are forced to play unfamiliar positions to compensate.
When Ian Desmond went down with an oblique injury toward the end of July, Danny Espinosa moved to shortstop to replace him. This paved the way for Lombardozzi to return to his natural position at second base.
Having been used at various positions throughout his Nationals career, Lombardozzi was back where he felt most comfortable; he responded with what Brian McNally called "a pretty effective way to keep your job" (via WashingtonExaminer.com).
As McNally pointed out, Lombardozzi scored 11 runs over 10 games on the road, going 21 for 59 with three doubles and two triples. Even so, this wasn't enough to earn a start when Desmond returned to the lineup and Lombardozzi went back to the bench.
Although it may seem a strange choice to include the switch hitter under this article's headline, in this instance he is being used as a symbol of the new-look Nationals.
It is this kind of depth that illustrates why the Nats are arguably the best team in baseball right now. The fact that Lombardozzi couldn't keep his place just goes to show what is being built here.
Given the surfeit of injuries that the season has provided, it isn't outrageous to suggest that there will be more. Steve Lombardozzi epitomizes why it hasn't mattered during the regular season, and why it shouldn't matter in the postseason.
Gio Gonzalez/Jordan Zimmerman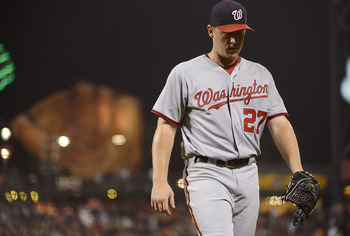 Jordan Zimmerman must support Gio Gonzalez and pressurize the opposition.
Thearon W. Henderson/Getty Images
I've cheated here, I admit. With Strasburg absent for the playoffs, the pressure will be on both Gonzalez and Zimmerman to produce some of the same magic. They share the same slide because they share the same burden.
On August 13, the Nationals blew out the San Francisco Giants 14-2 and it was understandable that the offense took a lot of the credit.
The Nationals have always been regarded as a team that gets by on the strength of their pitching, yet here it was the offense that stepped up and put the game out of reach.
However, what wasn't mentioned so much was the importance of Gio Gonzalez in the one-sidedness of the scoreline. Gonzalez allowed nothing in the six-and-a-half innings that he pitched, frustrating the Giants and allowing the Nats to beat up on Ryan Vogelsong and Brad Penny.
The opportunity for a shutout was eventually ended by Brandon Crawford hitting a two-run homer in the seventh, but the game was already gone.
Jordan Zimmerman had a similar game against the Houston Astros a few days earlier, on August 9. Striking out 11 over six innings, Zimmerman demonstrated good control and clever use of the slider—setting the Astros up with the fastball and making them bite and chase the slider.
As Amanda Comak noted for the Washington Times, Zimmerman threw 87 pitches in the Astros game, with only two of them being neither fastball nor slider.
If the Nats are going to contend without Strasburg, they will need both Gonzalez and Zimmerman to throw like this through the entirety of the postseason. The best part of that plan is that they are eminently capable of doing so.
Bryce Harper
Bryce Harper needs to hit his way out of his recent slump.
Jonathan Ernst/Getty Images
It's difficult to write about Bryce Harper without seeming redundant, as there has been so much web and print space devoted to him thus far.
It's also arguable that other players such as Ian Desmond, Jason Werth and Adam LaRoche are more valuable to the team during the postseason. I wouldn't dispute that at all; all three of those players mentioned are deserving of inclusion.
However, it is worth singling out Harper to bring him into this list. In recent weeks he has looked less and less like the savior of baseball that we were all promised. Instead he has looked like a 19-year-old rookie, which is fine because that's exactly what he is.
As teams adjusted to Harper, it was always going to be impossible for him to continue his remarkable transition to the majors. The more pitchers saw of him, the more they could change their approach and prey on his inexperience.
When Adam Kilgore spoke to Nationals hitting coach Rick Eckstein, he was unconcerned by Harper's recent troubles:
He expects so much out of himself that sometimes, with guys that are as talented as he is, you have to try less, and not overthink the process and try to do too much. Let your talent speak.

It's unfair to expect him to do what he first did coming out [at his age]. Nobody in the history of the game has done that. It's just a learning curve. I don't think he needs any major adjustments in his swing.
Harper is in good hands in Washington and this is exactly the right attitude to take with him. His self-confidence means that he refuses to entertain the word "slump," but if the Nats are to make a deep playoff run they will need him to recapture his form.
He has looked like an automatic out during this recent stretch, which is the last thing a team can afford if it's in the pennant race.
He went some way toward recovery with a two-run homer in the 6-4 victory over the Mets on Friday, but was then rested until the eighth in the 2-0 loss on Saturday.
Before the arrival of Robert Griffin III, Harper was the talk of Washington. If he can help his team put together a run this year, he and the Nationals will claim some headlines back for themselves.
Keep Reading

Washington Nationals: Like this team?