5 Sneaky-Good Situational Lineups for the Phoenix Suns in 2012-13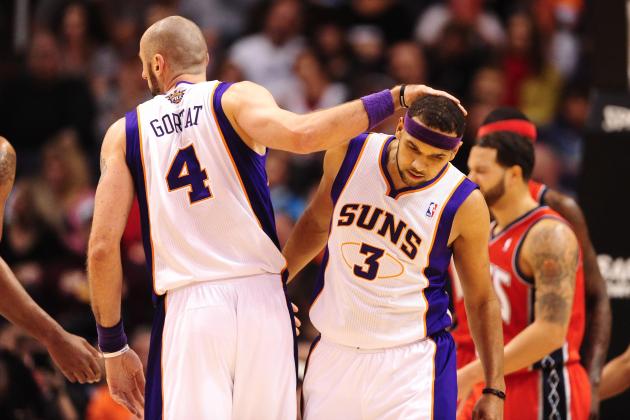 Mark J. Rebilas-US PRESSWIRE

The Phoenix Suns will be battling for their playoff lives on a nightly basis, and coach Alvin Gentry might have to get creative to ensure his team wins games.
Whether it be using a defensive lineup down the stretch in a tough game or a small-ball lineup when he wants to create matchup problems for the opposing team, Gentry will have to use his players' talents to his advantage this season.
This Phoenix team is interesting because there are different types of players on the roster; players who are suited for multiple roles on the team.
Read on for five situational lineups the Suns could use to help get a leg up on the competition in the ever-competitive Western Conference.
Begin Slideshow

»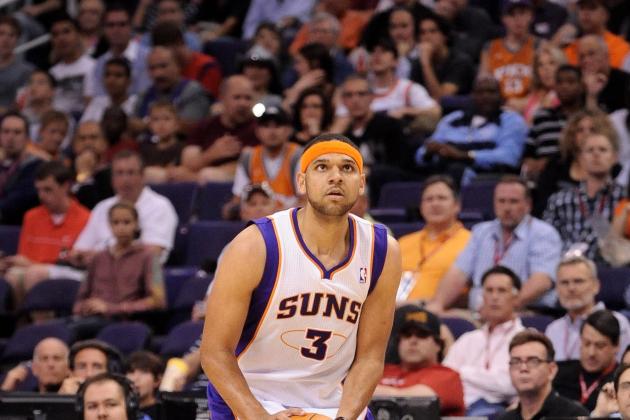 Jennifer Stewart-US PRESSWIRE

The Phoenix Suns love the three-point shot, if you didn't already know, and often use a lineup that can suit the shooting skill that almost every player on the roster has.
Shooting is the name of the game in Phoenix, and this lineup might not be the best defensive unit or the quickest lineup, but they sure can shoot the lights out.
Three-Point Shooting Lineup
PG: Goran Dragic, career 36.4% three-point shooter

SG: Jared Dudley, career 40.9% three-point shooter

SF: Michael Beasley, career 35.5% three-point shooter

PF: Markieff Morris, career 34.7% three-point shooter

C: Channing Frye, career 39% three-point shooter
This lineup has the potential to get up and down the floor with tremendous speed, all the while having a three-point threat whenever the ball touches someone's hands.
Morris and Frye are the two most important players in this lineup because of their ability to force big men out to the perimeter, which is something big guys really don't want to do. The added spacing created by drawing the big men out of the lane is huge for other players.
If there ever was a time when points needed to be scored in bunches, this unit could get it done.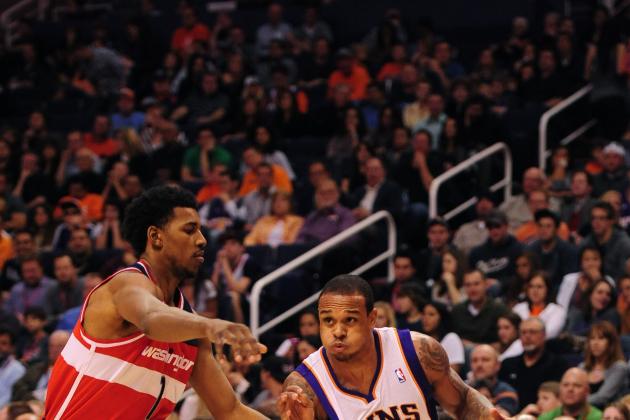 Mark J. Rebilas-US PRESSWIRE

It's no secret the Phoenix Suns love to get up and down the court and get easy transition buckets. It's something that has been done since the Mike D'Antoni days.
Raising the tempo would suit this Phoenix team well, as there are athletes at the wing positions and solid rim-runners in the frontcourt.
The thing with this lineup is everyone has to be quick or else the transition game simply won't get very far and there will be defensive liabilities.
Quick Lineup
PG: Goran Dragic
SG: Shannon Brown
SF: Wesley Johnson
PF: Michael Beasley
C: Markieff Morris
This lineup would be more than capable of raising the tempo in a hurry.
Dragic, Brown and Johnson all provide above average quickness and athleticism at the wing positions. Morris and Beasley are certainly not as quick as the wing players but, when compared to fellow post players, would have a sizeable advantage in running the floor.
The transition game doesn't always work, thus, the quickness and speed on the court would also provide slashing opportunities in the half-court game. It might force a more one-on-one style of play, but getting to the rim shouldn't be an issue.
I wouldn't be surprised to see both a lot of transition points and added defensive flexibility with the use of this lineup, as switching screens would be much easier with the speed on the floor.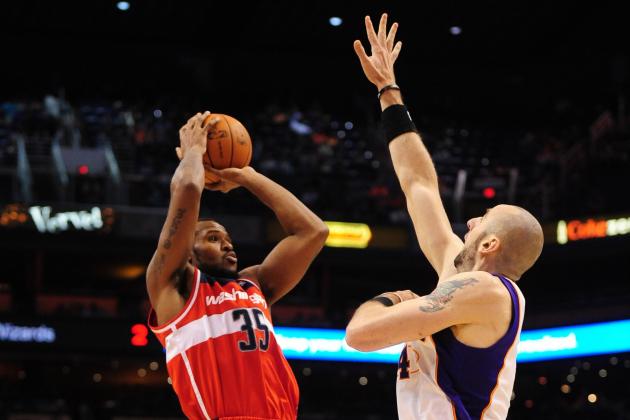 Mark J. Rebilas-US PRESSWIRE

The Phoenix Suns aren't known as a defensive team, but this squad could march out a formidable defensive unit in close games. They have the size in the post and wing defenders to make the lineup effective.
The main reason why this lineup would be successful is the versatility and defensive IQ of the players in this unit.
Defensive Lineup
PG: Goran Dragic
SG: Wesley Johnson
SF: Jared Dudley
PF: Marcin Gortat
C: Jermaine O'Neal
This lineup would be able to get physical down low with basically two centers in the game at one time, mainly because of the speed and agility of Gortat. O'Neal would provide a capable shot-blocker and rim-protector in case a perimeter defender loses his man.
On the wing, Johnson and Dudley are different players but both are solid defenders. Johnson uses his athleticism and length to disrupt offensive players, while Dudley uses technique and energy to stay in front of more athletic offensive players.
Dragic at point gives a feisty ball defender who isn't afraid to get in the face of the point guard and force a turnover or two.
Using this unit would provide a different dynamic from the traditional Phoenix lineup full of offense, but would be a nice change of pace when a stop is needed.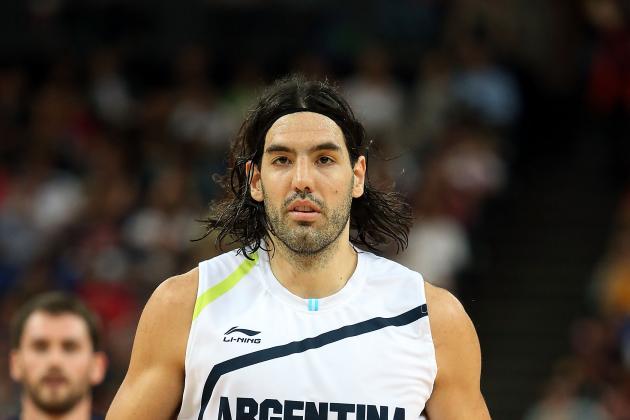 Christian Petersen/Getty Images

Small-ball has often had to be used by the Phoenix Suns in order to stay in the game, mostly because they never had enough big guys.
Even though this team does indeed have plenty of big men, that doesn't mean the coaching staff won't use a lineup that could create matchup nightmares for opposing defenses.
Small-Ball Lineup
PG: Kendall Marshall
SG: Goran Dragic
SF: Shannon Brown
PF: Michael Beasley
C: Luis Scola
This unit would provide a much smaller, yet still difficult lineup to guard.
Scola is simply too fast for most NBA center, and has an array of post moves to either draw fouls or get easy buckets.
Beasley is listed at 6'10", but his ability to create off the dribble would be tough to defend by traditional power forwards.
Brown and Dragic provide speed, shooting and some defensive versatility from the wing.
Marshall is the point guard that brings the lineup all together, as his passing skills would get everyone else open. He wouldn't need to score much as the other four players are more than capable of carrying the load.
Of course, the main downfall with this lineup is defense. That would mean that this lineup could only be used in certain situations and should be exercised with caution.
You want the lineup to create problems for the other team, not for your team.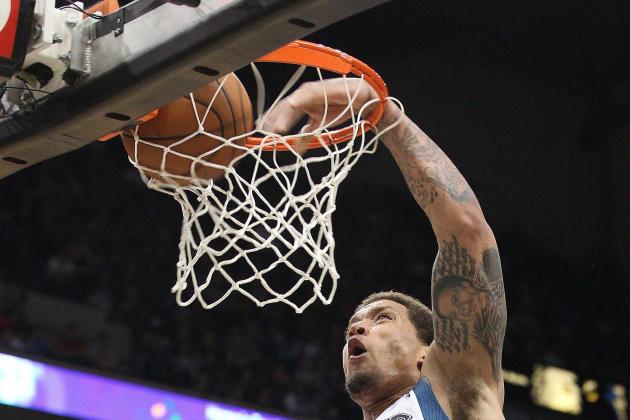 Jesse Johnson-US PRESSWIRE

The Phoenix Suns haven't really used a big lineup in the past couple of seasons because they normally haven't had much size.
This year, the team has plenty of big bodies to throw out, and it always helps when those guys are versatile players.
Big Lineup
PG: Goran Dragic, 6'3" and 190 lbs
SG: Michael Beasley, 6'10" and 235 lbs
SF: Markieff Morris, 6'10" and 245 lbs
PF: Marcin Gortat, 6'11" and 240 lbs
C: Jermaine O'Neal, 6'11" and 255 lbs
If that isn't a big lineup then I don't know what is.
Four out of the five players (Dragic excluded) can be used in the post to get easy attempts near the basket.
It goes without saying that this lineup is capable of putting up considerable numbers in the points in the paint department.
Also, on the wing, Beasley would be a matchup nightmare for opposing shooting guards. His large frame would allow him to get his shot off with ease.
The nice thing is this lineup could additionally serve as an interesting defensive lineup. The only way opposing offenses would succeed against such a large lineup would be to send out a smaller, quicker unit.