Cristiano Ronaldo and the 5 Most Important Players for Real Madrid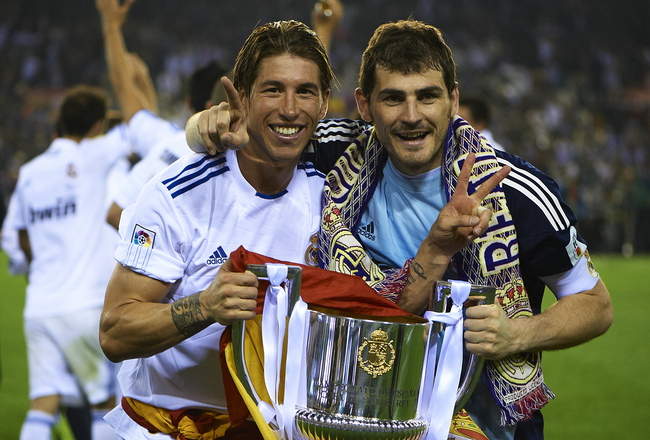 Manuel Queimadelos Alonso/Getty Images
Real Madrid kicked off their La Liga title defense last night at the Bernabeau to a disappointing result.
A 1-1 draw against a tough Valencia was definitely not the way Jose Mourinho and his men wanted to start the season.
Regardless of the match, Madrid remain favorites to repeat as champions, with Barcelona a very close second.
Madrid uncharacteristically stayed away from the transfer market until the Luka Modric signing, as Mourinho and company felt satisfied with the current roster.
With a surplus of world class players, Real Madrid certainly has one of the most—if not the most—talented rosters in all of football. Despite the overwhelming talent, there are certain players who are more valuable to Real's chances at repeating and ones that Madrid will count on more than others.
The following five players are the most important and valuable players on Real's roster.
5: Xabi Alonso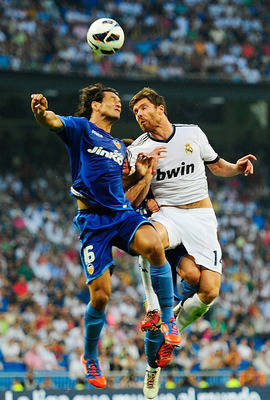 Gonzalo Arroyo Moreno/Getty Images
Xabi Alonso may never receive the accolades or limelight of some of Madrid's other stars, but he is, without a doubt, one of the most integral players on the team.
One of the most underrated players in world football, Xabi Alonso simply does whatever is needed to win football games.
A complete midfielder, Alonso is as comfortable defending the line as he is stepping up in dead-ball situations.
Able to play any ball in the book, Alonso's ability to link up the defense and offense is what truly makes him special. While he might not have scored many goals in his time at Madrid, his play from the deep midfield role has played a critical role in countless Real goals.
Xabi Alonso may be under-appreciated and underrated, but Jose Mourinho knows exactly how important he is for this team.
4: Mesut Ozil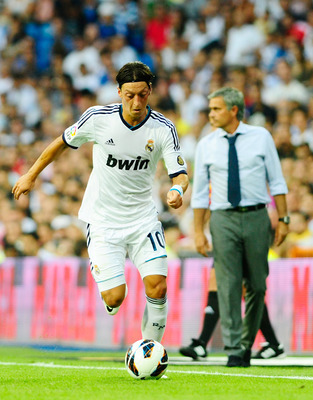 Gonzalo Arroyo Moreno/Getty Images
Real Madrid's attacking genius and the offense's puppet master is German international Mesut Ozil.
The attacking midfielder with the silky left foot is one of the best passers in the world, and many of the goals scored by Cristiano Ronaldo and company came straight from a Mesut Ozil ball.
Since joining Madrid two year's ago, Ozil's form has been so good that former world player of the year Kaka can't even get a position on the starting roster.
Ozil lead La Liga last season in assists, and with another year under his belt he could do even better this season. His seemingly telepathic connections with Ronaldo, Benzema and Higuain is simply amazing to watch, as he splits defenses with ease.
3: Iker Casillas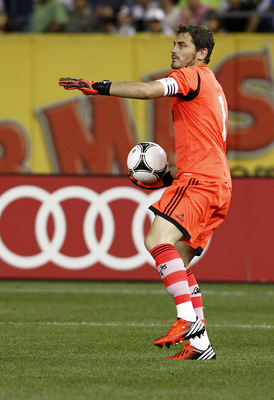 Jeff Zelevansky/Getty Images
Arguably the finest goalkeeper in the world, Madrid captain Iker Casillas has been a rock for Real Madrid ever since he broke into the team in 1999.
Over the years, Casillas has been the last line of defence on a team that pays little attention to it, and it is usually he who bails the team out with his incredible combination of reflexes, agility and anticipation.
San Iker, as he is called, is without a doubt one of the greatest players in club history and one of the greatest goalkeepers in history. Following the departure of Raul, Casillas took over the captaincy and his play and leadership ever since has been of the highest class and worthy of some of Madrid's greats.
2: Sergio Ramos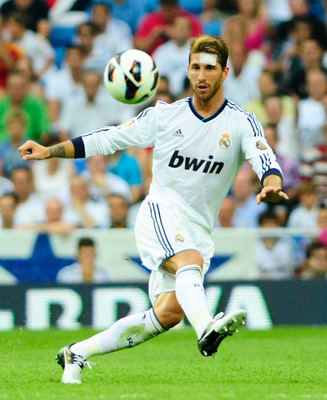 Gonzalo Arroyo Moreno/Getty Images
It was a hard choice deciding between Casillas and Ramos, but eventually I went with Ramos, thanks in part to his amazing season last year.
Already one of the premier right backs in the world, Ramos developed into the of the best centre backs in the world after he was moved there following an injury to Ricardo Carvalho.
Possessing an incredible motor to go with a dominating aerial presence and keen attacking senses, Ramos has truly developed into a complete player and great leader for Real Madrid.
Next in line to the captaincy spot, Ramos has the opportunity to become one of Real's true greats.
1: Cristiano Ronaldo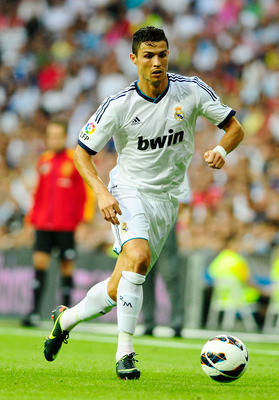 Gonzalo Arroyo Moreno/Getty Images
A real no-brainer here, as Cristiano Ronaldo is either the best or second best player in the world.
With a combination of searing pace, unrivaled shooting ability, amazing footwork and aerial dominance, there is simply nothing Cristiano Ronaldo can't do on the football field.
After a world record transfer fee brought him to Madrid three years ago, Ronaldo has made that fee seem like chump change with game winning performance after game winning performance. During his time at Madrid, Ronaldo has compiled an unbelievable scoring record of 150 goals in 140 games.
Despite losing out on the Pichichi to Lionel Messi, last season was arguably his finest ever as he continues to go from strength to strength in Madrid colors.
With Madrid on the hunt for that elusive tenth Champions League title, Cristiano Ronaldo will undoubtedly be the most important player for Madrid if they are to achieve it.
Keep Reading

Real Madrid: Like this team?