Projecting the Houston Texans' Final 53-Man Roster After Preseason Week 2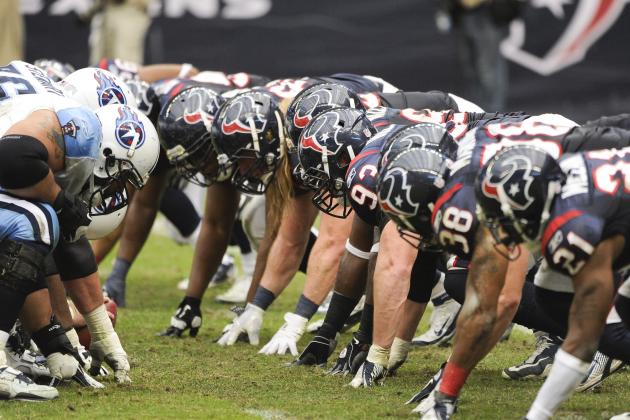 http://nfltexans.files.wordpress.com/2012/01/team_lineup.jpg
It's incredible how two preseason games can change so much on a team's roster. In the span of eight days, or since my last final roster prediction, there have been some major changes on the Texans' roster.
Trindon Holliday has went from being on the bubble to being a fan favorite with his two electrifying return touchdowns.
The faith Wade Phillips put in Alan Ball as a viable backup for Kareem Jackson seems to be null now, as Ball has been picked on repeatedly by opposing teams in the preseason.
Kareem Jackson has shown that he may be vastly improved from years past, and that he can actually be a reliable defender for the Texans.
Keshawn Martin and Lestar Jean have proven that they can be play-makers, and that they have the potential to produce for the offense.
Now, let's see how these changes have affected my prediction for the Texans' final 53-man roster.
Follow me on Twitter: @MattGoldstein5
Begin Slideshow

»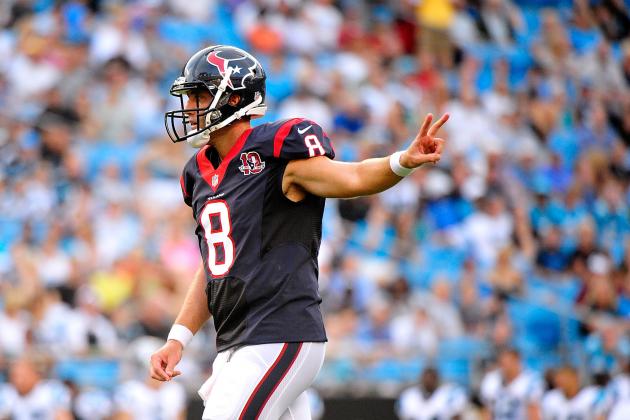 Grant Halverson/Getty Images

The only competition that can be debated with the Texans' quarterbacks is the battle between Case Keenum and John Beck for the third string quarterback job.
Matt Schaub and T.J. Yates clearly have a stranglehold on the starting and backup jobs, therefore putting the final two quarterbacks on the Texans in a constant battle for the last spot on the roster.
After two preseason games, the odds seem to be in Keenum's favor. Not only would it greatly upset the fans for him to be cut, but the former University of Houston star has actually exceeded expectations in the preseason so far.
Keenum has shown impressive poise in the pocket for an undrafted rookie that is very unfamiliar with a pro-style offense, and he has displayed nice touch on his throws—including a beauty to Logan Brock in the fourth quarter of the game against the San Francisco 49ers.
While Beck has done nothing to decrease his standing in the competition, it would make sense for Gary Kubiak to go with Keenum's potential over Beck's age.
Starter: Matt Schaub
Backup: T.J. Yates
Third String: Case Keenum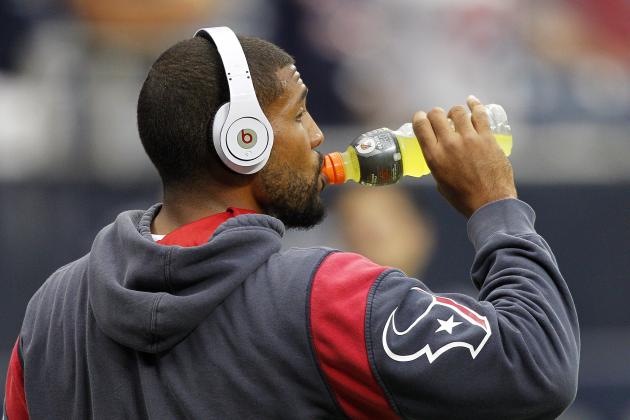 Bob Levey/Getty Images

Once again, the only drama with the Texans' halfbacks is with who will win the third string job, as Arian Foster and Ben Tate obviously have the starter and backup jobs locked up, respectively.
This competition, however, is nowhere near as close as the one for the third string quarterback.
Justin Forsett, Jonathan Grimes and Davin Meggett will all be battling throughout the preseason to make the roster as the team's final halfback, yet this is Forsett's job to lose.
Forsett has veteran experience over the two undrafted backs, and his skill-set is perfectly made for him to succeed in the Texans' zone blocking scheme. He has great vision, allowing him to locate the perfect hole to cut through, and his one-cut ability is akin to what Foster has utilized to make him one of the best backs in the NFL.
Forsett also throws in a nice change-up in the Texans running back core because both Foster and Tate are bruisers, while Forsett, with his smaller frame, tends to take advantage of his speed and agility to get past defenders.
The halfback who has averaged 4.3 yards-per-carry throughout his career should end up as the Texans third string back.
Starter: Arian Foster
Backup: Ben Tate
Third String: Justin Forsett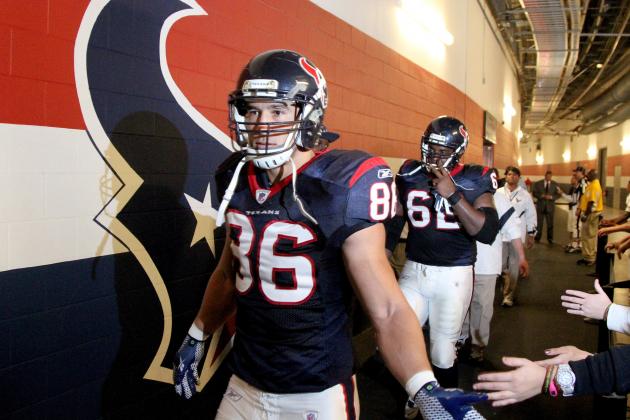 Thomas B. Shea/Getty Images

With James Casey being asked to play a dual-role as a pass-catching tight end this season, the Texans will need to add another fullback to the roster, much like they did with Lawrence Vickers, now a member of the Dallas Cowboys, last season.
The battle for this fullback roster spot is being fought out in a true veteran versus youngster style. Moran Norris, the 12-year pro, is competing with Derrell Smith, a converted linebacker who will be playing fullback for the first time in his career.
While Smith has shown more athleticism and versatility in the passing game so far, the Texans need a bruiser to backup Casey.
Casey is not as effective in short yardage and goal line situations, so the Texans would prefer to keep the fullback that can take advantage of his physicality and blow up holes for the team's running backs.
Norris is that guy, and he's been doing that his whole career. The Texans will likely go with the vet in this situation.
Starter: James Casey
Backup: Moran Norris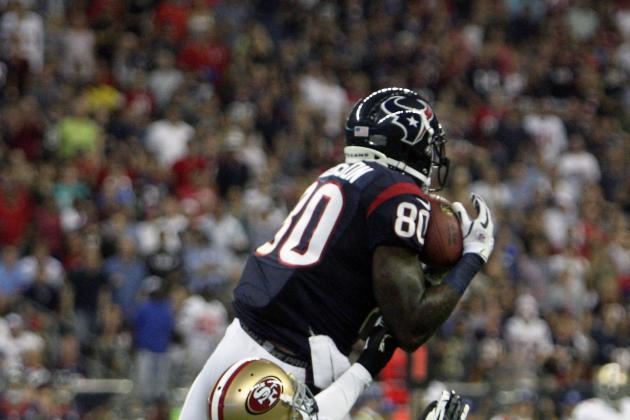 Bob Levey/Getty Images

The wide receivers have been and will continue to be one of the most closely followed positional units on the Texans.
Not only is there a glorious battle brewing between Keshawn Martin and Lestar Jean for the third receiving job, but Trindon Holliday is also managing to give Gary Kubiak and his coaching staff headaches.
It is Kubiak's philosophy that return specialists should never be kept on a team's final roster, and that those players must also be able to contribute to the team in some other fashion.
Kubiak also put out at the beginning of training camp that he would prefer to only keep five wide receivers, and those slots seemed to be locked up by Andre Johnson, Kevin Walter, Martin, Jean and DeVier Posey.
Holliday, however, has returned two touchdowns in two consecutive games, and it is becoming more and more apparent that Kubiak will have to break two of his philosophies before roster cuts.
The threat Holliday poses in the return game, as well as his ability to put the offense in good field position, can actually be vital to the team's success in the regular season. It is time for the Texans to have a true returning weapon, and it is extremely likely that Holliday will be kept on the final roster.
As far as the battle between Martin and Jean goes, it is truly a toss-up. Both receivers have impressed so far in the preseason, but I'll go with Martin for now, as he has had his success against first team defenses, as opposed to Jean, who has played against second and third team defenses.
Starters: Andre Johnson; Kevin Walter; Keshawn Martin (slot)

Backups: Lestar Jean; DeVier Posey; Trindon Holliday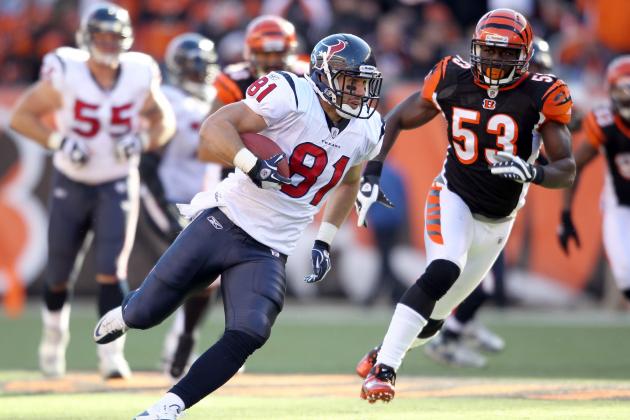 Andy Lyons/Getty Images

With James Casey playing a part-time role as a tight end, it is not necessary for the Texans to keep more than three on their roster.
Owen Daniels, a Pro Bowler, has the starting job locked up, and Garret Graham's solid performance in the first preseason game could be enough to prove that he can possibly replace Joel Dreesen, who currently plays for the Denver Broncos.
Therefore, Logan Brock and Phillip Supernaw will be competing for the final roster spot at the tight end position. While both Brock and Supernaw are about equal in their pass-catching abilities, Brock has proven to be the more experienced blocker.
Since the Texans' offense orbits around the running game, it would make much more sense to keep Brock over Supernaw.
Starter: Owen Daniels
Backups: Garret Graham; Logan Brock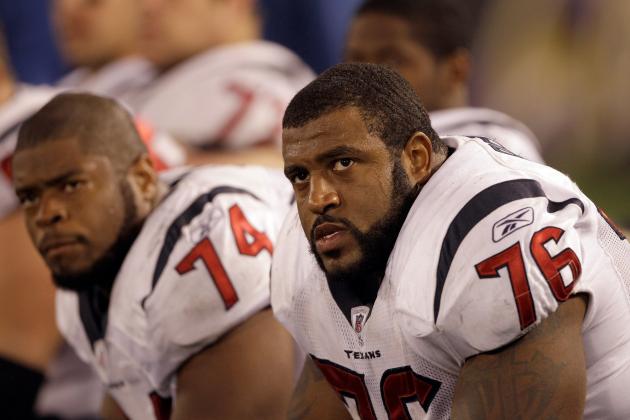 Rob Carr/Getty Images

The right side of the offensive line has produced some of the most competitive and intense positional battles in training camp and the two preseason games.
Antoine Caldwell, Rashad Butler, Derek Newton and Brandon Brooks have all been giving every last ounce of their strength to win the starting job at their respective positions.
In terms of how they have fared, the four linemen have played relatively equal to each other. Brooks and Newton, however, have been more prone to the mistakes that younger and more inexperienced players are bound to make. They have been slightly better in pass protection than their competitors though.
Butler and Caldwell have been very consistent blocking in the zone scheme, and they have been much more blunder free than the younger players trying to take their jobs.
Gary Kubiak tends to go with experience in close battles, and he will likely choose Butler and Caldwell in this one, unless one or both of the younger linemen manage to significantly step up their game.
Starters: Duane Brown (LT); Wade Smith (LG); Chris Myers (C); Antoine Caldwell (RG); Rashad Butler (RT)
Backups: Brandon Brooks (G); Derek Newton (T); Ben Jones (C); Nathan Menkin (T)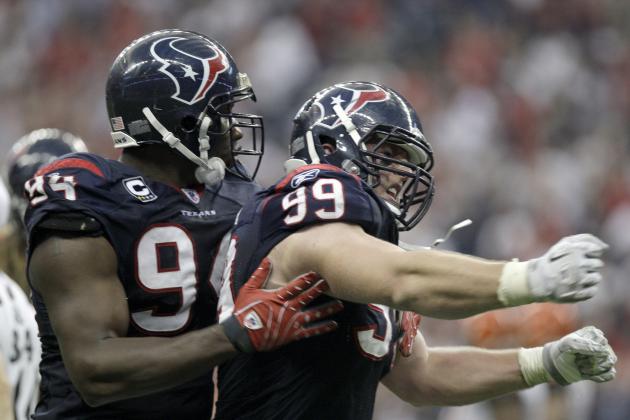 Thomas B. Shea/Getty Images

The defensive line is probably the most cut and dry positional unit to predict the final roster for.
There are no competitions currently ongoing on the defensive front, and the starters and backups can feel relatively safe where they stand.
The true story for this unit is how quickly their injured starters will be able to return to the team. J.J. Watt, the Texans' young stud defensive end, is currently nursing a dislocated elbow, but he is expected to be ready to play before Week 1.
Nose tackle Shaun Cody, who is rehabbing his lower back, is also expected to be healthy before the opening kickoff, which is great news for the Texans after their run defense performed poorly against the 49ers with the two starters missing.
Starters: Antonio Smith (DE); Shaun Cody (NT); J.J. Watt (DE)
Backups: Tim Jamison (DE); Earl Mitchell (NT); Jared Crick (DE)
Jamie Squire/Getty Images

The Texans linebacking corps can most likely be ranked as the best in the AFC South, and also as one of the best in the whole AFC.
Despite losing Mario Williams and DeMeco Ryans during free agency, the Texans still return some of the most talented, athletic and young linebackers in the NFL.
Brian Cushing, the team's leading tackler from last season, will be expected to take on more of a leadership role this season, but he will also have assistance from newcomer Bradie James in that department.
Connor Barwin and Brooks Reed will both look to build off of excellent breakout seasons, where they both significantly contributed to the Texans' vaunted pass rush.
The Texans also drafted Whitney Mercilus in the first round of the NFL Draft to help contribute as a pass rusher off the edge. Mercilus led the NCAA in sacks (16) and forced fumbles (nine) last year.
As far as competitions go in this deep group of linebackers, there are virtually none. Brian Braman and Jesse Nading, though, will both be competing to make the team's final roster. I personally give the edge to Braman in that battle due to his extreme success in special teams.
Starters: Connor Barwin (OLB); Brian Cusing (ILB); Bradie James (ILB); Brooks Reed (OLB)
Backups: Whitney Mercilus (OLB); Tim Dobbins (ILB); Mister Alexander (ILB); Brian Braman (OLB)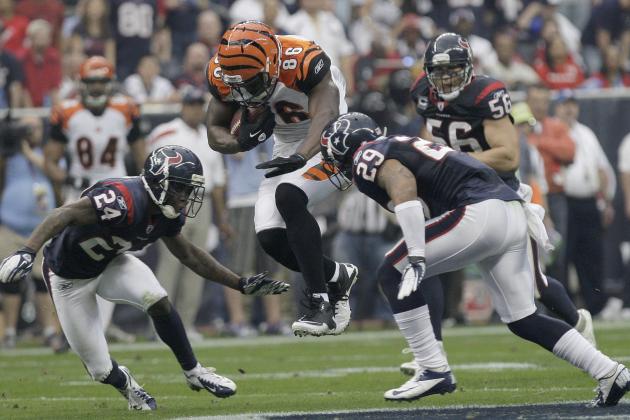 Thomas B. Shea/Getty Images

In my previous 53-man roster prediction, I wrote about how volatile the depth was at cornerback for the Texans. Kareem Jackson, Brandon Harris, Roc Carmichael and Sherrick McManis all still remain as unproven players behind Johnathan Joseph and Brice McCain.
However, much has changed. Jackson and Harris, both of whom were high draft selections, have impressed so far in preseason.
Jackson has consistently been turning his head and locating the ball in mid-air, something he has had great difficulty doing in previous seasons. If Jackson can drastically improve from his play last season, then the Texans' cornerbacks can be a major asset to the "Bulls on Parade" pass rush that likes to get after the quarterback fast.
Harris has also shown dramatic improvement this preseason as well. His coverage skills appear to be much improved, and there have been several instances where he has prevented big plays by pretty much being on top of the man he was assigned to cover.
The outlook for the Texans' cornerbacks this season, as a whole, has went from being bleak to hopeful in the course of just two preseason games.
Starters: Johnathan Joseph; Kareem Jackson
Slot Corners: Brice McCain; Brandon Harris (backup to McCain)
Backups: Sherrick McManis; Roc Carmichael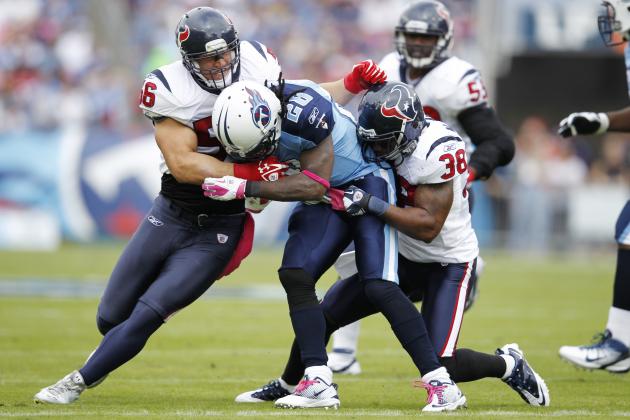 Joe Robbins/Getty Images

While some have indicated that the depth at the safety position could become a major issue if Danieal Manning succumbs to injury, that, quite frankly, is simply not true.
When Manning broke his leg last season, his replacements of Quintin Demps and Troy Nolan did their best to make sure that his absence was hardly noticed. Glover Quin Jr., the starter opposite of Manning in the secondary, also stepped up his play to make up for the missing star.
Both Demps and Nolan showed that they could be dependable backups last season, therefore proving that the Texans' depth at safety is far from sketchy.
Nolan also turned in an impressive play this preseason when he ripped the ball out of the hands of Carolina's Seyi Ajirotutu for the incredible interception.
If Manning can stay healthy, he is an excellent play-maker, and he certainly makes the Texans a better football team.
There are virtually no competitions going on within the safety unit, and the roster here is pretty much set in stone.
Starters: Danieal Manning (SS); Glover Quin Jr. (FS)
Backups: Quintin Demps; Troy Nolan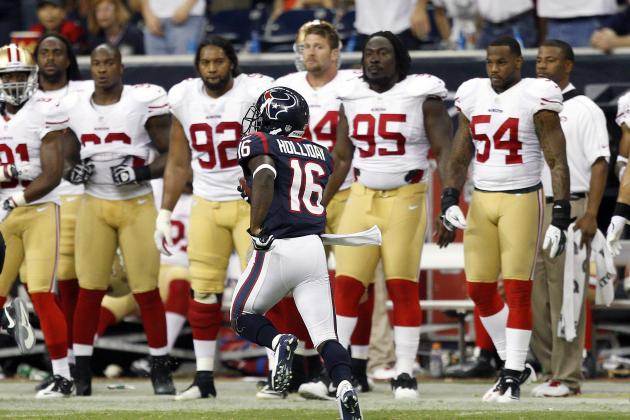 Bob Levey/Getty Images

The kicking competition between Randy Bullock and Shayne Graham is one of the intense battles by far on the Texans.
Bullock and Graham have no defined lead over each other, as both have performed relatively equal in training camp and the preseason so far.
Graham, however, had an impressive performance versus the San Francisco 49ers, and while that may have given him a slight edge in the battle, the war is far from over.
Graham booted in two long-range field goals, one from 48 and the other from 49, proving that he can be much more than just an extremely accurate short and medium range kicker.
Gary Kubiak tends to go with the vet in close battles, as mentioned before, so if Bullock cannot distance himself away from Graham in the competition, then the veteran just may come out victorious.
Kicker: Shayne Graham
Punter: Donnie Jones
Punt and Kick Returner: Trindon Holliday
Long Snapper: Jonathan Weeks