Are the Atlanta Hawks a Playoff Team Without Joe Johnson?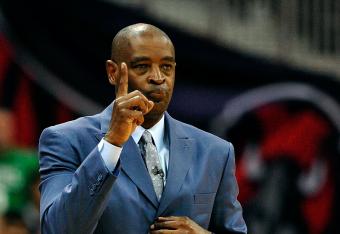 No, no. Not quite No. 1, but we'll grant you No. 5—again.
Grant Halverson/Getty Images
The Atlanta Hawks are now a team in transition.
Gone is perennial All-Star shooting guard Joe Johnson; in are a plethora of useless role players in a move that was done to clear cap room.
But the question remains: Can they be a top eight team in the East without the versatile swing man? Can the other Hawks adapt to the changes that will result from not having a guy who averages 20/5/5 on a regular basis?
For Johnson, the Hawks acquired Jordan Farmar, Johan Petro, Anthony Morrow, Jordan Williams and DeShawn Stevenson, as well as a first-round pick that is lottery protected in 2013.
The move removes a lot of talent from the Hawks, but they brought some in as well.
That's not to mention the fact that a lot talent still remains: Al Horford is a two-time All-Star. Josh Smith is a Defensive Player of the Year Candidate year in and year out. Jeff Teague is quickly joining that third tier of elite point guards and is backed up by Devin Harris, who has started throughout his career.
And they also acquired the Sixers' leading scorer from a year ago, Lou Williams, who should replace much of the scoring void left by Johnson.
They are, however, a team with some holes, make no mistake. At center, they essentially start a backup in the slow-footed and goofy Zaza Pachulia. Save Harris, the second unit doesn't offer much in terms of offensive talent.
There will be problems for the Hawks. But will it be enough to keep them from making the playoffs? In the Eastern Conference?
Probably not.
As it stands, the only teams I can say are definitely better than the Hawks are the Boston Celtics, Brooklyn Nets, Indiana Pacers and the Miami Heat. What that means, of course, is that the Hawks can not only make the playoffs but actually finish as high as fifth in the East.
The Bulls would be better if Derrick Rose were in the picture.
But there are other teams they must fend off. The 76ers are much-improved with the acquisition of Andrew Bynum, and the New York Knicks have long had the talent to pose a threat. Even the Toronto Raptors could be a sleeper team.
But really, it comes down to assessing the talent that the Hawks do have, and some of it is very good.
Jeff Teague has shown signs of being a fringe All-Star type, and Horford, while playing out of position most of his career, has shifted back to power forward. That should benefit him immensely, as he stands much closer to 6'8" than his listed 6'10".
If things come together for Hawks head coach Larry Drew, he could not only lead the team to the playoffs but also help them make some waves once they do. Their defense should remain strong behind the efforts of Horford and Smith, and their backcourt is as good as it is underrated.
It all comes together to make a team that has the potential to turn some heads, even if very few of those heads fill Philips Arena. Atlanta has never had the fanbase, but they have fielded teams competitive enough to draw fans. All in all, the Hawks remain a playoff team, just not the type to land home-court advantage.
But that isn't the question at stake here. I predict the Hawks win 39 to 45 games and finish fifth or sixth in the East.
In other words, the more things change, the more they stay the same.
This article is
What is the duplicate article?
Why is this article offensive?
Where is this article plagiarized from?
Why is this article poorly edited?

Atlanta Hawks: Like this team?