NBA: Who Starts for the Charlotte Bobcats?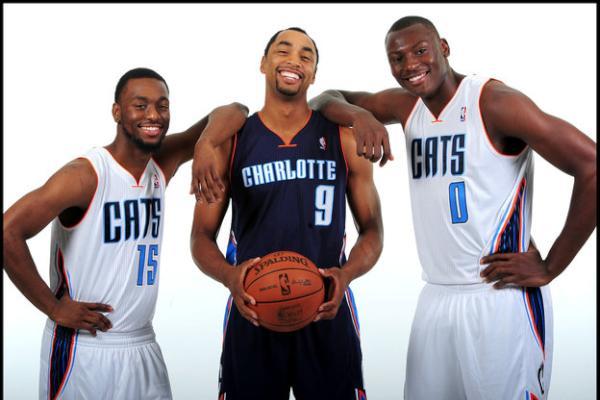 Photo via SLAMOnline
The Bobcats made NBA history during the 2011-12 season. And that's not a good thing.
After finishing with a record of 7-59 last season, Charlotte set an NBA record for the worst winning percentage ever (.106) and for the longest losing streak (23 consecutive games).
In short, the Bobcats are not very good.
Fortunately, an influx of fresh faces and some snazzy new uniforms have the organization excited for the future and ready to turn their fortunes around. The first step to doing this is winning some basketball games.
In order to do so, the Bobcats must start some games, which requires having a starting lineup.
So the question is, who will be in that lineup?
Begin Slideshow

»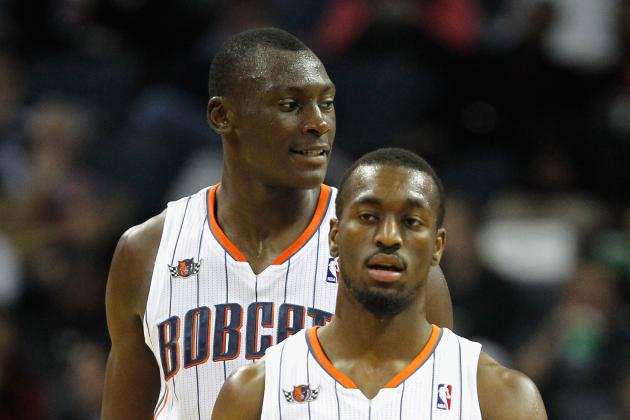 Streeter Lecka/Getty Images

After an underwhelming start to his career in Charlotte, D.J. Augustin departed in free agency for the figuratively greener pastures of Indiana. In his place arrived Ramon Sessions, who despite his excellent court vision, has struggled to land a consistent starting gig in the league.
Sessions' main issue is likely his defense (or, rather, his lack of it), as he struggles to stay in front of opposing point guards and seems to be without much lateral quickness. And while his outside shooting has improved, Sessions is no big threat from beyond the arc.
Kemba Walker, Charlotte's alternative option at the point, has struggled to carry his collegiate success over to the NBA, and though he did a decent job of filling up the stat sheet in his rookie season, his inconsistency remains a major issue.
Still, with a team focused so strongly on the future, Walker is the better choice to lead.
Not only is Walker four years younger than Sessions, but he also defends at a much higher level and is more capable of pushing the ball in transition.
Sessions has played well off the bench throughout his career, and considering the Bobcats' lack of depth, he should get plenty of opportunity to play alongside, as well as behind, Walker.
The Verdict: Kemba Walker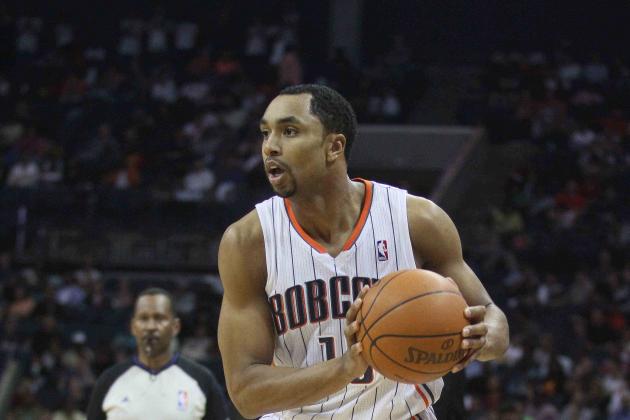 Jeremy Brevard-US PRESSWIRE

Gerald Henderson was one of the few bright spots for the Bobcats last season. In 55 games, the third-year guard averaged 15.1 points and 4.1 rebounds per game, leading the team in scoring, while showcasing a consistency that few other Charlotte players could match.
However, Henderson's starting role is in jeopardy heading into next season.
The newly acquired Ben Gordon may not have lived up to his contract in his last two seasons with the Detroit Pistons, but he brings to the table something Charlotte is in dire need of: shooting ability.
Henderson is a skilled scorer, but he is a dismal shooter from three-point range, and the Bobcats need a shooter in the backcourt to pair with the inconsistent Walker. While consistency isn't exactly Gordon's forte, he is a deadly three-point shooter who has shot over 40 percent from long distance throughout his career.
Gordon is no scoring slouch, either.
It wasn't too long ago that he averaged over 20 points per game with the Chicago Bulls, and it seems possible he could replicate those scoring numbers on a team as offensively challenged as the Bobcats.
Henderson should still get 30+ minutes per game, but a sixth-man role might be more reasonable for the Duke alum in 2012-13.
The Verdict: Ben Gordon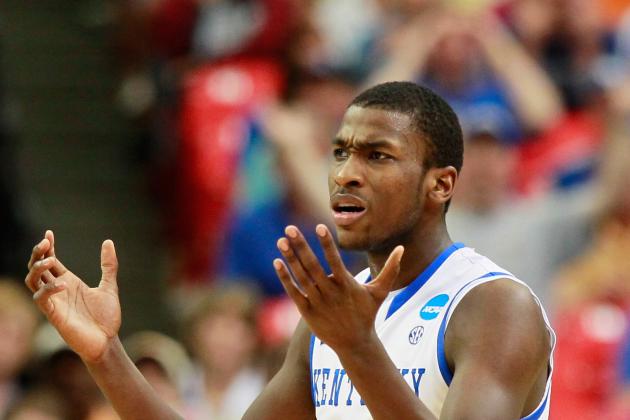 Kevin C. Cox/Getty Images

There's little doubt that Michael Kidd-Gilchrist should start for the Bobcats from day one.
MKG may be a rookie, but he's arguably already Charlotte's best all-around player, and his defensive intensity, leadership and hustle should be a major factor in the team's success going forward.
MKG might struggle with the burden of lifting the NBA's worst team ever back to relevance, but his work ethic should allow him to power through the challenge and set a good example for his teammates.
Furthermore, while the Bobcats are by no means a good team going into the 2012-13 season, an influx of players like Gordon, Sessions and draft pick Jeffrey Taylor should enable the team to at least achieve double digit wins this time around.
Taylor and Reggie Williams should compete for minutes behind MKG, but the Kentucky alum should have a clear advantage in this battle.
The Verdict: Michael Kidd-Gilchrist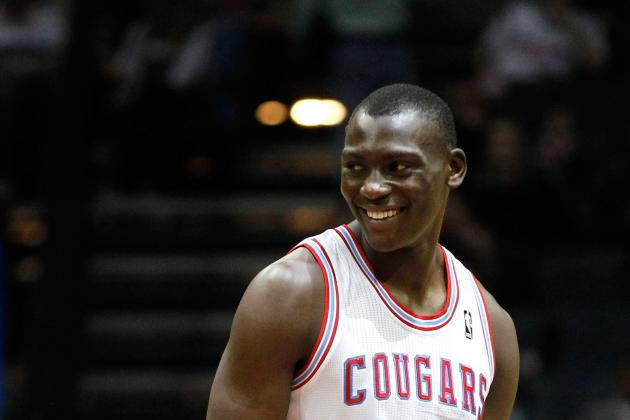 Streeter Lecka/Getty Images

The Bobcats have only two veritable options to start at power forward next season: Tyrus Thomas and Bismack Biyombo.
Byron Mullens spent some time at the four last season, but at 7'0" and 275 pounds, he's better suited to the center position.
Since beginning his career with Chicago, Thomas has been given plenty of chances to prove himself, but he has consistently failed to rise to the challenge. For a player once thought to have had great potential, he has shown little improvement throughout his career, to the point where last season was by far the worst of his career.
Biyombo certainly has his weaknesses (he can't shoot free throws, he has no post game and he is prone to mental errors), but he brings a consistent effort and intensity that Thomas cannot match. He is also a superior shot-blocker and athlete who managed to effectively guard some of the league's top big men during his rookie season.
Biyombo is still very raw and has his work cut out for him offensively, but coach Mike Dunlap can at least expect consistent effort from Biyombo, which is more than can be said for Thomas.
The Verdict: Bismack Biyombo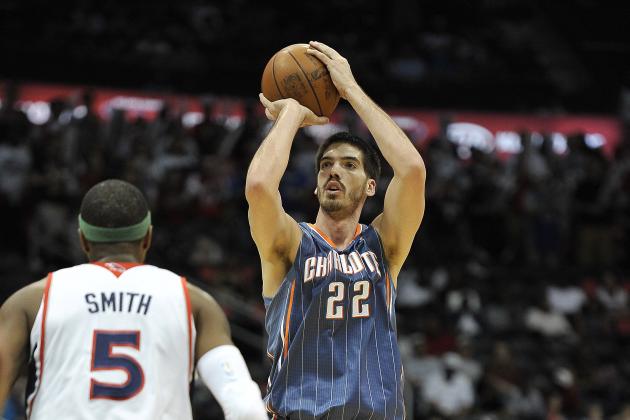 Paul Abell-US PRESSWIRE

The Bobcats managed to snag veteran center Brendan Haywood off of waivers this summer, a move that should have the primary benefit of keeping DeSagana Diop off the court.
The 32-year-old Haywood likely has only a couple of seasons left in the tank, and his production has decreased significantly from his prime days in Washington. Despite starting 54 games for the Mavericks last season, Haywood averaged just 5.2 points and six rebounds per game.
Haywood still defends the rim effectively, and his size should be a valuable tool in allowing Charlotte to match up against teams like Philadelphia and Washington.
However, the Bobcats would be best suited to start Byron Mullens at center next season.
Mullens averaged 9.3 points and five rebounds per game last season, while proving to be the only big man in Charlotte capable of consistently putting up points. Mullens does this in a variety of ways, as his shooting range grants him an offensive versatility his fellow Bobcat frontcourt mates lack.
Mullens isn't an outstanding rebounder or defender, but the Bobcats can use any help they can get offensively. Mullens is a legit seven-footer, and his strengths should contrast well with Biyombo's.
At just 23 years old, Mullens still has room to grow and could turn into a Mehmet Okur type of player if given consistent minutes to produce.
The Verdict: Byron Mullens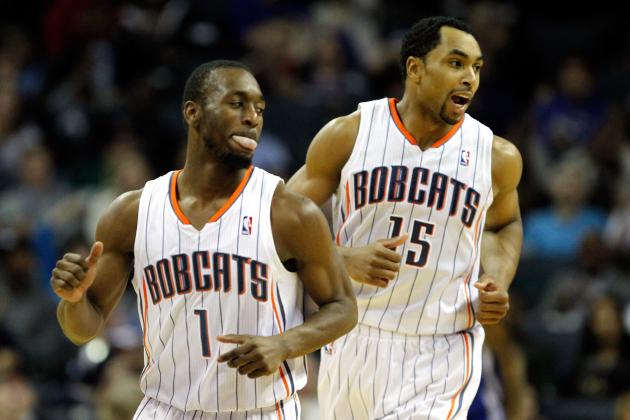 Streeter Lecka/Getty Images

To recap, the Bobcats' starting five should look like this next year:
PG: Kemba Walker
SG: Ben Gordon
SF: Michael Kidd-Gilchrist
PF: Bismack Biyombo
C: Byron Mullens
While it's likely that some teams have better second units than the Bobcats' first unit, at least Charlotte can boast some interesting names on the backs of their new jerseys. And with Sessions, Henderson, Williams, Thomas and Haywood ready to come in off the bench, this Charlotte roster is a clear improvement over last year's nightmare squad.
Things are looking up for the Bobcats. Kind of.