It's Far Too Early to Take These 5 NFL Preseason Stories Seriously
Russell Wilson has looked great this preseason, but will it continue to the regular season?
Otto Greule Jr/Getty Images
Although its format has been heavily debated and criticized, the NFL preseason provides a delicious appetizer for football fans before they're able to enjoy the main course known as the regular season.
However, there are always stories in every preseason that cause fans to go against their better judgment and rush to conclusions.
Whether it's an established, explosive offense getting off to a sluggish start in the preseason or an unproven rookie getting off to a scorching start, people often take preseason news too seriously for it being so early in the year.
The preseason is now halfway over, and the regular season is just two weeks away. It's far too early to draw conclusions at this point of the NFL season, but let's take a closer look at five preseason stories being taken too seriously.
5. William Powell, Cardinals RB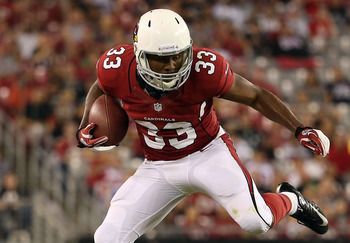 Powell has scored a TD in each of Arizona's past two preseason games.
Christian Petersen/Getty Images
William Powell, a running back from Kansas State who was undrafted in 2011, is currently leading the NFL in rushing yards this preseason.
After a solid showing in the Hall of Fame Game against New Orleans, in which he ran for 31 yards on 10 carries to go along with three catches, Powell has exploded onto the scene in the Cardinals' past two games.
He ran for 91 yards and a touchdown on just nine carries against the Chiefs before adding another 37 yards and a score against the Raiders.
Powell has been a pleasant surprise for Arizona this preseason, but his league-leading 159 rushing yards are inflated due to being on one of only two teams to have played three preseason games thus far.
With uncertainty surrounding Beanie Wells, Ryan Williams and the running back position, Powell could find a role with the team.
Just don't rush to conclusions following an impressive run in three exhibition games.
4. Atlanta's Aerial Assault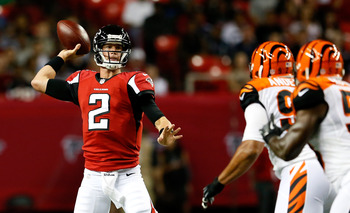 Atlanta's offense has been explosive this preseason. But it's only preseason.
Kevin C. Cox/Getty Images
After selecting Julio Jones in the 2011 NFL draft, it was only a matter of time before the Falcons had one of the most imposing one-two punches at wide receiver in the entire league.
Now that it appears Jones has taken the next step in his development, he and Roddy White figure to give opposing defenses nightmares in 2012. If the preseason is any indication, the Falcons' offensive philosophy may be undergoing a slight change as well.
In Atlanta's first game against Baltimore, the Falcons threw 43 passes compared to just 21 runs, and in their second game, they threw 57 passes and ran the ball just 18 times.
So sure, with two stellar receivers on the outside and an emerging young quarterback, the Falcons may soar to new heights in 2012. However, it's highly unlikely that they'll abandon the running game in the regular season like they have in the preseason.
Ryan and Jones both appear to be headed for breakout seasons, but be sure to have reasonable expectations. The Falcons won't throw the ball as much as they have in the preseason thus far.
3. Green Bay's Offensive Struggles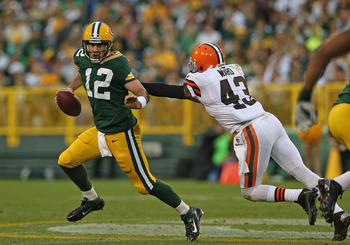 The Packers haven't shown their 2011 form, but they will.
Jonathan Daniel/Getty Images
Before the season, the questions surrounding the Green Bay Packers were on the defensive side of the ball. However, with two unimpressive preseason games now in the books, several day-trading and booger-eating football fans are questioning the Packers offense.
The Packers offense set the bar extremely high following a record-breaking 2011 season, but MVP Aaron Rodgers and the offense have yet to find their stride in the preseason.
Rodgers completed just two of his eight passes for 16 yards and an interception in the team's preseason opener in San Diego, but he was far better this past week against Cleveland, connecting on six of 11 passes for 59 yards and a touchdown.
News flash for the rest of the NFL: Don't worry about a sluggish preseason. The Pack will be back in 2012.
In both of the Packers' two exhibition games, the team has been without starting left tackle Marshall Newhouse, No. 1 receiver Greg Jennings and starting tight end Jermichael Finley. If this offense is anything short of spectacular yet again in 2012, it would be an utter shock.
2. Travaris Cadet, Saints RB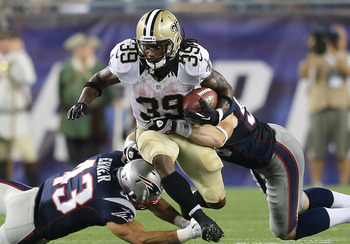 Cadet, a running back, is leading the NFL in receiving yards.
Jim Rogash/Getty Images
The New Orleans Saints boast one of the most feared offenses in all of football, and much of the credit goes to their high-flying air attack.
With a matchup nightmare in Jimmy Graham and several talented wide receivers on the outside, Drew Brees benefits from throwing to his check-down receivers with room in the open field.
Running back Darren Sproles ran the ball 87 times for 603 yards last season but caught 86 passes for 710 yards. Sproles was more effective as a receiver than as a between-the-tackles running back.
That trend seems to be continuing throughout the preseason for Saints RB Travaris Cadet. The rookie running back is leading the NFL in receiving yards this preseason with 171 yards on 19 receptions, compared to just 51 rushing yards on 18 carries.
The Saints clearly get a lot out of their running backs in the passing game, but their backfield is simply too deep for Cadet to make a serious impact this year. It's a good story, but the book will close in a couple weeks.
1. Rookie Quarterbacks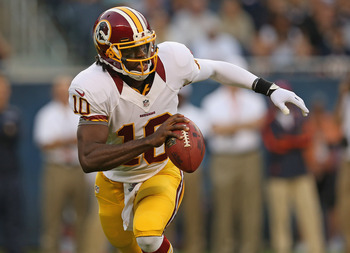 RG3 is special, but gaudy preseason numbers don't mean much.
Jonathan Daniel/Getty Images
Between Andrew Luck, Robert Griffin III, Ryan Tannehill, Brandon Weeden, Kirk Cousins and Russell Wilson, the NFL has certainly seen a handful of impressive performances from rookie quarterbacks this preseason.
Expectations for Luck and Griffin, as the first two picks in the draft, were much higher than those of Cousins and Wilson headed into the season, but each quarterback has flashed brilliance during the exhibition season.
Cousins had a dreadful preseason debut, but he was almost perfect in the team's second preseason game against the Bears, completing 18 of 23 passes for 264 yards and three touchdowns.
Wilson is a combined 22-of-33 for 279 yards and three touchdowns in two games, while Weeden is coming off an impressive 12-of-20 showing against the Packers.
Rookie quarterbacks have been successful thus far in the preseason, but it's far too early to expect their first NFL seasons to be a smashing success. Once the pressure increases and the lights get brighter, these rookies will suffer their fair share of bumps and bruises.
Keep Reading