West Virginia Football: Paul Millard Officially the Backup Quarterback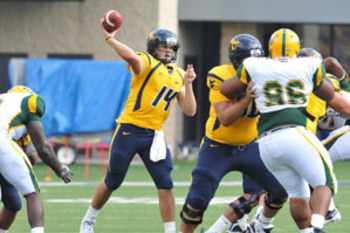 Photo credit: wvusports.com
It's now official. In a new roster released by the coaches to WVMetroNews.com, Paul Millard is listed as the backup quarterback as reported here last night.
In the final two days of fall camp, Millard played strictly with the first team in the absence of Geno Smith. He was already listed number two on last week's depth chart. The final two practices were sink or swim time.
He swam. Not so much the first day, but by day two, he was earning praise from all those around him—most importantly QB Coach Spavital, but also his receivers.
Paul Millard's first season as a freshman backup QB was unimpressive, to say the least. Playing in a mop-up role for Coach Holgorsen does not mean go in, hand the ball off and eat up the clock. If you're playing offense for Holgs, you try to score.
As Coach Bobby Bowden contended in his heyday, it was not his job to stop his players from scoring. That was the other team's job. Holgorsen apparently agrees.
So while appearing in four games during his freshman year, that's what he immediately tried to do. The results were less than stellar.
He completed 7 of 15 passes for 124 yards and one touchdown. Millard also tossed two interceptions, one of them leading to a Clemson touchdown in the Orange Bowl. He was replaced immediately.
After an intense fall preseason in which star QB Geno Smith was absent from the last two practices, Millard seized the opportunity to show off what he had learned.
The following are quotes from coaches and players regarding his performance.
Number Two According to Coach Spavital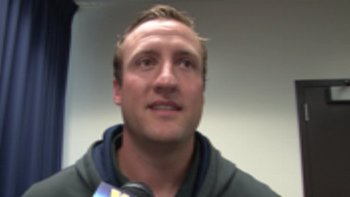 Photo credit: wvillustrated.com
Scott Grayson of West Virginia Illustrated quoted QB Coach Jake Spavital as saying,"It's been good for him." "We have put him in a lot of crazy situations and a lot of crowd noise and a lot of tempo situations to make him think and make him start dispersing the ball around".
Coach Spavital also told Grayson that Millard took charge of the first team offense.
Spavital stated that the first day of practice was a little rough but that Millard was much improved the second day. It apparently took until the second day of practice with the first team to rebuild Millard's confidence.
His teammates were a big help with that.
"It helps out, Millard stated to Grayson. You want guys believing in you out there. You don't want to go out there and have guys start slowing down on things and now playing for you. You want to go out there and have all 10 guys behind your back and playing for you."
Support from Teammates Is Huge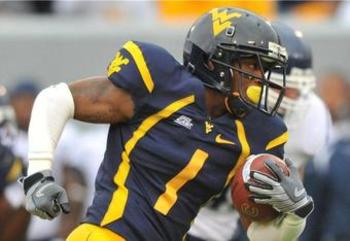 Photo credit: BleacherReport.com
Millard's teammates also had words of encouragement for the sophomore backup.
"You heard Tavon and Stedman out there going come on Paul, we believe in you and all of that," Spavital said to Grayson.
Millard was obviously encouraged by the support of his top receivers. He said he didn't want the receivers thinking they had to slow down just because he was the Quarterback.
J.D. Woods also expressed his support to Grayson. "Paul has been great in practice, and I think his confidence level is up, Woods said. We need to have that type of depth in this conference."
Millard told Grayson,"The more you rep, the more things slow down. When you are seeing defenses, things start opening up for you because you know what you are looking for. I think I have definitely improved in that category."
Building Self Confidence the Best Way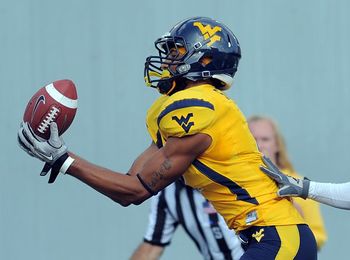 Photo credit: WVMetroNews.com
Brian Kuppelweiser for WVUSports.com also reports Coach Spavital as saying, "Paul is to the point where he is not just communicating the play and handing the ball off. He is doing all of that plus he is reading the defense. He is trying to find what is best for the offense.
He has made a lot of strides. With Geno gone the past couple of days, these practices have been very beneficial to him."

Millard also told Kuppelweiser, "I learn from making mistakes and from doing something successful. You don't want to repeat the mistakes, but you want to make sure you do the good things over and over again. It is a learning process. Good things, bad things, you learn from them all".
Millard also touched on his Orange Bowl interception. "That was a pretty simple mistake. We were running all verticals, and I just didn't look off the safety. If I would have done that, it probably would have been successful."

When asked about being the starter next year after Geno graduates, he told a gathering of reporters, including Scott Grayson of West Virginia Illustrated, "I am just getting ready for the season. I am just focused on 2012 and getting out there and playing. I want to get out there and play at a high level."
That brought out a nod and smile from Coach Spavital. You can't get too many of those.
Paul Millard has officially been named the backup quarterback in a depth chart released by WVU today.So the backup job was not "given" to him. He took it! I say he earned it. What say you?
Comments and debate as always with this writer, are welcome and appreciated!



Keep Reading

WVU Football: Like this team?