Ranking Dwight Howard-Pau Gasol with Top 10 Big-Men Combinations in the NBA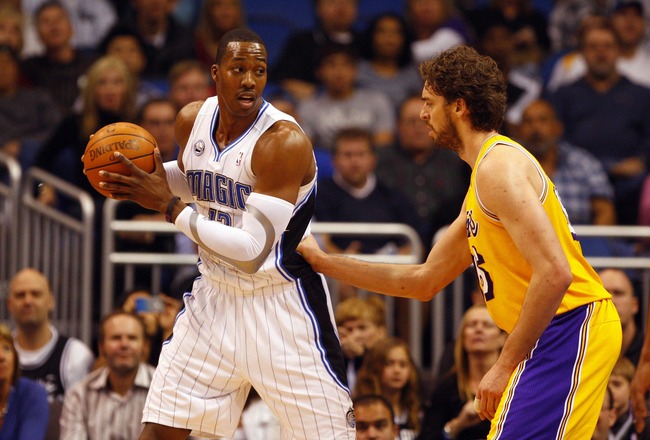 Kim Klement-US PRESSWIRE
Dwight Howard and Pau Gasol have joined forces on the Los Angeles Lakers, but they don't make up the only top-tier combination of big men in the NBA. Plenty of other duos can at least give them a run for their money.
To be eligible for these rankings, a duo must be composed of a power forward and a center. Moreover, at least one of the players must be playing his natural position.
Don't expect to see the LeBron James-Chris Bosh pairing, even if the Miami Heat do use them at power forward and center, respectively. LeBron has always been considered a small forward and Chris Bosh a power forward.
At this point, you know that Dwight and Pau will be featured prominently in the rankings. Who else will join them?
Read on for the rankings of the top 10 big-men combinations in the NBA and four honorable mentions, which are sorted in alphabetical order and not ranked.
Honorable Mentions
Even Kevin Garnett wants Brandon Bass to back off and stop holding him back.
Mark L. Baer-US PRESSWIRE
Boston Celtics: Brandon Bass and Kevin Garnett
Kevin Garnett is still a great player, but his advancing age and the fact that Brandon Bass is his partner here leave the Boston Celtics duo just out of the top 10.
Bass can hit mid-range jumpers consistently enough to look like a valuable contributor. However, he still struggles to make an impact elsewhere.
Brooklyn Nets: Kris Humphries and Brook Lopez
Kris Humphries and Brook Lopez complement each other perfectly. While Humphries has the toughness and rebounding under control, Lopez can handle the offensive load.
That said, they can't work their way into the top 10 until Lopez proves that he at least understands what the word "rebound" means without Googling it. He is a max-contract center after all.
Golden State Warriors: David Lee and Andrew Bogut
Just like Humphries and Lopez, David Lee and Andrew Bogut complement each other quite nicely. Lee's offensive game and Bogut's defensive prowess will mesh together well once they develop some chemistry.
However, until Bogut shows that he can stay injury-free and out of street clothes for any prolonged period of time, the Dubs are doomed to honorable mention status.
Phoenix Suns: Luis Scola and Marcin Gortat
Luis Scola and Marcin Gortat might possess the talent necessary to squeeze into the top 10, but two things are standing in their way: chemistry and Steve Nash.
The two aren't skilled enough to pull a Dwight Howard and overcome the fact that they've never played together. Moreover, it's uncertain just how well Gortat will play when Nash isn't feeding him the ball and creating easy opportunities for the center.
10. Los Angeles Clippers: Blake Griffin and DeAndre Jordan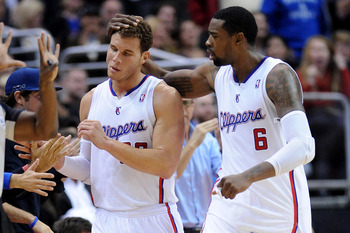 Just look at the love between DeAndre Jordan and Blake Griffin.
Jayne Kamin-Oncea-US PRESSWIRE
DeAndre Jordan still has a lot of work left to do on his game.
Right now, the center is much more of an athlete playing basketball than a basketball player with great athleticism. There's a difference, and it's a significant one.
Jordan is a premier shot-blocker, but he often finds himself out of position and struggles accordingly. It might surprise you given his reputation, but Jordan allowed opposing centers to post a 20.2 PER against him during the 2011-2012 season, according to 82games.com.
If anything, his offense is underrated and his defense is overrated.
Speaking of overrated, Blake Griffin forms the other half of this dynamic Lob City duo.
No, I'm not calling him overrated; I'm merely acknowledging that the sentiment is quite prevalent among NBA fans.
I'm sure you've heard (or read), "Oh, all Griffin can do is dunk!" quite often during your time following The Association.
To that, I respond: "So what?"
Dunks are worth two points. Jump-hooks are worth two points. Mid-range jumpers are worth two points. Layups are worth two points.
Blake earns quite a few sets of two points. He's averaged over 20 points per game during each of his two seasons in the NBA. The manner in which he accumulates them is almost entirely insignificant.
Like it or not, Griffin is a truly elite power forward.
9. Indiana Pacers: David West and Roy Hibbert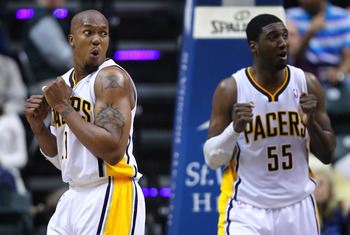 Apparently, David West and Roy Hibbert are quite excited about their placement.
Michael Hickey-US PRESSWIRE
The Indiana Pacers have a center under a max contract and a power forward just three seasons removed from an All-Star selection, yet they still come in at No. 9.
David West isn't the player that he was during the 2008-2009 season. He made that perfectly clear throughout his first campaign with the Pacers, averaging 12.8 points and 6.6 rebounds while playing solid but unspectacular defense.
The drop in playing time that he experienced didn't suit him well as he shot significantly worse from the field than he had during the past two seasons.
Then there's Roy Hibbert, the All-Star center who just cashed in.
While Hibbert is a tremendous defensive player, he's limited offensively and still manages to get by primarily on his massive frame.
Until these two develop more chemistry and Hibbert makes good on his offensive potential, they won't be able to move much higher.
8. Dallas Mavericks: Dirk Nowitzki and Chris Kaman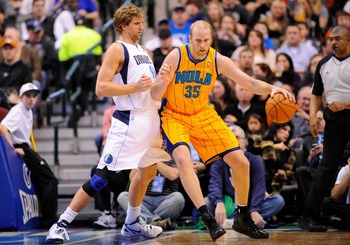 One of these players is much better than the other. I'll give you a hint: He's wearing white.
Jerome Miron-US PRESSWIRE
While the addition of Chris Kaman will surely help the Dallas Mavericks, the former New Orleans Hornet isn't enough to push either Dirk Nowitzki up in these rankings or the Mavs up the ladder in the Western Conference.
Kaman works nicely in the post and can finish around the basket with either hand, but he's a turnover machine when he's double-teamed. Additionally, he's an overrated defender.
If you match the center up against a power forward, he'll do just fine. However, match him up against a center, and you're in trouble. According to 82games.com, Kaman held opposing power forwards to a below-average 14.9 PER but allowed other centers to post 20.0.
He's a solid big man, but he's not particularly special.
Despite Kaman's shortcomings, Dirk Nowitzki is enough to guarantee the Mavericks placement in these rankings.
Even as his age continues to creep upwards, Dirk still retains his offensive capabilities. His flamingo shot is just as deadly as ever, and he'll continue to be one of the league's best offensive seven-footers.
7. Chicago Bulls: Carlos Boozer and Joakim Noah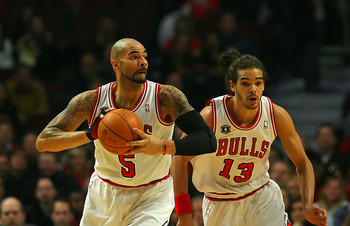 Carlos Boozer and Joakim Noah would win the "Interesting Hair" contest.
Dennis Wierzbicki-US PRESSWIRE
If this was a contest about intriguing hair, Joakim Noah and Carlos Boozer would only be competing with Ryan Anderson and Anthony Davis (and by Anderson and Davis, I totally mean just The Unibrow) for the top spot.
After all, the bald-and-beard combo of Boozer matches up perfectly with the scraggly beard and ridiculous ponytail donned by the former Florida Gator.
As for their actual basketball skills, the Chicago Bulls' frontcourt tandem falls back a little bit from that follicular competition for supremacy.
Noah is a sensational defender and rebounder. He has developing offensive skills and plays with as much effort as is humanly possible whenever he plants his oversized feet onto the hardcourt.
His partner in crime isn't playing at the same level at which he performed during his prime, but Boozer is still a valuable piece in the Chicago puzzle.
The power forward is a skilled offensive player who finishes plays incredibly well with his left hand and drills jumpers that seem to touch the rafters before reaching the top of their arcs.
He's also a much-maligned defender, although he doesn't deserve that reputation. Last season, according to 82games.com, Boozer allowed opposing power forwards to post a 17.3 PER against him.
Sure, he could use some work on that end of the court, but he's at least serviceable.
6. New York Knicks: Amar'e Stoudemire and Tyson Chandler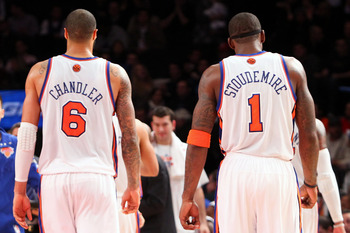 Amar'e Stoudemire and Tyson Chandler will be hoping to help the Knicks win more than just one playoff game.
US PRESSWIRE
It's quite easy to rank Amar'e Stoudemire and Tyson Chandler ahead of Carlos Boozer and Joakim Noah because each New York Knick offers an upgrade over his Chicago Bulls counterpart.
Despite his declining reputation and health, as well as the looming albatross of a contract, Amar'e is still an elite offensive player. He isn't the dunking machine that he once was, but Stoudemire can still fill up a box score in a hurry.
Of course, Chandler is fairly decent at playing defense, forming a nice complement to Stoudemire's offensive prowess. You know, seeing as he won Defensive Player of the Year and everything.
Neither one of these players is a franchise centerpiece at this stage of their careers. An argument could be made that Stoudemire once was worth building around while he was with the Phoenix Suns, but not at this point of his NBA life.
It's not the individual greatness that earns Stoudemire and Chandler a spot at No. 6, but rather their combined strengths.
5. Utah Jazz: Paul Millsap and Al Jefferson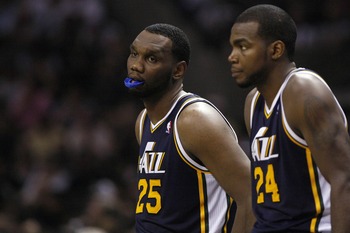 Al Jefferson and Paul Millsap make up the league's most underrated frontcourt.
Soobum Im-US PRESSWIRE
What Paul Millsap and Al Jefferson lack in size, they make up for in physicality and technique.
Millsap remedies his diminutive stature with constant energy and aggression, crashing the boards at all times. Jefferson isn't a great athlete and doesn't have as much energy, but he possesses some of the most beautiful fundamentals in the game.
Clearly it works for the Jazz. Millsap posted a 21.85 PER last season, while Jefferson's was 22.88.
Catch these two while you can though.
Both are set to become free agents after the 2012-2013 season and probably won't be paired together again thanks to the presence of both Enes Kanter and Derrick Favors on the bench.
4. Minnesota Timberwolves: Kevin Love and Nikola Pekovic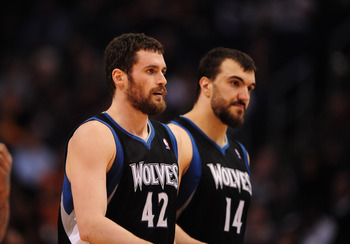 You know the man in the foreground. Get to know the one in the background.
Mark J. Rebilas-US PRESSWIRE
Don't be fooled into thinking that the Minnesota Timberwolves' duo ranks in such a lofty position solely because of Kevin Love.
The world's best power forward certainly has a lot to do with the Wolves landing at No. 4, but he's not alone in his efforts.
Nikola Pekovic has quickly blossomed into one of the more underrated players in the league and should continue to thrive in the Minnesota frontcourt as long as he can cut back on some of the fouls.
With his sheer physicality and willingness to take a backseat in the scoring department, Pekovic is on the fast track towards the elite tier of NBA centers. He should have won Most Improved Player last year and may very well draw some consideration during the 2012-2013 season.
Between Pekovic's bruising nature and Love's shot from the outside, Minnesota has a fearsome one-two punch in the frontcourt.
3. Atlanta Hawks: Josh Smith and Al Horford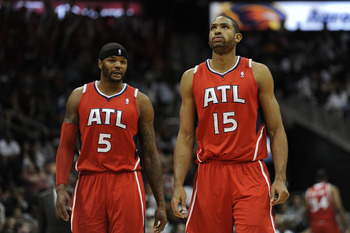 Josh Smith and Al Horford should compete for All-Star spots.
Paul Abell-US PRESSWIRE
Playing with a complete and utter contrast in styles, Josh Smith and Al Horford are now the undisputed faces of the Atlanta Hawks franchise following the departure of Joe Johnson.
While Smith prefers to play well above the rim—when he's not shooting ill-advised long jumpers—and shows off his athleticism at all times, Horford plays with mind-numbing technique and efficiency.
Horford is an All-Star-caliber player when healthy, while Smith has been snubbed a few times in his career.
Will this be the first year that both men make it to the All-Star squad?
Only time will tell, but the chances are good now that Johnson's scoring needs to be replaced.
2. Memphis Grizzlies: Zach Randolph and Marc Gasol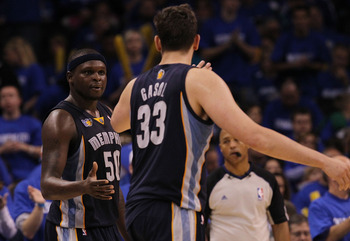 What this duo lacks in athleticism, it makes up for in size, technique and strength.
Ronald Martinez/Getty Images
As Marc Gasol continues to improve, so too does this terrifying combination of large bodies for the Memphis Grizzlies.
It won't be too long before Gasol has a legitimate claim to the coveted title of "Best Player in the NBA with Gasol as a Last Name."
In a league filled with lackluster true centers and power forwards masquerading as centers, Gasol's value to the Grizzlies is tremendous.
Joining him in the paint is Zach Randolph, who has completely turned his career around ever since joining his current squad.
Although Z-Bo missed the majority of last season with injuries, he's still a threat to put up 20 points and 10 rebounds on any given night. He may not be able to jump at all, but his footwork in the low post and his mid-range jumper are both simply sublime.
As balanced as Memphis' squad may be, this frontcourt still stands out.
1. Los Angeles Lakers: Pau Gasol and Dwight Howard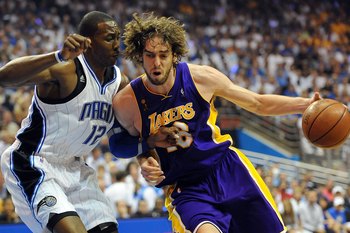 Even with Kobe Bryant on the roster, Los Angeles' strength lies in its frontcourt.
Ronald Martinez/Getty Images
Even without the chemistry that stems from time spent together, Pau Gasol and Dwight Howard form the league's top big-man combination.
Between the two, nearly every facet of the sport is covered.
Dwight is one of the league's top defenders and should compete with Serge Ibaka for Defensive Player of the Year. He's also an insane athlete capable of scoring on the blocks with remarkable ease.
Gasol, whose versatility has become his trademark, joins him in the frontcourt.
With his seven-foot frame, Gasol can play big or use his skill and finesse to spread the defense out and knock down perimeter shots.
Last season brought about an end to Gasol's three consecutive All-Star appearances, but he should be right back in contention for a spot in the midseason festivities. Dwight is all but a lock to make it to Houston and have a chance to show off in a Western Conference jersey for the first time.
While the gap between these two and the rest of the league's top combos might shrink in coming years—assuming that Howard returns to L.A. after his first season there—Howard and Gasol still have a sizable lead at the moment.
Keep Reading