Interviews from WWE SummerSlam 2012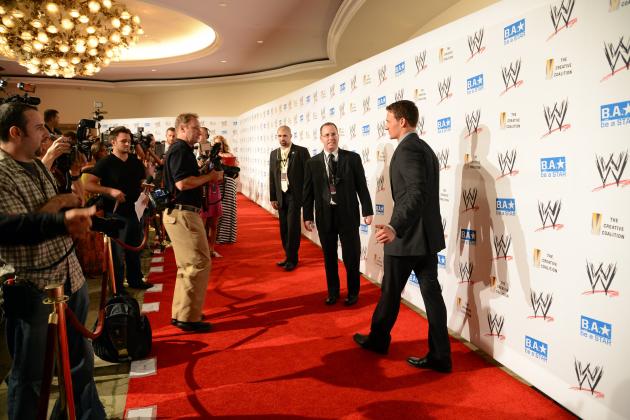 Jason Merritt/Getty Images

This year I attended WWE festivities leading up to the 2012 edition of SummerSlam. I had the opportunity to speak with many WWE superstars and celebrities and received some interesting, newsworthy tidbits. Among those interviewed were Stephanie McMahon, Wade Barrett, Mark Henry, Curt Hawkins and Tyler Reks, Alberto Del Rio, David Otunga, Natalya, Alicia Fox, Kelly Kelly, The Miz, Dolph Ziggler, Antonio Cesaro, American Idol finalist James Durbin and actor Ryan Ochoa.
There's some very interesting news and notes from each interview, ranging from character changes to defending heir positions in the WWE.
Let's take a look.
Begin Slideshow

»
Alberto Del Rio credits his lineage to why he pays so much attention to detail in the squared circle and talks about sending a message about bullying to kids at a Be A Star rally despite being a heel on TV.
David Otunga says the WWE locker room didn't believe him at first and wasn't totally well received when he was introduced as a Harvard Law graduate.
Stephanie McMahon gives an interesting answer on whether or not she will return to WWE TV.
Natalya speculates that her next move on WWE TV might be with Raw general manager AJ Lee.
Wade Barrett says he is 99 percent healed from injury and details the character changes we can expect when he returns to WWE TV.
Antonio Cesaro has already heard the idea you probably have for him (and I certainly had) as U.S. champion.
Dolph Ziggler says SummerSlam vs. Chris Jericho is the most important match of his life and that he idolized Jericho growing up.
Kelly Kelly hopes WWE uses her more.
The Miz thinks critics are wrong when they say the IC title lacks prestige and that it's a step down to hold it at this point in his career (after having won the WWE title and main-evented WrestleMania).
Mark Henry is at peace with the idea that his WWE career may be over and his latest World Heavyweight title run might have been his last hurrah. He also talks about Olympians that he scouted for WWE while in London.