7 Fantasy Football Sleepers to Watch for in Preseason Week 3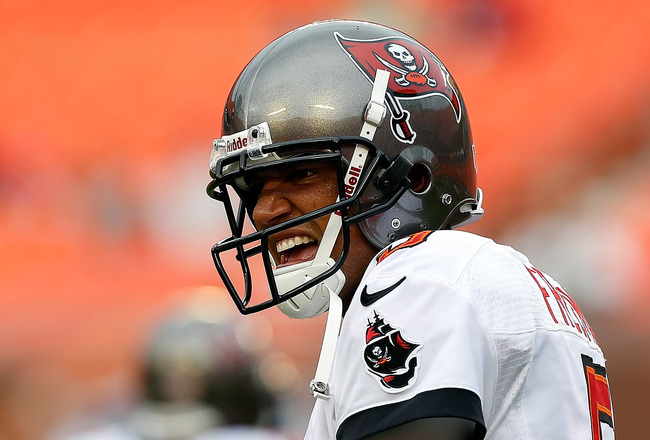 J. Meric/Getty Images
Preseason Week 3 might provide some valuable information for your fantasy league draft. If you have drafted, it might help you for a quick trip to the waiver wire.
Let's look at some sleeper players who you might have targeted for later rounds. You might need some recent data to help your decision.
David Wilson, RB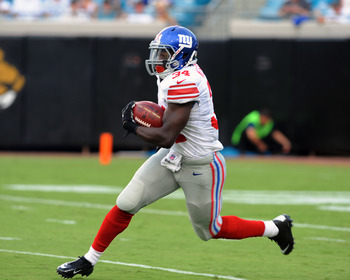 Al Messerschmidt/Getty Images
Last year the Giants' Ahmad Bradshaw was hampered with a foot injury. This year he is dealing with a hand injury. Brandon Jacobs is no longer on the team.
So it might turn out that rookie David Wilson could play a significant role in the Giants rushing attack. The Giants selected him this year with their No. 1 draft pick. Wilson rushed for 1,709 yards last year at Virginia Tech. He was voted the 2011 ACC Offensive Player of the Year.
If the Giants decide to rest Bradshaw to let him recover from his hand injury, Wilson might see a lot of playing time with the first unit. In preseason rankings he is typically falling somewhere between 35 and 40 among running backs. But his stock might rise significantly with a solid performance in preseason Week 3.
Danny Amendola, WR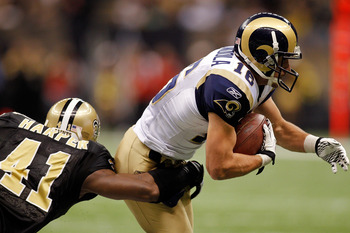 Chris Graythen/Getty Images
Danny Amendola missed most of last season with a triceps injury that required surgery. So he is understandably buried deep in the wide receiver preseason rankings.
However, in 2010 Amendola had 85 receptions and scored three touchdowns. In a short stint in preseason Week 2, he caught three catches and scored a touchdown.
So he clearly deserves a close look in preseason Week 3 as a potential late-round pick.
Josh Freeman, QB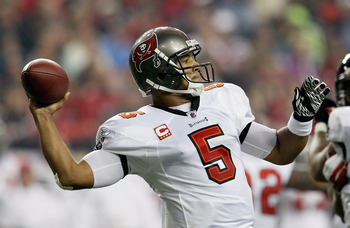 Kevin C. Cox/Getty Images
Josh Freeman was a first-round draft pick in 2009. In 2010, he looked like he was worth that pick. But in 2011, he didn't, as the table below shows.
| | | | | |
| --- | --- | --- | --- | --- |
| Year | QB Rating | Yards | TDs | INTs |
| 2010 | 95.9 | 3451 | 25 | 6 |
| 2011 | 74.6 | 3592 | 16 | 22 |
Most drafters will focus on the 2011 numbers and let him slide down through the rounds.
But there are three additions to the Bucs that could make 2012 a better year for Freeman. Vincent Jackson will join the wide receiver corps. Rookie Doug Martin should get the start at running back, which would be an upgrade over LeGarrette Blount. Finally, Dallas Clark should be the starting tight end.
Preseason Week 3 should give us a clue whether this year will be closer to 2010 or 2011 for Freeman.
Nick Foles, QB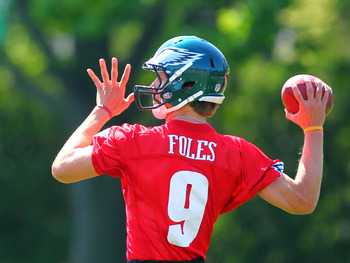 Rich Schultz/Getty Images
Here is a good trivia question to ask at the next party you attend: Who led the Pac-12 conference in overall offense in 2011? Most sports fans will quickly answer, "Andrew Luck." But they would be wrong.
The correct answer is Nick Foles. If you don't believe me you can check out the stats yourself.
Foles could become the Eagles quarterback of the future. He demonstrated the strength of his arm in his first preseason game, when he threw two long touchdown passes.
If Michael Vick stays healthy this year, you clearly won't get much production out of Foles. But if Vick falters or is out with injuries, look for Foles to be next in line. Vick left both of the Eagles first two playoff games with an injury after just a few plays. I wouldn't be surprised to see Foles starting permanently for the Eagles by midseason next year or earlier.
In a keeper league, take him in one of the last two rounds if he is still on the board. In non-keeper leagues, another impressive performance in Week 3 makes him draftable as well.
Shane Vereen, RB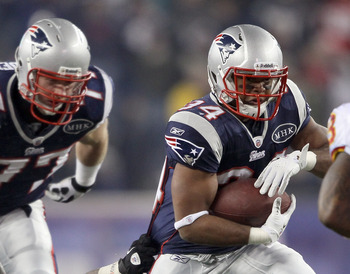 Elsa/Getty Images
Shane Vereen of the New England Patriots had only 15 touches in his rookie season last year.
In preseason Week 1, he ran seven times for 63 yards plus one reception.
In preseason Week 2, he regressed with 20 yards on 10 carries, but he did have three receptions.
Vereen could possibly compete with Stevan Ridley for the lead running back for the Patriots. Several late season fumbles earned Ridley a seat on the bench for the AFC Championship game and the Super Bowl.
So preseason Week 3 might be crucial for determining Vareen's status with the Patriots this season.
Dustin Keller, TE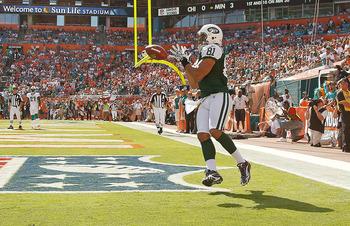 Mike Ehrmann/Getty Images
Not too many NFL players can boast the three season trend that New York Jets Dustin Keller can:
| | | | | |
| --- | --- | --- | --- | --- |
| Year | Catches | Yards | 1st Downs | YAC |
| 2009 | 45 | 522 | 27 | 4.0 |
| 2010 | 55 | 687 | 33 | 4.4 |
| 2011 | 65 | 815 | 39 | 5.0 |
With the difficulties that the Jets offense seem to be having, Keller could be the leading target. Another look in preseason Week 3 might give us a clue whether or not he will be moving up among the elite tight ends of the league.
Russell Wilson, QB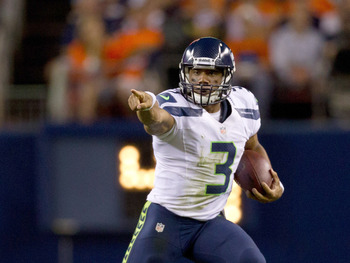 Justin Edmonds/Getty Images
There are reports that the Seattle Seahawks are trying to rid themselves of Tarvaris Jackson.
Russell Wilson's performance in two preseason games certainly make the case that he could be the starting quarterback.
In preseason Week 1, he went 12-for-16, threw for one touchdown, and ran for another.
In preseason Week 2, he went 10-for-17 and threw for another two touchdowns.
If he gets the chance to play against a first team defense in preseason Week 3, we might get a hint whether or not he will nudge out Matt Flynn for the starting job.


Follow Professor Bush on Twitter.
Keep Reading