Texas Basketball: Predicting Stats for Longhorns' Likely Starting 5 in 2012-13
Texas head coach Rick Barnes will look to improve on a sixth-place finish in the Big 12 last season.
Kevin C. Cox/Getty Images
With three of last season's five starters returning, the Texas Longhorns are poised to climb up the Big 12 standings in 2012-13.
Texas finished 20-13 (9-9, Big 12) and got bounced by Missouri in the Phillips 66 Big 12 tournament by a score of 81-67.
The Longhorns lost their top scorer, J'Covan Brown, to the NBA draft. However, they return some significant talent from last season.
Brown provided Texas with 20.1 points per game. He led the team in three-pointers (80), free throws (157) and field goals (223).
He had 300 more points than any other player on the team, but Texas' postseason run was cut short.
After being eliminated in the first round of the NCAA tournament by Cincinnati, the Texas Longhorns responded by bringing in the fourth-rated recruiting class (ESPN) of the 2012-13 season.
Headlined by 6'10" center Cameron Ridley, the Horns should have some significant position battles in 2012.
Here are the statistical predictions for the Longhorns' starting five in 2012-13.
Cameron Ridley, Freshman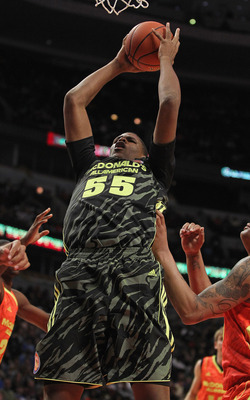 Freshman Ridley has the size and skill to be a starter for Texas.
Jonathan Daniel/Getty Images
Cameron Ridley was the No. 8-rated prospect on ESPN's top 100. At 6'10", he is the tallest player on the Longhorns roster and the only true center.
Ridley will fill Clint Chapman's role from last season, but the Horns should expect more production from the freshman.
He weighs 270 pounds, but has athleticism and quickness to accompany his size. He garnered some attention at the Adidas Nations tournament and should be an important part of head coach Rick Barnes' flex offense.
Points: 9.6 per game
Rebounds: 8.2 per game
Blocks: 1.4 per game
Jonathan Holmes, Sophomore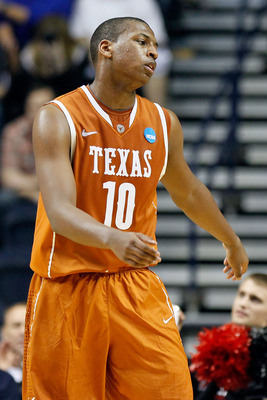 Jonathan Holmes will look to improve on his 2011-12 numbers and get the 'Horns back to the top of the Big 12.
Kevin C. Cox/Getty Images
If the Longhorns go with a bigger lineup in their flex offense, look for Holmes to be a part of it.
Holmes is a 6'7" forward with the versatility to play on the wing and in the post. That versatility is crucial in a flex-based offense.
He averaged 7.1 points per game as a freshman last season and 4.8 rebounds per game.
With another year of experience under his belt, Holmes should provide bigger numbers, especially in the mid-range.
Points: 8.2 per game
Rebounds: 5.0 per game
Assists: 1.2 per game
Myck Kabongo, Sophomore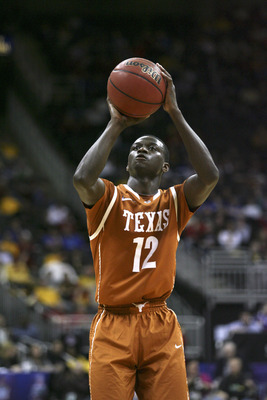 The Texas point-guard should settle into a larger role and command the offense.
Ed Zurga/Getty Images
Kabongo should shoulder a heavier load in 2012-13.
The point guard now has a year of experience at the collegiate level. More importantly, he now has a year of experience running the offense with his classmates.
That chemistry should help the offense produce greater numbers from top to bottom.
Kabongo led Texas with 5.2 assists per game last season and recorded nearly 31 minutes per game.
Points: 6.2 per game
Assists: 7.7 per game
Turnovers: 2.8 per game
Sheldon McClellan, Sophomore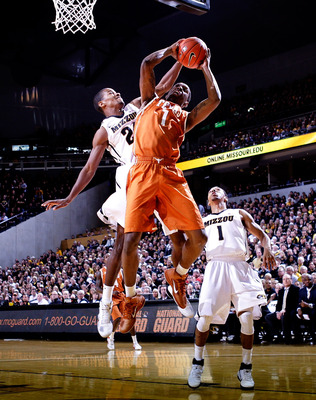 Sheldon McClellan will be the featured scorer for Texas next season.
Jamie Squire/Getty Images
The departure of J'Covan Brown makes Sheldon McClellan the Longhorns' featured scorer.
McClellan and Brown were the only two players to average double-figures last season.
McClellan should become the focal point of the offense, and for good reason. He shoots 31 percent from three-point land, nearly 76 percent from the line and was one of the team's best shooters at 45 percent a season ago.
The 6'4" guard averaged 11.3 points per game last season in just under 26 minutes per game.
He should see increased minutes and an increased role on the offensive end.
Points: 16.3 per game
Rebounds: 5.4 per game
Steals: 2.2 per game
Julien Lewis, Sophomore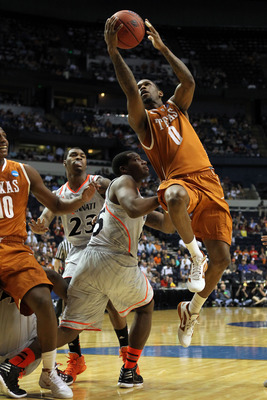 Julien Lewis provides the back-end of a 1-2-punch for Texas next season.
Jamie Squire/Getty Images
The Longhorns close out their starting five with another athletic guard in Julien Lewis.
Lewis and McClellan will be the one-two punch for Texas in 2012-13. Both players can shoot from long range and have shown they can score in bunches.
In the first round of the NCAA tournament, Lewis scored 14 points. Only J'Covan Brown scored more (19) against the Bearcats.
A 33 percent three-point shooter last season, Lewis will help Texas on the perimeter and in extending the defense.
Points: 14.1 per game
Rebounds: 4.2 per game
Steals: 1.8 per game
Keep Reading

Texas Longhorns Basketball: Like this team?