Hope Solo was recently on National Public Radio's program, All Things Considered, talking about her feelings towards her parents.
Her interview comes after the release of her book Solo: A Memoir of Hope, in which the celebrity goalkeeper shows her true colors and shares her path to success.
Although she is currently living a life of glamour and is looked upon as the hottest female soccer player, her past is definitely not without fissures.
Seeing her parents get divorced at the age of six was certainly not an easy thing for her.
She was consequently separated from her dad, Jeffrey—a former soldier once accused of murder—as she grew almost completely under the guidance of her mother.
But the sometimes-homeless man still managed to keep a strong connection with his daughter Hope and her brother.
Speaking to NPR, Hope Solo, however, said:
"He just…he had a rough life. You know, he grew up in a 'boys home' in the Bronx. He didn't really know his own family. So I couldn't hold it against him that he didn't know how to parent. He didn't know how to be the perfect husband."
As a Vietnam War veteran, Hope Solo's father surely struggled to be the perfect mentor. But the Olympic gold medalist nevertheless describes him as a lovely person, easily happy, who never judged anyone.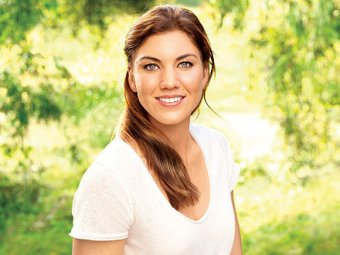 Nonetheless, Hope Solo's favor also goes to her mother, who was the breadwinner and protector of the family—even though she happened to be alcoholic.
In her interview published on NPR.org, Solo tells Cheryl Corley:
"I dedicate the book to her because she is the true champion of the family. She kept our family together. She provided us with a roof over our head. She always worked. My father was never around."
Solo added that, although it was her father who taught her to play soccer, it was eventually her mother "who kept me in soccer."
She also affirmed that her aim was to break down barriers as a sportswoman for other women to follow in her footsteps.
In spite of all the achievements she has earned with the USA Women's Soccer team in recent years, Solo is very often reprimanded for her huge sense of controversy.
Her new book, Solo: A Memoir of Hope, has already received a pile of critics, all because of the shocking revelations it contains.
In her memoir, Hope Solo tells the world how former USA Women's Soccer coach Greg Ryan shoved her during a meeting in 2007, and how choreographer and dance partner Maksim Chmerkovskiy slapped her during Dancing With the Stars in 2011.
Though these claims have been denied by both men, one might choose to believe the 31-year-old superstar.
In any case, Hope Solo has done her part by getting these revelations off of her chest through the release of her memoir.
And one thing is for sure: She does not regret doing so.

Have a look at mixed Hope Solo photos and discover her style.