Peyton Manning: Fantasy Draft Value, Red Flags and Predictions for Broncos QB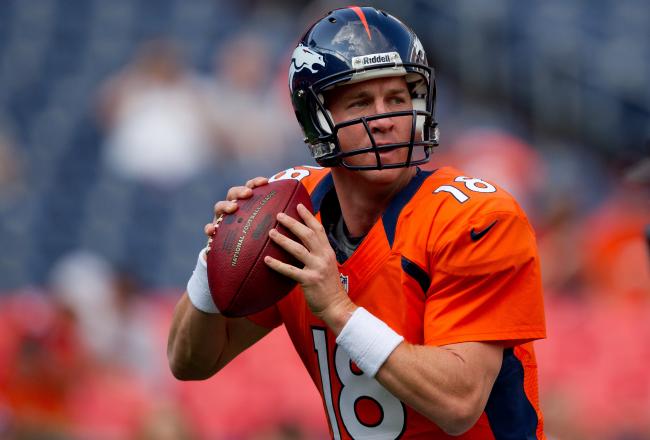 Justin Edmonds/Getty Images
There are certain things you can't project in fantasy football, and injuries are one of them. It's for that very reason that Peyton Manning is simultaneously the most intriguing and terrifying fantasy quarterback available for players this year.
Will he revert back to the elite form we came to expect during his years with the Indianapolis Colts? Or will he regress in his time with the Denver Broncos? And given that he's coming off a missed season and another injury to his neck could end his career, just how risky a pick is he in fantasy football this year?
There are more questions than answers when it comes to Manning, but I'll try to give you as clear an analysis of him as possible. Let's break down No. 18.
Fantasy Strengths
Justin Edmonds/Getty Images
You could make the argument that there has never been a more consistent fantasy quarterback than Manning.
He's never thrown for less than 26 touchdowns. In 11 of his 13 seasons, he's thrown for 4,000 or more yards. His 17 interceptions in 2010 were his most he's tossed since 2002, and he's only had a completion percentage under 60 percent once (his rookie season).
If he's healthy, he performs—it's really that simple.
Manning's arm strength and accuracy are where they need to be. He took a shot from Bruce Irvin of the Seattle Seahawks in their preseason matchup Saturday night and bounced back up, completing a 22-yard pass to Brandon Stokley on the next play. Manning famously limits sacks and big hits with his lightning-quick release in the pocket.
To this point, we've seen positive signs that he is fully healthy and injury isn't inevitable.
And while he no longer can turn to Marvin Harrison, Reggie Wayne and Dallas Clark, Manning has solid receivers in Stokley, Demaryius Thomas and Eric Decker as well as tight ends Jacob Tamme and Joel Dreessen. In a half of play Saturday night, Manning led the Broncos to 10 points and finished 16-for-23 with 127 yards.
Given his past, you have to assume that Manning has the potential to be an elite fantasy quarterback in 2012.
Fantasy Red Flags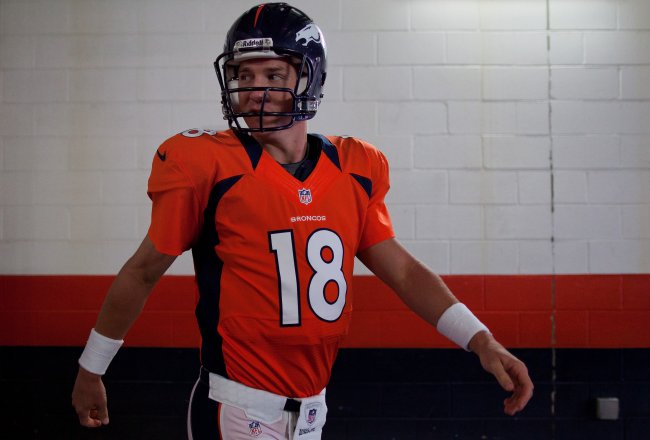 Justin Edmonds/Getty Images
Yes, Manning went into the half with a 10-9 lead over the
Seahawks
. But he also threw two interceptions, didn't throw a touchdown pass and was sacked twice.
This ain't the old Manning—at least not yet.
It can't be stressed enough how risky of a pick Manning is. Just ask anyone who bothered to draft him last year, after all. One hit could not only end his season but potentially his career.
If you don't mind walking on the wild side and holding your breath every time he drops back to pass, Manning is your guy.
He's also 36 years old. A natural decline in his performance is going to take place at some point, and after a year's absence, this could be the season we begin to see the decline.
And this ain't the Colts, either.
Yes, Manning will be allowed to run his no-huddle offense and make adjustments at the line, but this is still a John Fox football team—the Broncos will look to run the ball.
And why wouldn't Fox try to establish the running game to protect the huge investment the Broncos made in Manning?
Manning comes with huge risks, and there are simply no two ways about it. You'll have to decide how big you think the rewards are if you plan on drafting Manning and rolling the dice.
Film Study
You can focus on the positives or negatives from his preseason performance if you like. Taken as a whole, though, Manning looks like an excellent quarterback still shaking out the cobwebs.
Will he have shaken them all out by the time the season starts?
Draft Day Value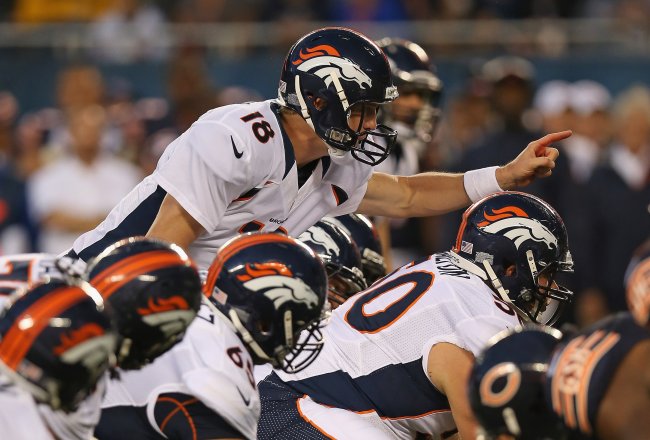 Jonathan Daniel/Getty Images
Here's where Manning becomes really intriguing. In ESPN snake drafts, he has an average draft position of 41.0, meaning you can land him in the fifth round in 10-team leagues. For a guy who spent his career as a first or second-round pick, that's fantastic value.
And if you spend your first four picks on wide receivers and running backs, you could even add another quarterback in the sixth round to protect your investment. Tony Romo, Philip Rivers, Matt Ryan and Ben Roethlisberger are all being drafted after Manning.
If you are going to draft Manning, you need to select a sturdy quarterback to safeguard yourself. But adding a player who has top-five potential at the quarterback in the fifth round?
That's hard to beat.
Tweet that Says it All
Mike Chappell from the Indianapolis Star provides the following tweet. The contrast made me chuckle:
Curtis Painter has 3 TDs in preseason, Peyton Manning 3 INTs. End of the world stuff.

— Mike Chappell (@mchappell51) August 19, 2012
Yes, it's only the preseason. But c'mon, it would be surprising if Painter had more touchdowns in the preseason than Tim Tebow, let alone Manning.
Predictions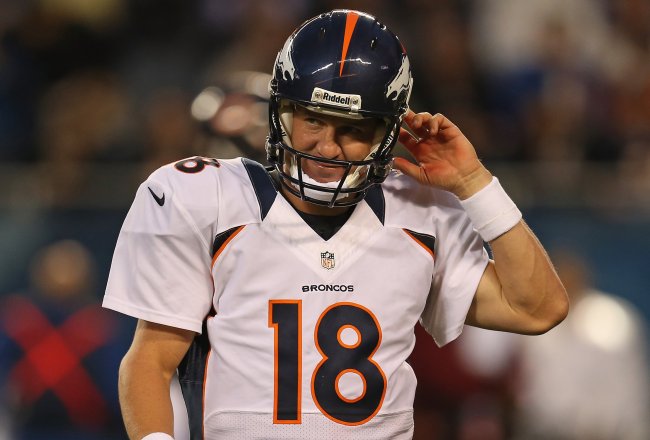 Jonathan Daniel/Getty Images
| | | | | | |
| --- | --- | --- | --- | --- | --- |
| Games | Yards | Touchdowns | Interceptions | Fumbles | Completion Percentage |
| 16 | 4250 | 28 | 15 | 3 | 65.0 |
The above numbers obviously presume Manning's health. Also keep in mind that Manning never missed a game in his career before last season, so if he's back to 100 percent health, he should stay that way.
Peyton Manning will be a ____________ fantasy quarterback this year.
But I also don't think you can assume he'll be a top-five quarterback this season. There are too many red flags to consider,—his age, the fact he just missed a season to injury, the running game in Denver—and there are safer options should you miss out on the top tier of Aaron Rodgers, Tom Brady, Drew Brees and Matthew Stafford.
You can't be afraid to take chances in fantasy football, but you also have to be smart when you do take risks.The advice on Manning is simple—if you draft him, pair him with a safe, effective alternative. Don't draft him before the fifth round, either; if he falls to you in the sixth round or later, snatch him up.
And whatever you do, temper your expectations. He may revert to his old form and put up top-five numbers, but it's just as likely he'll be a very good (but not great) fantasy selection this season.
Hit me up on Twitter—my tweets are cracking like a Ronda Rousey armbar.
This article is
What is the duplicate article?
Why is this article offensive?
Where is this article plagiarized from?
Why is this article poorly edited?