WWE SummerSlam 2012: Everything You Need to Know Before Tonight's Event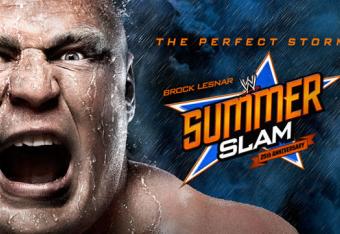 Photo courtesy of thewrestlingflock.com

The STAPLES Center is the setting yet again for the second-biggest event of the year. Tonight is when the biggest party of the summer has its silver anniversary edition. The 25th SummerSlam has familiar faces that are raising a lot of questions.
Can a long-time United States Champion fend off the advances of a Swiss strongman that has been close to unstoppable? Can a champion who thinks he is awesome prevent a former world champion from adding another accolade in his home state? Can a tag team on the top of their game prevent two newcomers, now without management, from making a big splash?
Two former world champions with histories of anger issues clash in a match in the shadow of Hollywood that has the makings of a Charlie Sheen sighting all over it.
The World Heavyweight Championship is on the line after all, as the reigning champion requested the match against a vindictive and unforgiving aristocrat. Meanwhile, a young star that likes to show off, with a future world title match in his hands, tries to prove that one of the greatest of this generation cannot win a big match anymore.
In the two main events, a giant man and a giant personality try to take the company's top prize from the man that has held it all year long. Also, an all-time great and current corporate figure in WWE tries to stop the natural disaster that is a former world champion in both pro wrestling and mixed martial arts.
There's a lot of information to look over for SummerSlam. Consider this your cheat sheet. Follow this article to have every match previewed and predicted, along with another article from another writer that coincides with each match.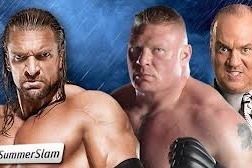 Everything WWE is trying to do is hindering on this match, only because they have sure acted like that. Lesnar is supposed to be on a warpath through WWE, but has been back for four months with little to show for it. Lesnar has "broken" the arms of two legends, but has given one more busted nose than his number of victories. Lesnar will not be at every event and needs at least one victory in the year to make this signing seem worth it. With WrestleMania probably a way to write him off, SummerSlam is it, right?
Still, it is Triple H, the COO and The King of Kings in WWE. Triple H doesn't wrestle everyone, but he has won just once in a year and a half. That victory was over Kevin Nash of all people. Lesnar needs a win and Triple H has been supplying them. Still, Paul Heyman wants the world to see the unleashed monster of Lesnar take down Triple H.
As much as it seems like Triple H needs to be the one to rise up and take down Lesnar, I'd like to see the script flipped a bit. Every time that a challenge is denied, only to be accepted in the end, the one who accepts the challenge later in the game is the same one who has his or her plan backfire in the long run. The only real exception I can think of is The Undertaker denying Shawn Michaels another WrestleMania match, only to accept and end the career of The Showstopper.
Speaking of Michaels, he is supposed to have a broken arm now at the hands of Lesnar, which is supposed to keep him away from ringside. Still, there will probably be a spot for the Hall of Famer to be near the ring, arm cast and all. Michaels is supposed to do something with the match, but I'm not exactly sure of what. I'm also not sure of why, but Lesnar needs this victory like Zack Ryder needs a girlfriend.
Winner: Brock Lesnar
This article is
What is the duplicate article?
Why is this article offensive?
Where is this article plagiarized from?
Why is this article poorly edited?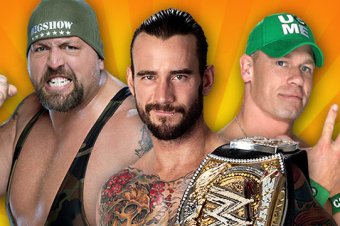 It may feel like we have done this before, but CM Punk is heading into SummerSlam as WWE Champion and has a match with John Cena. One year after what was their last true singles encounter, they still aren't truly alone. The gigantic buzzkill known as The Big Show is inserted into this match to make it a Triple Threat match.
Big Show forced John Cena to break the perfect streak of Money in the Bank cash-ins and now he tries to ruin a SummerSlam main event. Not including Big Show only would have meant that the giant would have interfered anyway, so this is necessary to stick to storyline. Big Show is probably there to take the pinfall from one of these guys, but is it Cena winning his 11th WWE Championship of Punk keeping one of the longest reigns in history alive?
Rumors of taking the title off of Punk have been a topic of discussion for a while now, but it hasn't happened. Punk's new twist in attitude makes him an intriguing champion. Cena can adjust Big Show's attitude, while Punk rearranges Cena's teeth with a massive kick and covers Big Show to retain. That takes Big Show out of the picture and brings us Cena vs Punk in just a few more weeks.
Winner: CM Punk (Still WWE Champion)
This article is
What is the duplicate article?
Why is this article offensive?
Where is this article plagiarized from?
Why is this article poorly edited?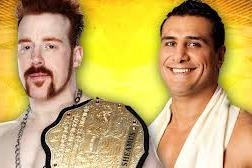 Who knows what the heck was going on with the build to this match. Instead of making it seem like these two despised each other, the build to this world title match had more of a "do we REALLY want to have this match?" feel to it. Sheamus has been a dominant world champion since winning the title at WrestleMania, while Del Rio seems to finally be hitting his stride in the heel department.
Del Rio is as menacing now as he has ever been and the thought of him as a world champion now seems more feasible than earlier. The simple fact that Sheamus had to practically beg for this bout to go on beings to mind that it might be Del Rio's night at SummerSlam for the second straight year. Be careful what you wish for, Sheamus. Also, be careful for Dolph Ziggler, even though a cash-in from Mr. Money in the Bank can be held off to the fall.
Winner: Alberto Del Rio (New World Heavyweight Champion)
This article is
What is the duplicate article?
Why is this article offensive?
Where is this article plagiarized from?
Why is this article poorly edited?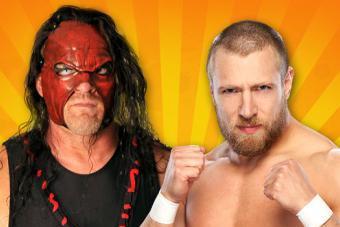 This was a feud that was never really resolved, but sure has taken an odd turn in recent weeks. Once a potential love triangle with AJ Lee, these two now fight at SummerSlam. Kane has said that he is gonna help with Bryan's "anger management", which is a clear mention to Charlie Sheen's show.
Sheen really got this all rolling for Bryan when he was Skyping during RAW 1,000. Some thought we would see Sheen vs. Bryan, but what fun would that be? Celebrities never lose and Sheen is not a fighter. Besides, Sheen got money from WWE to live tweet that milestone RAW and deleted his Twitter account just days before. It isn't like Sheen is the most reliable guy to make a commitment like that.
Maybe Sheen appears in the corner of Kane, but it seems more like WWE is using the nod and not much more than that from Sheen. Bryan was nearly going to be a world champion just a couple of weeks ago and is now in a forgettable feud with Kane? No wonder he is so negative lately. Kane doesn't need the boost, but Bryan doesn't need the setback. In the words of Sheen, Bryan is #winning at SummerSlam.
Winner: Daniel Bryan
This article is
What is the duplicate article?
Why is this article offensive?
Where is this article plagiarized from?
Why is this article poorly edited?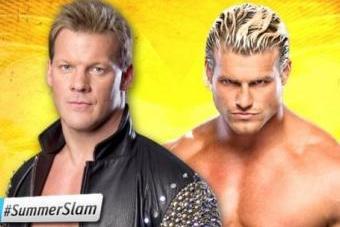 The age-old matchup of old school against new school sees another chapter as rising star and resident Show-Off known as Dolph Ziggler takes on the heavily decorated rockstar Chris Jericho. Ziggler holds the Money in the Bank briefcase for a future World Heavyweight Championship title match, which could make Ziggler's night one for the ages if he decides to use that chance at SummerSlam.
One thing is for certain. Chris Jericho is up there in age, but also is still up there in ability. Jericho knows how to keep himself healthy and has adapted his moves over the years to counter Father Time. Jericho can make any youngster look like a main eventer, while Ziggler can make a broomstick look like a WWE superstar. Combined, this is easily the best technical match you can expect at SummerSlam and could be the opening bout on the main card.
Jericho is being billed as not quite 100 percent from WWE's "reports", so Ziggler should have the advantage. However, the story with these two is about Jericho winning "the big one". Since we are in Los Angeles for this match, Jericho wins in true Kirk Gibson fashion to pull off the victory at SummerSlam.
Winner: Chris Jericho
This article is
What is the duplicate article?
Why is this article offensive?
Where is this article plagiarized from?
Why is this article poorly edited?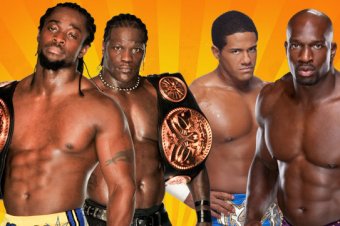 The PTP, without their mouthpiece known as A.W., travel into their biggest match as a tag team. A SummerSlam showdown with the tag team champions should be bringing back memories of the great tag team title matches in SummerSlam, like The Hart Foundation and Demolition in a classic two-out-of-three falls match. This doesn't quite have the promise, nor the star power ultimately. Still, this should be a solid bout between two of the more versatile tag teams in WWE today.
Kingston and R-Truth are both faster, while the duo of Titus O'Neil and Darren Young possess the power advantage. Kingston and R-Truth have been reigning as champions for quite some time as the tag team division has virtually been overhauled. There are a few teams that seem to be close to a competitive level with one another. This isn't a golden era by any means as none of these teams could even be the third-best tag team back during the days of Edge and Christian reigning supreme with The Hardys and Dudleys lurking behind.
This marks the second SummerSlam match for Darren Young, who could have those two matches without even one championship in his WWE career. Young was a part of The Nexus during the seven-on-seven tag team main event a few years ago. As for Titus O'Neil, this is the biggest stage for him to be performing on the main card. Both are earning their stripes as the weeks have worn on and even with the controversy surrounding the real-life firing of their manager, these two have not felt any punishment because of it.
Still, Kingston and R-Truth are on a big roll right now. Even though O'Neil and Young are on the rise, handing the titles over at the second-biggest event on the WWE calendar is a big deal. If they do so, it would be incredible. I think their time comes around the Night of Champions range, so the champs can survive for now.
Winners: Kofi Kingston and R-Truth (Still WWE Tag Team Champions)
This article is
What is the duplicate article?
Why is this article offensive?
Where is this article plagiarized from?
Why is this article poorly edited?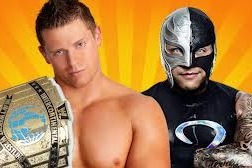 Well, it's SummerSlam time. Rey Mysterio is able-bodied, from what they tell me. The Miz is the Intercontinental Champion at the moment. Naturally, Mysterio has earned this chance at the title, perhaps because of popularity or because he stands close to the height of new RAW general manager AJ Lee.
Who knows why Mysterio is here and not Christian, who should be owed a rematch at some point. Still, this is a former world champion and a fan favorite to give The Miz a title defense in his first singles match at SummerSlam in his career. The Miz will make Mysterio look good, but the championship remains with The Awesome One.
Winner: The Miz (still WWE Intercontinental Champion)
This article is
What is the duplicate article?
Why is this article offensive?
Where is this article plagiarized from?
Why is this article poorly edited?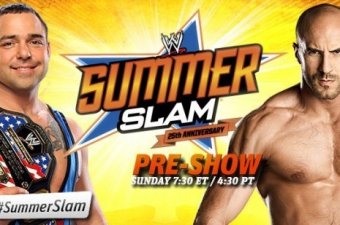 Here's your monthly YouTube pre-show match. Let's all make a collective yawn as Santino Marella, perhaps the most undeserving of the current champions in WWE, throws a cog into the machine that has vaulted Antonio Cesaro to his first title match. It isn't quite a pay-per-view match for Cesaro, so what can we really expect? A dominant Cesaro, a Santino comeback, a sock puppet coming out of Santino's ring gear, a striking Cobra and Marella leaving still as United States Champion.
Okay, now that we got that out of the way, here's how it probably will go. WWE is high on Cesaro. His issues with Teddy Long were juicy, but failed to really be addressed. As a champion, Cesaro can clash with Long and current Smackdown GM Booker T. Santino has held the title a lot longer than anyone would have ventured that he could. The title doesn't feel very meaningless, but putting it on Cesaro has a chance of it getting defended often. It also builds a foreign heel as United States Champion, perfect for an American face to ultimately take from him.
WWE wants to promote YouTube-exclusive matches and make them something to pay attention to? Switch a title in that match. A new champion before SummerSlam even begins will bring a good defense of "you should have watched the pre-show", followed by the plug for the YouTube page to watch the title change if you missed it. In the long run, this helps make the YouTube matches feel unpredictable and that anything can happen on them, just like Sunday Night Heat episodes felt on the nights of pay-per-views.
Winner: Antonio Cesaro (New United States Champion)
This article is
What is the duplicate article?
Why is this article offensive?
Where is this article plagiarized from?
Why is this article poorly edited?