UFC 151: 1 Song That Defines Each Main-Card Fighter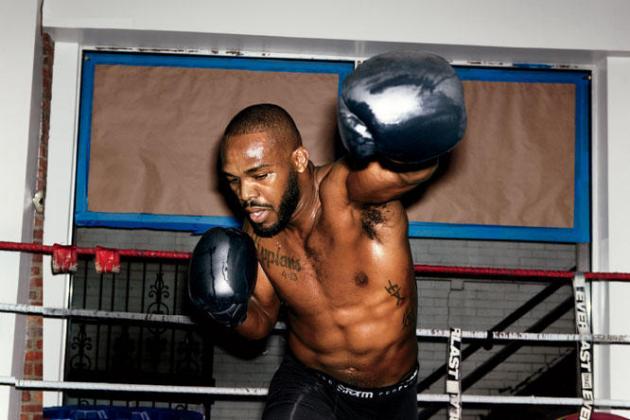 jaybirdgear.com
In some ways music is very similar to mixed martial arts.
It dictates emotion, promotes individualism and can mirror the beautiful movements that are routinely showcased inside the cage.
As it is in music, fighters differ in various ways. From striking techniques to game plans, these different genres of competing separate the great athletes from the good ones.
So when you think about it, UFC fighters make music when they're displaying their art inside the Octagon.
Here's one song that defines each main card fighter set to battle at UFC 151.
* Play the songs prior to reading for the full effect
Begin Slideshow

»
Yasuhiro Urushitani is currently living a hard UFC life.
He blew his chances to fight for flyweight gold when he lost to Joseph Benavidez at UFC on FX in March.
It was his promotional debut, but getting put to sleep in the second round is no way to make a good first impression.
So for now, the 35-year-old Japanese journeyman has to knock his rough outing before moving onward within the UFC's smallest division.
The UFC flyweight division already employs the smallest fighters on the planet.
But when the 5'3" John Lineker takes his spot inside the Octagon, it sometimes looks unnatural.
However, despite being on the wrong end of a Fight of the Night showdown in his debut back in May, the 22-year-old possesses some of the heaviest hands in the division and a bright future within the UFC.
I guess it's true what they say. Big things come in small packages.
Thiago Tavares is one of those fighters that possess elite talent, but have never been able to consistently win inside the Octagon.
Due in part to fighting in the UFC's deepest division, the 27-year-old lightweight has always slipped up when it mattered most.
Tavares will be riding a two-fight win streak coming into UFC 151. We may finally be witnessing the breakthrough fans have been waiting for.
It looks like somebody finally lit a fire under Tavares' talent.
Considering Dennis Hallman's nickname is "Superman", this song makes perfect sense.
Hallman has been extremely successful throughout his MMA career and is currently one of the UFC's most experienced showman.
His role within the lightweight division may not be as a contender, but rarely do his competitors get past him without wielding kryptonite.
Hailing from Honolulu, Hawaii, Eddie Yagin has made an immediate impact in the UFC.
Throughout his first two fights, the 33-year-old veteran has gone a total of six rounds, compiling a 1-1 record with a Fight of the Night performance against top featherweight contender Mark Hominick.
He's shown that he can use a gritty approach to his fights and win.
That's something that bodes well when compared to other Hawaiian-based fighters such as BJ Penn.
Lupe Fiasco's "Kick, Push" is a perfect fit for Germany's Dennis Siver.
He's is a 33-year-old veteran who utilizes elite kickboxing skills to create distance and score big shots against some of the best strikers in the division.
Siver has had problems in the past against one-punch KO artists and submission specialists, but if he can kick, and then push away, he should have no problem making a significant splash in the featherweight division.
It's been nearly seven years since Jay Hieron last competed inside the Octagon.
He has fought for the Zuffa owned Strikeforce over the past few years, but nothing close to his UFC debut back in 2004 opposite Georges St-Pierre.
Hieron will finally be making his return to the promotion at UFC 151 against top-welterweight contender Jake Ellenberger. He's replacing the injured Josh Koscheck.
At this point, it's safe to say that Hieron is back in the saddle. Let's see if he can pull off the upset.
As one of the hardest hitting welterweights on the planet, Jake "Juggernaut" Ellenberger possesses concrete hands.
The 27-year-old has ended four of six UFC victories via punches. That type of success has led to Ellenberger becoming one of the most feared strikers in the division.
When he connects with leather, odds are he's winning the fight.
By the way, this song rocks.
Mixed martial arts legend Dan Henderson is one of the most impressive finishers in the sport's history.
His right hand, better known as the "H-Bomb", has become infamous.
Even at 41-years-old, Henderson still possesses some of the most dangerous strikes on the planet.
His cardio may not be what it used to, but "Hendo" can end a fight at literally any moment.
Jon Jones better be careful.
Jon Jones has arguably become the greatest fighter on planet earth.
Combining athleticism with discipline, Jones has evolved quicker than any fighter ever has.
His skills inside the Octagon are borderline out of this world.
When he's on his game, which seems to be every moment in every fight, the 25-year-old resembles an intergalactic super-drone sent to dismantle the biggest and baddest fighters known to man.
For more UFC news and coverage, Follow @DHiergesell