WWE Summerslam 2012 Matches: Ranking Best Matches to See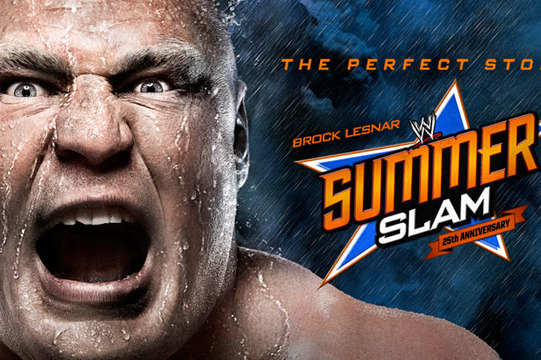 Courtesy of WWE
For some, the Super Bowl is the pinnacle of the sports season. Or maybe the World Series or the Stanley Cup.
For others, there's WWE Summerslam!
The 25th annual Summerslam will pit top wrestlers against one another with dramatic storylines and star reputations set as the backdrop for what is sure to be a hard-hitting night.
Monday Night Raw and SmackDown have set the stage for this epic night of wrestling that viewers won't want to miss.
Here are four of the eight matches that are sure to raise your testosterone level and get that adrenaline pumping.
Begin Slideshow

»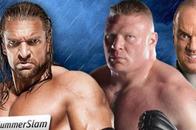 Courtesy of WWE
The former MMA star and UFC Heavyweight Champion, Brock Lesnar, is not playing games at Summerslam 2012. His matchup against WWE Chief Operating Officer, Triple H, has been a fight brewing all summer and will finally clash in climatic fashion tonight.
The hype surrounding this match has reached epic proportions, and the battle between the two should live up to its expectations.
Lesnar will try to prove why he is the face of the WWE, yet he will not receive the appreciation of the fans, as Triple H remains a classic figure in the wrestling world.
Lesnar has been on a rampage since his return to the WWE in April, beginning with his attack on John Cena. Lesnar broke Triple H's arm the following night on Raw, which resulted in Triple H challenging Lesnar to the Summerslam match.
Just last week, Lesnar continued to display his erratic personality by attacking Shawn Michaels in the parking lot and breaking his arm in the ring.
Triple H will look assert his dominance and put Lesnar in his place tonight.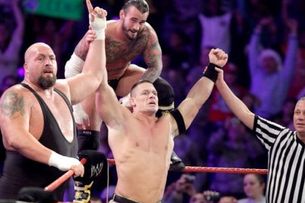 Courtesy of WWE Hub
CM Punk will be looking to defend his WWE Championship against 7'0'', 441 pound Big Show and 10-time WWE Champion John Cena.
The stars will be out to play in this three-way match up, which we got a preview of at Raw 1000 when Big Show interfered in the fight between Punk and Cena. In that match, Cena became the first man to cash in his Money in the Bank contract and not win a title, since he won by disqualification.
Bad blood between these three should result in a tough and evenly fought clash. Punk and Cena are the clear favorites, but Big Show should not be counted out of the running with a belt on the line.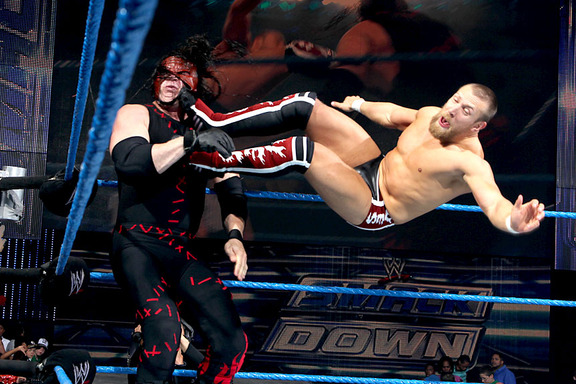 Courtesy of Sportskeeda
We could be in for a big surprise in this underrated matchup between Kane and Daniel Bryan.
The recent meltdown by Bryan at Raw 1000, in which he was rejected by AJ Lee, insulted by multiple personalities (including Charlie Sheen) and destroyed the wedding decorations, should continue into the ring tonight.
Kane will be looking to bring the pain against Bryan, who has interfered in more than one of his matches this summer. Twice in fights against CM Punk, Bryan has intervened, including a June 1 edition of SmackDown in a WWE Championship match that ended in a double disqualification.
A June 25 non-title three-way elimination fight on Raw between Kane, Punk and Bryan resulted in a Bryan victory.
Expect "The Big Red Monster" to come out strong.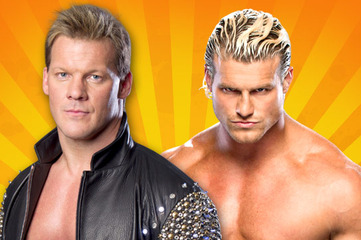 Courtesy of WWE
This Ziggler vs. Jericho match should put an end to the feud between the two, as each will seek to dismantle the other.
Earlier this summer, Ziggler won the Money in the Bank ladder match for the World Heavyweight Championship contract, while Jericho failed to win the Money in the Bank Ladder Match for the WWE Championship contract.
The two exchanged words on Raw the next night, Jericho interrupting Ziggler's victory speech and Ziggler criticizing Jericho's recent game.
The pair has engaged physically as well: Jericho hitting Ziggler with a Codebreaker after their comments on Raw, and Ziggler hitting his teammate Jericho in a tag team match on Raw 1000.
This should be an evenly fought match with much recent history behind it.