Milwaukee Brewers: 10 Brewers Prospects Who Will Shine in 2013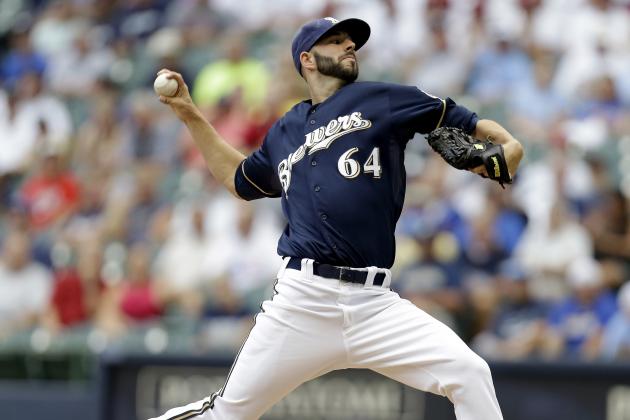 Mike McGinnis/Getty Images

The Milwaukee Brewers are somewhat in the midst of a youth movement.
Once the season was declared lost, Milwaukee commenced the auditions for their blossoming prospects. Veteran pitchers like Randy Wolf were pushed out the door and replaced by young guns.
The Brewers are staying away from the word "rebuilding." With a bona fide offense, there's no sense in rebuilding. They do, however, plan to retool their pitching staff.
With Wolf already gone and with no contract extension talks with Shaun Marcum, Milwaukee will need to add some starting pitching. They'll stray away from free agency and look for their prospects to step up.
This season has been a bitter disappointment for the Brew Crew, but maybe their young talent will provide reason for positivity in 2013.
Here are 10 Brewers prospects who will shine next season.
Begin Slideshow

»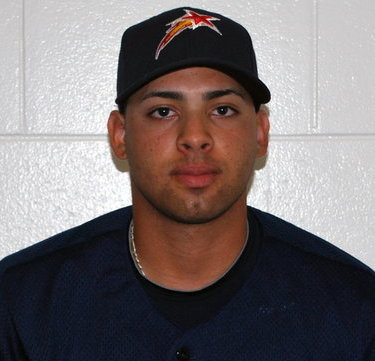 http://www.al.com/sports/index.ssf/2011/04/huntsville_stars_pitcher_jesus.html
Not many Brewers fans have heard about Jesus Sanchez, but if he continues to pitch the way he has all year long, that will change.
Sanchez, 24, started the season as a relief pitcher in Double-A Huntsville. He recorded 11 saves and posted a 1.59 ERA in 45 innings before earning a promotion to Triple-A Nashville.
In Nashville, the Venezuela native has performed just as strong. In 19 innings, he has an ERA of 1.89 with 14 strikeouts.
Sanchez is a command pitcher. While he was with Huntsville, he only walked 13 in his 45 innings of work. His walks have been up a bit since arriving to Nashville, but that's to be expected with a new team and a higher level of competition.
As a good relief pitcher does, Sanchez keeps the ball in the yard. He has only given up two home runs all season.
It's rather surprising Milwaukee hasn't promoted Sanchez to the majors yet, especially with their abysmal bullpen. Sanchez should get a good look during the spring and have every chance to make the major league roster.
He could be a valuable middle reliever or even a decent set-up man.
Chance of Being on the Brewers' Opening Day Roster: 40 percent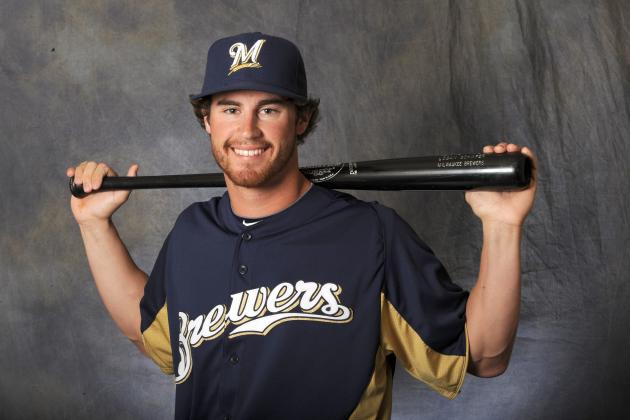 Rich Pilling/Getty Images

Logan Schafer has been patiently waiting for his time in the majors. That time may be approaching.
According to MLB.com, he is the Brewers' eighth best prospect and is almost certain to be a part of the September call-ups as he was last season. He went 1-for-3 in limited action with the Brewers.
A contact hitter, Schafer is a career .293 hitter in the minors. In 2012, he is hitting .271 for the Brewers' Triple-A affiliate. He hit .331 in 40 games with Nashville last season.
Schafer could ultimately battle Carlos Gomez and Norichika Aoki for an outfield position in 2013.
The 25-year-old ripped the cover off the ball in spring training but was left off the opening roster. But with Nyjer Morgan struggling this year, Schafer could see himself in a Brewers uniform next season.
Schafer is a prototypical leadoff hitter, which is something the Brewers covet. He has "above-average range and excellent speed." He has 15 stolen bases for the year. He'd be a nice backup outfielder for the Brewers to have.
Although his batting average is down, the Brewers saw Schafer's potential in spring training. With another strong spring, Schafer will make the roster.
Chance of Being on the Brewers' Opening Day Roster: 90 percent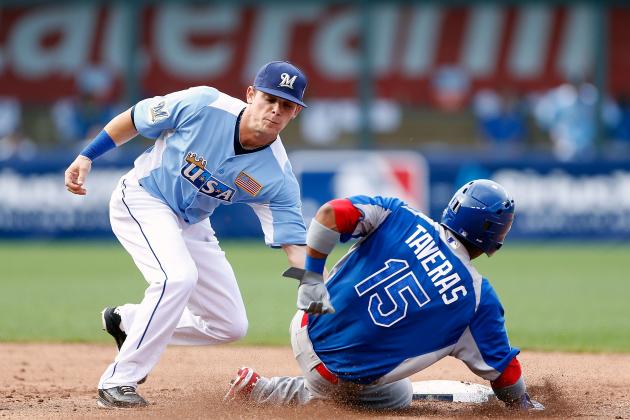 Jamie Squire/Getty Images

Scooter Gennett has the chance to be the next Jose Altuve of the Houston Astros—a short, pesky player that every pitcher despises.
Gennett only stands 5'9'' above the ground, but his height doesn't halt his production. He is hitting .297 for Triple-A Nashville with 43 RBI and 11 stolen bases. Aside from being an All-Star, he was selected to play in the Futures Games this season.
As a left-handed hitter, Gennett struggles against southpaw pitching with a .242 batting average. With Rickie Weeks at second base, his chances to be a future starter for Milwaukee anytime soon are slim—but if Gennett can't figure out this debilitating issue, his chances will be even more dim.
Aside from this, his future looks bright.
At 21 years of age, Gennett is already the Brewers' seventh best prospect and still has a lot of time to improve. However, next season could be the start of his major league camera. He could provide solid backup for Rickie Weeks, who could use more time off than he is receiving now.
If Gennett impresses the Brewers coaches next spring, a roster spot may have his name on it.
Chance of Being on the Brewers' Opening Day Roster: 55 percent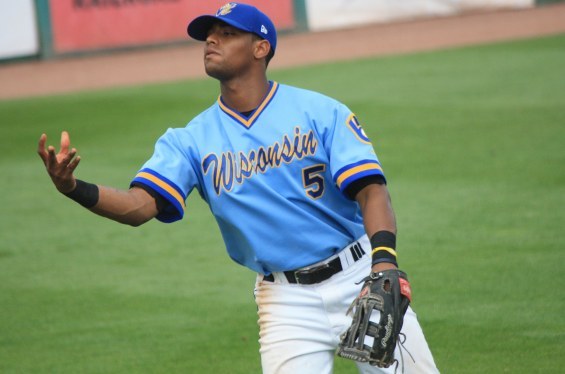 http://tratsbaseball.wordpress.com/2012/05/07/notebook-5712/
Khris Davis is having an outstanding season thus far.
The 24-year-old absolutely crushed pitching in Double-A. In 44 games, he hit .383 with eight home runs and 23 runs batted in. He had a staggering on-base percentage of .484.
Davis was quickly promoted to Triple-A.
In 21 games, Davis has posted a .289 batting average with an OBP of .404.
Milwaukee's outfield is already crowded, but Davis is making a name for himself. Although the Brewers may decide to wait another year on Davis, he has a better chance of making the Opening Day roster in 2013 than Schafer. Davis is a bit more athletic and is clearly the better hitter.
However, it may take an injury from a Brewers player for Davis to earn a promotion.
If Davis continues to dominate opposing pitching, he should be fast-tracked to the majors.
Chance of Being on the Brewers' Opening Day Roster: 65 percent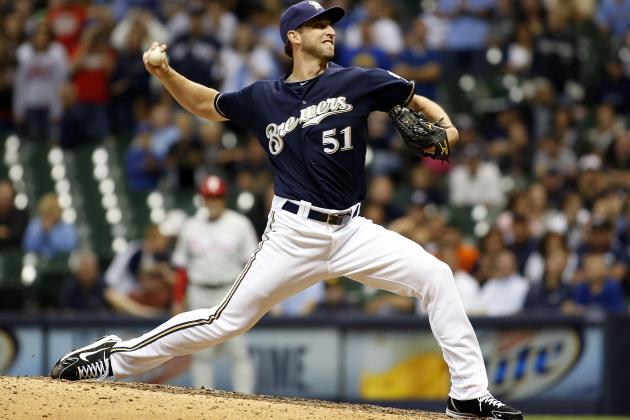 Mark Hirsch/Getty Images

What a marvelous success story for Jim Henderson.
Henderson spent 10 years in the minor leagues without tasting the life of a major league ballplayer. Not once in 10 years did Henderson get promoted to the bigs...until this season.
As a closer for Triple-A Nashville, Henderson saved 15 games and posted a 1.69 ERA. He struck out 56 batters while walking only 22. Because of his dominant performance and the consistent lack of effectiveness in the Brewers bullpen, Henderson was finally promoted.
After a couple of clean innings for Milwaukee, Henderson was named the unofficial closer in replace of John Axford. He struggled a bit after that but his numbers are solid.
In 11.1 innings, Henderson has struck out 18 hitters and posted a decent ERA of 3.97. His lights-out fastball and swooping breaking balls have made him the most consistent arm in the bullpen.
Henderson has earned a permanent roster spot with the Brewers for next season.
Milwaukee's main focus in the offseason will be to revamp their bullpen—having Henderson for a full season will improve it.
Unless Henderson has a gruesome spring training, he will make the Brewers roster as the set-up man.
Chance of Being on the Brewers' Opening Day Roster: 85 percent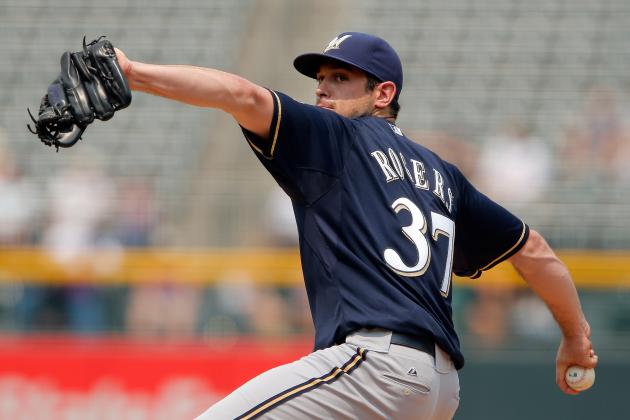 Doug Pensinger/Getty Images

It's been a tumultuous ride for Mark Rogers.
Multiple surgeries and a 25-game suspension has made his path to the majors even more bumpy.
Rogers didn't really perform admirably in Triple-A this year (6-6, 4.72), but he still earned a promotion to Milwaukee.
Since being called up, Rogers has started five games and is 1-1 with a 5.02 ERA. At first glance, he seems to be struggling mightily—but he has actually pitched better than his statistics show.
His strikeout numbers are high and his walks are low. If he can keep the ball in the yard—he has given up one home run in four of his five starts—he has a chance to be the player the Brewers drafted.
The rest of the season will be huge for the 26-year-old. He will get at least one more start, and maybe more if Milwaukee doesn't decide to shut him down.
Chance of Being on the Brewers' Opening Day Roster: 70 percent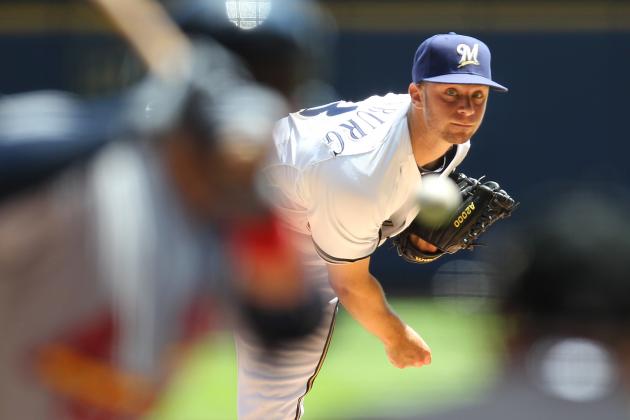 Mike McGinnis/Getty Images

According to MLB.com, Tyler Thornburg is the fifth best prospect in the Brewers organization.
Thornburg has pitched very well in the minors this season. In Double-A, he went 8-1 with 3.00 ERA. The 24-year-old punched out 71 in 75 innings.
In five starts in Triple-A, Thornburg has posted a 2.25 ERA.
He even saw some action with the Brewers this season. He made two starts with the Crew and racked up three other appearances. He didn't do so hot.
Thornburg allowed seven home runs in 14 innings. His straight fastball is incredibly easy to hit for major league players. If his fastball continues to be as straight as an arrow, his chances of being a starter will disintegrate. He would be more suited as a relief pitcher.
However, if Thornburg can locate his pitches and use his breaking stuff to his advantage, his level fastball won't be as big of an issue.
Milwaukee is very high on this young man. He has an outstanding shot to make an impact next season. He could maybe take over Shaun Marcum's spot if the team lets him walk.
Chance of Being on the Brewers' Opening Day Roster: 75 percent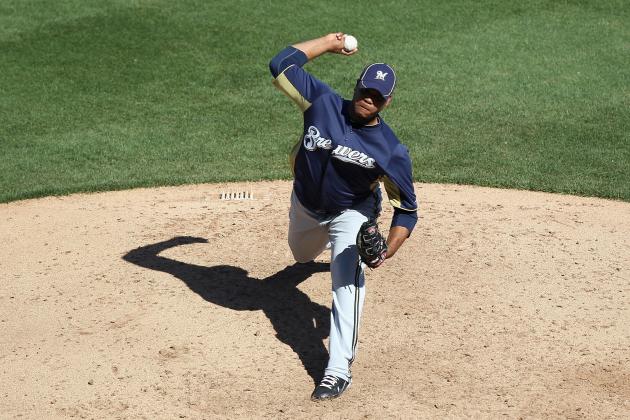 Christian Petersen/Getty Images

Wily Peralta is widely regarded as the top pitching prospect for the Brewers.
At 6'2", 240 pounds, Peralta is a big starter who shows unbelievable effort. His fastball has great sink on it, and his change-up and slider are keys to his success.
Despite his promise, it was Mike Fiers and Mark Rogers who got the call to start for the Brewers instead. This was because of Peralta's struggles in Triple-A.
But like Mark Rogers, Peralta's stats (7-10, 4.58) are misleading.
Over Peralta's last 10 starts for the Nashville Sounds, he is 4-2 with a 2.78 ERA—a drastic improvement after such a dreadful start.
The 23-year-old has to learn better command before he arrives in the majors. His pitch counts continuously climb at a fast pace as he racks up the walks.
Milwaukee can't wait much longer on their young stud. If they don't intend to have him on their roster next season, the smart thing to do would be to trade him. But expect him to be the team's fourth or fifth starter in 2013.
Chance of Being on the Brewers' Opening Day Roster: 90 percent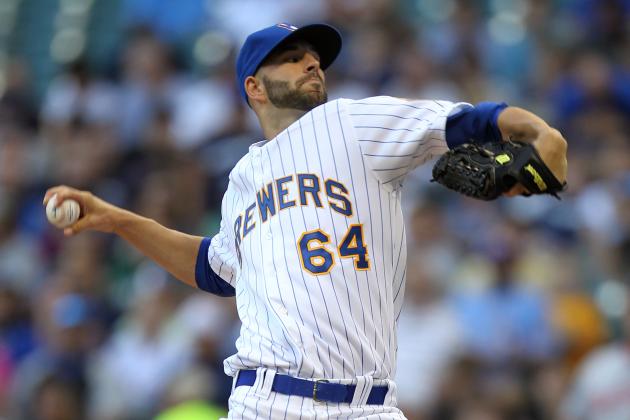 Mike McGinnis/Getty Images

Mike Fiers has been a diamond in the rough for the Brewers.
He isn't even among the Brewers' top 20 prospects, yet he is dealing with the Crew.
In 14 starts, Fiers owns a 6-6 record with a tremendous 2.90 ERA. His ERA was under two, but a couple of back-to-back rough starts raised it slightly.
His adequate performance certainly came as a surprise to the Brewers. In 10 starts for the Nashville Sounds, the 27-year-old recorded an ERA of 4.42 and was the winner of only one game. But his pitching in the majors has been stellar.
The crafty righty has struck out 86 batters in 87 innings. He paints the black with his fastball and buckles knees with his curveball. He looks like a born-again pitcher.
Milwaukee needs Mike Fiers. He will be a valuable asset to have in their starting rotation. He is most likely a No. 3 starter, but he's pitched like an ace this year.
Fiers is almost guaranteed to make the Brewers' Opening Day roster.
Chance of Being on the Brewers' Opening Day Roster: 95 percent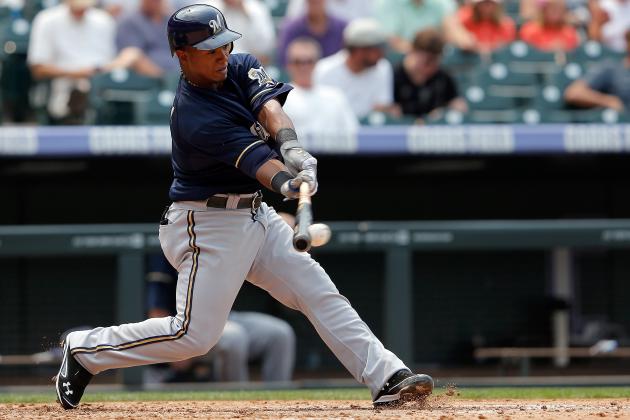 Doug Pensinger/Getty Images

The prized-prospect in the Zack Greinke trade, Jean Segura will enjoy his first full season with the Brewers in 2013.
Just weeks after trading for him, Milwaukee promoted the 22-year-old to the team to become the everyday shortstop. His promotion was well-deserved.
In eight games with the Huntsville Stars, Segura batted .433 with four RBI and four stolen bases. Milwaukee saw enough and wanted to audition Segura for the remaining two months of the major league season.
The Brewers' top prospect has struggled with the team. Entering July 23, the young shortstop is only hitting .213. His patience at the plate has seemed to evaporate, as he's only walked twice, including an intentional walk.
Milwaukee shouldn't fret. He is only 22, and a good eye at the plate will come from experience. Although his walks are down, so are his strikeouts. In 47 at-bats, he has whiffed only seven times.
His fielding, on the other hand, has been outstanding. He has only committed one error and has shown flashes of his Gold Glove-type talent.
For his size, Segura has great bat speed and power. He has the potential to hit 15-plus home runs year in and year out.
To the Milwaukee fans who are worrying about Segura: stop it. He's going to be fine. In fact, I think he will be an All-Star.
Segura is the future shortstop for the Brewers, and the future is now.
Chance of Being on the Brewers' Opening Day Roster: 99.9 percent