Totally Warranted NHL Rule Changes the Competition Committee Should Consider
Claus Andersen/Getty Images
Matt Cooke of the Pittsburgh Penguins.
For those unfamiliar with the National Hockey League Competition Committee, it is comprised of a total of 10 voting members—both players and executives—who decide on rule changes intended to promote the betterment of the game as a whole.
The current collective bargaining agreement, which is admittedly subject to change in the not-too-distant future, cites that the committee is to consider issues related to playing rules, player equipment, facilities, game scheduling, etc.
In the past, they've voted on rule changes related to icing, shootouts and shots to the head. In regard to the latter, last summer they approved the change to Rule 48 (the Matt Cooke rule) so that hits to the head targeted from any direction be rendered illegal and not just those that result from a player being blindsided.
With all that in mind, here are six other rule changes that we feel are winners and would suggest to the competition committee.
Begin Slideshow

»
This rule would include such blatant acts of aggression as the use of brass knuckles during a match, a chair/guitar shot to the head, etc. And, while we're at it, include low blows as well.*
It may seem somewhat nonsensical to include a rule such as this, because, well it makes too much sense. As such, it's actually shocking no one has ever thought of it before, to be honest. In a way, though, wasn't that the case with the change to Rule 48 as well?
Of course, striking an opponent with one of the aforementioned objects will be allowed only under a specific set of circumstances: if the referees are looking the other way at the time of the incident, either through their own ineptitude or as a result of a distracting buxom, blonde manager trying to get their attention, and the foreign object in question is discarded just in time that it was never witnessed being used firsthand.
If this is too much for the committee, we would settle instead that Rule 21.1 (via NHL.com) be actually enforced:
"A match penalty involves the suspension of a player for the balance of the game and the offender shall be ordered to the dressing room immediately. A match penalty shall be imposed on any player who deliberately attempts to injure or who deliberately injures an opponent in any manner."
It's almost as if Matt Cooke did break the rules (attempt to injure) and we didn't need Rule 48 at all…hmm.
*Yes, please do not take these suggestions too seriously.
Currently, the Third Man In rule (Rule 46.16) states (via NHL.com):
"A game misconduct penalty, at the discretion of the Referee, shall be imposed on any player who is the first to intervene (third man in) in an altercation already in progress except when a match penalty is being imposed in the original altercation. This penalty is in addition to any other penalties incurred in the same incident. "
Traditionally, the fourth man in (and fifth man, and so on and so forth) would be subject to the same rule, but what if, hear me out…they weren't?
We're talking full-on line brawls here…no, wait, scratch that. Full-on brawls period. Street fights even…fans being hit with their own shoes. Forget goals and beautiful plays. Isn't that what fans really want (well, not being hit with their own shoes, but everything else)?
I get the need to regulate fighting and make it fair. That's why, in addition to the incredibly well-thought-out instigator rule that clearly makes the game safer for the league's stars and skilled players, let's go all out. Think of it this way…even by making being the third man in illegal, players are still going to do it. Why not let a fourth person in to even the odds?
To me, that's just logical and after that point you really don't need to worry about the fifth man in, because there will be a sixth man. Bet on it.
Fighting is not technically part of the game, but it's been around for so long that we should make it official and mandatory for players to drop the gloves after every single hit, dirty or clean.
That means the next time a player gets his clock cleaned after admiring a nifty pass of his for too long, the offending player has no choice but to answer the bell. It just makes sense.
The best part: Expect more fighting because we all know at least one player is going to get rocked cleanly once every game and someone will have to pay. Well, someone else other than the player who stupidly kept his head down.
Why not take it a step further? Let equipment managers keep a stash of boxing gloves by the bench and clear a space in the tunnel for a squared circle, because you know what they say? Good preparation is next to godliness. Or is that cleanliness? No, it can't be, because that would imply hitting cleanly is a good thing. And everyone knows better.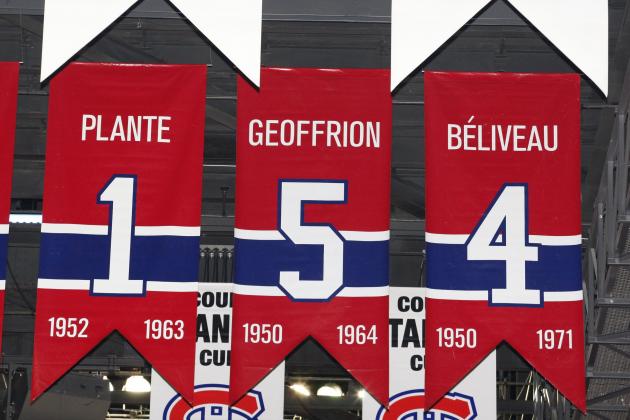 Richard Wolowicz/Getty Images
Goalie Jacques Plante's retired jersey.
It's a perpetual source of frustration to every hockey fan that their sport of choice is about as popular as poker (oh, you thought that hurt? Keep reading for just a couple of more words) and spelling south of the border.
If only there were some way, to, I don't know, make it just a tad more similar to the single-most popular sport on the planet, that being soccer (or football to non-North Americans).
What if we not only gave goaltenders less equipment, but none at all? Just like in soccer. You know, to even the playing field just a little bit. Not only that, but it would increase scoring, because we all know how high-scoring a sport soccer is.
I mean, I'm not completely inhumane. They can still use gloves…well, at least the gloves soccer goalies use. And masks? Forget about it. Jacques Plante? A charlatan. That dumb gimmick has run its course my friends.
Hockey is a man's sport, and who ever heard of a little vulcanized rubber hurting anybody? Know what's also made of vulcanized rubber? Car tires. Exactly. Nobody gets into car-tire accidents. That's crazy talk.
I propose that, when a team clears the puck, play be whistled down immediately and coaches each pick a player of their choice to represent their team. Then both players take off from the other blue line and skate as fast as they can to try and reach it first.
If the player from the team that was in the offensive zone gets there first, the play is called dead and the puck gets dropped at the opposite end of the ice as it would normally.
If the player from the team guilty of the icing infraction gets there first, icing gets waved off, everyone else jumps back on the ice immediately and play resumes right then and there.
Okay, so there are a few kinks to be worked out, but it's a work in progress and it's important that we work something out to give the fans more of one of the most exciting plays in all of hockey…players getting their legs broken needlessly.
In fact, take off their skates and replace them with track shoes and have them race that way. Much more entertaining.
Hockey is all about sportsmanlike conduct. I mean, there is a rule in a place forbidding unsportsmanlike conduct, right? So, it at least stands to reason. I understand the confusion, though. Any sport that condones fighting, outright allows checking, and still permits untargeted hits to the head is definitely sending mixed messages.
Still, let me assure you: Hockey is all about good sportsmanship. I know this because after each and every playoff series the two teams that spent the better part of seven games slashing, pummeling, and taunting each other after every second whistle meet at center ice and shake hands. And isn't that the universal sign of mutual respect?
So, why not do it after every game? The fans don't need to stick around necessarily and waste their time, but, for the players, I'm sure it would give them that much needed extra few seconds of personal one-on-one time to mend broken fences, clear up any misunderstandings and allow them the opportunity to tell their opponents just what they really think of them. Just think of the possibilities. What a great idea.