WWE SummerSlam 2012: Reliving Top Attitude Era Matches & Moments from SummerSlam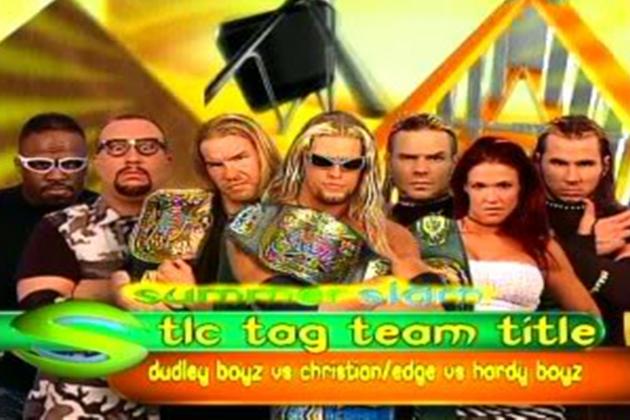 Photo Courtesy of Theo Clardy Blog
With WWE 13 including playable Attitude Era characters and WWE enjoying its 25th anniversary of its summer extravaganza PPV, it's only fitting that we take a stroll down memory lane and relive the greatest matches and moments at SummerSlam from the Attitude Era.
While fans today know SummerSlam as more of a big summer party than anything else due to the PG Era, those who watched SummerSlam during the Attitude Era remember it only as a summer war zone.
The 1998 tagline was "Highway to Hell," and it certainly felt like it when Goliath's "Stone Cold" Steve Austin and The Undertaker battled for the WWF Championship in the main event at Madison Square Garden in New York City.
Like the poster, the event truly felt larger than life with two icons of the industry going to war in the middle of a scorching hot summer. As if the summer heat wasn't enough, the intensity and stakes were hellacious as well.
Fittingly for the event and what everyone came to expect during the Attitude Era, hellacious and iconic moments were the norm. An era that pushed the envelope and captivated more people than ever before with defining moments and matches, the SummerSlam event was at its peak between 1998 and 2001.
Begin Slideshow

»
X-Pac and Jeff Jarrett may very well be two of the most underrated performers of the Attitude Era. Both men knew exactly how to work a crowd, whether they were heel or face. They knew how to make you emotionally invested in their character and matches.
Jarrett was always awesome on the microphone and made you hate his guts more often than not. Though X-Pac was never a quality mic-worker, his in-ring skills more than made up for it. He had a signature style inside the squared circle and, more importantly, had a unique, grunge look at that time.
Pitted in a hair vs. hair match, the stakes were especially raised because nobody could picture X-Pac with his long, straggly locks. For Double J, many believe that him losing this match actually helped him in the long run, much like it did Kurt Angle when he lost his hair vs. hair match to Edge in 2002.
Jarrett having his golden locks cut actually assisted his character and persona instead of hurting him as it made him even angrier. This was a great match and one of the best from Double J during the Attitude Era.
Two of the most defining performers and one of the most defining feuds of the Attitude Era, Triple H and The Rock battled in not only one of the greatest Ladder Matches ever, but one of the greatest matches ever at SummerSlam 1998.
It is an honor to go back and relive this match as you see two future Hall of Famers entering their prime right before your eyes. To this point, The Rock and Triple H had several great matches under their belts, but this was the match that truly put them over the top.
When you watch this match, you can see exactly why these two would go on to become two of the greatest overall performers that ever lived.
Arguably the biggest reason for the success of the match was the emotional investment from the fans. Yes, you had two exceptional characters and overall workers, but it was the storyline associated as well. Never before and never after the Attitude Era did we see such awesome storylines that captivated the fans.
From top to bottom of Attitude Era PPV cards, there was a reason behind each match. The build-up for a match, especially a PPV match, is incredibly important. Triple H vs. The Rock was among the best as the DX vs. the Nation is widely regarded as one of the top feuds of any era.
Nobody needs to assure you that Steve Austin and The Undertaker are two of the greatest performers to ever grace the business, nor should anybody have to assure you that this was was the greatest Attitude Era-rivalry next to Austin vs. Vince McMahon.
Stone Cold and The Undertaker's personas were at their peaks during 1998. They were the defining characters, and this rivalry was a big reason WWE started to pick up a lot of ground on WCW during the Monday Night Wars. This feud was an extension of Austin's war with Vince McMahon, but it never truly felt that way as it was a war unto itself.
This match was an all-out brawl, reminiscent of most of Austin and Undertaker's Attitude Era matches. Though looking back on both men's careers, you know these two could have put together masterful technical matches, but the Attitude Era was more about slobberknocker slugfests, playing up to larger than life characters and, on this SummerSlam night, a Highway to Hell.
If there was ever a rivalry more fitting for the Highway to Hell tagline, Austin vs. 'Taker was it.
The Attitude Era is known for its gritty and exhilarating characters and personas. One of the best aspects of the Attitude Era, and what made this era so successful, was how everybody had a definitive character that WWE played up to their gimmick whenever possible.
No, the Ken Shamrock vs. Steve Blackman match isn't fantastic, nor is it very memorable. However, it defines exactly what the Attitude Era is all about. Here you have Shamrock, billed as the "Most Dangerous Man" after coming from the MMA world and Blackman, billed as the "Lethal Weapon," known for his use of martial arts, kendo sticks and other weapons.
What better way to showcase both men in their rivalry than pit them in a match that perfectly suits their skills and gimmicks than a Lion's Dean Weapons match? We don't see this type of creativity and commitment in today's WWE, which is why this match deserves a place on this list.
Officially billed as the Love Her or Leave Her Greenwich Street Fight, Shane McMahon provided Test with arguably the greatest match of his career. In 1999, WWE went full-force playing up to certain dates and holidays such as St. Valentine's Day Massacre and truly provided depth for their characters and storylines.
Here we have Shane McMahon playing the jealous and protective brother to Stephanie McMahon, who was dating Test.
It was an intriguing storyline because WWE appeared committed to Test, who had WWE's ideal size and athleticism to compete at a high level. Though he was never able to live up to his long-term hype, this was a great moment and matchup for Test and also continued to push Stephanie as a main up-and-coming attraction.
Not many people give Shane McMahon his due credit for his matches throughout his career. Easily one of the toughest son-of-a-guns to ever step in the ring, Shane always laid it all on the line for the fans and provided memorable moment after memorable moment in all of his matches.
Though Shane wrestled before this match, most notably against the likes of X-Pac and Steve Austin, this match helped pave the way for Shane to become one of the top hardcore icons that fans should recognize him as.
Many people will remember this match as the match that effectively destroyed Billy Gunn's potential at becoming a top singles heel in the WWE.
Gunn was on a roll heading into SummerSlam 1999 after winning the King of the Ring tournament two months prior. Not only did Gunn have the look and in-ring ability to be a top player, he was serviceable on the mic and had a great character who was always over with the crowd, whether heel or face.
Still, there was no denying The Rock's popularity at this time as he was beginning to rival "Stone Cold" Steve Austin for top face honors. Though in hindsight, you have to wonder why WWE didn't decide to have Chris Jericho interfere on Gunn's behalf and cost The Rock the match after Y2J interrupted Rocky to make his WWE debut.
Regardless, this was another matchup that kept the theme of this period of the Attitude Era. WWE wanted to play up to their characters and structured matches around it. This match played into the storyline between The Rock and Gunn and, more importantly, Gunn's Mr. Ass persona.
There's a lot of greatness that comes with this triple-threat match, but also a ton of speculation. Many people believe that Triple H was expected to win this match and the WWF Championship, but Steve Austin refused to put him over because Stone Cold didn't feel The Game was "That Damn Good" just yet.
Whether or not you believe the tale, fact of the matter is that this was an exciting main event that topped off an exciting event.
More importantly, Mankind went on to win his third WWE Championship. Though he dropped the belt the very next night to Triple H, further fueling the belief that Austin refused to put The Game over, it was still a big moment for Mankind and his fans.
This match re-affirmed WWE's belief that Mick Foley was a top star, and this moment would help usher in the era of Triple H.
SummerSlam 2000 is one of the most complete events you'll find across the Attitude Era, but the event really kicked into high gear when Steve Blackman battled Shane McMahon.
This match was a complete afterthought heading into the event. Steve Blackman was never the most over performer, and Shane McMahon had yet to be regarded as the performer he is today.
That all changed with this match.
Blackman and McMahon used weapons throughout the match, but this is memorable because of one moment. McMahon climbed the trust on the side of the massive SummerSlam logo. Blackman followed him up with a kendo stick.
When McMahon neared the top, Blackman caught up with him and blasted him the back, causing McMahon to fall about 50 feet to the equipment area below. Blackman followed up with a diving elbow drop from nearly 40 feet high.
This was one of the most shocking moments of all-time, let alone at this PPV or the Attitude Era. Nobody saw this coming, and it is still talked about today. This was the defining moment for Shane McMahon, who would go on to become one of the best hardcore performers in WWE history.
At one point in time, many would think you were crazy if you told them that Chris Jericho and Chris Benoit would one day be among the top programs heading into SummerSlam, let alone even wrestle in the WWE.
Throughout 2000, Jericho and Benoit had one of the best rivalries in professional wrestling. Every time they stepped foot in the squared circle, you were guaranteed greatness. At a PPV of this magnitude, it was difficult for anybody to steal the show, but many point to this match as the best overall match of the card.
This is easily one of the best Two out of Three Falls matches you'll ever see. Their chemistry in and out of the ring was exceptional (yes, even Jericho brought out some out-of-the-ring charisma from Benoit).
What is important about this match is that it proved WWE didn't just rely on big spots or brutal slugfests but were also dedicated to providing fans with excellent in-ring, technical masterpieces.
Many can look at 2000, with the infusion of the likes of Jericho, Benoit, Kurt Angle and Eddie Guerrero, as the time when WWE started to shift towards letting their wrestlers work more technical matches with the focus on in-ring skills instead of relying on outrageous moments.
Easily one of the greatest matches of all-time.
Yes, you read that correctly.
SummerSlam 2000's TLC match was one of the most innovative and extreme matches you'll ever see. Although many believe it has been topped in recent years and even with TLC II at WrestleMania X7, TLC 2000 will always have a special place in fan's hearts. They took the best aspects of their WrestleMania 2000 Triangle Ladder match and turned up several notches.
This match was as extreme as you'll find during this time period. The bumps were spectacular, and these six men defined their legacies in one night. They proved just how great tag team wrestling can be and set the stage for all future hardcore, ladders and tables matches.
Simply put, the tag team division has never been the same, and part of that is because of how excellent these three teams were. They knew their roles as far as their characters and in-ring abilities. The chemistry these three teams had was never seen before, nor has it been matched since, including the SmackDown Six in 2002.
Every single man in the match laid it on the line and then some. Even Lita got involved and suffered a brutal spear from Edge. Yet everyone had their moment to shine in this match.
It's difficult not to continue raving about this match, and it's impossible to pick one great moment. Simply re-watch the greatness.
For the second straight year, SummerSlam enjoyed a triple-threat main event for the WWE Championship. This time, however, the backdrop was one of the most explosive storylines of the year. Kurt Angle, Stephanie McMahon and Triple H were engaged in a love triangle.
Angle and HHH would teeter back and forth between teaming with each other one minute, and playing mind games the next. Prior to the event, Angle kissed Triple H's wife Stephanie. Needless to say, The Game was ready for war come SummerSlam.
Angle suffered a concussion after the Spanish Announcer's table gave way when Triple H went to give him a Pedigree.
This is arguably the match that pushed Kurt Angle to the main event scene as he displayed uncanny grit and toughness. His eyes were clearly glazed over and you could tell he was in no-man's land, but he gutted through with the help of Triple H and The Rock, two of the greatest ring generals of any generation.
Triple H and The Rock battled back-and-forth in a one-on-one contest for most of the match as Angle was attended to by paramedics. However, this was classic Attitude Era. Triple H's patented sledgehammer played a big role throughout this match, as did Stephanie McMahon.
You would think this match included five participants instead of three with how important Stephanie and the sledgehammer were in the outcome, but it all played perfectly.
In true Attitude Era fashion, the Stephanie-Triple H-Angle love triangle wasn't just built before the match, but during and after. Stephanie attended to Angle when he was carted to the back, and Angle carried Stephanie away after Triple H nailed her with the sledgehammer.
This is the type of moment and storyline that was the epitome of the most intriguing era ever in wrestling.
Regardless of your feelings of the Invasion angle, there is no denying that this time period was as interesting and explosive as any other in wrestling. We witnessed matches that we had never seen before from some of the most charismatic and polarizing performers in wrestling history.
It was an era of dream matches, and Jeff Hardy vs. Rob Van Dam in a Ladder match was just that.
Van Dam and Hardy were two of the most athletic, acrobatic, no-nonsense, extreme and breathtaking performers ever. Hardy made a living on a ladder, and Van Dam made a living in ECW as being Mr. PPV and the Whole Damn Show. You knew when these two hooked up that fireworks were going to erupt.
That's exactly what happened as these two put on one of the most memorable singles ladder matches of all-time. It was so good that many tend to forget that Chris Jericho and Chris Benoit put on a phenomenal ladder match at the Royal Rumble that year.
SummerSlam was known for outstanding ladder matches leading up to this event. Van Dam and Hardy made Shawn Michaels, Scott Hall, Triple H, The Rock, Dudleyz, Edge & Christian and Matt Hardy very proud with their performance.
The year 2001 was known for many things: ECW closing down, Vince McMahon buying WCW, the Invasion, Triple H's career-threatening quad injury and the death of the Attitude Era.
Yet it also known for the pure domination of Steve Austin and Kurt Angle. It didn't matter if they were wrestling in the ring, wrestling with cowboy hats, guitars, badges or wise-cracking jokes—they were the two very best performers of 2001.
It was only fitting that these two men stood toe-to-toe at SummerSlam 2001 for the WWE Championship. They put on one of the greatest matches that year, of SummerSlam and of all-time. They had uncanny chemistry in and out of the ring, and everybody could sense it.
They would go on to have more battles, most notably at Unforgiven 2001, Vengeance 2001 and the night Triple H returned to SmackDown in 2002. Still, this is the one that is most remembered despite the gut-wrenching ending, which for many, added to its greatness.
The Rock vs. Booker T was a dream match fans wanted to see since the late '90s, and we were finally blessed with the opportunity at SummerSlam 2001. These two men wrestled similar styles, had their own catchphrases and used essentially the same signature maneuver.
Though it wasn't the most explosive match of the evening, it was still an awe-inspiring moment just to see them finally square off inside the ring.
Though many like to bash the Invasion angle for what should and shouldn't have happened, including the fact that so many top WCW stars refused to include themselves, we have to give credit where credit is due. Booker T and The Rock was indeed one of the all-time top dream matches when discussing WWE vs. WCW and we finally got to see it.
Whether or not you believe the Attitude Era ended when Vince McMahon bought WCW, McMahon and Steve Austin aligned at WrestleMania X7, the end of the Invasion or when WWF was forced to become WWE, this was the last SummerSlam of the Attitude Era.
Booker T and The Rock capped off the second biggest annual PPV of the Attitude Era in fitting fashion.